Tuberville: Sessions had his chance to support Trump and blew it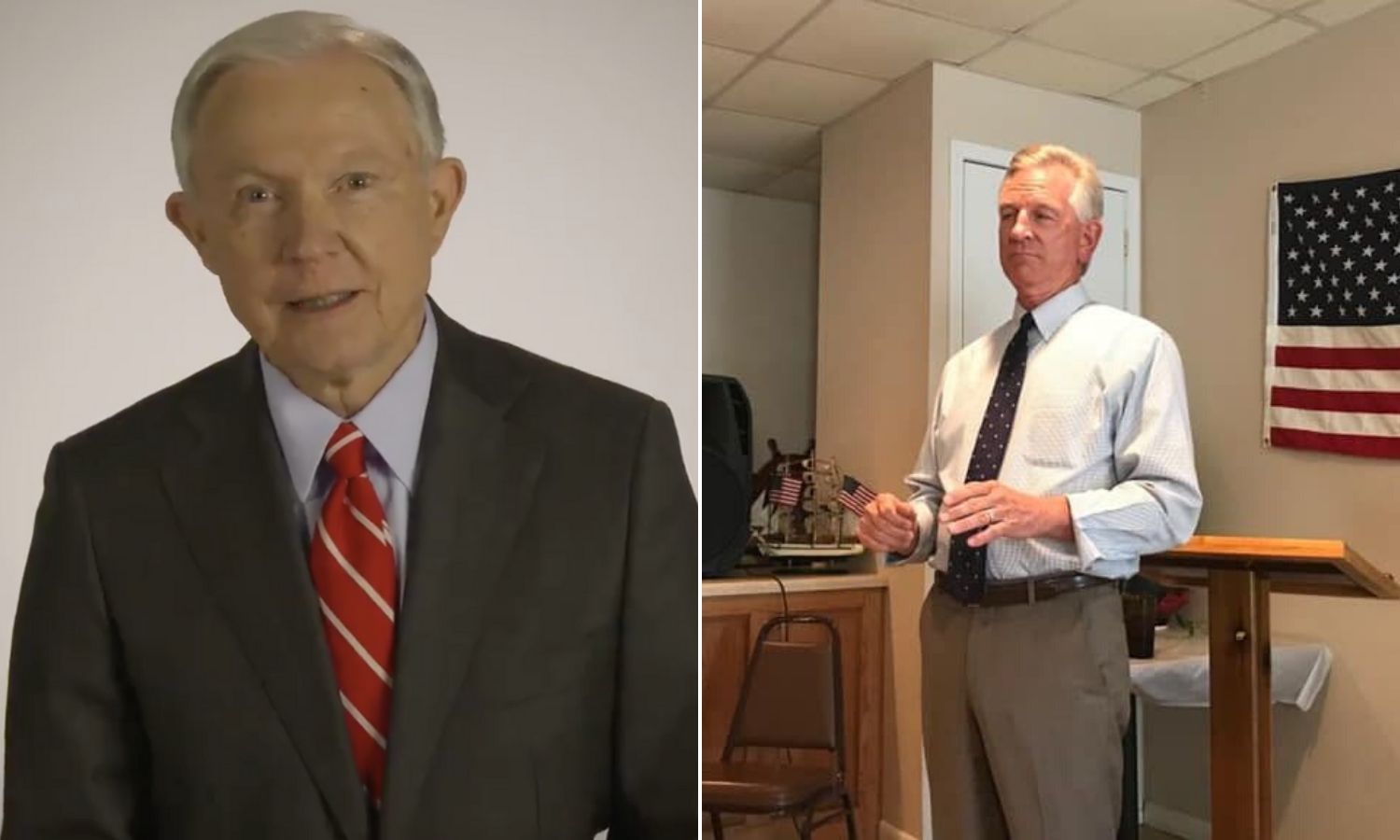 Former Auburn football coach Tommy Tuberville on Saturday criticized Jeff Sessions' work as U.S. attorney general.
Tuberville spoke with the Alabama Political Reporter before Saturday's Iron Bowl in Auburn.
"He had his chance to support the president as attorney general, and he blew it," Tuberville said.
Sessions has praised President Donald Trump and vowed to support the president's policies if he returns to the U.S. Senate, but the president has been very critical of Sessions' efforts as attorney general, particularly his decision to recuse himself from the Russia collusion investigation.
Sessions recused himself from the probe after it became public knowledge that he had met twice with the Russian ambassador during the 2016 presidential campaign and did not disclose that to the Senate during his confirmation hearings. Deputy Attorney General Rod Rosenstein then became the acting attorney general on Russian collusion probe, and he made the decision to appoint former FBI director Robert Mueller as special counsel.
Trump blamed Sessions for the Mueller investigation, which the president believes could have been avoided if Sessions had simply not appointed a special counsel and investigated it in house, similar to Eric Holder's handling of the ATF gun-running "Fast and Furious" scandal during the Barack Obama administration.
The president has gone so far as to call his appointment of Sessions as attorney general "my biggest mistake" as president.
Tuberville said that he will go to Washington and will support Trump in the Senate.
Tuberville was critical of "career politicians."
Tuberville said that he has enjoyed campaigning across the state and compared it to football recruiting.
Tuberville said that the 24 hour a day talk radio coverage and 24 hour a day TV news coverage means that politics is always being focused on. Tuberville said that he had been doing TV and radio for years as a coach and was very comfortable dealing with the media.
Tuberville said that he did television for a year calling games as a broadcaster; and a lot of work goes into that. Each week you have to prepare for your game, "And memorize all of those players. If I am going to do all of that I might as well get back into coaching."
Tuberville thought that the Auburn football team would face a stiff challenge from the University of Alabama Saturday.
"That quarterback at Alabama, Mac Jones, is really good," Tuberville said.
The career football coach said that Auburn's defense was really good; but expressed concerns about Auburn's offense's ability to score against Alabama.
Tuberville said of the Tide defense: "They are really young; but you can see the talent."
Auburn would go on to defeat Alabama 48 to 45 in a game with multiple lead changes.
Tuberville is 65 years old and is a native of Camden Arkansas.
Tuberville was the head football coach at the University of Mississippi from 1995 to 1998. He is best known for his career at Auburn University from 1999 until 2008. After his brief tenure as a broadcaster he was the head coach at Texas Tech University from 2010 to 2012 and the University of Cincinnati from 2013 to 2016. He has a 159 and 99 record as a head coach.
Tuberville never won a national championship as a head coach, but his 2004 Auburn team went 13 and 0 and won the SEC Championship game. Tuberville won the Paul Bear Bryant Coach of the Year Award for that season. The University of Texas and the University of Southern California received the invites to the BCS national championship game. Auburn defeated Virginia Tech in the Sugar Bowl. This was before major college football had a playoff system.
Tuberville is a graduate of Southern Arkansas University. He and his wife Suzanne live in Auburn and have three sons.
In addition to Tuberville and Sessions; Ruth Page Nelson, State Representative Arnold Mooney, businessman Stanley Adair, Congressman Bradley Byrne, and former Chief Justice Roy Moore are all running for the Republican nomination for Senate.
Secretary of State John H. Merrill suspended his campaign for Senate on Sunday.
The Republican primary will be March 3.
The winner of the GOP primary will face Doug Jones in the general election.
ACLU joins lawsuit over Alabama voting amid COVID-19 pandemic
The lawsuit was filed on behalf of several voters who are at greater risk from complications or death due to COVID-19. 
The American Civil Liberties Union and its Alabama chapter have joined in a lawsuit attempting to make it easier for some voters to cast their ballot during the COVID-19 pandemic.
The American Civil Liberties Union and ACLU of Alabama joined in the lawsuit filed in May by the NAACP Legal Defense and Educational Fund, Southern Poverty Law Center and Alabama Disabilities Advocacy Program against Gov. Kay Ivey and Secretary of State John Merrill. 
The U.S. Supreme Court in a 5-4 decision last week blocked U.S. District Judge Abdul Kallon's order that would have allowed curbside voting statewide and waived certain absentee ballot requirements for voters in at least Jefferson, Mobile and Lee Counties.
The lawsuit was filed on behalf of several voters who are at greater risk from complications or death due to COVID-19. 
The lawsuit was also brought on behalf of People First of Alabama, Greater Birmingham Ministries, the Alabama State Conference of the NAACP and Black Voters Matter Capacity Building Institute.
With the Supreme Court's decision, voters in the upcoming July 14 Republican runoff election will have to submit a copy of their photo ID and have either two adult witnesses sign their absentee ballot requests or have it notarized. 
"Alabama is in the middle of a deadly and ongoing pandemic but is refusing to take common-sense steps to protect the public's health and their right to vote for all elections in 2020. That's why we are taking legal action," said Alora Thomas-Lundborg, senior staff attorney with the ACLU's Voting Rights Project in a statement. 
"In the midst of an out-of-control pandemic, Alabama officials should be doing everything they can to ensure that all voters have a safe, fair, and equal opportunity to cast a ballot. Instead, officials have chosen politics over public health and safety. They are fighting to make it harder to cast a ballot and have that ballot counted. This litigation is crucial to ensure safe, fair, and equal opportunity to vote," said Randall Marshall, executive director of the ACLU of Alabama, in a statement.
"As we head into preparations for the November general election with COVID-19 cases rising in Alabama, it is critical that our election officials take seriously the protection of voters, poll workers, and our democracy," said Caren Short, senior staff attorney for SPLC in a statement. "In this critical election season, we are grateful to have Black Voters Matter Capacity Building Institute, the ACLU, and the ACLU of Alabama join this effort to ensure that every voter is heard. No voter should have to choose between exercising their fundamental right to vote and their health or the health of a loved one."
Deuel Ross, NAACP's Legal Defense Fund senior counsel, said in a statement that over the July 4th weekend, Alabama reported nearly 5,000 new coronavirus cases.
"Yet, state leaders insist on enforcing draconian restrictions on in-person and absentee voting that no other state finds necessary to combat the almost nonexistent issue of voter fraud," Ross said. "These restrictions are needless in normal circumstances. They are deadly in a pandemic. At trial in September, we will work to make sure that state leaders comply with their constitutional duty to protect the rights and safety of all voters."
In a Tweet on July 2, Alabama's Secretary of State John Merrill expressed gratitude for the Supreme Court's decision. 
"With the news that we have received a Stay in this process, I am excited that the United States Supreme Court has ruled in favor of those who believe in strict interpretation of the Constitution and has decided to grant the Stay and not endorse legislating from the bench," Merrill said in the tweet.