McCutcheon: Brick and mortar will be part of state's prison reform
Thursday, Speaker of the House Mac McCutcheon (R-Monrovia) spoke to the Alabama Association of County Commissioners about the prison crisis and told them that "Construction is going to be on the table."
"When you look at the facilities, some of them are so old that it is not cost productive to put money in to them," McCutcheon said.
McCutcheon said that there are line of sight issues, security issues, and design issues with the old prisons that make it difficult to implement the changes that the Alabama Department of Corrections (ADOC) needs, "Construction is going to be on the table.
McCutcheon suggested that the new prisons won't need as many guards as the old prisons do, thus producing some cost savings on manpower needs.
McCutcheon said that he is looking forward to the release of the Governor's plan.
"We need to know where the facilities will be and we need to know the size and the cost," McCutcheon said.
"Corrections comes with a price tag," the Speaker warned. "It is going to cost us some money."
"We need to work on this like we did the Rebuild Alabama Act," McCutcheon said.
Alabama Governor Kay Ivey (R) reportedly is going to ask the state legislature to build three new megaprisons, housing ten to twelve thousand inmates, at a cost of $900 million.
The state also has been told by a federal judge that the Alabama Department of Corrections needs 2.200 more prison guards. A federal court has ordered the state to improve the mental healthcare services offered to inmates and there is pending litigation accusing the state of not providing sufficient healthcare services to its incarcerated population. That is not expected to go well for the state or taxpayers. The Trump Administration has told the state that our prisons are the most dangerous in the country and has ordered the state to do something about it. The state is also still dealing with prison overcrowding issues.
"We have an executive task force working on this," McCutcheon said.
"We need to go back and look at 2015," McCutcheon promised the county commissioners.
In 2015, the state legislature passed sentencing reform in order to deal with the prison overcrowding issue. It reduced prison overcrowding, but according to a report by the Alabama Association of County Commissioners dramatically increased the number of prisoners being sent to county jails shifting much of the costs to the local level adversely affecting county budgets across the state.
"I guarantee you that you will have a voice in this process," McCutcheon told the county commissioners. "We are focusing on the dips and the dunks as well as recidivism."
In 2015, the legislature changed the punishment for most parole violations, such as failure to find work or a failed drug test from revocation of parole to a 48 hour stay in the county jail. This is called a "dip" in the Alabama justice system vernacular. A parolee who continues to violate the terms of his parole can get up to six dips before he or she gets sent back to prison; but not for the remainder of his or her sentence. Instead they go to prison for just 45 days. This is called a "dunk." There was already a backlog of prisoners who have already had a trial, have been convicted and were sitting in the county jail waiting for ADOC to come pick them up. The creation of the dunk system means that now there are all those repeat parole violators who are also waiting in the county jail for ADOC to free up prison beds so they can serve their 45 days.
Bennett Wright is the executive director of the Alabama Sentencing Commission.
Wright told the Commissioners that Tennessee is in the same situation. They have a backlog of 5,300 prisoners that are in county jails waiting to go to the state prison.
"The state of Tennessee writes them (the Tennessee County Commissions) a $180 million check for that overflow," Wright said.
Alabama does not reimburse the counties for their costs, which have soared after the passage of the sentencing reforms that were passed in 2015.
"The state is in a bind and the counties are in a bind," Wright said.
Wright said that the state of Alabama spent $545 million for ADOC and the Pardons and Paroles Board last year. This is an all time high, but ever cutting that is not a viable option.
"If we want to be in federal court for the rest of our lives cut the ADOC budget," Wright said.
"We have 23,000 in our prisons, and they have 23,000 prisoners," Wright said again comparing Alabama to Tennessee. "The cost is $1.03 billion for Tennessee with the same prison population and just ten percent more parolees" and they increase their budget $20 or $30 million a year.
Wright said that after the 2015 sentencing reform, 30 percent of all prisons admissions are the 45 day dunks. There were 9,400 custodial admits; but eliminating the dunks does not really help the prison overcrowding.
"They stay such a short time it saves it saves only 300 beds," Wright explained.
Sonny Brasfield is the executive director of the Alabama Association of County Commissioners.
Brasfield pointed out that the 2015 sentencing reform also created the class D felony, which is designed to avoid sentencing offenders to prison. The combination of the Class D felonies with the dips and the dunks means that there are many more repeat offenders out on the streets that the sheriffs and local police are having to police and deal with, dramatically raising the costs for law enforcement.
Brasfield said that the County Commissioners Association pointed all of this out to Governor Robert Bentley's 30 member task force, but their concerns were ignored and the legislature passed that bill anyway.
McCutcheon said that many of the released prisoners are, "Going back into the same environment that got them in trouble in the first place. We need to look at probation and parole officers.
"I was in probation and parole during my career in law enforcement and we don't have the manpower to take care of the inmates that are expected to be released," McCutcheon said.
"People don't understand the gravity of the situation," Wright said. "No state has been in federal court and have been notified by the Justice Department that they are in violation of the Constitution in two areas." Gov. Ivey has received a memorandum from DOJ that the state is in violation in three more areas.
"There is no easy fix. There is no cheap fix," Wright said.
"Our staffing is one issue," Wright said. "We are almost 2,000 correctional officers short," so the legislature had to raise correctional officer pay. That costs money on the front end with salaries and the back end with pension benefits. Complying with the federal court order on inmates' mental health will cost $40 to $45 million a year. The healthcare trial has not gone to court yet, but that is likely to cost even more.
"The Governor has proposed $900 million in new prison construction, but that only replaces half of the beds," Wright said. The state will still have to renovate the existing prisons that will remain in use. "We will still have to put up $200 million into renovating those old facilities.
Wright said that not building new prisons would also be expensive.
"It would cost $800 million to renovate our existing prisons and that does not get us the space that we need," Wright explained.
"It is going to cost us some dollars," McCutcheon said.
"We have had a monumental session," McCutcheon said of 2019. "The educational budget was $7.1 billion. We were able to give teachers a pay raise. The general fund budget was up and at $2,2 billion. We were able to give some pay raises for our state employees as well."
"As we look at the new session there are many issues to address," McCutcheon said. One of these is corrections. The state also is going to have to spend $100 million to pick up the cost of the Children's Health Insurance Program. McCutcheon said that the state also wants to expand broadband, improve rural healthcare, and address the mental health services situation.
McCutcheon told the commissioners that he was open to looking at gambling for more revenues.
Coronavirus task force's Dr. Deborah Birx says Alabama should extend statewide mask order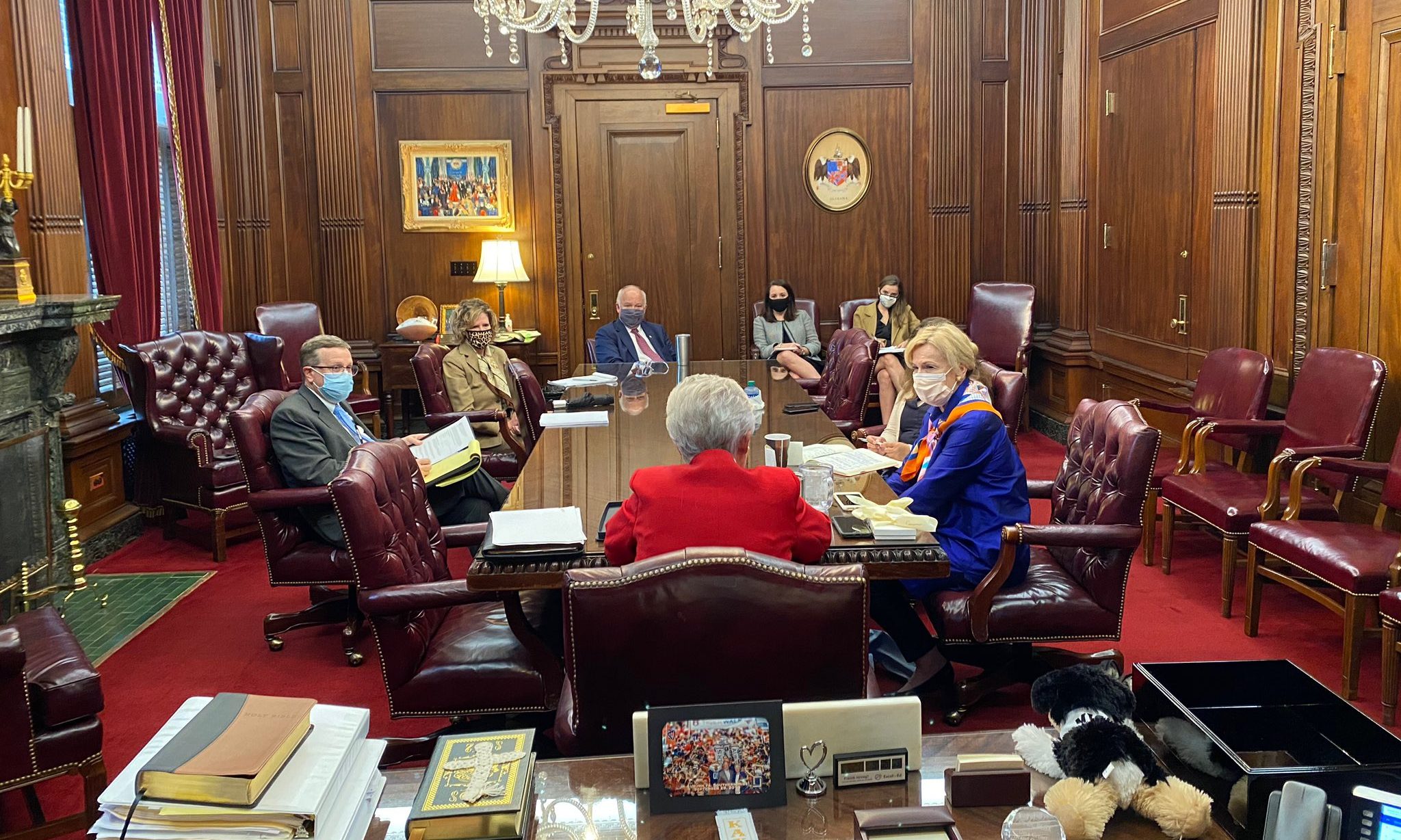 Dr. Deborah Birx, coordinator of the White House's coronavirus task force, said Thursday that Gov. Kay Ivey should extend her statewide mask order, set to expire on Oct. 2. She also responded to a CNN report that cited those close to her as saying she's "distressed" with the direction the White House coronavirus task force is taking and is unhappy with what she sees as her diminished role in the group. 
Birx, speaking at Auburn University, said she met with Ivey and Alabama State Health Officer Dr. Scott Harris earlier in the day to discuss COVID-19 and how the state is responding.

"So we really talked about the importance of continuing mitigation," Birx said of her talk with Ivey and state officials earlier on Thursday, adding that Ivey was one of the first governors in the South to enact a statewide mask mandate, which she said clearly decreased the spread of the disease.
Birx pointed to numbers, such as the test positivity rate, that have improved since July, but said "we've got to do even more." Asked if the statewide mask mandate was one of the mitigation efforts she suggests continuing into the fall, Birx said she does. "Because if you look at what happened within two weeks of the mask mandate you can see the dramatic decline in cases here in Alabama," Birx said. 
Birx said that when she last visited Alabama in July, the state was suffering from too many new cases of COVID-19. 
"I think when I was last here at the beginning of July, it was a very difficult time in general for Alabama. We saw nearly 95 to 100 percent of every county in Alabama, rural or urban, that had more than 10 percent test positivity to COVID-19," Birx said, adding that today, around 20 percent of the state's counties have positivity rates above 10 percent. 
Public health experts believe positivity rates above 5 percent mean that there isn't enough COVID-19 testing being done and cases are likely going undetected. 
In a statement to APR on Thursday, a spokeswoman for Ivey said Ivey and Dr. Scott Harris would provide an update on the statewide mask order ahead of its Oct. 2 expiration date. 
"It is evident that Alabamians are doing considerably well in modifying their behaviors to take the COVID-19 pandemic seriously, and we all remain optimistic that a successful vaccine will be coming soon," said Gina Maiola, Ivey's press secretary, in a statement to APR on Thursday. "Our state's success is largely in part to Alabamians stepping up to the plate when it comes to cooperating with the mask ordinance." 
Maiola said Ivey is leading the way on several fronts "including getting students and teachers back in the classroom, college students returning to campus and businesses remaining open — in fact, Alabama has one of the country's lowest unemployment rates." 
"This success is a reality because Alabamians are wearing their masks and maintaining social distancing precautions. Governor Ivey and Dr. Scott Harris will continue closely monitoring our progress and provide an update ahead of the October 2nd expiration," Maiola continued. 
Speaking to reporters at Auburn, Birx was also asked about a CNN report on Wednesday that cited sources close to Birx as saying she is unhappy with what she sees as her diminished role on the White House coronavirus task force, that she's not certain how long she can serve in her position and that she is "distressed" with the direction the task force is taking. 
CNN also reported that Birx, who is no longer a fixture at White House coronavirus briefings, views Dr. Scott Atlas, a recent addition to the task force, as an unhealthy influence on President Donald Trump.
Atlas, a neuroradiologist with little experience in public health or epidemiology, has expressed support for the so-called herd immunity "strategy," which infectious disease expert roundly dismiss as unattainable and a move that would cost millions more lives.  
Instead of being a regular presence at White House coronavirus briefings, Birx has spent recent months traveling the country and speaking with governors and university administrators about coronavirus. 
Asked Thursday about CNN's reporting, Birx pushed back. 
"Because they wrote that without even speaking to me," Birx said. "Do I look like a person that's diminished?" 
CNN reported Wednesday that Birx had not responded to requests for comment on the story. 
"Yes, I have been on the road. I've been on the road not as a spokesperson, but on the road to really understand what's happening across the country, to be in deep dialogue with mayors, with communities, with governors, with administration school and faculty," Birx said. 
"I'm asked here because I am supposed to be here," Birx said. "I haven't been in Washington, and nor was I asked about that, but I've actually never been called diminished." 
Asked if she was planning to leave the task force, Birx said, "I have strong tenacity, and I'm very resilient, and we're in the middle of a pandemic that's affecting Americans, and as an American, I think I can do the best service to my country right now by serving in this role, working across the agencies, because that's the experience that I have." 
Asked to clarify whether she planned to step down from the task force, Birx said "no." 
Asked if she was distressed about the direction the task force is taking, Birx said, "well that would be on me, if I was distressed, right, because I'm supposed to be coordinating the groups." 
"So that would be an indication that I'm not doing my job, and I believe that I do my job pretty well every day. I can always learn to do better," Birx said.