House passes Sewell's bill to restore voting rights protections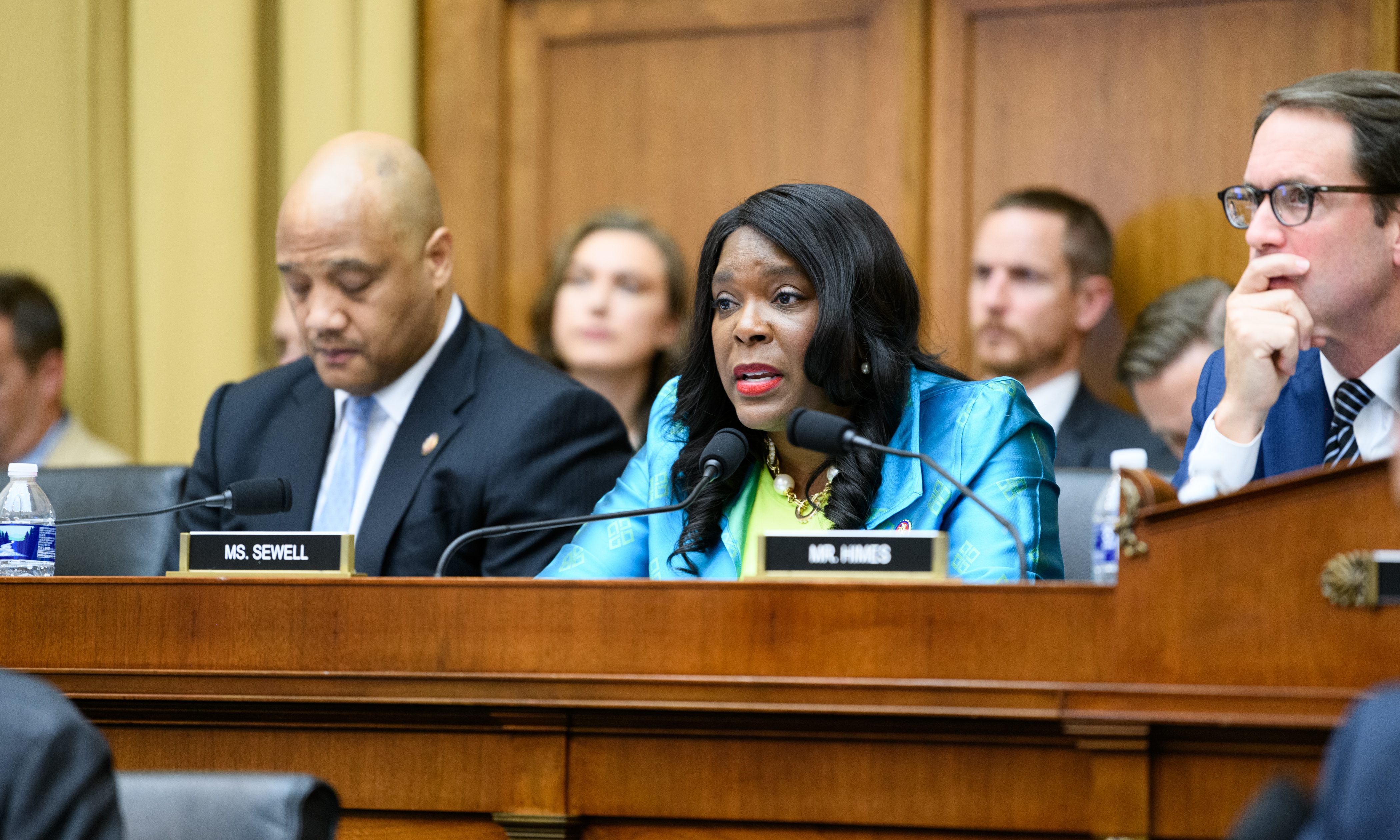 On Friday, the House of Representatives passed Rep. Terri Sewell's bill to restore voting protection and eliminate potential local and state voter suppression laws. 
The bill, HR4 or the Voting Rights Advancement Act, had previously failed four times to pass the Republican-led house. The bill passed 228 to 187 with only one Republican voting with the Democrats to pass it. 
The bill is meant to "restore the Voting Rights Act of 1965 by outlining a process to determine which states and localities with a recent history of voting rights violations must pre-clear election changes with the Department of Justice."
The Supreme Courts' 2013 Shelby County v. Holder ruling struck down Section 4(b) of the Voting Rights Act of 1965, which required several states, including Alabama, to pre-approve any changes in election rules with the federal government as a means of preventing voter discrimination. 
Since 2015, Sewell has pushed for the passage of this bill, which seeks to restore the Voting Rights Act by developing a process to determine which states must pre-approve election changes with the Department of Justice. 
"Voting is personal to me, not only because I represent America's Civil Rights District—but because it was on the streets of my hometown, Selma, Alabama, that foot soldiers shed their blood on the Edmund Pettus Bridge so that all Americans—regardless of race—could vote!" Sewell said in a statement. "I am so proud that, today, the House took critical steps in addressing the Supreme Court's Shelby decision and passed HR4, the Voting Rights Advancement Act, to restore the Voting Rights Act of 1965 to its full strength."
The bill will also require a nationwide pre-clearance of known discriminatory practices, such as the creation of at-large districts, inadequate multilingual voting materials, cuts to polling places, changes that reduce the days or hours of in-person voting on Sundays during the early voting period and changes to the maintenance of voter registration lists that adds a basis or institutes a new process for removal from the lists, where the jurisdiction includes racial or language minority populations above a certain percent threshold.
Under HR4, there are three ways to become a covered jurisdiction that is required to pre-approve election changes:
States with a history of 15 or more violations at any level in the previous 25 years; or

States with a history of 10 or more violations, if one violation occurs at the state level in the previous 25 years; or

Political subdivisions or localities with three or more violations in that subdivision in the previous 25 years.
After passing the House, the bill now heads to the Republican-controlled Senate.
Attorneys ask court to intervene over numerous Alabama inmate suicides
Charles Braggs died by suicide in an Alabama prison after being kept in solitary confinement for more than two years. His suicide and a rash of others in Alabama prisons prompted attorneys for the plaintiffs in a case against the Alabama Department of Corrections to ask the court Wednesday to intervene. 
Braggs, 28, died at St. Clair Correctional Facility on July 17 after having been housed in segregation for 796 days, according to the court filing by the Southern Poverty Law Center, Alabama Disabilities Advocacy Program and attorneys with Baker, Donelson, Bearman, Caldwell & Berkowitz.
"Mr. Braggs was the seventh person — and the sixth Black person — to die by suicide in ADOC custody since this Court issued its Remedial Opinion and Judgment on Immediate Relief for Suicide Prevention (the 'Suicide Prevention Opinion') in May 2019, in which the Court found 'substantial and pervasive deficiencies' in ADOC's suicide prevention program," attorneys wrote to the court. 
Bragg's suicide was the fifth in Alabama prisons in the last four months, the plaintiffs' attorneys wrote in the fling, in which they call for "swift implementation and robust monitoring of the Parties' various remedial agreements" and for the state to address the use of segregation and "segregation-like" cells, which disproportionately hold Black people.
Alabama prisons kept 1,001 people locked alone in segregation on July 28, according to the court filing. 
"Of those 1,001, ADOC's public database lists 705 people as Black and 273 white—that is, approximately 70 percent of the people in segregation are Black," the filing states, going on to note that Black people make up approximately 52 percent of Alabama's inmate population and about 27 percent of the population of the state. 
U.S. District Judge Myron Thompson in his May 4, 2019 opinion wrote that ADOC argues the department cannot prevent all suicides in prisons.
"It is true that, as in the free world, not all suicides can be prevented. But this reality in no way excuses ADOC's substantial and pervasive suicide-prevention inadequacies. Unless and until ADOC lives up to its Eighth Amendment obligations, avoidable tragedies will continue," the judge wrote.
That 2019 opinion came after the plaintiffs' attorneys asked the court for immediate suicide-prevention relief following 15 inmate suicides over 15 months. Thompson agreed in his opinion to make permanent most of the provisions of a previous agreement between the plaintiffs and ADOC.
Thompson's separate judgment, filed the same day as his opinion, establishes minimum guidelines for how the state assesses and treats incarcerated people who may be at risk of suicide.
Among the prison suicides noted in the court filing was Marco Tolbert, 32, who was diagnosed with Schizophrenia and prescribed anti-psychotic and anti-depressant medication, but on June 20, 2019, three months before his death, his mental health code — used by ADOC to determine care — was reduced, some of his medication was discontinued and he was moved out of Donaldson prison's residential treatment unit and into the general population and "was not provided any follow-up mental health care," according to the filing.
He died by suicide on Sept. 26, 2019, according to court records. 
Marquell Underwood, 22, was placed into segregation at Easterling Correctional Facility on Feb. 23 and died by suicide that same day, according to court records. 
"Mr. Underwood previously reported a history of Bipolar Disorder, was referred to mental health nine times in relation to segregation placements, self-referred once to mental health, and was placed on acute suicide watch twice during the six months before his death," the plaintiffs' attorneys wrote to the court. "Despite all of this, he was never placed on the mental health caseload, never received a psychiatric evaluation, and never received any mental health treatment."
Laramie Avery, 32, died by suicide in his segregation cell at Bullock prison on April 14 and was placed in segregation for "disciplinary" reasons after being stabbed at least eight times in the head and chest, according to the filing. 
"Mr. Avery was referred for a mental health evaluation three days before his suicide, but there is no evidence that the evaluation ever occurred. He was not on the mental health caseload," the court filing states. 
The plaintiffs' attorneys also note the death of Darnell McMillian on June 22 at Donaldson prison. McMillian died while on suicide watch and after having been placed into a cell with another inmate also on suicide watch. 
"After an altercation between Mr. McMillian and his cellmate, correctional officers allegedly deployed pepper spray, which caused Mr. McMillian to become unconscious and may have led to his death. It is unclear what policies ADOC has instituted, if any, to ensure the safety of those on suicide watch who are double-celled," attorneys wrote to the court. 
An ADOC worker told APR in July that correctional officers used an excessive amount of pepper spray in the cell where McMillian and another inmate were housed. The cause of his death is pending an autopsy.