Alabama sailor killed in Pensacola Naval Air Station shooting
Friday, an Alabama sailor was among the dead in the Pensacola Naval Air Station shooting that left three killed. Among the dead was an Alabamian. Alabama leaders mourned the untimely passing of 23-year old Navy Ensign Joshua Kaleb Watson. The shooter was also killed by first responders.
Ensign Watson was shot five times. Despite being mortally wounded, Watson went and found first responders and gave them a detailed description of the assailant as well as his location before succumbing from his wounds. Watson is being credited with the saving of several lives.
"Our state and our nation will forever remember Kaleb Watson as a hero," Alabama Governor Kay Ivey (R) said. "Even after being shot multiple times, he mustered up the strength to direct first responders to the assailant at the Pensacola Naval Air Station. This young man had a full life ahead of him, one with dreams and a promising military career. He made the ultimate sacrifice for his country, and we will never forget. My prayers remain with his family and loved ones, as well as the many men and women serving in our military here and abroad."
"Ensign Watson encompassed the very best that Alabama has to offer, and he represented his state proudly to the nation he sought to serve," Speaker of the House Mac McCutcheon, R-Monrovia, said in a statement. "All Alabamians are proud to say that Joshua Watson lived his life as a patriot, and he died as a hero."
Speaker McCutcheon said that the Alabama House will formally recognize his heroism and his military service when they convene the regular session in February.
"On behalf of the membership of the House of Representatives, I extend our prayers of consolation to his family, his friends, and those with whom he served." McCutcheon concluded.
Former Chief Justice and Senate candidate Roy Moore (R) said, "The passing of Joshua Watson, a graduate of the US Naval Academy is perfectly described in the Alma Mater of WestPoint:
And When our Work is done
Our Course on earth is run
May it be said, 'Well done'
Be Thou at peace.
Joshua died a hero serving our Country," Moore concluded, "He rests in the hands of God."
Judge Roy Moore is a graduate of the United States Military Academy at WestPoint, class of 1969.
Former Attorney General and Senate candidate Jeff Sessions said, "Military Service is dangerous and every soldier, sailor, and airman knows the risks involved in combat to defend and protect the interests of the United States and her people. But those risks should NEVER include being murdered in a classroom on a U.S. Naval base by an Islamic terrorist, a terrorist who is a guest in our country and is receiving training from U.S. military personnel."
"Three of our finest, including one of our own from right here in Alabama, have been lost," AG Sessions added. "There is no excuse for this, and it must never happen again. At this time, the Department of Defense should consider suspending the training of all Saudi military personnel, and review the clearly insufficient vetting processes currently in place."
Congressman Bradley Byrne, R-Montrose, said, "A true hero who paid the ultimate sacrifice. Prayers of strength and comfort for his family!"
"Joshua Kaleb Watson saved countless lives today with his own," wrote his brother, Adam Watson. "After being shot multiple times he made it outside and told the first response team where the shooter was and those details were invaluable."
"He died a hero and we are beyond proud but there is a hole in our hearts that can never be filled," Adam Watson said.
His father, Benjamin Watson, told reporters that Kaleb, was the officer on deck at the time of the shooting.
"Heavily wounded, he made his way out to flag down first responders and gave an accurate description of the shooter," Benjamin Watson said. "He died serving his country."
Benjamin Watson said that his son wanted to become a Navy pilot and reported to Pensacola for flight training the week of Veterans Day.
The shooter was a Saudi national who was at Pensacola Air Station for light training. The shooter reportedly clashed with flight instructors.
The FBI is investigating the shooting as an act of terrorism.
Original reporting by the Pensacola News Journal contributed to this report.
Print this piece
Opponents accuse Tuberville of supporting amnesty for undocumented immigrants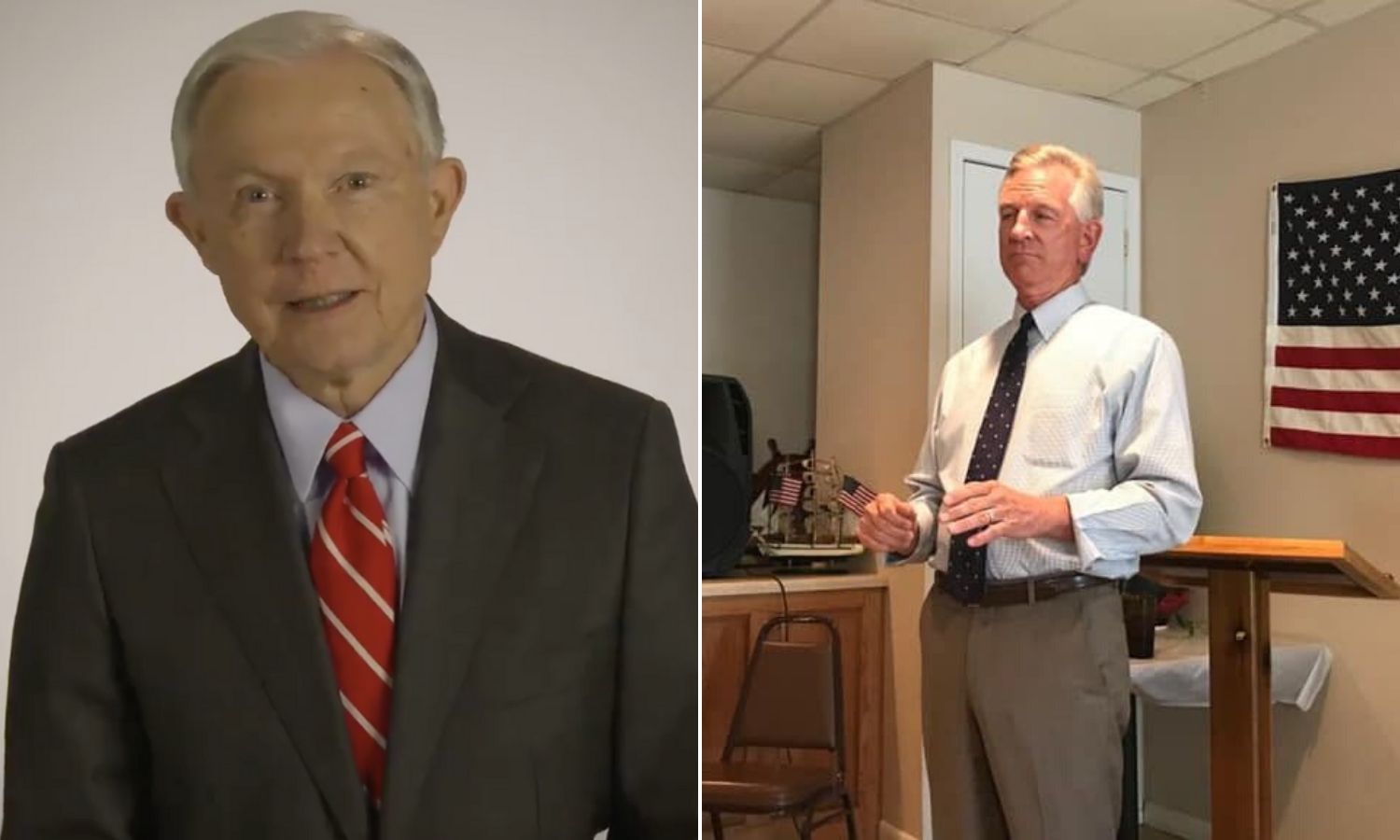 The Senate campaign is heating up as the top three candidates are all going negative. Former Auburn head football coach Tommy Tuberville has attacked Congressman Bradley Byrne (R-Montrose) and former Attorney General and Senator Jeff Sessions of being career politicians. Both Byrne and Tuberville have attacked Sessions for not having adequately served President Donald J. Trump (R) while Attorney General. Byrne has even attacked Tuberville's coaching abilities. The latest attacks on Tuberville accuse him of supporting amnesty for illegal aliens. Sessions even accused Tuberville of being a "tourist."
Wednesday, Sessions announced a new television ad called "Tuberville for Amnesty."
Byrne and Tuberville point to an August speech by Coach Tuberville when he said: "There are people coming across the border that need jobs… and we want them to come over here… Let em' come in and become citizens like we all became citizens."
The Tuberville campaign called the attack "fake news" on Twitter.
Sessions' campaign manager Jon Jones said, "Tuberville is claiming that his own words are 'fake news.' All of them? Tommy Tuberville needs to read the transcript. It is clear that Tuberville supports immigration amnesty, and he is attempting to trick Alabama voters to believe otherwise. In contrast, Jeff Sessions has done more than just say he wants to fix the border – he has already worked alongside President Trump to stop illegal immigration."
The new Sessions ad reads: "Tuberville is trying to trick you, hiding his support for immigration amnesty." Then plays an audio clip of the Tuberville comment from August
Tuesday, Byrne told reporters in Trussville: "I can tell you right now this issue about Tommy Tuberville's position on amnesty is a key issue. And so we're going to keep telling people about his position on that and let him explain why he doesn't think that's amnesty."
"Let em' come in and become citizens like we all became citizens," Tuberville is quoted in the ad.
Tuberville has denied supporting amnesty and says that he supports President Trump's immigration agenda.
The Sessions ad further charges: "And Tuberville's not even from Alabama, he's a tourist here. He lives, pays taxes and even votes in Florida."
On Tuesday, the Tuberville campaign responded with an attack ad of their own.
"The career politicians are desperate to hang on to their paychecks and power, so they have started airing negative ads full of false attacks and baseless distortions," Tuberville said. "Our new commercial allows us to respond with some hard truths about which candidate wants to drain the D.C. swamp and is tough enough to actually help President Trump get the job done."
The Tuberville ad has Byrne with former Secretary Hillary Clinton and Sessions with Congressman Adam Schiff (D-California) who led the impeachment effort against President Trump. The ad even connects Sessions and Byrne with Sen. Mitt Romney (the only Republican in either House of Congress who found that the President did anything wrong.)
State Representative Arnold Mooney, former Chief Justice Roy Moore, Ruth Page Nelson, and businessman Stanley Adair are also running for the Republican nomination for the Senate seat currently held by Doug Jones (D).
The Republican primary is March 3.
Print this piece