Doug Jones champions Alabama priorities in final defense bill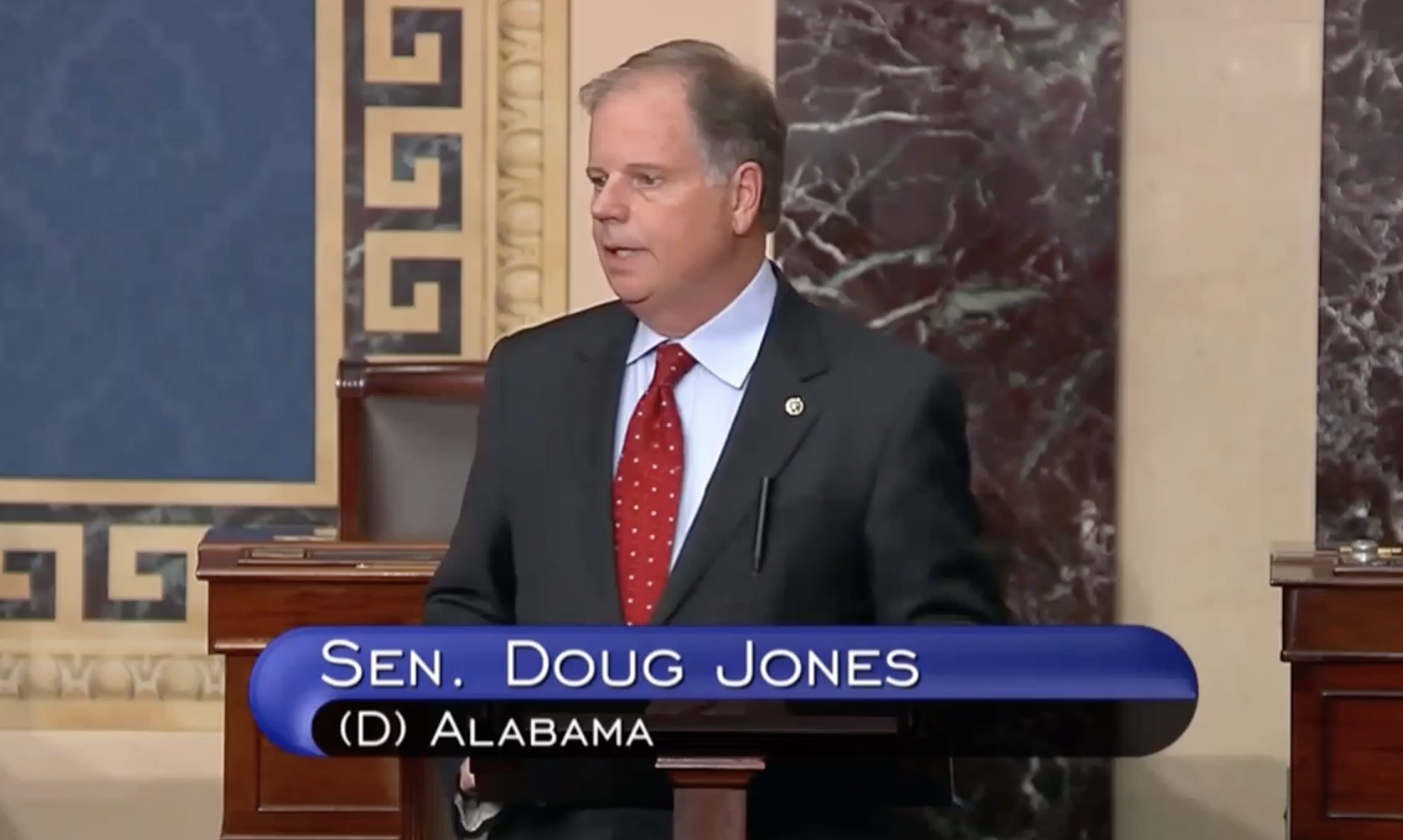 The Senate and House Armed Services Committees today released the final text of the Fiscal Year 2020 National Defense Authorization Act (NDAA) with numerous provisions and Alabama priorities secured by Senator Doug Jones, D-Ala.. The annual legislation authorizes national defense objectives for the next fiscal year. The bill will now be voted on by both houses and if it passes, it will go to the President for his signature.
"This bill is proof that Congress is still capable of putting aside partisanship and getting things done for the American people. Providing 12 weeks of paid leave for federal employees, securing a 3.1 percent pay raise for troops, and eliminating the military widow's tax will make a huge difference in the lives of people in Alabama and across the country," said Senator Jones, a member of the Senate Armed Services Committee. "The fact that this bill authorizes so many Alabama priorities is a testament to the importance of Alabama's role in our national defense and the quality of our servicemen and women."
The final legislation includes funding for key Alabama projects like ship-building, helicopter construction, and combat vehicle upgrades. It will also authorize the U.S. Space Force and ensures strong space defense programs. And, it will support military families and children through privatized housing reforms, additional aid to schools serving military children, and inter-state licensing transfer compacts to help spouses transition their careers more seamlessly. 
Senator Jones' bipartisan bill to support victims of Iranian terrorism was also included in the package. TheSupporting Victims of Iranian Terrorism Act will allow family members – at least 35 of whom live in Alabama – of the victims of the1983 Marine barracks bombing in Beirut, Lebanon, as well as families of 9/11 victims, to seek restitution for their loved ones' deaths by allowing them to make claims on $1.68 billion in Iranian funds that are currently being held by a Luxembourg-based firm.
The bill will also establish 12 weeks of paid parental leave for federal employees. In August, Senator Jones wrote to the leaders of the Senate and House Armed Services Committees to express support for a paid leave policy and called on them to include 12 weeks of leave in the final defense bill.
Print this piece
Opponents accuse Tuberville of supporting amnesty for undocumented immigrants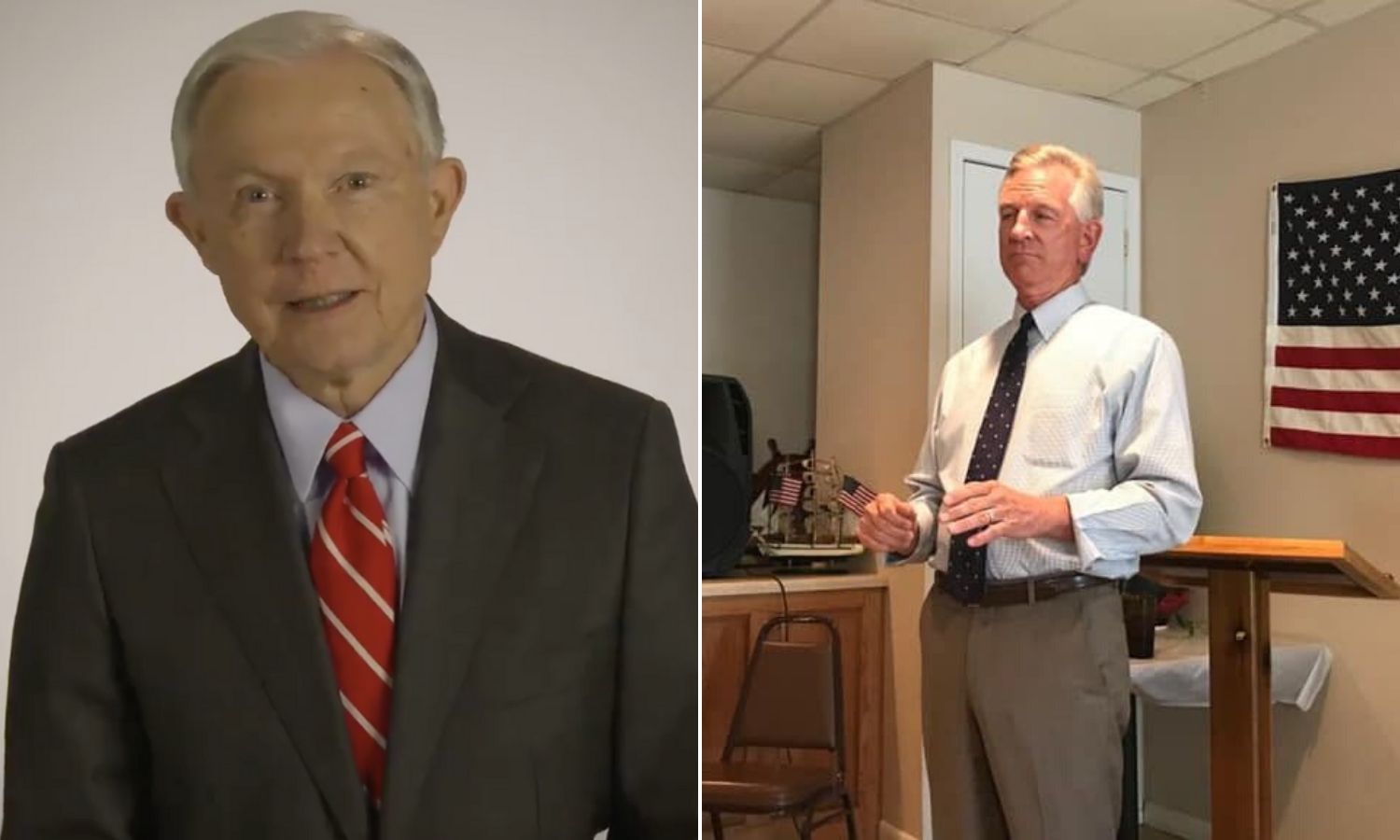 The Senate campaign is heating up as the top three candidates are all going negative. Former Auburn head football coach Tommy Tuberville has attacked Congressman Bradley Byrne (R-Montrose) and former Attorney General and Senator Jeff Sessions of being career politicians. Both Byrne and Tuberville have attacked Sessions for not having adequately served President Donald J. Trump (R) while Attorney General. Byrne has even attacked Tuberville's coaching abilities. The latest attacks on Tuberville accuse him of supporting amnesty for illegal aliens. Sessions even accused Tuberville of being a "tourist."
Wednesday, Sessions announced a new television ad called "Tuberville for Amnesty."
Byrne and Tuberville point to an August speech by Coach Tuberville when he said: "There are people coming across the border that need jobs… and we want them to come over here… Let em' come in and become citizens like we all became citizens."
The Tuberville campaign called the attack "fake news" on Twitter.
Sessions' campaign manager Jon Jones said, "Tuberville is claiming that his own words are 'fake news.' All of them? Tommy Tuberville needs to read the transcript. It is clear that Tuberville supports immigration amnesty, and he is attempting to trick Alabama voters to believe otherwise. In contrast, Jeff Sessions has done more than just say he wants to fix the border – he has already worked alongside President Trump to stop illegal immigration."
The new Sessions ad reads: "Tuberville is trying to trick you, hiding his support for immigration amnesty." Then plays an audio clip of the Tuberville comment from August
Tuesday, Byrne told reporters in Trussville: "I can tell you right now this issue about Tommy Tuberville's position on amnesty is a key issue. And so we're going to keep telling people about his position on that and let him explain why he doesn't think that's amnesty."
"Let em' come in and become citizens like we all became citizens," Tuberville is quoted in the ad.
Tuberville has denied supporting amnesty and says that he supports President Trump's immigration agenda.
The Sessions ad further charges: "And Tuberville's not even from Alabama, he's a tourist here. He lives, pays taxes and even votes in Florida."
On Tuesday, the Tuberville campaign responded with an attack ad of their own.
"The career politicians are desperate to hang on to their paychecks and power, so they have started airing negative ads full of false attacks and baseless distortions," Tuberville said. "Our new commercial allows us to respond with some hard truths about which candidate wants to drain the D.C. swamp and is tough enough to actually help President Trump get the job done."
The Tuberville ad has Byrne with former Secretary Hillary Clinton and Sessions with Congressman Adam Schiff (D-California) who led the impeachment effort against President Trump. The ad even connects Sessions and Byrne with Sen. Mitt Romney (the only Republican in either House of Congress who found that the President did anything wrong.)
State Representative Arnold Mooney, former Chief Justice Roy Moore, Ruth Page Nelson, and businessman Stanley Adair are also running for the Republican nomination for the Senate seat currently held by Doug Jones (D).
The Republican primary is March 3.
Print this piece