Opinion | Unchallenged awfulness has ruled Alabama politics for too long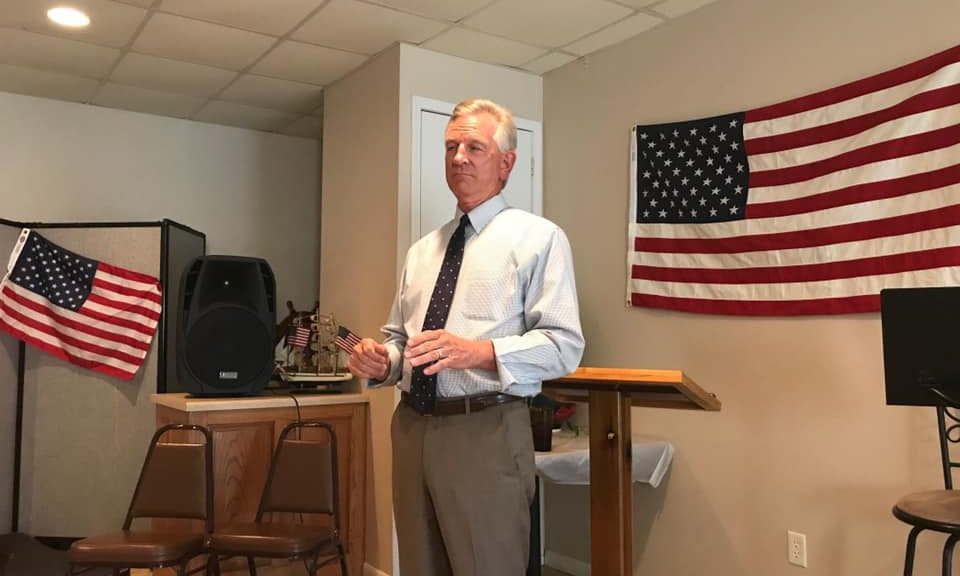 Maybe, just maybe, Tommy Tuberville is our fault. 
The fault of the sane people. The fault of the non-crazies.  
Because we're not harsh people. We don't like to try and force our beliefs and thoughts on others. We prefer rational conversations and honest debate. And God bless us, we still, after all this time and Donald Trump, expect the best of people. 
And so, when a former mediocre college football coach who just last year was telling ESPN how much he loved living in Florida showed up and announced that he was running for U.S. Senate in Alabama, we all dismissed it as a sideshow not worth our time. 
We assumed — and you know how that usually goes — that even the Republicans in Alabama would tire quickly of Tuberville's pandering routine. 
That his six finger-salute to Alabama fans a few years ago would spell his doom. 
Or the fact that his entire campaign platform consists of him saying the word "Trump" as often as possible would eventually wear thin 
Or that his complete and utter ignorance of anything even remotely having to do with the senate, the U.S. government or Alabama would make quick work of his campaign. 
But, yet again, that's on us. Because we just never imagined that a senate candidate traveling around the state and saying dumb and racist things, without ever speaking a word of specifics about policy, programs or initiatives, would attract a significant number of voters. 
Wrong again. 
Tuberville remains near the front of the GOP race to take on Doug Jones, who is in the unenviable position of being a sane, qualified, decent human being and also a politician in Alabama. Internal polling taken by the campaigns after the initial announcement by Jeff Sessions that he was coming out of the tree to reclaim his old seat has shown Tuberville fairly even with Sessions — to the surprise of pretty much everyone. 
Aiding Tuberville's poll numbers is the backing he received from ALFA. 
(Is there a group of people less interested in voting for their own interests than Alabama farmers? Trump's policies have KILLED farmers in this state, sending major purchasers of Alabama crops to other countries for better deals. Which will hurt ALFA members well into the future. But no matter. They're still backing Trump and they're backing Tuberville.)
And why wouldn't ALFA members back Tuberville? After all, who has done more for the Alabama farmer than … well, actually, pretty much everyone else in the state has done more than Tuberville. 
No matter. There he was on Monday evening at the Farmers' Federation annual meeting, with a prime speaking spot. And boy, did he ever deliver. 
Tuberville told the crowd, according to the Montgomery Advertiser's Bryan Lyman, that "God sent Donald Trump" to us. He later proclaimed that Christianity is "dying" and that we need to do something to save it. 
This is the guy hundreds of thousands of Alabama voters want to send to Washington D.C. to represent this state. 
The guy who drove past the state Christmas tree, the City of Montgomery Christmas tree, thousands of Christmas lights decorating the downtown area of Montgomery, where a Christmas parade was held just last week, to tell a crowd full of people, who were undoubtedly missing a small group meeting, that Christianity is dying. 
That, kids, is a special level of stupid. 
And our apologies for not saying so sooner. 
In fact, let me just be clear: If you vote for Tommy Tuberville, you are an imbecile who should be hit repeatedly over the head with a history book in the hopes that some knowledge eventually seeps from the pages and into your brain. 
What is wrong with y'all? 
Are y'all actually saying that all it takes to win votes in Alabama is the willingness to travel the state saying awful things about people? 
Forget understanding how government works. Forget understanding the issues facing the people of the state. Forget understanding how a U.S. senator could address those issues. 
Just rail against LGBTQ people, disparage immigrants, play the oppressed majority role and work Trump's name into every other sentence and you can start picking out the drapes in senate office. 
Pathetic. 
This is the reason Alabama is last in everything good and first in everything bad. The majority of voters in this state vote FOR the awfulness. In many cases, and Tuberville is certainly one of them, the awfulness is the only qualifying attribute for them. 
And the rest of us sit quietly by, hoping despite all the historical evidence, that this time it will be different. That people will come to their senses. That surely the folks who claim to know Jesus couldn't possibly vote for candidates who quite clearly don't. 
It's pretty clear where keeping quiet has left us.
ACLU joins lawsuit over Alabama voting amid COVID-19 pandemic
The lawsuit was filed on behalf of several voters who are at greater risk from complications or death due to COVID-19. 
The American Civil Liberties Union and its Alabama chapter have joined in a lawsuit attempting to make it easier for some voters to cast their ballot during the COVID-19 pandemic.
The American Civil Liberties Union and ACLU of Alabama joined in the lawsuit filed in May by the NAACP Legal Defense and Educational Fund, Southern Poverty Law Center and Alabama Disabilities Advocacy Program against Gov. Kay Ivey and Secretary of State John Merrill. 
The U.S. Supreme Court in a 5-4 decision last week blocked U.S. District Judge Abdul Kallon's order that would have allowed curbside voting statewide and waived certain absentee ballot requirements for voters in at least Jefferson, Mobile and Lee Counties.
The lawsuit was filed on behalf of several voters who are at greater risk from complications or death due to COVID-19. 
The lawsuit was also brought on behalf of People First of Alabama, Greater Birmingham Ministries, the Alabama State Conference of the NAACP and Black Voters Matter Capacity Building Institute.
With the Supreme Court's decision, voters in the upcoming July 14 Republican runoff election will have to submit a copy of their photo ID and have either two adult witnesses sign their absentee ballot requests or have it notarized. 
"Alabama is in the middle of a deadly and ongoing pandemic but is refusing to take common-sense steps to protect the public's health and their right to vote for all elections in 2020. That's why we are taking legal action," said Alora Thomas-Lundborg, senior staff attorney with the ACLU's Voting Rights Project in a statement. 
"In the midst of an out-of-control pandemic, Alabama officials should be doing everything they can to ensure that all voters have a safe, fair, and equal opportunity to cast a ballot. Instead, officials have chosen politics over public health and safety. They are fighting to make it harder to cast a ballot and have that ballot counted. This litigation is crucial to ensure safe, fair, and equal opportunity to vote," said Randall Marshall, executive director of the ACLU of Alabama, in a statement.
"As we head into preparations for the November general election with COVID-19 cases rising in Alabama, it is critical that our election officials take seriously the protection of voters, poll workers, and our democracy," said Caren Short, senior staff attorney for SPLC in a statement. "In this critical election season, we are grateful to have Black Voters Matter Capacity Building Institute, the ACLU, and the ACLU of Alabama join this effort to ensure that every voter is heard. No voter should have to choose between exercising their fundamental right to vote and their health or the health of a loved one."
Deuel Ross, NAACP's Legal Defense Fund senior counsel, said in a statement that over the July 4th weekend, Alabama reported nearly 5,000 new coronavirus cases.
"Yet, state leaders insist on enforcing draconian restrictions on in-person and absentee voting that no other state finds necessary to combat the almost nonexistent issue of voter fraud," Ross said. "These restrictions are needless in normal circumstances. They are deadly in a pandemic. At trial in September, we will work to make sure that state leaders comply with their constitutional duty to protect the rights and safety of all voters."
In a Tweet on July 2, Alabama's Secretary of State John Merrill expressed gratitude for the Supreme Court's decision. 
"With the news that we have received a Stay in this process, I am excited that the United States Supreme Court has ruled in favor of those who believe in strict interpretation of the Constitution and has decided to grant the Stay and not endorse legislating from the bench," Merrill said in the tweet.