Bipartisan NDAA passes the House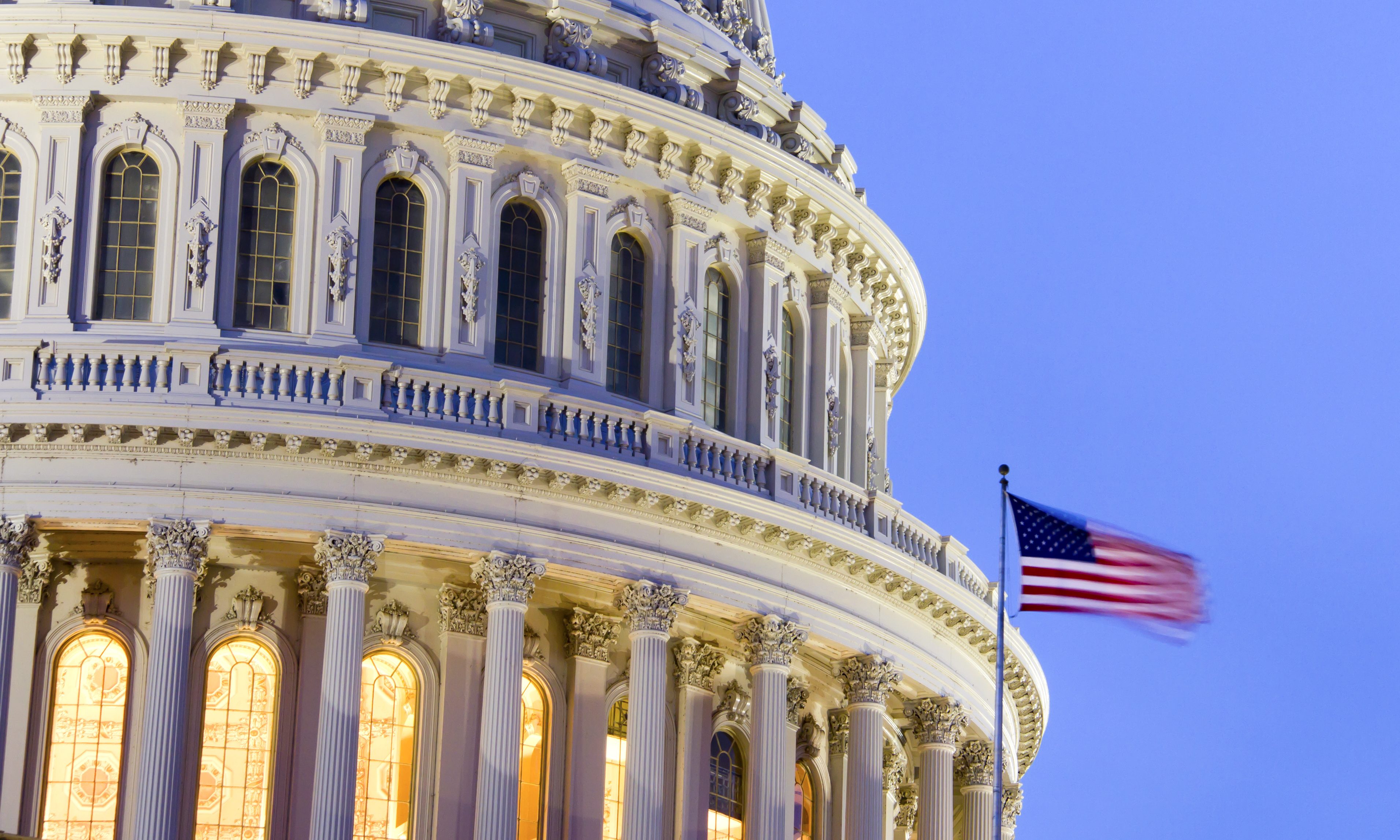 Wednesday, the House of Representatives passed the National Defense Authorization Act (NDAA) conference report on a bipartisan 377 to 48 vote. Alabama Congress members Bradley Byrne, Terri Sewell, Mike Rogers, and Mo Brooks all supported the final version of the NDAA and released statements on passage of the legislation.
"This bipartisan bill is a huge win for our troops, national security, and Alabama. I applaud the conferees for removing House Democrats' numerous unrelated "partisan wish list" add-ons that prevented me from supporting the previously-passed House NDAA," Congressman Bradley Byrne (R-Montrose) said. "Providing for the common defense is one of our most important duties in Congress, and it was time the Democrats stopped playing political games with our troops."
"From the men and women serving at Maxwell Air Force Base and at the 187th Fighter Wing in Montgomery, to the shipbuilding industry in Mobile and the missile defense efforts in Huntsville, Alabama plays a major part in our national security," Congresswoman Terri A. Sewell (D-Selma) said. "I am proud to have represented our state in conference with my colleagues. We delivered a smart, bipartisan defense bill that improves campaign election security, makes good on our promises to military widows and authorizes funding to equip, supply and train U.S. troops and support military families at home and abroad.
Rep. Sewell was selected by Speaker of the House Nancy Pelosi (D-California) to represent House Democrats on the conference committee that drafted the compromise National Defense Authorization Act Conference Report.
The NDAA establishes the U.S. Space Force in Title 10 as the sixth Armed Service of the United States, under the U.S. Air Force. This was a top priority for Congressman Mike Rogers (R-Saks) and President Donald J. Trump (R). Space Force is the first new branch of the military since 1947. It also recognizes space as a warfighting domain and authorizes the transfer of Air Force personnel to the newly established Space Force.
"I was ecstatic that the project my friend Rep. Jim Cooper (D-TN) and I have been working on for several years is finally becoming a reality," Rogers said. "This is an important step for our national security. Our adversaries are moving quickly in space and this new service will allow us to quickly realign our resources and efforts towards countering them. I am also pleased we continued the 58-year streak of passing a NDAA to ensure our military is fully funded. This year's NDAA includes many other significant policy provisions that are important not only to our national security, but also our brave men and women in uniform."
Rogers is a senior member of the House Armed Services Committee and was a conferee on the report.
"The FY20 NDAA House-Senate compromise bill is vastly superior to the original House version opposed by a bipartisan Senate and the White House," Congressman Mo Brooks (R-Huntsville) said. "This compromise NDAA enhances America's national security by: authorizing $738 billion in defense funding; establishing the U.S. Space Force as a sixth Armed Service of the United States (which improves America's ability to acquire, operate, and defend space-based assets); adequately authorizing funding for the development of all three legs of the nuclear triad; reversing efforts to eliminate funding for the deployment of low-yield nuclear weapons; and, increasing funding for development of hypersonic weapons, directed energy weapons, and next-generation helicopters; to name a few."
Brooks said that, "The FY20 NDAA House-Senate compromise bill improves the quality of life of America's servicemembers by: giving troops a 3.1% pay raise; phasing out the Widow's Tax; addressing the military housing crisis and requiring the services to establish a Tenant Bill of Rights; and, doubling the reimbursement amount for state licensure expenses for military spouses, who face unique career challenges when they move across state lines and often must pay substantial sums to requalify for nearly identical licenses."
"This NDAA enables us to rebuild military readiness, allows for continued counter drug enforcement at our border, preserves President Trump's transgender troop ban, accelerates programs to counter Chinese and Russian aggression, and authorizes important bipartisan nuclear modernization programs," Byrne added. "Importantly, this bill gives our troops a 3.1 percent pay raise, the largest increase in a decade, and repeals the widow's tax, a goal I've worked towards for many years. It also establishes the Space Force, a priority of President Trump's that is expected to bring high-paying jobs to Alabama. And I'm particularly pleased this bill maintains long-standing prohibitions on transferring detainees from Guantanamo Bay to the U.S. since my efforts to preserve this ban were blocked earlier in the year.
The NDAA included several provisions that Sewell authored and including language to improve federal campaign election security. Specifically, the legislation requires the Director of National Intelligence (DNI) to work with the Under Secretary of Homeland Security for Intelligence and Analysis and the Director of the Federal Bureau of Investigation to make available an advisory report on foreign counter-intelligence and cybersecurity threats to election campaigns for federal offices. It require the DNI work jointly to publish a summary of best practices that federal campaigns can employ to counter such threats. In the event that Director of the Federal Bureau of Investigation and the Under Secretary of Homeland Security for Intelligence and Analysis jointly determine that a federal election campaign is subject to a heightened foreign counterintelligence or cybersecurity threat, the provision would allow them to make available additional information to those campaigns to help thwart outside interference.
Sewell also authored authorization for increased intelligence funding for combatant commanders and our growing strategic competition with China, Russia and other malign actors as well as a continued commitment to promoting increased diversity within the Intelligence Community's workforce.
"The original House-passed NDAA, that every Republican opposed, included a number of open-border provisions that would have undermined our efforts to secure the Southwest border," Rogers said. "I'm pleased Democrats dropped their unreasonable demands that would have tied President Trump's hands by limiting funding for the border wall and restricting the use of DoD assistance."
Brooks said, "I am pleased by the success my office had in helping to successfully insert into the compromise NDAA the following provisions that are beneficial to America and Redstone Arsenal, including but not limited to: $38 million authorized for construction of an Aircraft and Flight Equipment Building on Redstone Arsenal; $40 million authorized for construction of a new air traffic control tower and airport terminal on Kwajalein Atoll; additional $161.6 million authorized for the Army Rapid Capabilities and Critical Technologies Office (located on Redstone Arsenal) for hypersonic weapons development; additional $108 million authorized for the development of the Missile Defense Agency's Hypersonic and Ballistic Tracking Space Sensor layer to detect and track hypersonic threats; additional $2.5 million authorized to develop next generation small satellites; additional $7 million authorized for new hypersonic weapons testing facilities; fully reverses the House Democrats' $50 million authorization cut to the Army Future Command's Assured Position, Navigation, and Timing Cross-functional Team's efforts to develop their Low Earth Orbit space architecture; and, additional $75 million authorized to develop Future Vertical Lift platforms."
"With this bill's passage, we can continue President Trump's mission to rebuild our military might and arm our fighting men and women with the resources they need to combat threats around the globe," Byrne said. "The NDAA contains many important benefits to Alabama: Authorizes one Guided Missile Frigate FFG(X) contract which Austal will compete to build in Mobile, including language secured by Byrne reiterating and instructing that cost is a critical factor in the competition. Supports the conversion of Expeditionary Fast Transport ships into medical ships at Austal's Mobile shipbuilding facility. Authorizes $12 million for a new Army National Guard Readiness Center in Foley. Authorizes $249.2 million for Stryker Combat Vehicle Lethality Upgrades to take place in Anniston. Supports missile defense programs in Huntsville and Troy as well as cyber and hypersonic weapons advancements. Authorizes $34 million for the Enlisted Transient Training Barracks at Fort McClellan Army National Guard Training Center in Anniston. Authorizes $151.6 million for the Army's Future Vertical Lift Helicopter Modernization Program and the Future Long Range Assault Aircraft that Bell Helicopter will compete to build in Ozark."
"Perhaps as important as what's in the House-Senate NDAA is what is not in the bill", Brooks said. "The bill does not cut border security funding. To be blunt, more Americans have died as a result of America's porous southern border than have been killed in any American military conflict, with the possible exceptions of World War II and the Civil War. Border security is national security. I'm pleased the House-Senate compromise NDAA doesn't hinder President Trump's ability to secure America's southern border and save American lives."
The bipartisan, bicameral conference report authorizes $738 billion for defense spending for FY 2020.
With House passage, the NDAA conference report now awaits a final Senate vote before going to the President's desk to be signed into law.
Print this piece
Brooks releases road map for completing defense appropriations bill despite coronavirus crisis
Congressman Mo Brooks, R-Huntsville, on Wednesday released the House Armed Services Committee road map for completing the FY2021 National Defense Authorization Act despite the COVID-19 pandemic.
"National defense is the #1 priority of the federal government. Despite the once-in-a-century COVID-19 pandemic, the House Armed Services Committee stands fully committed to passing the annual National Defense Authorization Act," Brooks said. "The NDAA has passed Congress 59 consecutive years. I will work to ensure FY 2021 is no different. I thank Chairman Smith and Ranking Member Thornberry for their leadership and commitment to passing the FY21 NDAA in the face of COVID-19 challenges. While the process will be different, I am confident the final House Armed Services Committee product will be no less effective at securing America."
Committee Chairman Adam Smith and Ranking Member Mac Thornberry's attached the March 31, 2020 letter providing HASC's plan to have the NDAA ready for committee debate by May 1st.
The letter was addressed to Members of the Committee on Armed Services, including Brooks.
"We want to update HASC members and staff on plans for our committee during the month of April, given the nationwide disruption caused by the COVID-19 pandemic," Smith and Thornberry wrote. "One challenge is deciding how to handle meetings of the committee and subcommittees since all such meetings for April will have to be held by conference call or video conference."
"We must continue to exercise our oversight responsibilities and prepare to pass the Fiscal Year 2021 National Defense Authorization Act (NDAA) out of committee and off the House floor," the letter continued. "Our goal is to have the bill ready to go by May 1st, and we will schedule the date of the mark up once the House schedule for the next few months becomes clear."
"First, we want you all to understand that because of House rules we cannot hold public hearings or classified briefings in the formal sense like in normal circumstances," they explained. "We will have to do what can best be called, informal events."
"Public hearings are required to be open to the public," the leaders of the HASC committee wrote. "They also require a quorum, involving the physical presence of members. Neither of these things are possible to achieve in conference calls or video conferences. Obviously, we also cannot have classified briefings over the phone or on video. There is no way to set up secure connections amongst the number of people that would have to be involved."
"Informal events, therefore, would take the form of the full committee or the subcommittees doing video or phone conferences and linking up the necessary members, staff, and witnesses," the letter continued. "We have one such informal event, set for April 1st with Department of Defense officials to discuss their response to the pandemic. This will be a conference call."
"We believe that future informal events like this for the month of April make sense, and welcome any suggestions from members on appropriate topics and witnesses," Smith and Thornberry continued. "But, we hope members will keep in mind some of the responsibilities that will need to be balanced in deciding when to pull together such informal events. We face three significant limitations during the month of April when it comes to setting up these informal events. First, HASC staff and members, as they always are in the month leading up to finalizing full and subcommittee marks, are spending an enormous amount of time doing the work necessary to get the mark done. In fact, we did not plan on having a significant number of public hearings or briefings in April even before the shutdown happened due to this staff workload. Second, these are not normal times. As we're sure all of you have been doing, we and the HASC staff and everyone at the Department have been fully engaged on managing the pandemic crisis. It is a complex problem and the Department plays a crucial role. We are all working countless angles to address the crisis and that crucial work must be given priority. Finally, efforts to prevent the spread of the virus among Department personnel and others will without question limit the ability of the Department and other witnesses to be available at times in the coming month."
Smith and Thornberry wrote that these informal events are needed for to get the bill done, while exercising the necessary oversight of the Department.
The informal events are meant to substitute for normal public hearings and briefings and are not the only or even the main thing that the committee is doing.
Social distancing and the prohibition on meeting with more than ten present has made it difficult for Congress to fulfill many of its duties.
Congressman Mo Brooks is serving in his fifth term representing Alabama's Fifth Congressional District. Brooks recently won the Republican primary. Since he has no Democratic opponent this means that Brooks has been effectively re-elected to his sixth term in Congress.
Print this piece