Alabama celebrated its bicentennial Saturday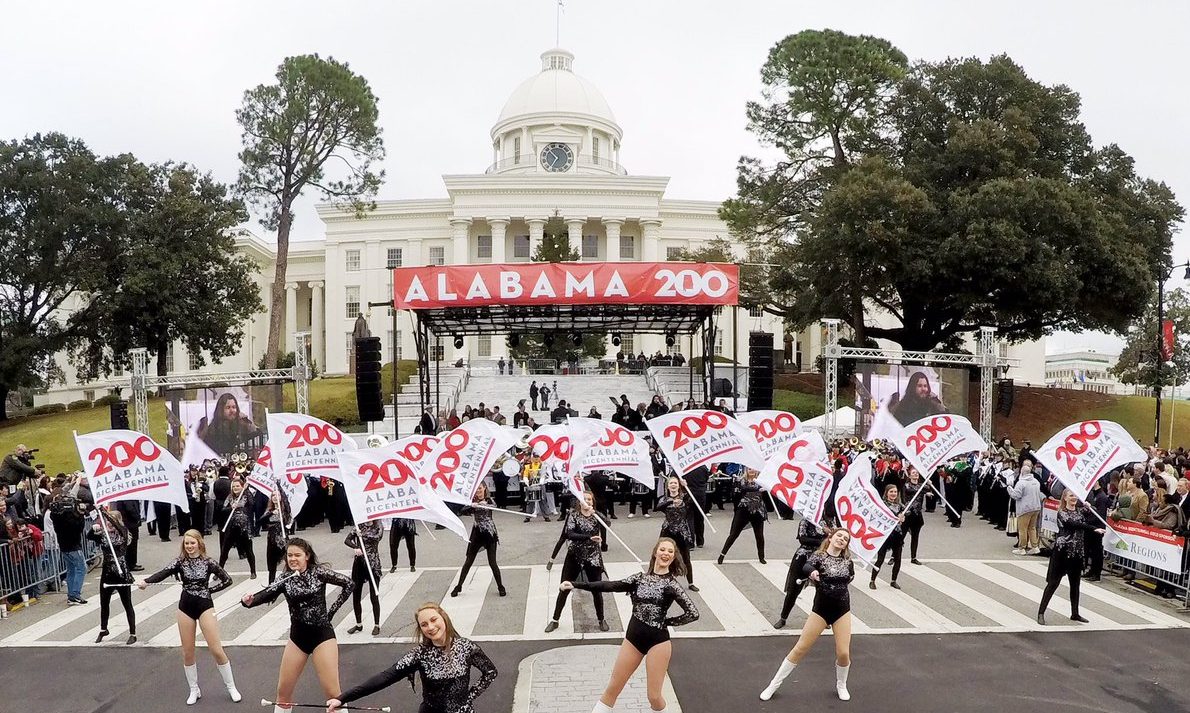 Saturday, the state of Alabama celebrated its 200th anniversary as a state with festivities in Montgomery. The state held a festival, concerts, parade, fireworks, and dedicated the new Bicentennial Park on Dexter Avenue across from the Capital building.
"AL sure knows how to throw a party!" Alabama Governor Kay Ivey (R) said. "This three-year celebration wouldn't have been possible w/o the time & effort put forth by the Bicentennial Commission. Thank you to the #AL200 Commission, @SenatorOrr & the student committee for spearheading this endeavor. Job well done!"
State Senator Arthur Orr (R-Decatur) chaired the Alabama Bicentennial Commission, which planned the events and festivities that culminated in the weekend's events.
Senator Orr said on social media, "Thank you @GovernorKayIvey Bicentennial Exec Director Jay Lamar and all who made yesterday an extraordinarily memorable day!"
"It was a wonderful weekend celebrating the 200th birthday of the state of Alabama," Congresswoman Martha Roby (R-Montgomery) said. "I had the opportunity to attend celebratory events in our beautiful Capital City, and I am grateful to have spent this exciting time surrounded by Alabamians from all over the state."
"Today we celebrate 200 years of the great state of Alabama," Senator Richard Shelby (R) said. "I am honored to have served the state over the years, watching Alabama transform into an epicenter for national defense, space exploration, manufacturing, medical research, and so on. This is a day to recognize how far we have come, while also looking to the promising future we have ahead of us. I am proud of my state and all we have accomplished – today and every day. Happy 200th birthday, Alabama! Here's to many more. #AL200"
"Thank you to everyone who worked to make the Alabama Bicentennial celebration (& all @al200 events) memorable," Dr. Nicole Jones said. "Thousands of people visited downtown Montgomery for Alabama's 200th birthday. A special thank you to author Lobo Tristan for presenting me w/ a copy of his book. #Our67."
"Today in 1819, the greatest state joined the Union," Congressman Bradley Byrne (R-Montrose) said. 200 years of memories, and I'm confident Alabama's best days are yet to come! Happy birthday to my home state."
"I recently led the efforts with my colleagues in the Alabama delegation to introduce a House resolution that recognizes the 200th anniversary of Alabama's statehood," Roby said. "I was honored to introduce Governor Kay Ivey Friday night and present her with a copy of the resolution."
"One of the first & most lasting ways that we acknowledge both our history & our future is through the unveiling of Alabama Bicentennial Park today," Gov. Ivey said Saturday on social media. "Thank you to the AL Legislature & to artist Caleb O'Connor for making this legacy park possible."
"On Saturday, I attended the Alabama Bicentennial Park Dedication at the state Capitol," Roby added. "It was a memorable weekend celebrating the incredible people and significant history of the state of Alabama."
Economic developer and historian Dr. Nicole Jones told the Alabama Political Reporter, "Thank you to everyone who worked to make December 14th (and all of the Alabama Bicentennial events) memorable. Thousands of residents visited downtown Montgomery to celebrate Alabama's 200th birthday. The Bicentennial Park dedication was special because it unveiled bronze interpretive plaques of everyday Alabamians engaging in activities that have shaped our state's history. Executive Director Jay Lamar and her team of staff and volunteers deserve much recognition for planning the milestone event as well as the series of events held throughout Alabama's 67 counties."
Democratic women condemn comments on Gov. Kay Ivey's appearance
"These comments are disrespectful, inappropriate in every way, and represent a broader culture of casual sexism," read a joint statement from four Democratic women.
A group of Democratic women on Wednesday issued a statement condemning comments made by a state school board member who was critical of Gov. Kay Ivey's weight. 
Wayne Reynolds, a Republican who represents portions of northwest Alabama on the board, wrote during a live stream event that Ivey, who is also a Republican, "is gaining weight." 
Afterward, in an interview with AL.com, Reynolds doubled — and then tripled — down on his comments as he critiqued Ivey's choice of clothing. 
"She looked heavy in that white suit," Reynolds said of Ivey, who held a press conference on Wednesday to update the state's "safer-at-home" order. "I don't know what she weighs. I just made an observation."
Later in the interview, Reynolds said the pantsuit Ivey wore was unflattering and that he had seen her wear other suits "that were more slimming on her."
The backlash to Reynold's comments was swift and bipartisan with women around the state rightfully taking issue. 
"These comments are disrespectful, inappropriate in every way, and represent a broader culture of casual sexism," read a joint statement from four Democratic women. "Women all over Alabama know what it is like to be subjected to unfair criticism on the basis of their appearance or weight. 
"We need to cultivate an environment where individuals are judged on the basis of their skill and proficiency. Alabama elected officials should be discussing policy, not the physical appearance of policymakers. Anything less is a disservice to Alabamians. We are disturbed by Mr. Reynold's remarks, and we hope other elected officials and candidates will likewise condemn his comments. Mr. Reynolds was wrong and we deserve better."

The statement was signed by Amy Wasyluka, president of Alabama Democratic Women, Phyliss Harvey Hall, a District 2 congressional candidate, Dr. Adia Winfrey, a District 3 congressional candidate and Laura Casey, a candidate for president of the Alabama Public Service Commission.