Ending an 18-year battle, Senate passes Widow's Tax repeal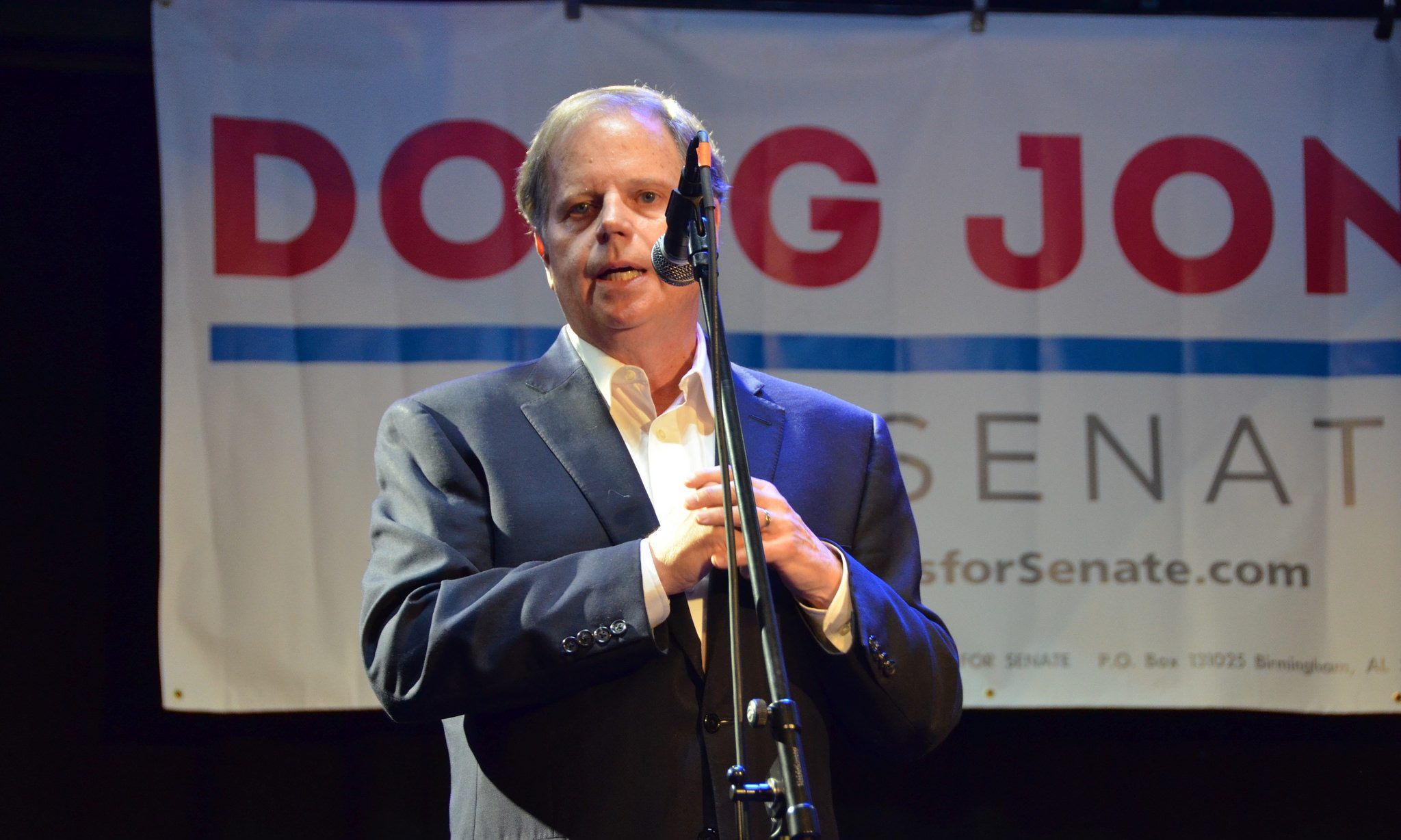 Senators Doug Jones, D-Ala., and Susan Collins, R-Maine, announced that their legislation to repeal the Military Widow's Tax has passed the United States Senate as a part of the FY2020 National Defense Authorization Act (NDAA). The bill now goes to the President to be signed into law.
Legislation has been repeatedly introduced in the Senate for nearly two decades to roll back the Military Widow's Tax, which was enacted in 1972. Since introducing the Widow's Tax Elimination Act of 2019  in March, Senators Jones and Collins have worked tirelessly to gain support among their colleagues in both the Senate and House and to make the case on behalf of the 67,000 surviving spouses – including more than 2,000 in Alabama – who are impacted by the Military Widow's Tax. Under their leadership, the bill earned a record-high 78 total cosponsors in the Senate and 384 in the House of Representatives.
"When we introduced this legislation, we knew we were fighting an uphill battle on behalf of these surviving spouses. But together, we were undeterred by the task and committed to them that this was the year it would finally get done. There is no more noble cause than to do the right thing for military families who have lost their loved one in service to our country. We took up this fight for those surviving spouses and their families, and I'm honored to be standing with them as we finally put this injustice behind us," said Senator Jones, a member of the Senate Armed Services Committee.
"This provision we secured in the NDAA is a major victory for surviving military and retiree spouses to whom we are deeply indebted. The Military Widow's Tax was an unfair offset that prevented as many as 67,000 surviving spouses—including more than 260 from Maine—from receiving the full benefits they deserve," said Senator Susan Collins. "This problem goes back decades, but this year we finally solved it once and for all. I appreciate the overwhelming support we received from our colleagues as well as veterans advocates who helped make this possible."
"This is an exciting day for more than 67,000 military widows and widowers who have been waiting years for the survivor benefits they are owed," said Senator Jon Tester (D-Mont.), Ranking Member of the Senate Veterans' Affairs Committee. "When brave men and women pay the ultimate sacrifice serving our nation, it's our duty to provide economic security for their loved ones. OurWidow's Tax Elimination Act  follows through on this important obligation, and ensures that military families who have sacrificed the unimaginable are provided more financial certainty."
"Surviving family members of fallen servicemembers have already lost an important part of their lives.  Denying them access to the full benefits earned by their loved one's sacrifice creates an undue burden on their finances.  No surviving spouse should have to face this unexpected and unfair cut to their benefits. Congress' bipartisan action to fully repeal the military widow's tax is a much-needed improvement," said Senator Mike Crapo (R-Idaho).
"For 26 years, I have been denied the full benefits that my husband earned and paid for to help take care of his family in the event of tragedy. The long fight to repeal the Military Widow's Tax has been difficult and none of us want to talk repeatedly about the deaths of our spouses, but that has been necessary to inform our public officials and ask for their help. Though I will be 76 when my husband's benefits are fully reinstated, I am happy to know that those who sadly become military widows and widowers in the future will no longer have to fight this battle year after year. My own senator from Alabama, Senator Doug Jones, has championed our cause with passion and persistence and led with bipartisanship to see this bill finally passed! In Alabama terms, he carried the ball into the end zone!" said Cathy Milford, a surviving military spouse from Mobile, Alabama.
"On behalf of the 67,000 widows across the United States, I want to say thank you to Senator Jones for his stellar leadership in the elimination of the Widow's Tax. We in Alabama are so proud of our Senator Doug Jones, who has been the catalyst to coordinate the bipartisan support for this legislation. Many people have worked tirelessly for almost 20 years, and finally with the leadership of Senator Jones, this is happening. What a gift and we want to thank him," said Anne Hartline of Vestavia Hills, Alabama, who serves as Chair of the Surviving Spouse Advisory Committee to the Military Officers Association of America (MOAA).
"The reality is, this probably would not have happened without Senator Jones' unbelievable spirit of getting things done. The entire House and Senate have come together to produce something that is going to change the life of the widows of the men and women who've passed serving their country. My wife and I have been involved in this for almost 20 years, and we have lost many friends who have lost their lives over the years. This particular bill is going to make a huge difference to the widows who are surviving. It would have never happened without Senator Jones and the bipartisan effort that we've seen take place over the past year," said retired General Charles Krulak, 31stCommandant of the U.S. Marine Corps.
Commissioner praises prison employees for putting lives on the line during pandemic
Alabama Department of Corrections Commissioner Jeff Dunn on Thursday praised the department's employees for "literally putting their lives on the line" coming into work during the COVID-19 crisis. Dunn was speaking to the Alabama State Senate Finance and Taxation General Fund Committee, which is holding budget hearings in Montgomery.
"I cannot praise them enough," Dunn said. "They are going into the facility knowing that it (the coronavirus) is there. Not just our corrections officers but also our healthcare workers."
"Many of our workers are single moms," Dunn said. "We have several families where both the husband and wife work for the department and they have children and they are coming to work each day."
"188 of our staff have self-reported" being coronavirus positive, Dunn said. "109 of them have already been able to return to work. That is a tribute to the dedication of our staff. Unfortunately, we have had two employee deaths."
"We are working on an expanded testing protocol, so we can eventually test the entire inmate population and can offer testing to our staff," Dunn said. Employees also have the option of going to their doctor for testing.
"To this point we have tested 523 inmates, 2 percent of our population, and that number will continue to expand," Dunn assured legislators.
Dunn said COVID-19 has negatively impacted ADOC's efforts to hire more corrections officers. They have had to cancel job fairs and some new officer trainings due to the coronavirus shutdown. Dunn assured the senators that there has been progress in addressing the staffing issues that have been cited in a lawsuit in federal court.
Dunn said that to this point in 2020, ADOC has had a net increase of 150 corrections officers. The Department has made 455 new hires, but has lost 305 due to attrition for a net gain of 150.
Dunn showed a graph to the state Senators showing that the number of corrections officers working at ADOC peaked at around 2,000 in 2011. Since then the number of officers has declined precipitously dropping to as low as 1100, before beginning to rise in the last year.
"Our hiring efforts have been slowed down by COVID-19," Dunn explained
Dunn said that they are talking with many candidates who are interested once their unemployment runs out. "We have a whole pool of folks who are waiting and seeing."
"We always understood that this was going to be a process," Dunn told Senators.
"Our personnel budget next year is $300 million," Dunn said. "We have reduced our overtime over $300,000 this year. We have a much tighter management control over that. Part of that reduction is due to the increase in staffing.
Committee Chairman Greg Albritton, R-Atmore, told Dunn, "The over is a very sensitive matter."
Dunn said that any savings from reducing overtime is being used to pay for the new hires.
Dunn said that the prisons are currently operating at 155 percent capacity. Dunn predicted that once the state builds the three new mega-prisons currently in the bid process that ADOC will be operating at 120 to 125 percent capacity. Dunn said that the state has determined from the California case that 137 percent capacity is right at about the line where the federal courts would intervene. ADOC has set the capacity goal at 120 to 125 percent to have a buffer percentage.
ADOC is funded in the State General Fund (SGF) budget. Alabama has an arcane budgeting system where over 90 percent of state funds are earmarked and there are two separate budgets: the SGF and the state education trust fund budget (ETF). Alabama historically has underfunded its prisons and has long neglected its aging prison infrastructure.
COVID-19 remains a very serious problem in Alabama. 2,064 Alabamians were reported positive on Thursday and another ten died, taking Alabama's death toll to 1,042.