Palmer opposed 2020 spending package
Wednesday, Congressman Gary Palmer (R-Hoover) voted "no" on the bipartisan Consolidated Appropriations Act (H.R. 1158) and the Further Consolidated Appropriations Act (H.R. 1865) citing concerns about growing the national debt.
These two "minibus" bills authorize continued funding of the federal government through fiscal year 2020, once the current funding resolution expired on December 20. Both passed despite Palmer's no vote.
"Combined, H.R. 1158 and H.R. 1865 add up to a massive 2,313 pages and $1.4 trillion dollars in spending, adding even more to our deficit for this fiscal year and to our long-term debt," Palmer said in a statement. "These two bills were released less than 24 hours before Members were expected to vote on them, making it impossible to review the bills beforehand."
"It is always difficult to vote against appropriations for our military," Palmer said. "I have long supported increased and robust funding for our military. There is no question that we must make certain that our military is adequately funded both for its present missions and the missions of the future. But the reckless and irresponsible course that we are on in regard to spending will ultimately have a devastating impact on our ability to provide for our national defense. Regardless of which party is the majority, we must find a way to get control of our spending, set priorities for domestic programs and our military, and offer spending bills that fund those priorities and that will set us on a course to fiscal stability."
"I remain committed to finding solutions to rebuilding our military after years of neglect and to meeting the threats of the future, but these spending bills are not the way to get that job done," Palmer added. "It's for these reasons that I voted 'no' today on H.R. 1158 and H.R. 1865."
According to the U.S. treasury, the national debt is $23,146 billion. Despite a booming economy, rising wages, and the lowest unemployment since the 1960s the federal budget deficit has ballooned to over $1,043 trillion. The federal government is spending $4,548 billion a year; but is only taking in $3,505 billion annually. The largest source of federal revenue is the income tax, which brings in just $1,722 billion, payroll taxes which only brings in $1,254 billion, the corporate income tax $232 billion, excise taxes $92 billion, tariffs $69 billion, Federal Reserve remittances $49 billion, and estate and gift taxes $15 billion. The largest drivers of the deficit are Medicare and Medicaid $1,260 billion, Social Security $1,052 billion, Defense/war $677 billion, interest on the growing debt $376 billion, income security programs $301 billion, federal pensions $289 billion, and food/agricultural programs $152 billion. U.S. Debtclock.org estimates that the federal government loses $135 billion in waste, fraud, and abuse. $87 billion is spent on classified programs.
Gary Palmer is a member of the conservative House Freedom Caucus and represents Alabama's Sixth Congressional District.
Print this piece
Governor authorizes use of National Guard after violent protests in Birmingham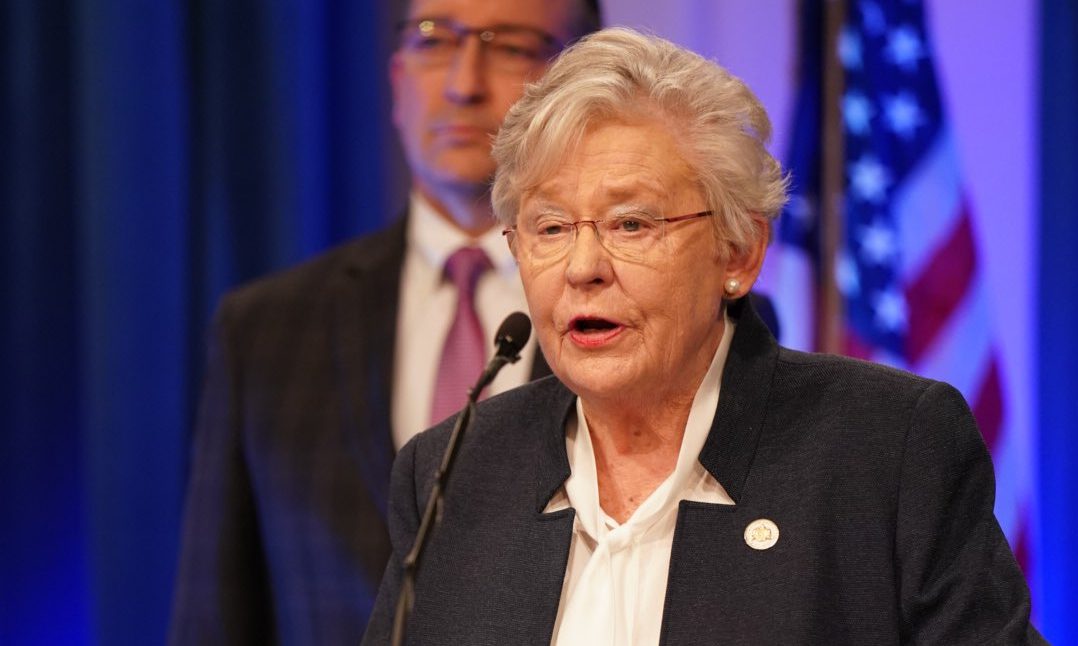 Gov. Kay Ivey on Monday said she supports the right for people to protest peacefully in the wake of the death of a Minneapolis man at the hands of police, but cautioned against the sort of violent protest and looting that occurred in Birmingham early Monday morning. 
Ivey also authorized the Alabama National Guard to active up to 1,000 guardsmen as a "preparedness measure" but said there was no immediate need to deploy them. 
In her statement, Ivey hints at outsiders from other states who seek to ratchet up the violence, but she doesn't outright say that's what happened in Birmingham early Monday morning, when some burned businesses, attempted to tear down one Confederate monument, tore down another and attacked several reporters. There has been no publicized evidence that the violence was caused by people from outside Alabama, however. 
"Like so many others throughout the country and around the world, I, too, was shocked and angered by the tragic actions that led to the senseless death of George Floyd last week in Minneapolis. It is a death that should have never happened, and it is a tragedy for which that too many people, especially African Americans, are all too familiar," Ivey said in a statement. "Regretfully, the natural anger and frustration of Mr. Floyd's death has now spread to our state and what started out as peaceful protests in some of our cities yesterday afternoon turned ugly last night." 
"While no state has a richer history than Alabama in terms of using peaceful protests to lead the country – and the world – to positive change, I agree with Alabama native, Congressman John Lewis, who this weekend said 'rioting, looting and burning is not the way,'" Ivey continued. "Congressman Lewis marched alongside other Alabamians who would go on to become heroes of the movement.  They were young, brave and determined.  Many were beaten, arrested and jailed.  But they all — Rosa Parks, Dr. Martin Luther King, Jr., Dr. Ralph David Abernathy, Rev. Fred Shuttlesworth, attorney and civil rights activist Fred Gray and others – led the fight for change in a peaceful way." 
"I will always support the right of the people of Alabama to peacefully lift your voices in anger and frustration. After all, our great country was born out of the desire to be free and the desire for freedom has repeatedly led to making positive change for the betterment of society," Ivey said. "However, we will not allow our cities to become a target for those, especially from other states, who choose to use violence and destruction to make their point. What I saw happen last night in Birmingham was unbecoming of all those who have worked to make Birmingham the great city it is.  Going forward, this cannot be tolerated. State assets are available to any local government that makes the request. We will show respect to ourselves and to each other through this process."
A separate press release from Ivey's office states that the authorization to activate Alabama National Guardsmen "serves as a preparedness measure, should local and state law enforcement need additional support." 
"While there is no immediate need for us to deploy our Guard, I have given authorization to Adjutant General Sheryl Gordon to be on standby, should our local and state law enforcement need additional support," Ivey said in a statement. 
"The Alabama National Guard stands ready to assist when peaceful protests become violent and dangerous to our public safety," Ivey continues. "I will always support the right of the people of Alabama to peacefully lift your voices in anger and frustration. However, we will not allow our cities to become a target for those, especially from other states, who choose to use violence and destruction to make their point."
Birmingham Mayor Randall Woodfin on Monday declared a state of emergency and announced a citywide curfew in response to the violence hours before. He said Birmingham police will be enforcing the curfew beginning Monday, but said there was no immediate need for additional assistance from the Alabama National Guard. 
"I've been in constant contact with the governor's chief of staff. As of now, there will be no activating the National Guard," Woodfin told reporters during a press conference Monday.
Print this piece