There will be a prescribed burn planned today at Gulf State Park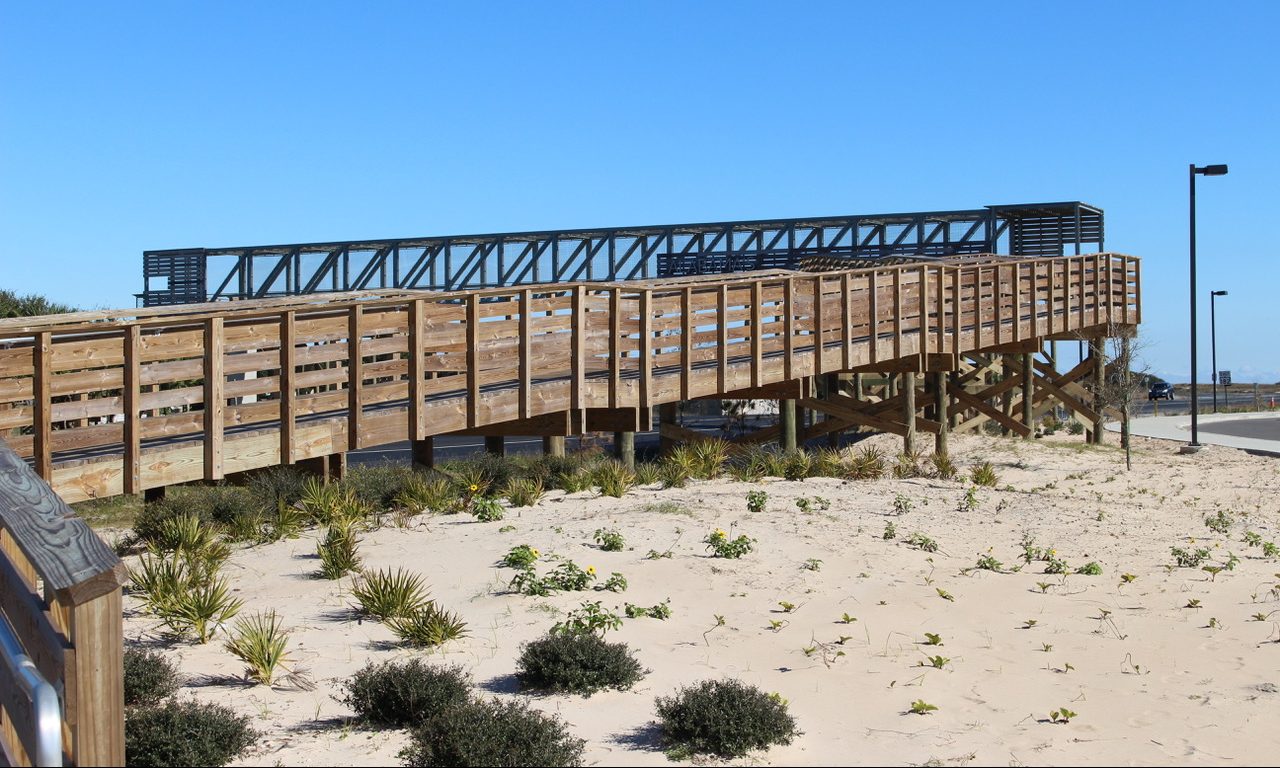 If you planned to do some hiking on that nature trails at Gulf State Park in Gulf Shores today, be aware that the park system has planned a prescribed burn there today as part of a forest management plan associated with longleaf pine restoration, fuel reduction and invasive species control. The planned burn will take place south of the Orange Beach Sportsplex in pitcher plant bog habitat.
This burn complies with a permit from the Alabama Forestry Commission. Every effort is being made to ensure safety and proper smoke management during the burn.
The Park System claims that prescribed fire is an important forest management tool used to improve ecosystems. Pitcher plant bogs thrive after prescribed burns because the burns reduce the number of small trees and shrubs that shade these sun loving plants.
According to forestry managers, prescribed fire is a safe way to apply a natural process that benefits various habitats and ensures ecosystem health.
Wildlife habitat and animals such as deer, turkeys, and quail flourish in areas that are maintained with prescribed fire. Some rare animals such as the red-cockaded woodpecker and the gopher tortoise require fire-adapted habitats.
Prescribed burning is also an effective tool to reduce the risk of wildfire by reducing the buildup of combustible material. Out of control forest fires, especially in windy drought conditions can be disastrous to both humans and wildlife.
\
In Alabama, prescribed burns can be safely conducted throughout the year if there is sufficient moisture. Cool season burns are used to reduce forest litter and to help prevent forest fires. Growing season burns are often used to control the choking underbrush in a stand of mature trees and are conducted from early spring to late summer.
One of the primary uses for prescribe burning is the maintenance of wildlife habitat. Controlled burning helps to rejuvenate high quality natural food sources for many species including white-tailed deer and Eastern wild turkey. The burning of undergrowth can release nutrients into the soil which stimulates the growth of high-quality native grasses, forbs and legumes. Unlike most supplemental wildlife plantings, controlled burning can provide year-round protective cover and food for wildlife on managed land.
Controlled burns are especially important in stands of longleaf pine. Most of the early nineteenth century pine forests in Alabama the first settlers found were longleaf pine dominated. Those forests were cleared and most of the state turned into farm fields. When most of the state was reforested in the twentieth century, most of the forests were replanted in the faster growing loblolly pine. The longleaf pines are very fire tolerant.
The Alabama State Parks Division relies on visitor fees and the support of other partners like local communities to fund the majority of their operations.
To learn more about Alabama State Parks, visit their website.
Interior Department designates new national recreational trail in Alabama
The designation is part of a broader national announcement that establishes 30 new national recreation trails in 25 states, adding more than 1,275 miles to the National Trails System.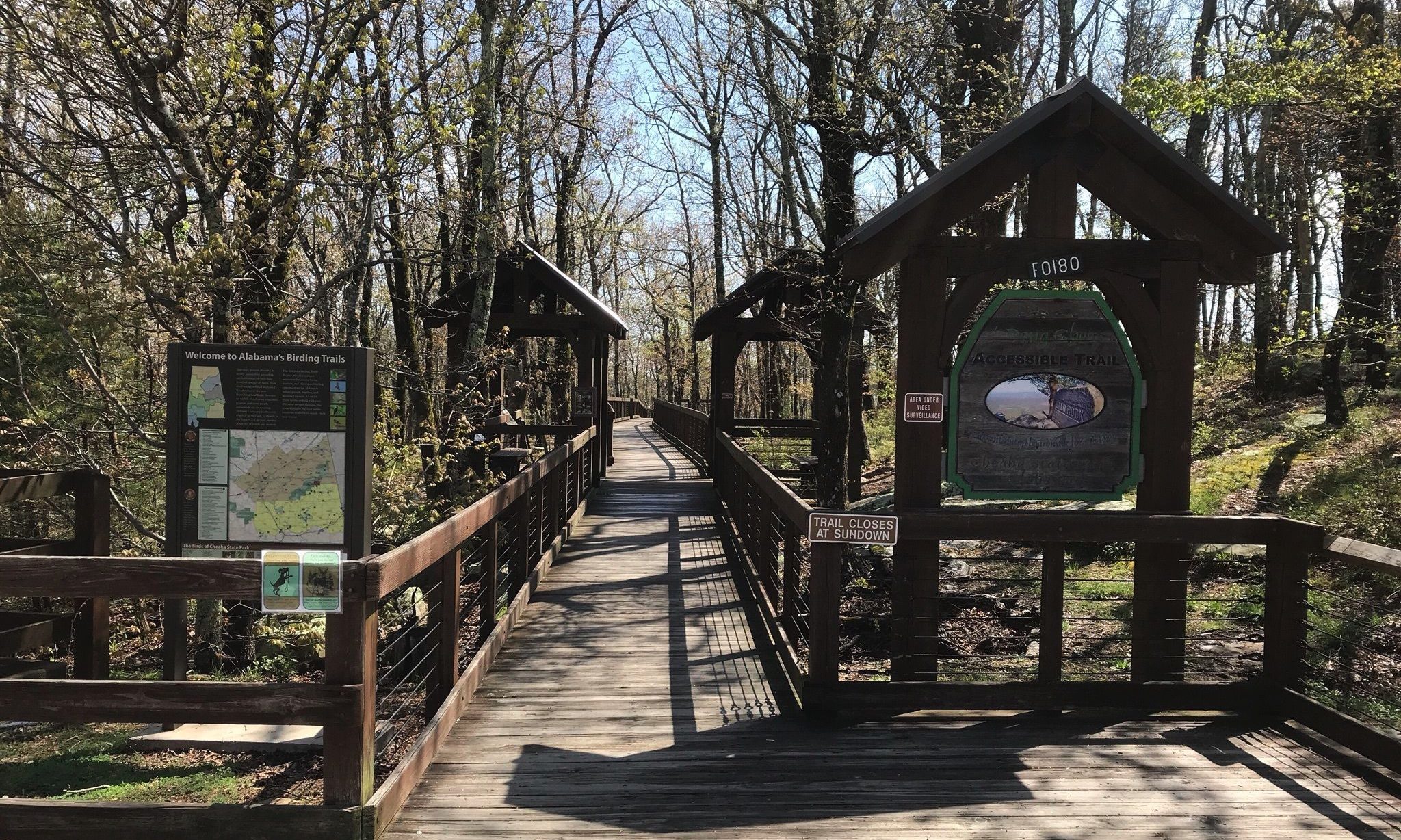 United States Secretary of the Interior David L. Bernhardt this week designated a new national recreation trail in Alabama.
Located in Cheaha State Park, the Doug Ghee Accessible Trail (Bald Rock Boardwalk) is a 0.3-mile boardwalk trail that allows users of all abilities to journey through the enchanted hardwood forested foothills of the Appalachian Mountains.
The designation is part of a broader national announcement that establishes 30 new national recreation trails in 25 states, adding more than 1,275 miles to the National Trails System.
The announcement is in addition to the 370 miles of national recreation trails that were designated in 2018, bringing the Trump administration's total to 49 national recreation trails added, spanning 1,645 miles.
"I encourage Americans to get outside, enjoy our incredible public lands and visit a nearby national recreation trail," Bernhardt said. "Spanning more than 83,000 miles, larger than the interstate highway system, the National Trails System provides easy access to a wide variety of outdoor experiences. The Trump Administration is committed to expanding public access to the outdoors, so more Americans have the opportunity and ability to experience it in all of its splendor."
Bernhardt said that the new designations advance the Trump administration's priority to increase public access to outdoor recreational opportunities in alignment with Secretary's Order 3366.
Interior-managed outdoor recreation activities support more than 452,000 jobs and account for more than $58 billion in economic output across the country.
"American Trails promotes and maintains the database of our country's National Recreation Trails (NRT) and applauds this new slate of Secretarial designations from the Department of the Interior," said NRT executive director Mike Passo. "The NRT program brings vibrancy to the National Trail System by uniquely highlighting trails that are accessible, relatable, and serve a wide diversity of our nation's public. With these designations, the NRT database at AmericanTrails.org exceeds 1,300 trails."
"American Hiking Society welcomes the designation of 30 new National Recreation Trails that will create enhanced recreational opportunities for hikers and all types of trail users," said American Hiking Society executive director Kate Van Waes. "Each trail selected to receive this honor must support a diversity of users, reflect its region, and be among America's best trails, all qualities that benefit the hiking community."
"Americans are enjoying close-to-home recreation and thanks to our amazing National Trails System, they have even more places to explore," said PeopleForBikes President and CEO Jenn Dice. "With a 75 percent increase in bike ridership on trails this year, we commend the Department of the Interior for this expansion and granting our nation more access to the outdoors. Thanks to these initiatives, we're getting closer to meeting the needs of a fast-growing community of people outdoors and on bikes finding joy, freedom and health on our trails nationwide."
The National Trails System, which includes national scenic, national historic, and national recreation trails, offers an abundance of scenic, historic and recreation trails for outdoor enjoyment on America's public lands.
The system promotes preservation, public access, travel within and enjoyment and appreciation of the open-air, outdoor areas, and historic resources of the United States.
The National Recreation Trails Program is jointly administered by the National Park Service and the U.S. Forest Service, in conjunction with a number of federal and nonprofit partners.
The designation of a national recreation trail can be done by either the secretary of the interior or the secretary of agriculture on an existing local or regional trail with the consent of the federal, state, local, nonprofit or private entity that has jurisdiction over the trail.
Families are looking for more outdoor recreational activities such as hiking, fishing, hunting and camping given the dangers associated with group activities like sports, theaters and other activities during the coronavirus pandemic.
Hiking on the National Recreation Trails is a fun, safe activity that the whole family can enjoy while still maintaining CDC recommended social distancing.