Aderholt reflects on the past decade in Congress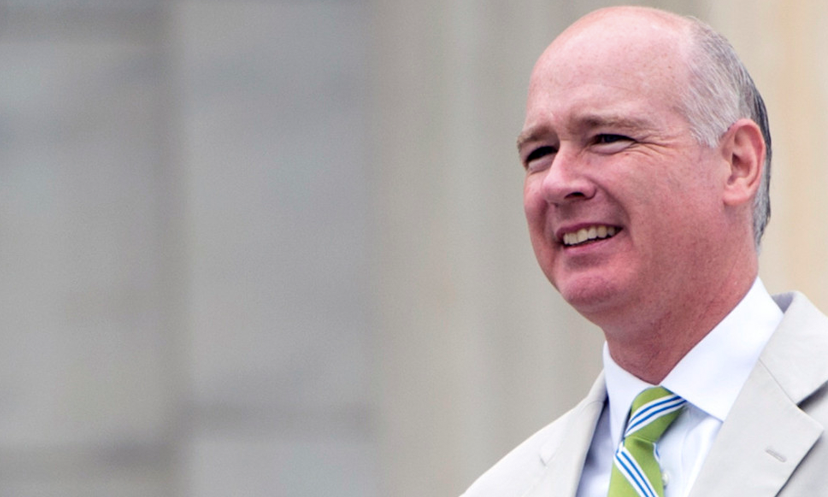 Congressman Robert Aderholt, R-Haleyville, has served the people of Alabama's Fourth Congressional District through four presidencies. Aderholt recently released a list of his top 10 moments of the past decade in an email to constituents.
"Serving as your Congressman from the 4th District of Alabama is the honor of my life," Aderholt said. "Here are some of our top 10 moments of the decade and photos from this past decade."
"Response to 2011 Tornadoes April 27, 2011 was one of the most tragic days in our state's history," Aderholt wrote. "There were over 60 tornadoes across Alabama that claimed the lives 249 people. More than half of those deaths occurred in the 4th Congressional District. But, in the midst of this tragedy, we stood together and responded quickly to help our neighbors. State, local and federal agencies were timely in responding to requests and we were able to rebuild our state in record time."
"US Leadership in Defense Over the past decade, I have continuously pushed for funding for innovative weapons that are made in and around North Alabama," Aderholt continued. "I have always advocated to position the US to be the world's leader in defense. This includes adequately funding the military, ensuring the readiness and preparedness of our troops and prioritizing US interest across the globe,"
"Fighting the Opioid Epidemic In the past decade, the opioid epidemic has been one of the biggest threats facing the country," Aderholt added. "Alabama is one the states hit hardest by the opioid crisis. This is something I take very seriously and am continuously working to fix. Through my role on the appropriations committee I have helped secure more than $370 million in funding to address the ongoing crisis."
"I-22 Corridor Funding After years and years of planning, Alabama finally saw the completion of the I-22, originally known as Corridor X," Aderholt stated. "Securing federal funding for this project along with other infrastructure projects in the state like the I-65 interchange in Cullman and the I-59 interchange in Fort Payne were some of my biggest priorities. I will continue to use my voice in Congress to enhance and improve the infrastructure across the district and across the state."
"Promoting Religious Freedom Our Founding Fathers valued religion and believed that every person has a right to practice their faith freely," Aderholt continued. "That was one of the biggest reasons they left England and came to America. This freedom remains one of the biggest parts of America's DNA. We know that this is not the case for thousands of Christians across the globe. In an effort to promote religious freedom across the globe, I advocated for language to be included the FY20 appropriations bill to protect persecuted religious minorities, including victims of genocide. This includes victims of ISIS's genocide on Iraqi Christians."
"Tax Cuts and Jobs Act In December 2017, President Trump and Congressional Republicans passed the historic Tax Cuts and Jobs Act," said Aderholt. "This was the first major overhaul of the US Tax Code in nearly 30 years. Since its passage, the US has experienced record economic growth. No matter how hard some may try to distract the world from President Trump's successes, the results speak for themselves. Just this past week, the Council of Economic Advisers announced that at 2.7%, the unemployment rate in Alabama reached a record low for the state in November."
"North Alabama as a Leader in Space Exploration I, along with members of the Alabama delegation, have worked strategically to position North Alabama as a leader for US space exploration," Aderholt explained. "By advocating for sufficient funding for projects like SLS and EUS, there is no doubt that Marshall Space Flight Center and hundreds of area companies that subcontract and support this work have become the epicenter of space exploration projects including the US mission to go back to the moon."
"Saving Rural Hospitals The decline of rural hospitals continues to be an issue facing rural communities across the country," Aderholt wrote. "More than seven hospitals closed in Alabama over the past decade. Hospitals in Haleyville and Winfield were almost forced to close their doors. I am thankful to have been able to work with officials to keep the doors of the hospitals open. As a native of Haleyville, I understand the importance of having access to healthcare for rural Americans. We were able to work with the local governments to find ways to ensure neither of these hospitals were closed. I'm proud to say that the hospitals in Haleyville and Winfield are still open today."
USDA ReConnect Program Broadband infrastructure is one of the key elements to spurring economic development opportunities," Aderholt added. "The lack of this infrastructure in rural communities has limited thousands of communities across the country. I led the Congressional effort to create the ReConnect program which provides loans and grants to expand broadband infrastructure to rural America. This year alone, USDA will be investing more than $62 million in rural Alabama. This will improve e-connectivity for more than 8,000 rural households, 57 farms, 44 businesses, 17 educational facilities and three health care facilities in rural Alabama."
"Supporting Pro-Life Policies I learned about the sanctity of life at an early age," said Aderholt. "In Sunday School, we sang songs that said, "we are all precious in His sight" and "little ones to Him belong." I'm a firm believer that life is given to us by our Creator and He is the only one who can take that away. Since Roe v. Wade, it's estimated that nearly 55 million babies have been aborted in the U.S. That's heartbreaking."
"In January 2017, I supported efforts to reinstate the Hyde Amendment in the Appropriations bill," Aderholt said. "The Hyde Amendment prevents federal funding the U.S. from paying for abortions. Taxpayers should not be forced to pay for procedures that explicitly contradict their values. I have always been a staunch supporter of life in Congress and I will continue to be as long as you allow me to serve."
Congressman Robert Aderholt has represented Alabama's Fourth Congressional District since 1997. He is the most senior member of Alabama's House delegation,
Print this piece
McCutcheon not optimistic about passage of "constitutional carry" legislation
Alabama House Mac McCutcheon, R-Monrovia, discussed gun legislation that could appear before the House of Representatives this year.
In past sessions, constitutional carry legislation has made it out of the Alabama Senate, but stalls in the House. This year, Rep. Andrew Sorrell, R-Muscle Shoals, is carrying the bill in the House. APR asked McCutcheon whether he anticipates it passing this time.
"The mood would tend to be the same that it was in the past," McCutcheon said. "There is a bill out there now for a lifetime carry permit and a procedural check for a permit."
McCutcheon said that under that bill a state database would be used for granting concealed carry permits instead of a local database. Each sheriff of each county would be doing things the same way by ALEA (the Alabama Law Enforcement Agency) being involved in this.
McCutcheon said that the House is "taking a very serious look at that bill."
State Sen. Randy Price, R-Opelika, and State Representative Proncey Robertson, R-Mt. Hope, pre-filed the lifetime permit bill that would establish a cohesive and statewide management level process for administering and managing concealed weapons permits in the state of Alabama. The National Rifle Association has endorsed this legislation.
Robertson's House version is HB39. It has been assigned to the House Public Safety and Homeland Security Committee where it is awaiting action. Price's Senate version is SB47. It has been assigned to the Senate Judiciary Committee where it is also awaiting action in committee.
Currently, the application process and managing of applicants is different county by county. Some rural county sheriffs have issued concealed carry permits, sometimes called pistol permits, without doing background checks. This resulted last year in federal authorities revoking Alabama concealed carry permit holders from being able to buy firearms without having to go through the background check system.
The sponsors promise that this legislation would create a streamlined process of standards for Sheriff Departments to implement and will be monitored by the Alabama Law Enforcement Agency (ALEA). This bill creates a cohesive standard for background checks and will bring 21st century technology to Sheriff's departments and all other law enforcement agencies across the state. Sheriff departments will now have access to electronic information of which all levels of law enforcement will have access to. It will also require municipalities to start reporting those that are convicted of domestic violence as well as Probate Judges to begin reporting individuals that have been involuntarily committed. Applicants will also now have the option to apply for a concealed weapons permit for one year, five years or a lifetime permit.
Sorrell told APR on Saturday that he opposes HB39/SB47 because it creates a statewide database with all of Alabama's concealed carry holders.
In the State of Alabama, it is a Class A Misdemeanor to carry concealed weapons without a permit.
Sorrell's legislation, Constitutional Carry, would eliminate that crime altogether and give every Alabamian the constitutional right to carry a firearm concealed if they so choose.
State Senator Gerald Allen (R-Tuscaloosa) has introduced Constitutional Carry legislation in the State Senate; SB1. That bill has been assigned to the Senate Judiciary Committee where it awaits committee action.
SB1 would allow all Alabama citizens who have not had their gun rights revoked to carry firearms concealed without having to have a concealed carry permit. That legislation could not get out of committee in the Senate last year.
Sorrell told APR that there is momentum in the Alabama House of Representatives for Constitutional Carry and that he hoped to have as many as twenty cosponsors when he introduces his bill.
It is currently legal in Alabama to openly carry firearms without a permit, if your gun rights have not been taken away. A citizen can lose their gun rights due to a felony conviction, being declared mentally unfit by a probate judge, or a misdemeanor domestic violence conviction. While every citizen, who still has gun rights, may openly carry without a concealed carry permit; it is against the law to have a loaded handgun in a vehicle without a concealed carry permit.
Handguns must be unloaded and locked in a box or trunk out of reach. Similarly, if a person is openly carrying a handgun on their side, were to put a jacket on so that the gun was no longer visible that would also be a misdemeanor as they are now carrying concealed, unless they have a valid concealed carry permit allowing them to conceal their handgun. Persons with a concealed carry permit are allowed to have their gun on their person while riding in a motor vehicle or within reach like in the glove box, loaded or not. This does not apply to long guns (rifles and shotguns). All Alabama citizens, who still have their gun rights, may carry their shotgun or rifle with them in their vehicle, without having to obtain a concealed carry permit to exercise that right.
To get your concealed carry permit you must go to the sheriff's department in your home county. The fee varies from county to county.
Twenty percent of adult Alabamians have a concealed carry permit, the highest rate in the country. The Alabama Sheriff's Association have steadfastly opposed Constitutional Carry legislation. According to the National Association for Gun Rights, fifteen states, including Mississippi, have Constitutional Carry already.
Print this piece