Republican Senate candidates praise "good guy with gun" in Texas church shooting
Sunday, a man killed two people in a White Settlement, Texas Church, before a member of the Church's volunteer security team killed him ending what could have been a mass shooting. Alabama Republican candidates for U.S. Senate praised the hero, Jack Wilson, and vowed to defend Americans Second Amendment rights to self-defense if elected.
"Thank God for Jack Wilson," former Attorney General Jeff Sessions said. "The man is a hero — his bravery and skill saved lives at West Freeway Church of Christ in White Settlement, Texas. May God be with the families of the two church members who were killed by the gunman."
"This is what the Fake News doesn't want you to see! So many lives saved thanks to a good guy with a gun," Congressman Bradley Byrne, R-Montrose, said. "If the Democrats had it their way, they'd take away our God-given right to defend ourselves. I won't let that happen!"
Former Auburn head football Coach Tommy Tuberville said on social media, "Criminals don't care what the laws are…that's why they're criminals. "A well regulated militia, being necessary to the security of a free State, the right of the People to keep and bear Arms, shall not be infringed."#TeamTub #GOP #2A"
Sessions, Byrne, and Tuberville are candidates for the Senate seat currently held by Doug Jones (D).
At least eight of the Texas church members drew weapons in response to the attack.
Earlier in the year, Texas governor Greg Abbott (R) signed a bill making it explicitly legal for Texans with concealed-carry licenses to bring their weapons into places of worship. This overturned a previous Texas law that banned guns in Churches.
Second Amendment supporters are urging more Americans to purchase guns, get their concealed carry permits, and carry their firearms with them to stop future mass shootings.
Texas Attorney General Ken Paxton (R) praised the "heroic efforts" of the armed Church members.
"What I will say is they were heroic efforts. And I have been saying this for years," Abbot said. "We need to make sure that people with protect themselves. Oftentimes law enforcement can't react quickly. They can't be there in seconds when the shooters are suddenly shooting. And so it really is a remarkable thing the people reacted so quickly. And saved the lives of the other 239 people in the congregation."
The Republican primary is on March 3.
Legislation to explicitly protect Church members right to carry firearms in self defense and to use those weapons to protect the parishioners is expected to be introduced in the Alabama Legislature in the coming legislative session as will legislation ending the requirement that Alabamians have to have a concealed carry permit to carry their firearms.
Print this piece
Sessions attacks Tuberville's views on China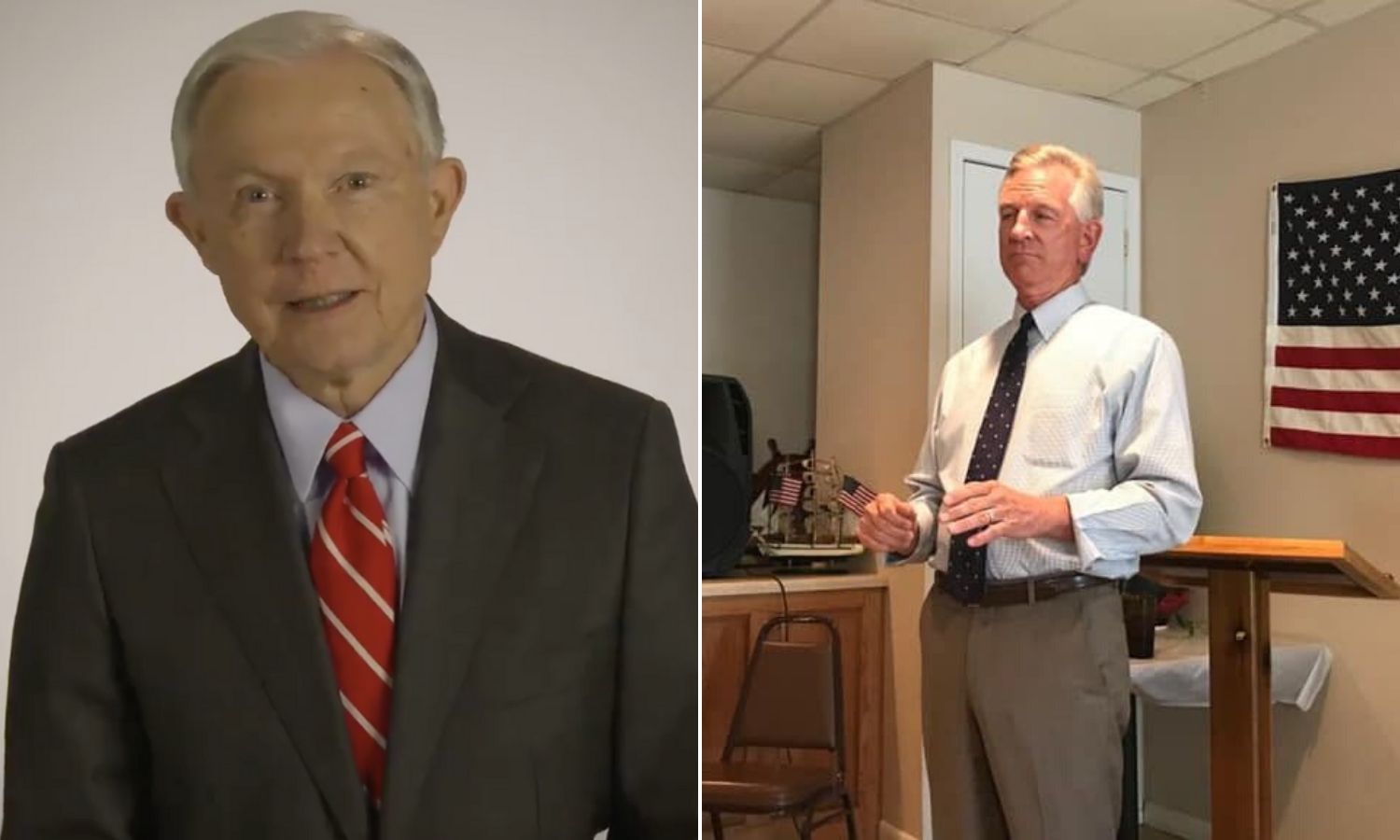 Former Sen. Jeff Sessions, R-Alabama, rolled out an ambitious, comprehensive plan to hold the Chinese government accountable for what Sessions called a cover-up of the coronavirus that has killed tens of thousands of people and devastated economies worldwide.
In an interview Thursday on the Matt & Aunie radio show on Talk 99.5 in Birmingham, for Auburn head football Coach and current GOP Senate candidate Tommy Tuberville expressed his views on China.
Matt Murphy asked: What do you see happening with China?
"Well, we can't worry about China right now…" Tuberville responded.
"You say you don't need to worry about China, but this came from China and our economy depends on China," Murphy asked on follow up. "Specifically how to overcome some of that dependence on Chinese goods and specifically in the pharmaceutical industry because right now we're dependent on the country that covered this up."
"Now we're seeing firsthand the results of letting everything go to China," Tuberville said. "The good thing about this is we'll have manufacturing come back and drugs and all those things….we're headed in that direction, just the simple fact that we can't control our own destiny. Everything's controlled by China. But that'll take care of itself."
During the show, Tuberville also characterized the Wuhan Virus, which has killed over 53,000 people and infected more than 1 million people across the globe, which then including over 1,300 people in Alabama, as "just a virus."
Jeff Sessions issued a statement critical of Tuberville on Friday in response.
"Amazingly, Tommy Tuberville said yesterday, 'We can't worry about China right now,"" Sessions quoted. "China is where the virus is from, and their deliberate lies hid the danger and resulted in a pandemic that never should have happened. We must take on China now and win, not run scared like Tommy Tuberville."
"There are over 1 million infected with the Wuhan Virus, and more than 1,300 in Alabama already," Sessions continued. "This is serious. But Tommy Tuberville said yesterday that 'this is just a virus.' What planet is he on? Tuberville is clueless. No wonder he's scared to debate me. We must stop relying on China for our critical medicines and equipment. I have a detailed plan to fix it. Amazingly, Tuberville also said yesterday, 'Everything's controlled by China, but that'll take care of itself.' Wrong! We must lead with action, this will not 'take care of itself.'"
On Thursday, a U.S. intelligence report claimed that China understated the damage that the coronavirus was doing in their country.
"Alabama's next Senator must be a leader who has the drive and determination to push a Congress that is too often unwilling to confront the critical issues of our time," Sessions continued. "I have proven my willingness and preparedness to lead from Day One. Tuberville is weak: all talk and no action."
Sessions is a former Senator, U.S. Attorney General, Alabama Attorney General, Chairman of the Alabama Republican Party, U.S. Attorney, asst. U.S. Attorney, and U.S. Army Captain.
The Republican primary runoff has been moved to July by Alabama Governor Kay Ivey (R) due to fears of the coronavirus. The virus is believed to have originated in Wuhan City, Hubei Province, China in late 2019.
As of press time, 10,943 Americans have died from COVID-19 including 53 Alabamians. 367,650 Americans have been diagnosed with COVID-19, including 2,006 Alabamians. At this point, only 240 Alabamians are confirmed hospitalized with COVID-19.
COVID-19 is the medical condition caused by a strain of coronavirus first identified late last year in Wuhan City, Hubei Province China, SARS-CoV-2. Since then it has spread across the globe infecting 1,346,566 persons that we are aware of killing 74,697 people.
The winner of the Republican primary runoff will then face Senator Doug Jones (D-Alabama) in the November election.
Print this piece