Prisons are one of the top issues to watch in 2020
A new decade has begun and the Legislature returns to Montgomery in just 29 days. As the Alabama Legislature begins a new session there are many issues that will confront the state politically in the upcoming year. Nothing is more serious than the issues facing the state and its much maligned prison system.
Governor Kay Ivey (R) and the state Legislature will face a worsening prison crisis when the legislature returns on February 4. The troubled Alabama Department of Corrections (ADOC) is understaffed, overcrowded, violent, and the system has put off maintenance on its crumbling obsolescent infrastructure for over a decade.
The people of Alabama and their legislators have made it abundantly clear over the years that they really do not carry how the state's prisoners are treated and if it were up to most of the legislators this problem would likely be once again put off for another year; but it might not be up to the state legislature.
The state is in danger of losing control of this situation. The U.S. Department of Justice under began a probe of ADOC under Attorney Generals Loretta Lynch and Jeff Sessions and found that conditions in the prisons are deplorable. Deaths by murder, suicide, and drug overdose are almost a regular occurrence; there are allegations of abuse by ADOC officers, the prisons are filled with contraband including: cell phones, drugs, and weapons; and the DOJ has declared that the system is the most violent prison system in the country. The Legislature got the DOJ report last year; but shuffled most of the problems to a prison task force to study.
The state prison system is being sued in federal court by the Southern Poverty Law Center (SPLC) on behalf of the prisoners and their families. Already federal Judge Myron Thompson has found that the state does not provide adequate mental healthcare for its prisons and that ADOC is understaffed by over 2,000 officers. Judge Thompson is also expected to cite the state for failure to provide adequate healthcare for the people that it locks up. The legislature responded to the Judge's ruling by increasing the funding for mental health services, raising the pay of prison guards to promote recruitment and retention, and lowering the training requirements for new corrections officers.
Governors Ivey, and Robert Bentley (R) before her, have both promoted plans to build new mega prisons allowing the state to close many of its aging prison facilities and reducing their staffing requirements. That plan, which would be paid for with a bond issue, has gone to the legislature and died in the past. A simple paper lottery failed in the Alabama House of Representatives last year over Democratic concerns that the proceeds would be used to build prisons rather than for education or Medicaid expansion. Gov. Ivey has moved forward with plans to build three new mega prisons citing executive authority. The state is accepting bids on the package; but has not awarded a bid. Some in the Ivey administration have suggested that the Governor could simply award a contract to lease the new prisons from the conglomerate who builds them. A state legislator on the House Judiciary Committee has told the Alabama Political Reporter that it would be much cheaper for the state in the long run to do it through a bond issue because the state could get a lower interest rate that way.
A comprehensive plan to deal with prisons was discussed in the 2019 Regular Session; but that never emerged. When the Legislature left, most thought that the issue would be addressed in a fall special session. By the time fall rolled around, one source told the Alabama Political Reporter that legislators were focused on the college football season and would have been averse to a fall special session. Another source told APR that the Governor still did not have a final plan on prison construction or the necessary improvements to the prison healthcare system and was not ready to present a plan then.
The economy is in incredible shape and state revenues are up across the board. State income tax revenues however are earmarked for the Education Trust Fund (ETF) and can not be transferred to the State General Fund (SGF) to deal with the Department of Corrections or other SGF needs such as the Medicaid, mental health, state troopers, forensics, or the court system. Gambling has been suggested as a possible new SGF revenue source; but reaching an agreement on that has proven elusive in the Legislature in the past and would still have to go to a vote of the people meaning there would be little revenue generated for the 2021 fiscal year which begins on October 1.
It has been suggested that once the regular session begins on February 4, Gov. Ivey will call a special session to address the prisons issue before the regular business of the Legislature can resume, much like she did with her controversial road and bridge plan last year.
Pro-Growth Conference kicks off with Doug Jones, discussions on COVID impact and a living wage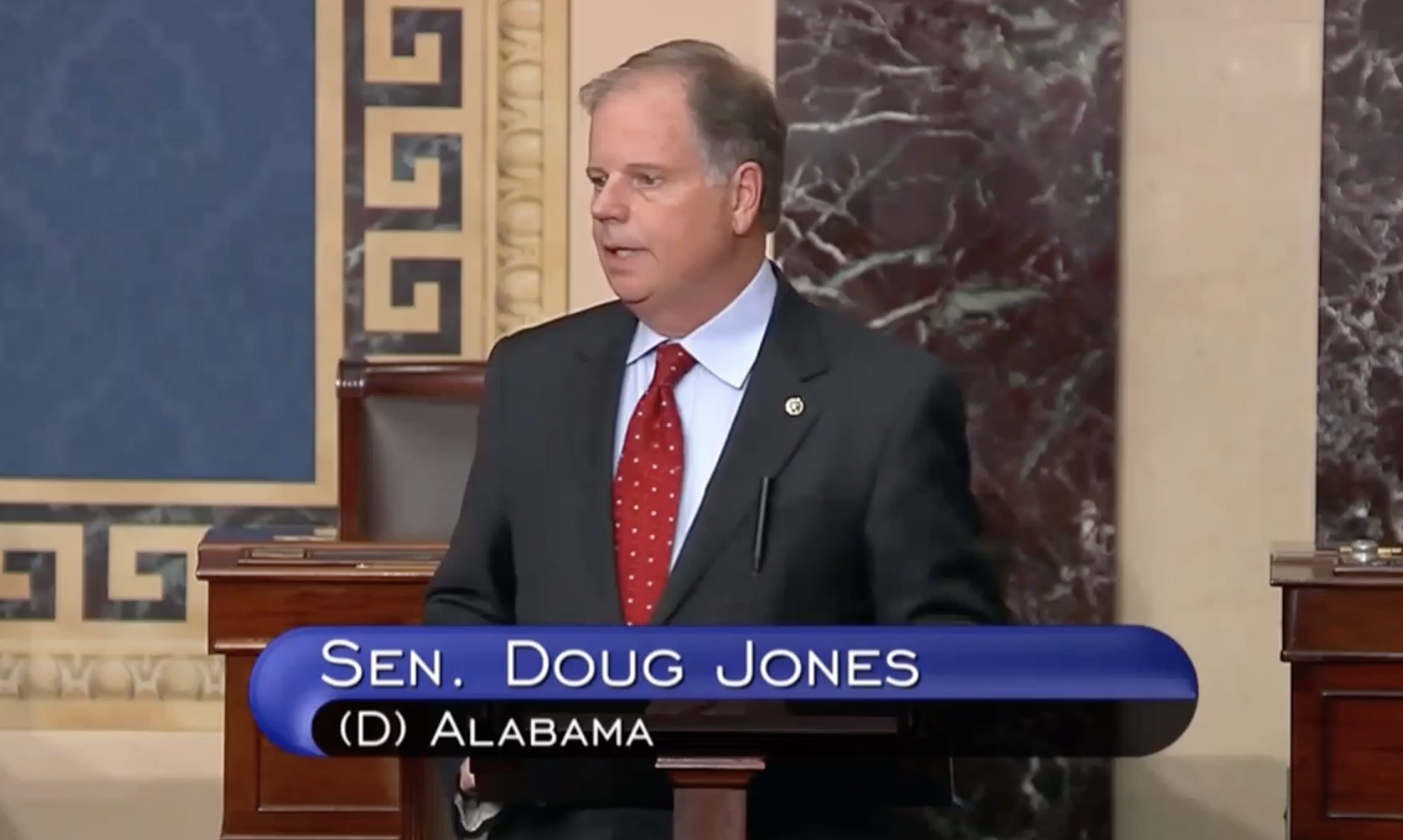 What happens if you just give impoverished citizens $500 per month — no strings attached? Good things, it turns out. The people use that income to buy food, medicine and basic necessities for life. They take a day off work if they're sick and actually get treatment. They quit a second, hourly-wage job that they are overqualified for and instead work towards obtaining a better, higher-paying primary job. 
These are things that the city of Stockton, California, has learned in its year-long living wage program.
The program, while limited in size — only 125 people — has proven to be a larger success than city officials had hoped, and it has opened their eyes to a new, more proactive style of governance, Stockton Mayor Michael Tubbs told Alabama elected officials. 
Tubbs was the featured speaker on Tuesday at the first day of the Pro-Growth Policy Conference, a three-day forum for Alabama elected leaders with guest speakers from around the country offering tips and best practices. 
The first day of the conference began with an opening talk from Sen. Doug Jones, who pressed the need for Medicaid expansion and how expansion has aided other red states. Jones also highlighted the need for broadband expansion and talked about a bill he has in the Senate that would create a broadband main office and dish out about $20 million in money for affordable access.
"Now (with COVID), we know how needed it really is," Jones said. "We see the homework gap that we have. We know there's a need for more telemedicine. My bill would consolidate in one office all of the monies for broadband … and provide affordable access."
Jones said the current COVID pandemic has highlighted just how badly we need better access to broadband in Alabama, and a major area of concern right now is healthcare. 
Highlighting that point, Brandon Garrett, the chief operating officer of the National Minority Quality Forum, and Dr. LaTasha Lee, the vice-president of social and clinical research, demonstrated the many ways in which inequality in health care and health care options is harming impoverished communities. 
A number of factors play into that inequality, but a lack of access to updated means of communication and tools is one of the biggest. 
"(Dr. Martin Luther King Jr.) said that, 'Of all the forms of inequality, injustice in health care is the most shocking and inhumane because it results in physical death,'" Lee said. "That's what we're seeing currently with COVID-19 and sickle cell disease. These two diseases are affecting the minority community and causing death, and they make a great argument that such health care disparities really are a social justice issue."
Correcting such issues was one of the goals of Stockton's living wage experiment. Now, Tubbs said, a working person can afford to stay home or get tested if they're feeling symptomatic, whereas before that person — scared of missing a paycheck or losing the job altogether — might come to work with the virus and infect an entire workplace. 
That alone, Tubbs said, has restored dignity to a number of residents. 
"This is not easy, especially with budgets the way they are," Tubbs said. "But I don't know how we continue to live with the status quo as it is.
"I think part of being a leader, as we are, is having the courage to do something about what we're seeing. We have to be able to do that."
The Pro-Growth Policy Conference will run both Wednesday and Thursday, 10 a.m. until 2 p.m. Wednesday's round of conferences will focus on state grants, economic development around the state and what the 2021 legislative session might look like. 
On Thursday, the event will wrap up with talks by the Equal Justice Initiative's Bryan Stevenson and Alabama Congresswoman Terri Sewell.