Doug Jones cautions against tariffs that could cost Mobile jobs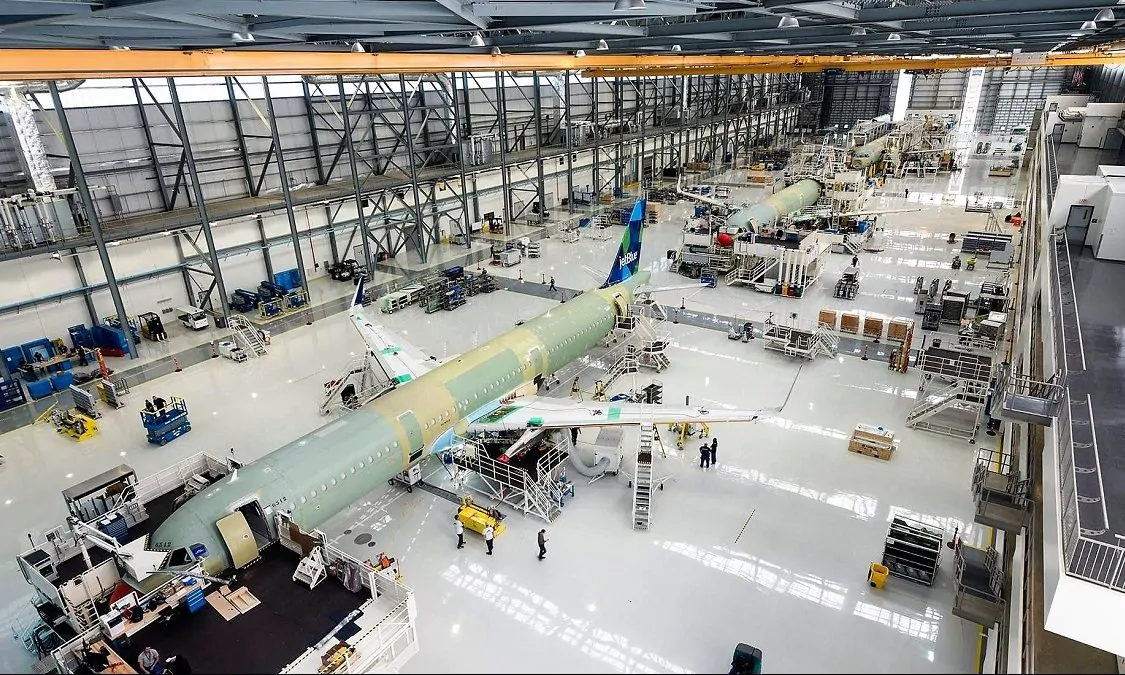 U.S. Senator Doug Jones, D-Ala., on Monday cautioned the Trump administration against levying tariffs on imported airplane parts, a move that could cost Alabama workers at the Airbus plant in Mobile their jobs.
Jones on Monday wrote to U.S. Trade Representative Robert Lighthizer urging him to reconsider Airbus tariffs on components made in facilities in Europe.
Currently, Airbus's plant in Mobile is excluded from existing tariffs, but a proposed set of new tariffs could impact the Alabama plant.
"I write today to urge the Administration not to impose tariffs on imported civilian aircraft component parts from the EU that are critical to the manufacturing of thousands of aircraft right here in the United States. As the Administration considers public comments on this complicated case, I hope the exclusion will be maintained for aircraft components destined for the Mobile, Alabama facility, the only Airbus operation in the Western Hemisphere," Jones wrote in the letter.
"In today's complex global economy, it is important to recognize that this decision impacts thousands of American employees," Jones letter reads. "Moving forward with 100% tariffs on civilian aircraft components and assemblies without an exclusion for parts imported to Mobile will put thousands of jobs in South Alabama at risk."
Airbus's $600 million Mobile final assembly line facility builds jets for Delta, JetBlue, American, Delta, Frontier, Spirit, Allegiant and Hawaiian airlines.
Airbus earlier this month announced a $40 million expansion at the Mobile plant that would add 275 jobs.
USDA is seeking rural energy grant applications
The deadlines to apply for grants is Feb. 1, 2021, and March 31, 2021. Applications for loan guarantees are accepted year-round.
United States Department of Agriculture Deputy Under Secretary for Rural Development Bette Brand on Wednesday invited applications for loan guarantees and grants for renewable energy systems, and to make energy efficiency improvements, conduct energy audits and provide development assistance.
The funding is being provided through the USDA's Rural Energy for America Program, which was created under the 2008 Farm Bill and reauthorized under the 2018 Farm Bill. This notice seeks applications for Fiscal Year 2021 funding.
The deadlines to apply for grants is Feb. 1, 2021, and March 31, 2021. Applications for loan guarantees are accepted year-round.
REAP helps agricultural producers and rural small businesses reduce energy costs and consumption by purchasing and installing renewable energy systems and making energy efficiency improvements in their operations.
Eligible systems may derive energy from wind, solar, hydroelectric, ocean, hydrogen, geothermal or renewable biomass (including anaerobic digesters).
USDA encourages applications that will support recommendations made in the Report to the President of the United States from the Task Force on Agriculture and Rural Prosperity to help improve life in rural America.
Applicants are encouraged to consider projects that provide measurable results in helping rural communities build robust and sustainable economies through strategic investments.
Key strategies include achieving e-Connectivity for rural America, developing the rural economy, harnessing technological innovation, supporting a rural workforce and improving quality of life. For additional information, see the notice in the Federal Register.