Rogers says that Democrats have been quick to rush to Iran's defense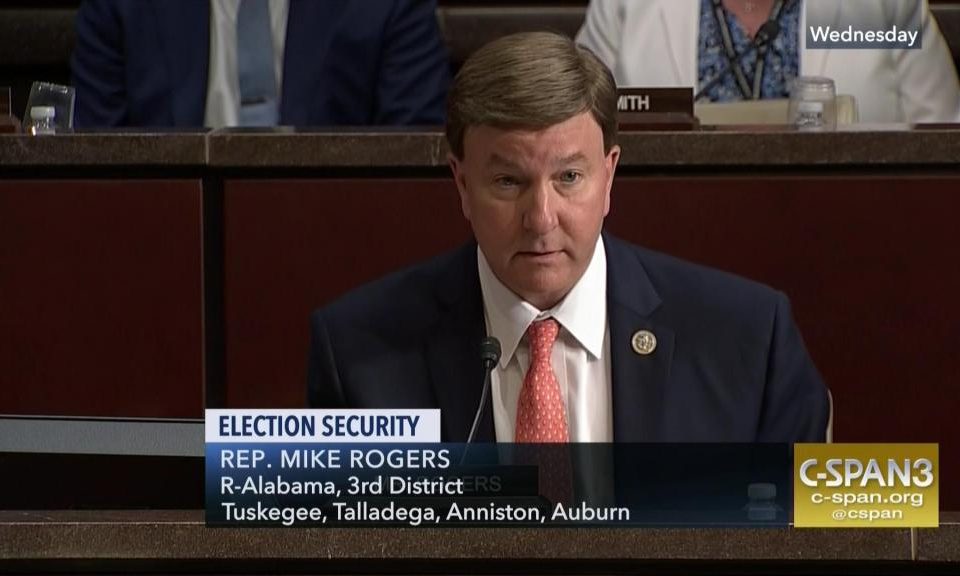 Wednesday, Congressman Mike Rogers, R-Saks, slammed Democrats for their criticism of President Donald J. Trunp's (R) decision to order the killing of Iranian Lt. General Qasem Soleimani. Rogers said in a statement that while he stands behind the President, Democrats have rushed to the defense of Iran.
"In this new year and decade, the world remains a very dangerous place," Congressman Rogers said. "Recently, President Trump had the opportunity to take out a very bad actor who wished harm on Americans and was responsible for the deaths of 600 U.S. soldiers."
"In Baghdad, Qassem Soleimani, an Iranian commander, was killed by some of our brave men and women serving in uniform," Rogers continued. "A known terrorist is now eliminated and I strongly stand with President Trump on his bold and decisive actions. But Democrats have been quick to rush to Iran's defense. Can you believe that?"
Because Democrats are so blinded by their complete hatred for President Donald Trump, they cannot even acknowledge the death of this terrorist was done in the interest of the United States' national security," Rogers added. "Speaker Nancy Pelosi even brought a war powers resolution to the House Floor in an attempt to tie the hands of our president."
"As a senior member of the House Armed Services Committee and the Ranking Member on the Committee on Homeland Security, I strongly opposed this blatant politically-driven move," Rogers explained. "Making it harder for any president to keep our homeland and citizens safe is irresponsible and just plain dangerous. As I said in my speech last week on the House Floor, "This resolution maligns our President, undermines our national security and makes a martyr of a man who killed nearly 600 Americans.""
Rather than uniting behind the President to confront Iran, House Democrats have continued with their impeachment efforts against the President. House Democrats blocked a Republican led resolution on Wednesday supporting the people of Iran and their demands for a democratically elected government.
"Democrats can't bring themselves to acknowledge that President Trump was right to take out Soleimani or support the Iranian citizens protesting for their freedom," Rogers said. "Instead, they continue their attempted coup in the form of the sham impeachment process."
"President Trump's record of accomplishments is clear and irrefutable," Rogers concluded. "Unfortunately, Speaker Pelosi and Democrats just can't put America first."
Congressman Mo Brooks, R-Huntsville, also opposed Democratic efforts to weaken the President's war powers with Iran.
"I voted against the Socialist Democrats' flawed war powers resolution that ties President Trump's hands against Iran," Brooks wrote. "Sports fans know that often times the best defense is a good offense. The flawed war powers resolution would prohibit the president from using offensive measures, thereby endangering national security. President Trump needs the flexibility to act quickly to save American lives."
Congressman Mike Rogers is currently in his ninth term representing Alabama's Third Congressional District. Rogers is the Ranking member on the House Homeland Security Committee and a senior member of the House Armed Services Committee.
Sewell votes in favor of National Apprenticeship Act
The bill would invest more than $3.5 billion to create nearly one million new apprenticeship opportunities.
Congresswoman Terri Sewell, D-Alabama, last week voted in favor of the National Apprenticeship Act, legislation to reauthorize the National Apprenticeship Act for the first time since its enactment in 1937.
The new National Apprenticeship Act will create one million new apprenticeship opportunities over the next five years. Registered apprenticeships provide workers with paid, on-the-job training, and are the nation's most successful federal workforce training program.
"As a long-time supporter of expanding registered apprenticeships, I am thrilled to support today's legislation to provide 1 million new apprenticeship opportunities over five years," Sewell said. "Our Nation is facing the worst economic downturn since the Great Depression and estimates show that more than 7 million of the pandemic's job losses will be permanent. We need bold investments like those in the National Apprenticeship Act to accelerate the economy and help get the American people back to work in stable, good-paying jobs of the future."
The bill invests more than $3.5 billion over the next five years.
The act establishes a $400 million grant program to support the expansion of apprenticeship opportunities, including pre-apprenticeships and youth apprenticeships, which will increase $100 million annually to reach $800 million by 2025.
The legislation also codifies and streamlines standards for registered apprenticeship, youth apprenticeship and pre-apprenticeship programs to make it easier for both apprentices and employers to participate in high-quality apprenticeships and codifies the Department of Labor's Office of Apprenticeship.
It directs the office to convene industry leaders, labor organizations, educators and others to expand apprenticeships into new occupations and sectors.
Supporters say the bill could yield $10.6 billion in net benefits to U.S. taxpayers in the form of increased tax revenue and decreased spending on public-assistance programs and unemployment insurance, and that nothing is more effective at breaking the cycle of poverty than a well-paying full-time job.
Sewell is about to enter her sixth term representing Alabama's 7th Congressional District.