Brooks says that impeachment case should be dismissed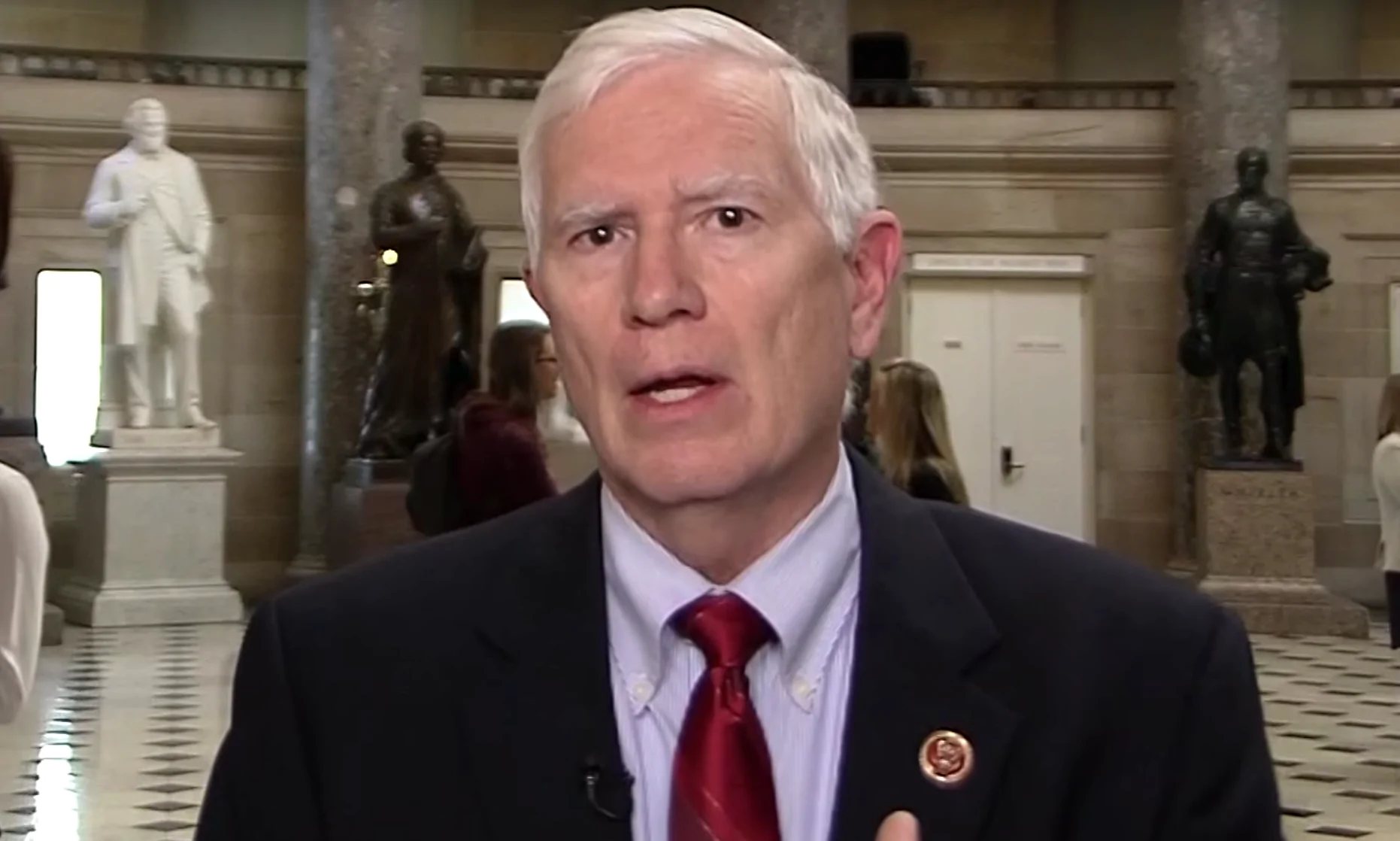 Thursday, Congressman Mo Brooks (R-Huntsville) appeared on the Fox Business Network's "Varney & Co." show to discuss the pending impeachment trial of President Donald J. Trump (R). Brooks slammed what he called "Socialist Democrats' sham impeachment" of President Trump and outlined what he expects from the Senate impeachment trial. Brooks told Stuart Varney that the case against the President should be dismissed.
"Good morning, Stuart. Well, basically it's this: the Socialist Democrats hypocrisy and deceit knows no limits in their craving for political power," Brooks said on the cable news show. "They have been lusting over the impeachment of Donald Trump since before he was even sworn into office. It was election theft, then it was Russian collusion. Those theories fell apart, and now they've got this Ukraine hoax that certainly does not meet the Constitutional requirement of treason, bribery, high crimes, or misdemeanors. Yet, they're foisting it on the American people with their allies CNN, MSNBC, and other left-wing outlets in the mainstream news media."
"I hope in the Senate that we will have justice and a fair trial, whatever that might be," Brooks said. "Let me be real clear about something involving the United States Constitution. The Constitution does not allow Congress to lightly trash the votes of the people who have elected a president of the United States. So, the framers of the Constitution set a high bar. It has to be treason. It has to be bribery, and it can't just be any crime or misdemeanor. It has to be what's called a high crime or misdemeanor, and what does the word high mean under these circumstances? It means the betrayal of the United States of America in favor of a foreign power."
Brooks said that the case should be dismissed.
"If you look at the Articles of Impeachment, they have failed to make out a case for that Constitutional requirement, and as such, it ought to be dismissed. But, maybe they'll go past the dismissal stage and have an actual trial with witnesses. I'll defer to the good judgement of my Senate colleagues, but quite clearly what the Democrats are doing is a sham and is an effort to trash over 60 million votes. That's wrong."
Brooks said that every American who believes in the Constitution should be angry about the impeachment effort.
"Every American who believes in the United States Constitution, who believes in our republic, should be angry about this effort to defraud the American people and to trash the lawful votes of over 60 million Americans," Brooks told Varney. "Yet, the Socialist Democrats seem to believe that they can do this with impunity. I hope that the voters will take them to task in 2020. Time will tell."
On Wednesday, the Democratic majority in the House referred to articles of impeachment to the U.S. Senate. House Democrats claim that President Trump abused his office for personal political gain and then obstructed Congress's effort to investigation the allegations.
Congressman Mo Brooks is in his fifth term representing Alabama's Fifth Congressional District. Brooks is a former prosecutor, Madison County Commissioner, and State Representative.
Governor surveys damage from Hurricane Sally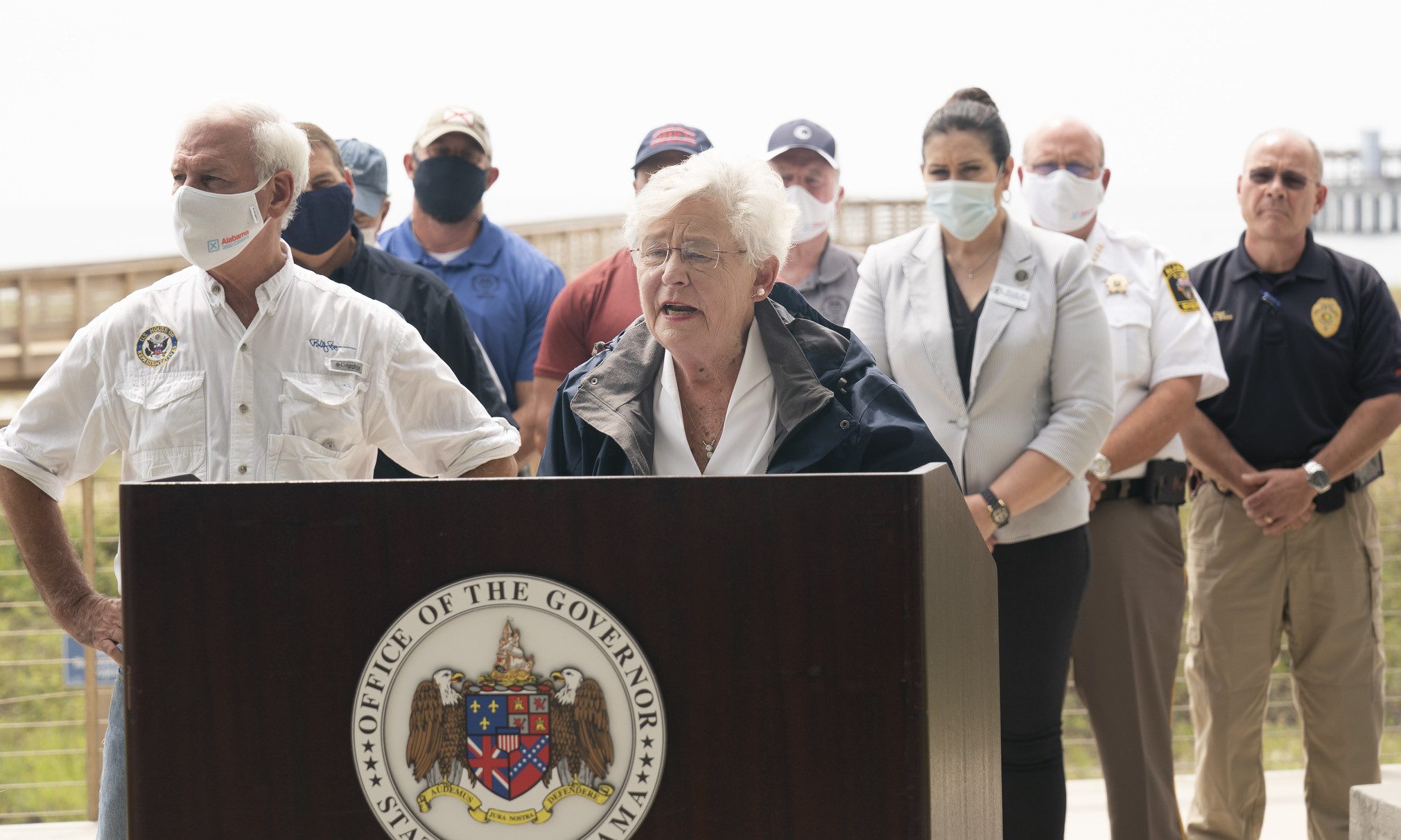 Alabama Gov. Kay Ivey held press conferences in Gulf Shores and Dauphin Island after touring the storm damaged Alabama Gulf Coast, which was battered by Hurricane Sally last week.
Three Alabama counties have been approved for individual and public assistance from FEMA. Baldwin, Mobile and Escambia counties were approved for both IA and PA.
"When I was on the coast Friday, it was clear that there has been significant damage, and people are in need of relief," Ivey said in a statement. "My Office has been working on putting in the request for individual and public assistance to help bring the needed aid, and I appreciate FEMA for quickly delivering to the people of Alabama. Being approved for individual and public assistance is an important step in the recovery process. Coastal Alabama, we are with you the whole way!"
FEMA Administrator Pete Gaynor, U.S. Rep. Bradley Byrne and Sen. Doug Jones also toured the damaged areas.
"I appreciate FEMA Administrator Pete Gaynor for quickly getting down to Alabama to check out the damage from #Sally," Byrne said. "President Trump has already approved Alabama's request for Public Assistance and Individual Assistance, so I encourage everyone to register for help from FEMA online at DisasterAssistance.gov or by calling the registration phone number at 1-800-621-3362. Residents of Baldwin, Escambia, and Mobile counties are currently eligible."
"President Trump and his team have been outstanding to work with in making sure Alabama gets the help we need and deserve," Byrne continued.
Ivey toured the area by helicopter to survey the damage.
"I'm sure it could be worse, but from what I've seen this morning in the flyover it is really, really bad," Ivey said.
Over 200,000 people lost electric power due to Hurricane Sally. Alabama Power said Sunday that more than 99 percent of those people have had their power restored.
"Our electric companies are making progress every hour to restore power," Byrne said. "A lot more work remains, but know that crews are working hard to get all the power back online. Hurricane Sally caused major damage to our electric infrastructure, and I appreciate all those working to get our lights turned back on."
Alabama Power said that it may take into early this week to restore power to some portions of downtown Mobile, Bayou La Batre and Dauphin Island.
"With the Major Disaster Declaration, individuals may apply for disaster aid from FEMA," Byrne explained.
You can apply online at disasterassistance.gov or by calling the registration phone number at 1-800-621-3362 (TTY: 800-462-7585).
Even though electric power has been restored, many homes have been severely damaged. Some are a total loss. Most homeowners are still waiting on insurance adjusters to complete their work. There was a lot of roof damage, not just in Gulf Shores, Dauphin Island, Fort Morgan and Orange Beach, but also in Foley, Robertsdale, Loxley, Bayou La Batre, Bay Minette and beyond — both from the winds and from the trees that fell.
Some homes near the coast were impacted by the storm surge, but many more well into Baldwin County as well as in Pensacola, Florida, were impacted by flooding. Many people are still in need of supplies for the cleanup as well as daily essentials.
"There are a number of food, water and supply distribution sites across Baldwin County," Byrne said. "According to Baldwin County Emergency Management Agency, these locations have MREs, tarps, bottled water, ice, and other supplies."
Baldwin County Coliseum (Robertsdale)
19477 Fairground Road Robertsdale, AL
Seminole Fire Department
32268 Highway 90 Seminole, AL
Lillian Community Club
34148 Widell Avenue; Lillian, AL
Lana Park (Fairhope)
523 Volanta Avenue; Fairhope, AL
Foley Soccer Complex
18507 US Highway 98; Foley, AL
Orange Beach Community Center
27235 Canal Road; Orange Beach, AL
Gulf Shores SportsPlex
19025 Oak Road W; Gulf Shores, AL
On Saturday, literally hundreds of cars lined up to pick up supplies from the Robertstale Church of God in Robertsdale.
Hurricane Sally made landfall near Gulf Shores before dawn on Wednesday as a category two storm. Forecasters on Saturday had expected the storm to impact Louisiana but the hurricane turned to the northeast and made landfall in Alabama instead, gaining strength before coming ashore.
"No one expected this storm to be that strong," Ivey said.
Ivey said most of the piers have been destroyed. Alabama's State Fishing Pier had just finished a $2.5 million renovation. Now a large portion of the pier is missing. Most of the Gulf State Park campground went underwater. A few campers actually weathered the hurricane in their campers.
Debris removal is ongoing.
The Mobile County Commission announced that it will manage Hurricane Sally debris removal from all areas of Mobile County, located outside the 10 municipalities, except for the Town of Dauphin Island. Dauphin Island will be the only municipality to receive hurricane debris removal managed by the county.
To ensure pick-up removal, residents are asked to adhere to the following guidelines: Only Hurricane Sally-related vegetative and construction and demolition (C&D) debris will be collected. That excludes removal of normal household trash, appliances, electronics and household hazardous waste. Debris must be placed curbside or in right-of-way areas that do not block roadways or storm drains. Do not place material in drainage ditches. Vegetative debris should be piled separately from C&D debris material. Vegetative debris includes tree branches, limbs and non-bagged leaves. C&D debris includes building materials, fencing and bagged materials.