New I-20/59 Bridge in Birmingham will be dedicated today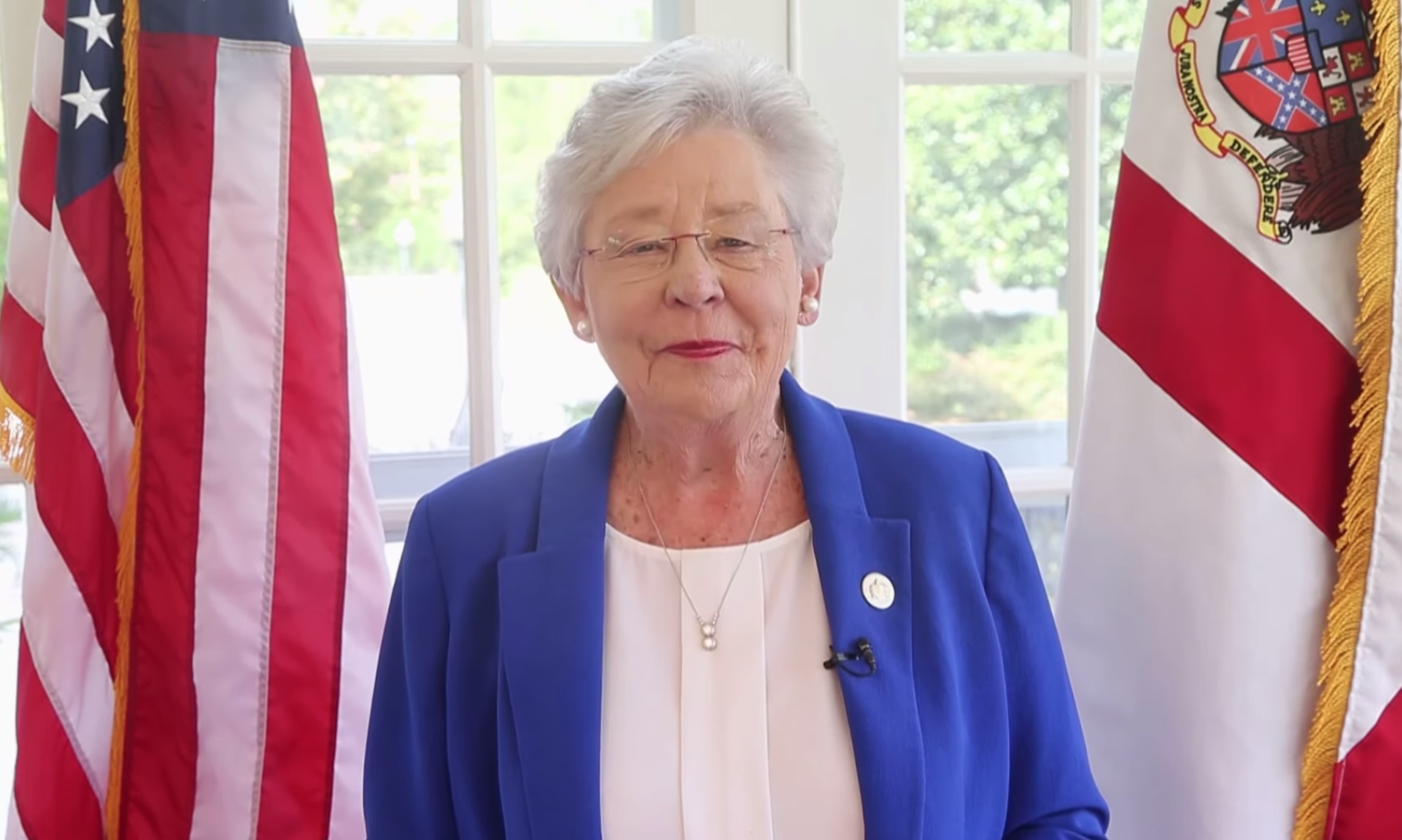 Driving through Birmingham will be much easier with the completion of the I-20/59 Bridge this weekend. Alabama Governor Kay Ivey (R) will participate in the I-20/59 Bridge dedication this afternoon.
After a year of construction, the I-20/59 Bridge is expected to reopen on or before Tuesday, January 21.
Joining the governor will be state Senator Rodger Smitherman, D-Birmingham, Federal Highway Administration Division Administrator Mark Bartlett, ALDOT East Central Region Engineer Dejarvis Leonard, as well as other city and county officials for a ceremony dedicated the new bridge.
The new 20/59 Bridge through downtown Birmingham will be five lanes wide in each direction and has been redesigned to improve traffic flow both to the heart of Birmingham and through the economically important junction with I-65.
The bridge had to be replaced as the old elevated bridge through the heart of Birmingham had reached the end of its structural life and was becoming a safety hazard.
The $700 million project was funded by the Federal Highway Administration, the Alabama Department of Transportation, and the Birmingham Metropolitan Planning Organization. The long delayed project finally started in 2015. The opening of the bridges completes Phase III of the project. Phase III required removal of the structurally unsafe old bridge and the construction of a new bridge. That necessitated closing the interstate a year ago and diverting traffic to I-459, Carraway Boulevard, and Finley Boulevard.
Gov. Ivey wanted the project completed as quickly as possible so offered the contractors a $15 million bonus if they could finish the job and reopen the area for traffic by January 21. They have met that goal and will collect their full bonus.
"We are very excited that we are getting to a point where we can put traffic back on 59/20 through downtown Birmingham," Leonard told reporters.
Final inspections are underway and the road could potentially reopen as soon as late this afternoon.
ALDOT said it will make needed repairs to local highways which for the last year have served as detours for interstate traffic.
Carraway Boulevard and Finley Boulevard have been the primary detour roads for commercial trucking traffic. Repairs to potholes on the road will begin after the interstate has reopened.
This is not the end of improvements to Jefferson County's interstate system.
Last month ALDOT and Governor Ivey announced that construction of the Birmingham Northern Beltline will resume soon thanks to funding secured by U.S. Senator Richard Shelby, R-Alabama. Funding for the Appalachian Development Highway System (ADHS), of which the Birmingham Northern Beltline is a key component, was included in legislation that passed Congress. Alabama is expected to receive enough funding to meaningfully advance construction.
"We thank Senator Shelby for his leadership and are pleased to announce that this funding is going to enable the state to resume construction of the Birmingham Northern Beltline," Governor Ivey said. "This is very exciting news for the Birmingham region and our entire state due to the enormous benefits this corridor will bring to our state and the nation."
"Completing the Appalachian Development Highway System is a priority for Alabama and the millions of people throughout the Appalachian region in other states," Sen. Shelby said. "Investing in this transportation program will help generate economic development opportunities across numerous areas throughout Appalachia — especially at home in Alabama."
Work on the Northern Beltway will create thousands of new construction jobs over coming decades.
Alabama's Black Belt lacks quality internet access, report finds
Twenty-two of 24 Black Belt counties are below the statewide average of 86 percent of the population who have access to high-speed internet, and two Black Belt Counties — Perry and Chocktaw — have no access at all. 
During an online video briefing Monday on a report about a lack of internet access in Alabama's Black Belt, University of Alabama student Brad Glover warned reporters that he could get kicked off the briefing at any moment. 
That's because he was talking during the video briefing by way of audio only, using his cell phone, as he does not have access to high-speed internet access at his Linden, Alabama, home in the Black Belt's Marengo County. 
The COVID-19 pandemic that sent students home to study online left many in the Black Belt and other rural parts of Alabama in the lurch, without access to the high-speed internet enjoyed by so many other Americans, according to the latest report in the University of Alabama's Education Policy Center's Black Belt 2020 series. 
The latest report, titled "Internet Access Disparities in Alabama & the Black Belt," found that 22 of 24 Black Belt counties, as defined by the Education Policy Center, are below the statewide average of 86 percent of the population who have access to high-speed internet, and two Black Belt Counties — Perry and Chocktaw — have no access at all. 
"It is still a terrible struggle for me to connect to get the things done that are required," said Glover, who interned with the Education Policy Center. 
Stephen Katsinas, director of the Education Policy Center, said that in the 1930s, nine of ten rural homes lacked the electric service that urban American homes, by that point, had for 40 years. 
"The Rural Electrification Act was passed to address this abject market failure," Katsinas said. "Today, as the COVID pandemic has shown, access to high-speed internet is as essential to rural Alabama as the REA was in the 1930s. Alabama must directly address the market failures that exist today to bring high-speech internet to every rural Alabamian, so that our rural workforce can access the lifelong learning skills they need, and our rural businesses can compete globally." 
The COVID-19 pandemic has also spotlighted the need to expand the growing area of telemedicine. 
Dr. Eric Wallace, medical director of Telehealth at UAB, told reporters during the briefing Monday that patients are largely doing telehealth from their homes, and explained that disparities in access to high-speed internet present a problem for them. 
"Since the COVID-19 pandemic began, UAB has done approximately 230,000 telehealth visits, and 60 percent of those were done by video," Wallace said. 
"Forty percent are audio only, and why is audio only? It's because we do not have broadband," Wallace said. "So it's not just broadband. It's broadband. It's tech literacy. Socioeconomics, to have a device in your home. It's all of that."
Wallace said that the coronavirus crisis has made clear that telemedicine is a "100 percent necessity" and that patient satisfaction studies make clear it's not going anywhere. 
The reasons for disparities in access to high-speed internet are myriad, explained Noel Keeney, one of the authors of the report and a graduate research assistant at the Education Policy Center. 
Keeney noted a study by BroadbandNow that estimates there are 154 internet providers in Alabama, but there are 226,000 Alabamians living in counties without a single provider, and 632,000 in counties with just a single provider. 
Even for those with access to internet providers, Keeney said that just approximately 44.4 percent of Alabamians have internet access at a cost of $60 monthly or below. 
"If we really care about our rural areas, we need to make an investment, and it needs to cut off that cost at a very low rate," Wallace said. 
Katsnias said there's a growing consensus on the part of Alabama's political leaders that access to high-speed internet is an important issue, noting that Gov. Kay Ivey in March 2018, signed into law the Alabama Broadband Accessibility Act, which has given internet access to nearly 100,000 Alabama students. 
"In March, Gov. Ivey awarded $9.5 million in broadband expansion grants, with a significant amount going to Black Belt communities," the report reads. "This was followed by $5.1 million in additional grants in May." 
"The State of Alabama also allocated $100 million in federal CARES Act-related dollars for "equipment and service for broadband, wireless hot spots, satellite, fixed wireless, DSL, and cellular-on-wheels to increase access for K-12 students undergoing distance learning," the report continues. 
An additional $100 million in CARES Act funds were made available to facilitate virtual learning across Alabama's K-12 schools, researchers wrote in the report, and another $72 million in federal aid went to the state's colleges and universities. 
Katsinas said however those federal funds are spent, the state still needs a long term plan for how to address the disparities in access to high-speed internet. 
"We need a long term plan and we need to do what we can do immediately," Katsinas said
Read more of the Education Policy Center's reports in the "Black Belt 2020" series here.