Sessions says that Christians are under attack in America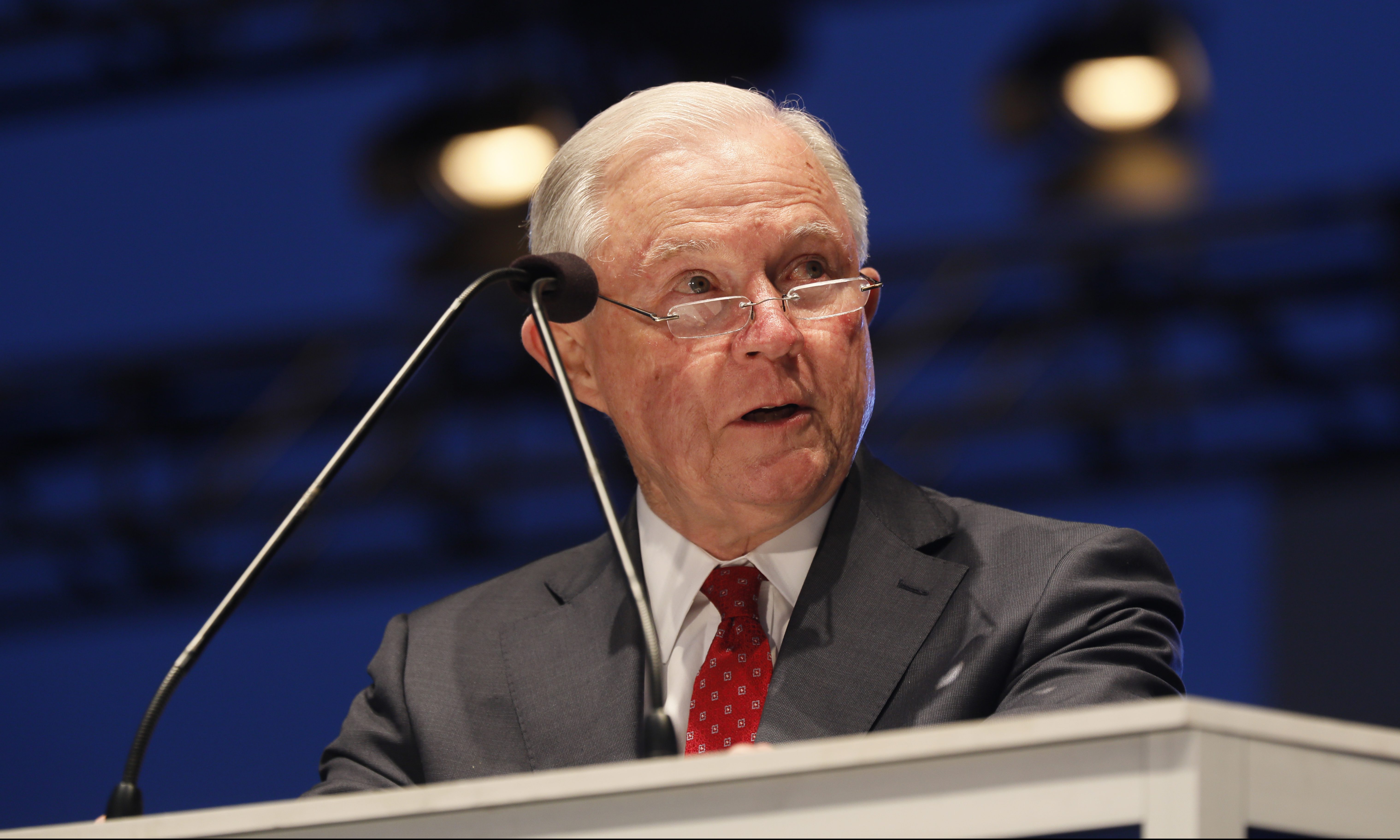 Last Wednesday, Senate candidate and former Attorney General Jeff Sessions (R) issued a response to what he called the latest attack from Ron Reagan's national atheist group, the Freedom From Religion Foundation (FFRF).
"Christians and people of all faiths are under attack in America," Sessions said. "Ron Reagan's atheist group is spending millions of dollars attacking Christians in the name of religious liberty. I can promise you that we will not be intimidated by some leftists from Hollywood. My message to people of faith is this: 'I HAVE YOUR BACK.' I have spent my whole life fighting to make sure that Christians and people of all faiths can boldly live out their faiths. That is what religious liberty means."
"The Constitution explicitly guarantees the right for every American to freely exercise their religious beliefs," Sessions stated. "They don't have to ask the FFRF for permission. The FFRF were constant critics of me and our work at the Department of Justice to protect religious liberty, using unjustified and extreme arguments that have no basis in the Constitution."
"This group, and others, continually write threatening letters to public institutions to frighten and intimidate them from allowing Constitutionally-protected expressions of faith," Sessions continued. "They have gotten away with it for too long. I will never back down from this fight."
On January 14, the FFRF sent a letter to Sessions accusing the former Attorney General of making disparaging and inaccurate statements about the group.
Ron Reagan Jr. is the son of former President Ronald W. Reagan (R) and former First Lady Nancy Reagan. He has long ago denounced both his father's Republican political philosophy and his Christian faith. Reagan was featured in a commercial for the FFRF that played during Tuesday's Democratic debate.
"Hi, I'm Ron Reagan, an unabashed atheist, and I'm alarmed by the intrusions of religion into our secular government," Reagan says in the opening of the advertisement. "That's why I'm asking you to support the Freedom From Religion Foundation, the nation's largest and most effective association of atheists and agnostics working to keep state and church separate, just like our Founding Fathers intended. Please support the Freedom From Religion Foundation."
He concludes the advertisement by saying, "Ron Reagan. Lifelong atheist. Not afraid of burning in hell."
The Wisconsin based FFRF has frequently attacked people of faith in Alabama, most recently a school in Tallapoosa County for allowing baptisms before football practice,
Sessions is a candidate for the Republican nomination for the Senate seat currently held by Doug Jones (D). Sessions previously served in the Senate from 1997 to 2017.
Original reporting by the Washington Examiner contributed to this report.
Jones introduces bill to encourage investments in minority-serving banks
"One of the biggest hurdles for minority entrepreneurs is access to capital," Jones said.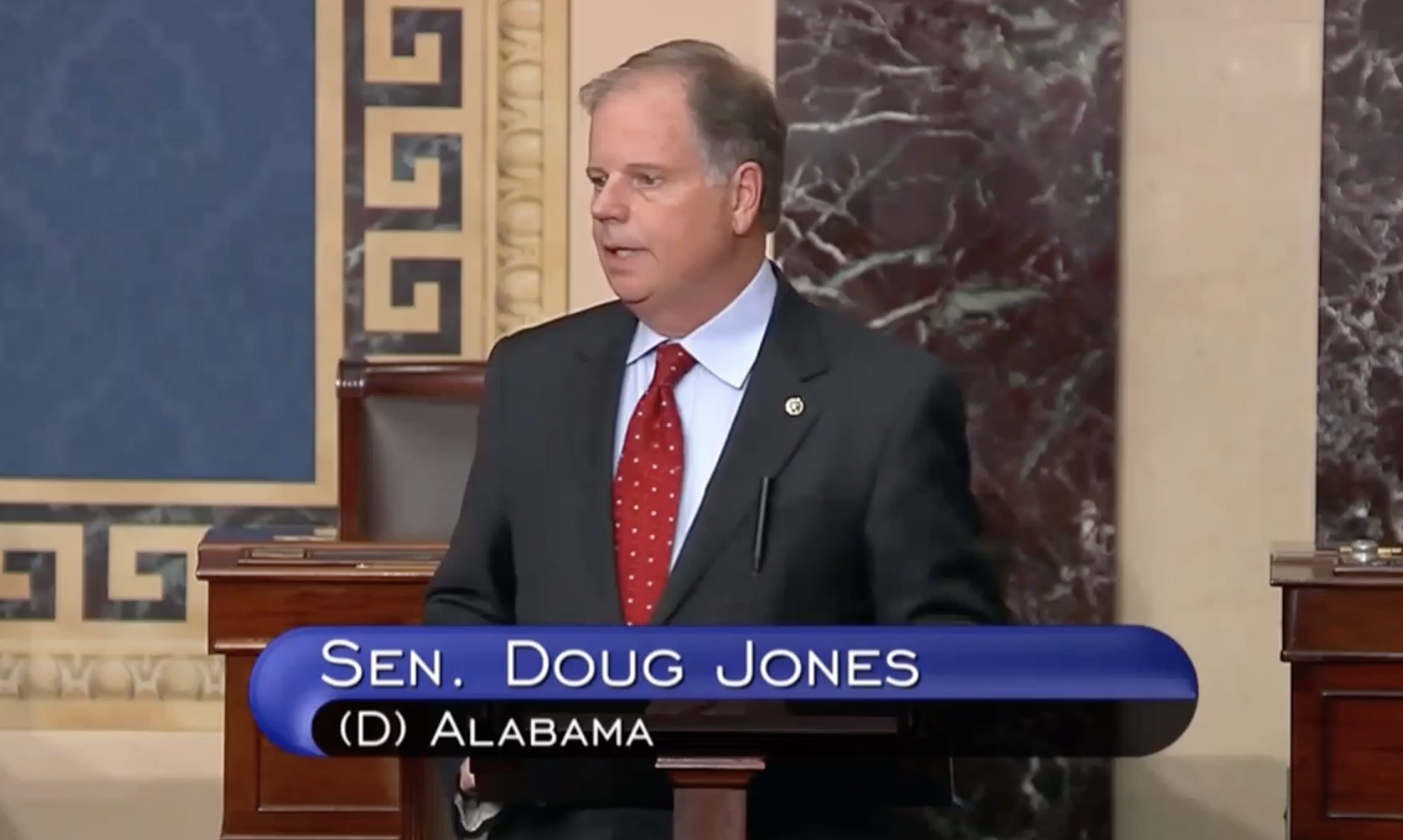 Alabama U.S. Sen. Doug Jones, D-Alabama, on Tuesday introduced legislation that would encourage investments in banks that serve minority communities.
"One of the biggest hurdles for minority entrepreneurs is access to capital," Jones said in a statement. "That's why this bill is so important. Increasing access to capital at the banks that serve minority communities will help expand financial opportunities for individuals and business owners in those communities."
Jones, a member of the Senate Banking Committee, in April urged the Federal Reserve and the U.S. Treasury to support Community Development Financial Institutions and minority-owned banks disproportionately affected by the COVID-19 pandemic, and he threw his support behind more federal funding for small community banks, minority-owned banks and CDFIs during the recent Paycheck Protection Program replenishment.
According to a press release from Jones's office, the bill would attract investments to those financial institutions by changing rules to allow "minority-owned banks, community banks with under $10 billion in deposits" and CDFIs to accept brokered deposits, or investments with high interest rates, thereby bolstering those institutions and encourage them to invest and lend in their communities.
It would also allow low-income and minority credit unions to access the National Credit Union Administration's Community Development Revolving Loan Fund.
"Commonwealth National Bank would like to thank Senator Jones for his leadership in introducing the Minority Depository Institution and Community Bank Deposit Access Act. As a small Alabama home grown institution, this proposal will allow us to accept needed deposits without the current limitations that hinder our ability to better serve the historically underserved communities that our institutions were created to serve. We support your efforts and encourage you to keep fighting the good fight for all of America," said Sidney King, president and CEO of Commonwealth National Bank, in a statement.
"The Minority Depository Institution and Community Bank Deposit Access Act is a welcomed first step in helping Minority Depository Institutions like our National Bankers Association member banks develop the kinds of national deposit networks that allow our institutions to compete for deposits with larger banks and to better meet the credit needs of the communities we serve. The National Bankers Association commends Senator Jones' leadership on this issue, and we look forward to continuing to engage with him on the ultimate passage of this proposal," said Kenneth Kelly, chairman of the National Bankers Association, in a statement.
A recent report by the Brookings Institute highlighted problems minority-owned businesses had accessing federal COVID-19 relief aid from PPP loans. Researchers found that it took seven days longer for small businesses with paid employees in majority Black zip codes to receive PPP loans, compared to majority-white communities. That gap grew to three weeks for non-employer minority-owned small businesses, the report notes.
The report also states that while minority-owned small businesses, many of which are unbanked or under banked, get approximately 80 percent of their loans from financial technology companies and online lending companies, fintechs weren't allowed under federal law to issue PPP loans until April 14.