Today is Robert E. Lee Day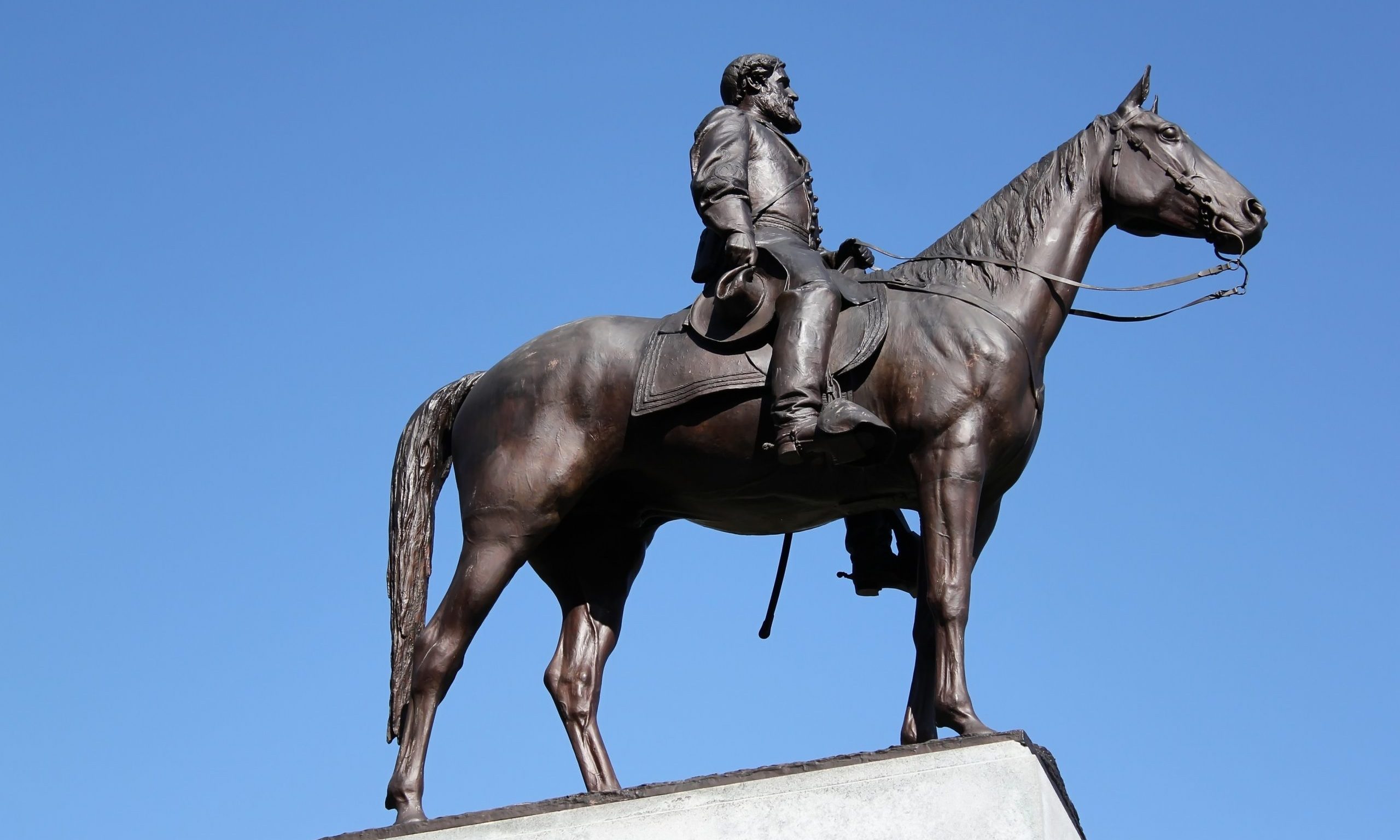 Monday, January 20, 2020, is an official state holiday. State offices and most schools will be closed today in honor of General Robert E. Lee who led the Confederate armed forces during the War Between the States in the 1860's.
Lee was born on January 19, 1807 in Stratford, Virginia. His father, major General Henry "Light-Horse Harry" Lee III was a Revolutionary War general and Governor of Virginia and tobacco planter; but lost his fortune and good reputation to failed land speculation and debt. The senior Lee went to debtor's prison in 1809 and left his wife, their six children, and the country in 1812. He died when Robert was 11 so the younger Lee never experienced the lavish lifestyle of his father's earlier life, except as a guest of affluent relatives and friends. The younger Lee attended the U.S. Military Academy at West Point, where he was second in his class. Lee embarked on a lifetime of military service as an officer and an engineer. Lee served on General Winfield Scott's staff in the Mexican-American War, was the Commandant at West Point, fought Indians in the West and led the American response to crush John Brown's attempted insurrection as a member of the U.S. Army for 32 years. Lee married Mary Custis and they had seven children.
When the Civil War began, President Abraham Lincoln (R) offered Lee command of all union forces. Lee refused. After his native Virginia seceded from the Union, Lee sided with the Confederacy. This was a very controversial decision in the family. Lee had relatives on both sides of the conflict and Lee's sons only joined the Confederacy after their father's decision. Forty percent of Lee's fellow Virginians in the U.S. officer corps stayed with the union.
Lee was named as one of the original five full generals in the Confederacy and became the military advisor to Confederate President Jefferson Davis. Davis sent Lee to western Virginia to reverse losses to Union forces there. He was defeated at the Battle of Cheat Mountain by Gen. Joseph Reynolds and was reassigned to improving Confederate coastal defenses. His design of the defenses around Savannah are credited with thwarting Union aspirations there.
The Army of the Potomac under Gen. George McClellan advanced on the Confederate capital at Richmond in the Spring of 1862. It appeared to many observers then that the Union would take Richmond and force a Confederate surrender by the fall of that year. Confederate General Joseph Johnston was wounded on June 1, 1862. Lee was given command of the Army of Virginia, which he renamed the Army of Northern Virginia. Lee's appointment was a very unpopular decision with Confederate newspaper editors who preferred a more flashy, aggressive style; but there Lee not only drove back McClellan; but earned a reputation as one of the best military tacticians in American history. The South had fewer people, fewer factories, no money and no navy. The Confederate States of America should have been easily crushed by the better equipped and supplied Union forces; but better leadership by people like Lee, Thomas Jonathan "Stonewall" Jackson, James Longstreet, A. P. Hill, etc. almost turned the tide. Their efforts combined with Pres. Lincoln's resolve to keep fighting no matter how many soldiers the Union lost turned the Civil War into, by far, the most costly war in American history. Lee's two invasions of the North; at Antietam and Gettysburg to force the North to surrender both ended in defeat.
Outnumbered more than two to one Lee finally abandoned his trench lines and the Confederate capital of Richmond, Va and attempted to join his Army of Northern Virginia with Gen. Johnston's army in North Carolina. Gen. Ulysses S. Grant blocked off that effort and surrounded Lee on April 9, 1865. General Lee chose to surrender rather than fighting to the death.
Lee broke the news to his troops with this address:
"After four years of arduous service marked by unsurpassed courage and fortitude, the Army of Northern Virginia has been compelled to yield to overwhelming numbers and resources."
\
"I need not tell the brave survivors of so many hard fought battles, who have remained steadfast to the last, that I have consented to this result from no distrust of them; but feeling that valor and devotion could accomplish nothing that could compensate for the loss that must have attended the continuance of the contest, I determined to avoid the useless sacrifice of those whose past services have endeared them to their countrymen."
Confederate forces under Lee's direct command suffered over 125,000 casualties. Union Forces that directly opposed Lee's Army suffered over 166,000 casualties.
Lee returned home from the war on parole and eventually became the president of Washington College in Virginia – now known as Washington and Lee University. He died on Oct. 12, 1870 in Lexington, Virginia.
Lee opposed secession and slavery; but after the war he also opposed giving voting rights to the newly freed slaves and expressed his hope that they be relocated from Virginia.
Lee's memory has been celebrated by generations of southerners and his career is studied by military professionals to this day. Some in the state, including State Representative John Rogers, D-Birmingham, however have expressed opposition to Lee's birthday remaining a state holiday.
Lee's birthday is celebrated on the same day as Martin Luther King Day which is a federal holiday and state holiday, thus federal offices, banks, and post offices are also closed today.
Justice Ginsburg's death will supercharge a heated 2020 campaign
The passing of one of the court's most liberal justices so close to the Nov. 3 general election has set off a political firestorm as to what president should pick the next justice — President Donald Trump or Joe Biden, should he defeat Trump in November.
Just hours after the death of 87-year-old Supreme Court Justice Ruth Bader Ginsburg on Friday, conservatives, including the Alabama-based Foundation for Moral Law, said Ginsburg's passing is an opportunity to reverse the ideological trend of the nation's highest court.
The passing of one of the court's most liberal justices so close to the Nov. 3 general election has set off a political firestorm as to what president should pick the next justice — President Donald Trump or Joe Biden, should he defeat Trump in November.
The controversy over when and how to confirm a new justice will likely supercharge an already heated 2020 election campaign. Trump was at a campaign rally on Friday night when he learned about the justice's death from reporters.
"Just died? Wow, I did not know that," Trump said. "She was an amazing woman. Whether you agreed or not she led an amazing life. She was an amazing woman. I am sad to hear that."
Ginsburg, since her appointment by President Bill Clinton, has been bastion of the court's more liberal wing. The court was divided with four "liberal" justices led by Ginsburg and four "conservative" justices led by Samuel Alito.
Chief Justice John Roberts, though appointed by President George W. Bush, has been the swing vote on a number of major issues since the retirement of Justice Anthony Kennedy in 2018. Her death gives Trump the opportunity to appoint her replacement and potentially shape the direction of the court for decades to come.
Conservatives want Trump to select the nominee and the current GOP-controlled Senate to confirm the Trump appointee.
The Foundation for Moral Law — a conservative legal group founded by former Alabama Chief Justice Roy Moore — released a statement saying that Ginsburg's passing is an opportunity to move the court in a more conservative direction.
"For many years United States Supreme Court has been a bastion for liberal anti-God ideology," Moore said. "The passing of Justice Ruth Bader Ginsberg will be an opportunity to reverse this trend. I'm hopeful that President Trump will immediately nominate a true conservative who understands that our rights come from God and no authority in this country can take those rights from us."
"This is a very critical time for our country and our future and the future of our posterity depends upon our vigilance and direction," Moore said.
Judicial Watch, another conservative legal group, echoed Moore's statement.
"Judicial Watch sends it condolences to the family of Justice Ruth Bader Ginsburg. She had a wonderful judicial temperament that will always be remembered," said Judicial Watch President Tom Fitton. "President Trump now has a historic opportunity to nominate yet another constitutional conservative who will honor the Constitution and the rule of law across the full spectrum of constitutional issues."
"And the U.S. Senate should move quickly to work with President Trump to consider and approve a new justice who will faithfully apply the U.S. Constitution," Fitton said. "There is no reason we cannot have a new justice by Election Day."
Trump is expected to put forth a nominee to fill Ginsburg's seat in the coming days, according to ABC News.
Senate Majority Leader Mitch McConnell, R-Kentucky, wrote in a statement that, "President Trump's nominee will receive a vote on the floor of the United States Senate."
But Democratic senators and Senate Minority Leader Chuck Schumer, D-New York, disagree.
"The American people should have a voice in the selection of their next Supreme Court Justice," Schumer wrote on social media Friday, parroting a similar quote McConnell used in 2016 when he refused to give then-President Barack Obama's nominee, Merrick Garland, hearings and a vote for confirmation to the court. "Therefore, this vacancy should not be filled until we have a new president."
Republicans in the Senate blocked Obama from selecting Justice Antonin Scalia's replacement. Scalia was the most conservative jurist on the court.
Ginsburg was a staunch supporter of abortion rights and voter protections, and she played a major role in upholding Roe v. Wade, the Supreme Court decision protecting abortion rights. She also voted in favor of same-sex marriage and to uphold the constitutionality of the Affordable Care Act.
Most political observers expect Trump to appoint a woman to fill Ginsburg's spot. Political insiders have suggested that Trump believes that appointing a woman to the court could help him with woman, a key swing demographic that will likely decide the next election.
Will the Senate confirm Trump's appointment before the election or wait until after the public votes? If Republicans lose control of the Senate, could a lame duck GOP majority select the direction of the court on their way out?
Alabama Sen. Doug Jones has been widely criticized for his vote against the confirmation of Justice Brett Kavanaugh. If the vote comes before the Nov. 3 election, Jones's decision on whether to confirm Trump's appointee will be heavily scrutinized.
The questions about the Supreme Court is likely to only further inflame passions on both sides this election cycle.