Eight Alabama sheriffs, police groups from 11 major cities endorse Sessions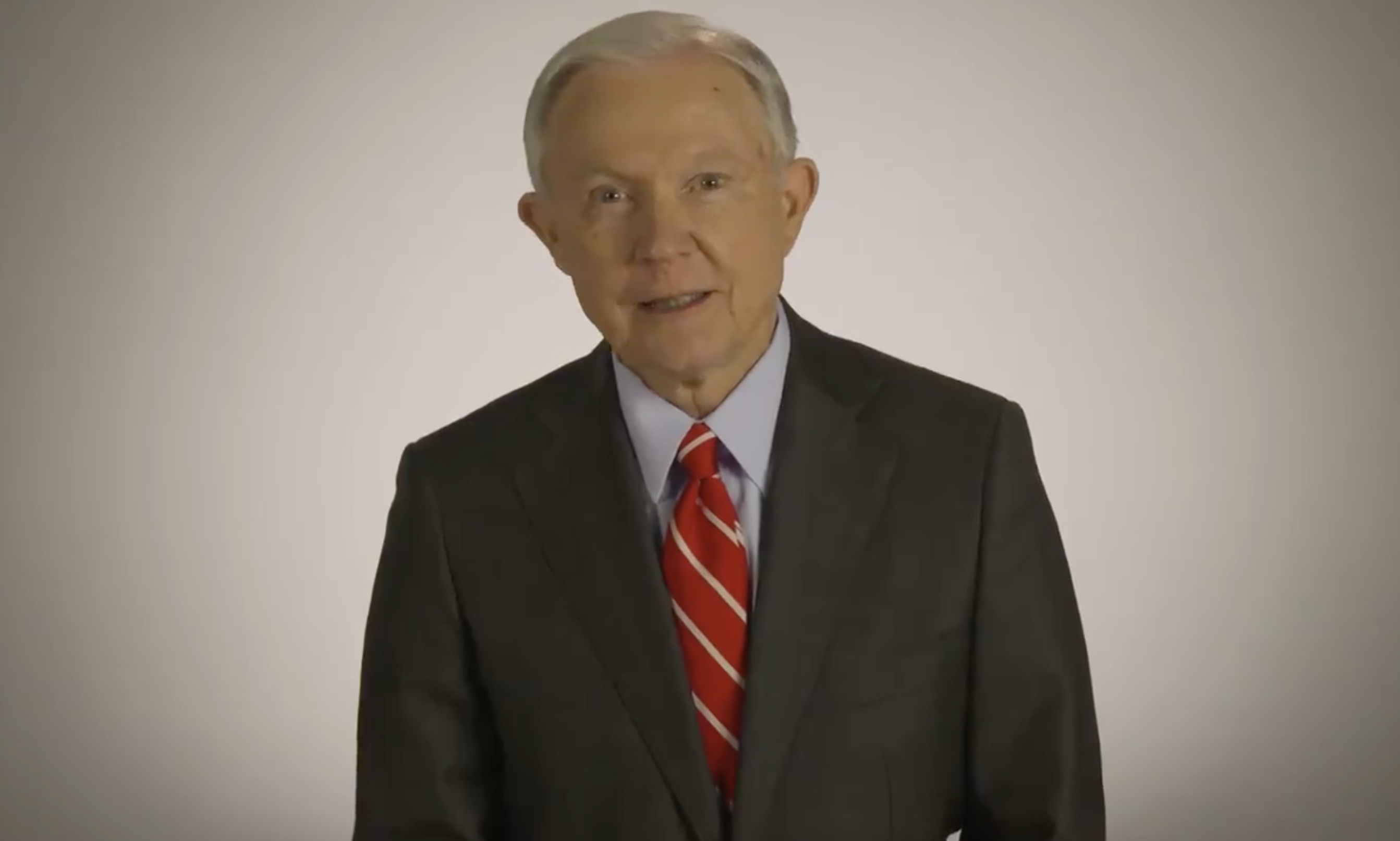 Monday, eight Alabama Sheriffs and representatives from police groups in eleven major American cities held a joint press conference to announce that they are endorsing Jeff Sessions for the U.S. Senate.
Madison County Sheriff Kevin Turner said that Sessions has a proven track record of strong support for law enforcement in Alabama.
"Law enforcement officers trust Jeff Sessions because we know that he has our back," Sheriff Turner said in a statement. "As Senator, Jeff Sessions has gone to bat in Washington to fight for the funding that we need. A good example of that is the National Computer Forensics Institute in Hoover, which has trained hundreds of law enforcement officers right here in Alabama, on how to apprehend and prosecute criminals who are engaging in the human trafficking of children."
Shelby County Sheriff John Samaniego said that Sessions' background as a prosecutor makes him uniquely qualified to advocate for law enforcement in the U.S. Senate.
"I have known Jeff Sessions for over 30 years. We met when he was a U.S. Attorney down in Mobile prosecuting criminal cases, and I was cutting my teeth as a young narcotics detective in Tuscaloosa," Sheriff Samaniego said. "Jeff had a backbone of steel, and an unwavering commitment to the law and getting criminals and thugs off the street. Jeff is that same man of character and principle today. I am proud to endorse Jeff Sessions for the U.S. Senate. There is no question in my mind that he is the best qualified person for the job."
The Alabama Sheriffs who are endorsing Sessions include:
Ray Norris of Clarke County; Kevin Turner of Madison County; Shannon Oliver of Franklin County; John Samaniego of Shelby County; Jonathon W. Horton of Etowah County; Heath Taylor of Russell County, who also serves as President of the Alabama Sheriffs Association; Billy Murray of St. Clair County; and Don Valenza of Houston County.
Sessions said he was humbled by the support, and ready to fight for law enforcement again in the U.S. Senate
"For far too long, the radical left has used rhetoric that undermines and vilifies law enforcement officers, and we have seen unprecedented violence directed against our sheriffs and police officers, as a culture of disrespect for law enforcement has taken root in some parts of America," Sessions said. "That has to end. Alabama needs a U.S. Senator who deeply understands the challenges law enforcement faces today, a senator who has proven to be willing to stand up and defend our sheriffs, deputies, and police. My message to law enforcement is this: you do heroic work, you have my thanks, and I will always have your back."
Bill Partridge, Oxford Police Chief and President of the Alabama Association of Police Chiefs, spoke at the press conference and pointed to Sessions' experience and track record.
"The U.S. Senate is a serious job, and police chiefs and sheriffs across Alabama know that we have to have a tough leader in that position, who knows how to get things done for Alabama law enforcement. Jeff Sessions' door has always been open to Alabama law enforcement officers — whenever there has been a need, he has answered the call, which is why I am proud to support his campaign for the U.S. Senate," Partridge said. "We need Jeff Sessions back in Washington, fighting for Alabama."
Police from eleven major American cities were represented at the press conference, endorsing Sessions in his bid for the U.S. Senate.
Edward Mullins is the President of the New York City Sergeants Benevolent Association. He spoke about Sessions' work as U.S. Attorney General to fight gangs like MS-13 and crackdown on sanctuary cities for illegal immigrants.
"As U.S. Attorney General, Jeff Sessions expertly executed President Trump's directive to restore the rule of law and reduce violent crime," Mullins said. "Through his words and his actions, Jeff Sessions made it clear to police in every community that the nation's highest law enforcement official once again had our backs and that we were not the enemy."
"I cannot envision any other leader who could have so quickly restored the morale of American law enforcement after such a dark period under the previous administration," Mullins added. "Because of his vigorous pursuit of violent criminals and common sense policies, criminal alien gangs like MS-13 were put on notice that they could no longer spread terror with impunity, as the Justice Department made sweeping arrests of violent gang members, and so-called "sanctuary cities" were held accountable for ignoring Immigration and Customs detainers on violent criminal aliens and releasing them back into our communities."
Sessions is a recipient of the National Sheriffs Association's Lifetime Achievement Award; and has been honored as a lifetime honorary member of the Sergeants Benevolent Association.
Stephen Schola with the Police Benevolent Association said that in Sessions tenure as Senator he, "Was the voice for common sense" in the Senate. The previous administration did a number of things at the Justice Department "that encouraged distrust of law enforcement. That led to a spike in ambush attacks on our police officers. Morale was at an all time low." When Sessions took over he demonstrated that "he had our backs and we were not the enemy."
Ted Sexton is the retired Sheriff of Tuscaloosa County and a Past President of the Alabama Sheriff's Association. He also is a former Assistant Secretary of the Department of Homeland Security.
"My community was devastated by a tornado in 2011," Sexton said. Sessions had our backs and was committed to supporting us during the recovery. He has a "Long commitment to law enforcement."
Sessions said that in San Francisco the administration is now referring to persons arrested by police as "clients" rather than criminals.
Sessions said that he has always supported law enforcement over the criminals who break the laws.
Sessions defended "stop and frisk" policies saying that "it can be abused; but it is an effective tool at reducing crime." Police find drugs and weapons that otherwise would not have been. New York had over 1,100 murders a year; the Rudi Giuliani took over and implemented new more aggressive policing, which "Saved New York." The numbers dropped to just 300 homicides per year. With stop and frisk felons don't carry a gun or knife so when they get in a scuffle they don't kill someone.
Sessions was critical of new changes in policing in New York City under Bill de Blasio and blamed those policies for an uptick in crime in New York.
The Alabama Political Reporter asked if that was responsible for recent Census numbers showing that New York state lost 48,000 people in the last year with 40,000 of those leaving the city.
"I got to tell you whether it is a neighborhood in New York or in Montgomery, if they don't feel safe, people with the means will leave," Sessions said. "Crime surges, and people leave that area. People if they have a choice, will not live in a high crime area. You don't have grocery stories and shopping centers and housing values can drop by half. That particularly impacts the poor."
Mullins said, "It is more like 90,000."
"Often when arrests were down it is because politicians are telling police not to arrest people," Sessions said. "Who suffers the most from crime? It is poorer people. African American and Hispanic people they are the ones who are the victims of crime and suffer the most."
Justice Ginsburg's death will supercharge a heated 2020 campaign
The passing of one of the court's most liberal justices so close to the Nov. 3 general election has set off a political firestorm as to what president should pick the next justice — President Donald Trump or Joe Biden, should he defeat Trump in November.
Just hours after the death of 87-year-old Supreme Court Justice Ruth Bader Ginsburg on Friday, conservatives, including the Alabama-based Foundation for Moral Law, said Ginsburg's passing is an opportunity to reverse the ideological trend of the nation's highest court.
The passing of one of the court's most liberal justices so close to the Nov. 3 general election has set off a political firestorm as to what president should pick the next justice — President Donald Trump or Joe Biden, should he defeat Trump in November.
The controversy over when and how to confirm a new justice will likely supercharge an already heated 2020 election campaign. Trump was at a campaign rally on Friday night when he learned about the justice's death from reporters.
"Just died? Wow, I did not know that," Trump said. "She was an amazing woman. Whether you agreed or not she led an amazing life. She was an amazing woman. I am sad to hear that."
Ginsburg, since her appointment by President Bill Clinton, has been bastion of the court's more liberal wing. The court was divided with four "liberal" justices led by Ginsburg and four "conservative" justices led by Samuel Alito.
Chief Justice John Roberts, though appointed by President George W. Bush, has been the swing vote on a number of major issues since the retirement of Justice Anthony Kennedy in 2018. Her death gives Trump the opportunity to appoint her replacement and potentially shape the direction of the court for decades to come.
Conservatives want Trump to select the nominee and the current GOP-controlled Senate to confirm the Trump appointee.
The Foundation for Moral Law — a conservative legal group founded by former Alabama Chief Justice Roy Moore — released a statement saying that Ginsburg's passing is an opportunity to move the court in a more conservative direction.
"For many years United States Supreme Court has been a bastion for liberal anti-God ideology," Moore said. "The passing of Justice Ruth Bader Ginsberg will be an opportunity to reverse this trend. I'm hopeful that President Trump will immediately nominate a true conservative who understands that our rights come from God and no authority in this country can take those rights from us."
"This is a very critical time for our country and our future and the future of our posterity depends upon our vigilance and direction," Moore said.
Judicial Watch, another conservative legal group, echoed Moore's statement.
"Judicial Watch sends it condolences to the family of Justice Ruth Bader Ginsburg. She had a wonderful judicial temperament that will always be remembered," said Judicial Watch President Tom Fitton. "President Trump now has a historic opportunity to nominate yet another constitutional conservative who will honor the Constitution and the rule of law across the full spectrum of constitutional issues."
"And the U.S. Senate should move quickly to work with President Trump to consider and approve a new justice who will faithfully apply the U.S. Constitution," Fitton said. "There is no reason we cannot have a new justice by Election Day."
Trump is expected to put forth a nominee to fill Ginsburg's seat in the coming days, according to ABC News.
Senate Majority Leader Mitch McConnell, R-Kentucky, wrote in a statement that, "President Trump's nominee will receive a vote on the floor of the United States Senate."
But Democratic senators and Senate Minority Leader Chuck Schumer, D-New York, disagree.
"The American people should have a voice in the selection of their next Supreme Court Justice," Schumer wrote on social media Friday, parroting a similar quote McConnell used in 2016 when he refused to give then-President Barack Obama's nominee, Merrick Garland, hearings and a vote for confirmation to the court. "Therefore, this vacancy should not be filled until we have a new president."
Republicans in the Senate blocked Obama from selecting Justice Antonin Scalia's replacement. Scalia was the most conservative jurist on the court.
Ginsburg was a staunch supporter of abortion rights and voter protections, and she played a major role in upholding Roe v. Wade, the Supreme Court decision protecting abortion rights. She also voted in favor of same-sex marriage and to uphold the constitutionality of the Affordable Care Act.
Most political observers expect Trump to appoint a woman to fill Ginsburg's spot. Political insiders have suggested that Trump believes that appointing a woman to the court could help him with woman, a key swing demographic that will likely decide the next election.
Will the Senate confirm Trump's appointment before the election or wait until after the public votes? If Republicans lose control of the Senate, could a lame duck GOP majority select the direction of the court on their way out?
Alabama Sen. Doug Jones has been widely criticized for his vote against the confirmation of Justice Brett Kavanaugh. If the vote comes before the Nov. 3 election, Jones's decision on whether to confirm Trump's appointee will be heavily scrutinized.
The questions about the Supreme Court is likely to only further inflame passions on both sides this election cycle.