NRA supports streamlined concealed carry permits bill
Wednesday, State Senator Randy Price (R-Opelika) and State Representative Proncey Robertson (R-Mt. Hope) pre-filed a bill that would establish a cohesive and statewide management level process for administering and managing concealed weapons permits in the state of Alabama. The National Rifle Association has endorsed this legislation.
"As retired police officer I know firsthand what law enforcement officials face on a daily basis." Rep. Robertson said. "The more information that can be provided is best for all parties. The concealed weapons permit process is a valuable tool to help citizens and law enforcement work together to protect our communities. I am a strong advocate for our 2nd Amendment rights and this will ease the current burden being placed on our law-abiding citizens and put more pressure on those who are "Firearms Prohibited" to follow the law. It will create a standard and transparency in our state."
"I am for protecting our gun rights while demanding accountability," Sen. Price said. "Every day our law enforcement officers put their lives on the line to protect and serve our cities, counties, and communities. This bill will offer additional safety and information for them to more effectively do their job. As a responsible gun owner, I believe having this new information and a reliable concealed weapons permit process supports the safety both of our citizens and law enforcement without infringing on our 2nd Amendment rights."
"The NRA strongly supports this streamlined permitting process," said NRA Alabama State Director Art Thomm. "Not only would it bring much-needed 21st century technology to Alabama's antiquated system, but it would be the first time law-abiding Alabamians were given the option for a lifetime concealed carry permit."
Currently, the application process and managing of applicants is different county by county. Some rural county sheriffs have issued concealed carry permits, sometimes called pistol permits, without doing background checks. This resulted last year in federal authorities revoking Alabama concealed carry permit holders from being able to buy firearms without having to go through the background check system. Concealed carry permit holders in most states simply have to present their current permit at the point of sale. This has also raised questions about whether or not other states can honor the reciprocity agreement with Alabama. Most Sheriffs departments, including St. Clair County, do perform the background checks before issuing concealed carry permits.
This legislation would create a streamlined process of standards for Sheriff Departments to implement and will be monitored by the Alabama Law Enforcement Agency (ALEA). This bill creates a cohesive standard for background checks and will bring 21st century technology to Sheriff's departments and all other law enforcement agencies across the state. Sheriff departments will now have access to electronic information of which all levels of law enforcement will have access to. It will also require municipalities to start reporting those that are convicted of domestic violence as well as Probate Judges to begin reporting individuals that have been involuntary committed. Applicants will also now have the option to apply for a concealed weapons permit for one year, five years or a lifetime permit.
In the State of Alabama, it is a Class A Misdemeanor to carry a concealed weapons without a permit.
State Senator Gerald Allen (R-Tuscaloosa) has introduced legislation that would allow all Alabama citizens who have not had their gun rights revoked to carry firearms concealed without having to have a concealed carry permit. That legislation could not get out of committee in the Senate last year.
It is currently legal in Alabama to openly carry firearms without a permit, if your gun rights have not been taken away. A citizen can lose their gun rights due to a felony conviction, being declared mentally unfit by a probate judge, or a misdemeanor domestic violence conviction. While every citizen, who still has gun rights, may openly carry without a concealed carry permit; it is against the law to have a loaded handgun in a vehicle without a concealed carry permit. Handguns must be unloaded and locked in a box or trunk out of reach. Similarly, if a person is openly carrying a handgun on their side, were to put a jacket on so that the gun was no longer visible that would also be a misdemeanor as they are now carrying concealed, unless they have a valid concealed carry permit allowing them to conceal their handgun. Persons with a concealed carry permit are allowed to have their gun on their person while riding in a motor vehicle or within reach like in the glove box, loaded or not. This does not apply to long guns (rifles and shotguns). All Alabama citizens, who still have their gun rights, may carry their shotgun or rifle with them in their vehicle, without having to obtain a concealed carry permit to exercise that right.
To get your concealed carry permit you must go to the sheriff's department in your home county. The fee varies from county to county.
Twenty percent of adult Alabamians have a concealed carry permit, the highest rate in the country.
Pro-Growth Conference kicks off with Doug Jones, discussions on COVID impact and a living wage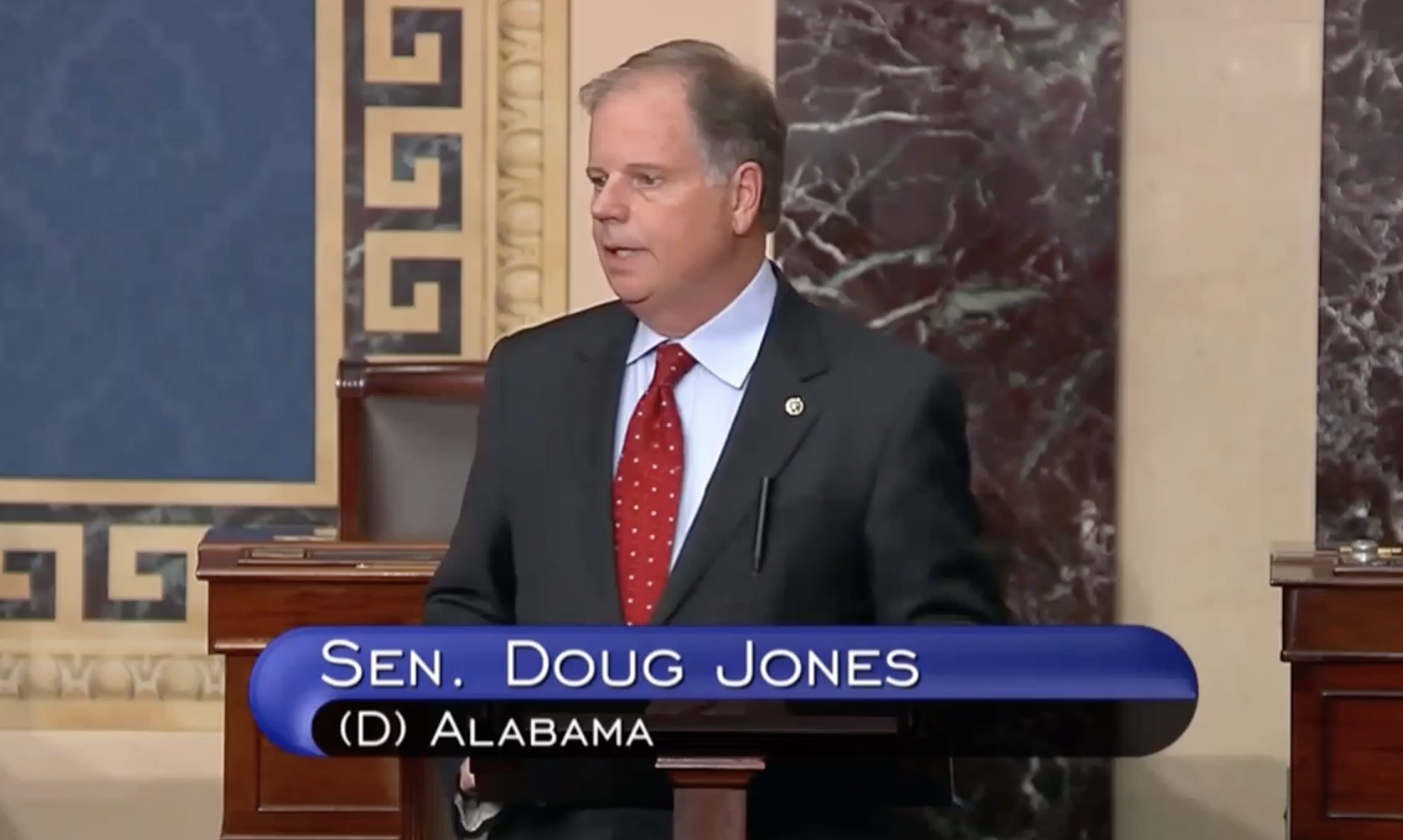 What happens if you just give impoverished citizens $500 per month — no strings attached? Good things, it turns out. The people use that income to buy food, medicine and basic necessities for life. They take a day off work if they're sick and actually get treatment. They quit a second, hourly-wage job that they are overqualified for and instead work towards obtaining a better, higher-paying primary job. 
These are things that the city of Stockton, California, has learned in its year-long living wage program.
The program, while limited in size — only 125 people — has proven to be a larger success than city officials had hoped, and it has opened their eyes to a new, more proactive style of governance, Stockton Mayor Michael Tubbs told Alabama elected officials. 
Tubbs was the featured speaker on Tuesday at the first day of the Pro-Growth Policy Conference, a three-day forum for Alabama elected leaders with guest speakers from around the country offering tips and best practices. 
The first day of the conference began with an opening talk from Sen. Doug Jones, who pressed the need for Medicaid expansion and how expansion has aided other red states. Jones also highlighted the need for broadband expansion and talked about a bill he has in the Senate that would create a broadband main office and dish out about $20 million in money for affordable access.
"Now (with COVID), we know how needed it really is," Jones said. "We see the homework gap that we have. We know there's a need for more telemedicine. My bill would consolidate in one office all of the monies for broadband … and provide affordable access."
Jones said the current COVID pandemic has highlighted just how badly we need better access to broadband in Alabama, and a major area of concern right now is healthcare. 
Highlighting that point, Brandon Garrett, the chief operating officer of the National Minority Quality Forum, and Dr. LaTasha Lee, the vice-president of social and clinical research, demonstrated the many ways in which inequality in health care and health care options is harming impoverished communities. 
A number of factors play into that inequality, but a lack of access to updated means of communication and tools is one of the biggest. 
"(Dr. Martin Luther King Jr.) said that, 'Of all the forms of inequality, injustice in health care is the most shocking and inhumane because it results in physical death,'" Lee said. "That's what we're seeing currently with COVID-19 and sickle cell disease. These two diseases are affecting the minority community and causing death, and they make a great argument that such health care disparities really are a social justice issue."
Correcting such issues was one of the goals of Stockton's living wage experiment. Now, Tubbs said, a working person can afford to stay home or get tested if they're feeling symptomatic, whereas before that person — scared of missing a paycheck or losing the job altogether — might come to work with the virus and infect an entire workplace. 
That alone, Tubbs said, has restored dignity to a number of residents. 
"This is not easy, especially with budgets the way they are," Tubbs said. "But I don't know how we continue to live with the status quo as it is.
"I think part of being a leader, as we are, is having the courage to do something about what we're seeing. We have to be able to do that."
The Pro-Growth Policy Conference will run both Wednesday and Thursday, 10 a.m. until 2 p.m. Wednesday's round of conferences will focus on state grants, economic development around the state and what the 2021 legislative session might look like. 
On Thursday, the event will wrap up with talks by the Equal Justice Initiative's Bryan Stevenson and Alabama Congresswoman Terri Sewell.