Marshall says "impeachment managers have no case"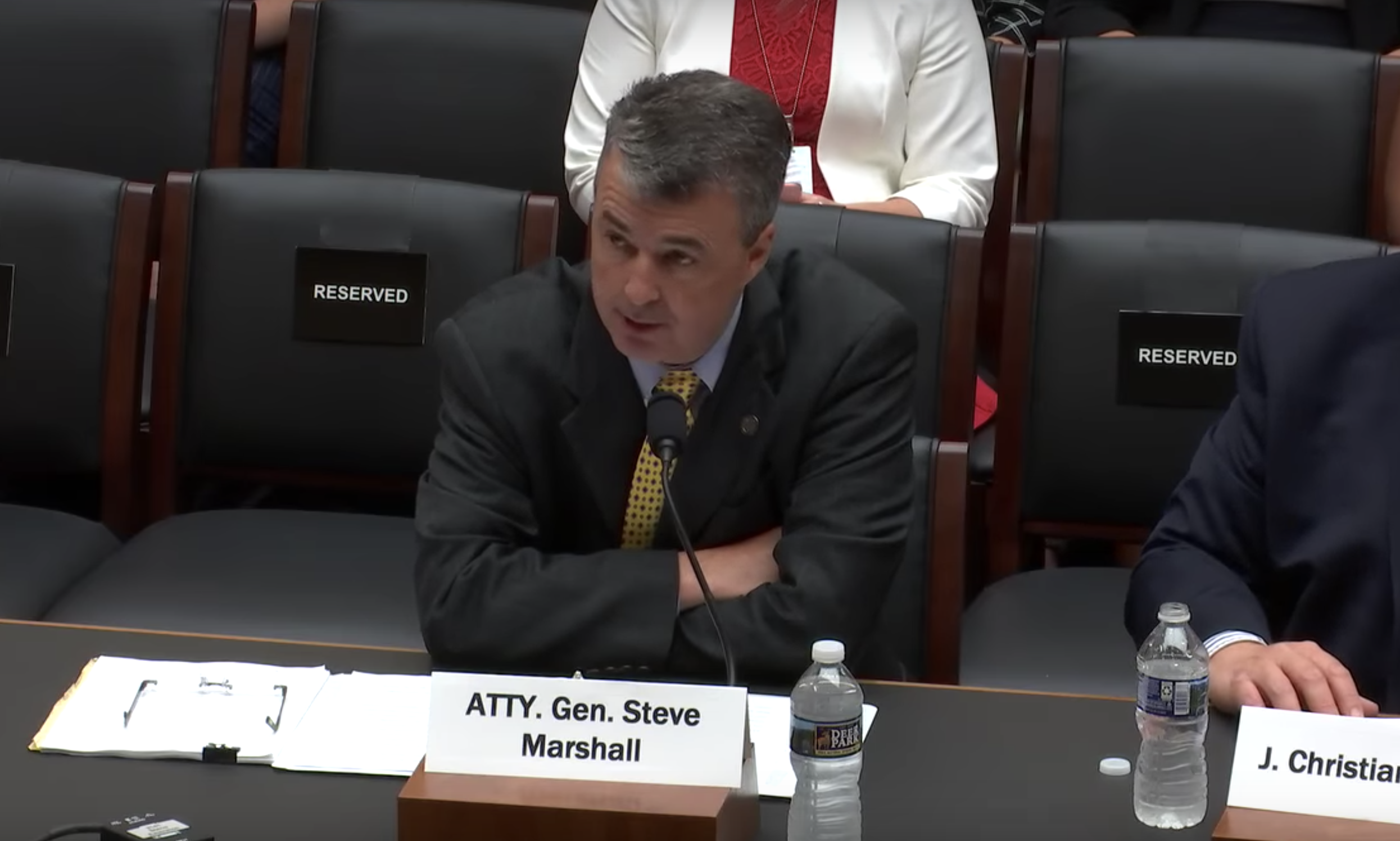 Wednesday, 21 Republican attorneys generals, including Alabama AG Steve Marshall (R), filed the first-ever "friend of the Senate" letter outlining what they claim are the legal flaws of the perilous partisan move by the Democrats to use the impeachment of President Trump as a political weapon to destroy a cornerstone of the Constitution: the separation of powers.
"As a prosecutor for twenty years, what I've seen is an unfair process brings about an unjust result," Marshall said. "And that is what the Senate now has an opportunity to stop.… [The House impeachment managers] have no case.… We need to return the President back to the work of this country."
Marshall made his comments at a press conference in Washington D.C. on Wednesday. Marshall was joined by Attorney General Alan Wilson (South Carolina), Leslie Rutledge (Arkansas), and Attorney General Jeff Landry (Louisiana).
The attorneys general argue that the legal theories underlying both Articles I and Article II are legally and factually flawed, inherently destructive of separation of powers, and contrary to the Framer's vision of impeachment power.
The letter stated that the House Democrats' Articles of Impeachment are a partisan political ploy that will undermine the democratic process, both now and in the future, by weaponizing a process that should only be initiated in exceedingly rare circumstances and never for partisan purposes.
The 21 attorneys general are urging the Senate to expressly reject the articles of impeachment to protect the Presidency and the Constitution.
RAGA Chairman and Attorney General for Louisiana Jeff Landry said: "Republican Attorneys General have grave concerns about the House Democrats' politically motivated impeachment process. Impeachment seems to be just another effort by Nancy Pelosi, Adam Schiff, and liberal special interests to overturn the 2016 election results. The Democrats' partisan attack on President Trump, using impeachment, will likely damage our American system of government for decades by weakening the separation of powers. Our filing urges the Senate to reject these partisan Articles of Impeachment to protect the integrity of the Constitution."
Attorney General Alan Wilson (R-South Carolina) was instrumental in the creation and coordination of the letter,
"The two Articles of Impeachment sent over from the House are fundamentally flawed, politically motivated, and fail to identify any high crimes or misdemeanors," Wilson said. "Republican Attorneys General are asking the Senate to reject the manufactured theories upon which the impeachment articles are based. This impeachment proceeding threatens all future elections and establishes a dangerous precedent. That precedent will erode the separation of powers shared by the executive and legislative branches by subjugating future Presidents to the whims of the majority opposition party in the House of Representatives."
Utah Attorney General Sean Reyes added: "Republican Attorneys General agree that impeachment should never be a partisan response to one party losing a presidential election. Unfortunately, the Democrats never set out to ascertain the truth and have weaponized a process that should only be initiated in exceedingly rare circumstances. Impeachment casts a shadow over the office of the presidency, undermines constitutional authority, and hurts the interests of the United States at home and abroad."
RAGA Executive Director Adam Piper said, "Time and time again Republican attorneys general prove they put the rule of law above politics. Today's filing demonstrates their commitment to preserving the vitality of the presidency, legacy of our founding fathers, and sacredness of the impeachment process. The Framers intended for impeachment to only be used in nonpartisan and exceedingly rare circumstances. While Republicans are committed to keeping America great, Democrats are playing political games, setting a dangerous precedent for future generations, and risking the mutually assured destruction of a constitutional crisis."
The letter is signed by 21 attorneys general including: Alan Wilson (SC), Jeff Landry (LA), Sean Reyes (UT), Steve Marshall (AL), Kevin Clarkson (AK), Leslie Rutledge (AR), Ashley Moody (FL), Chris Carr (GA), Curtis Hill (IN), Derek Schmidt (KS), Daniel Cameron (KY), Lynn Fitch (MS), Eric Schmitt (MO), Tim Fox (MT), Doug Peterson (NE), Dave Yost (OH), Mike Hunter (OK), Jason Ravnsborg (SD), Herbet Slatery (TN), Ken Paxton (TX), Patrick Morrisey (WV).
The President's defense team will continue to present their opening arguments today.
Marshall was appointed AG by then Governor Robert Bentley (R) after a long career as a the District Attorney of Marshall County in 2017. Marshall was re-elected in 2018.
Print this piece
Opinion | Dodge the Economic Impact Payment card fees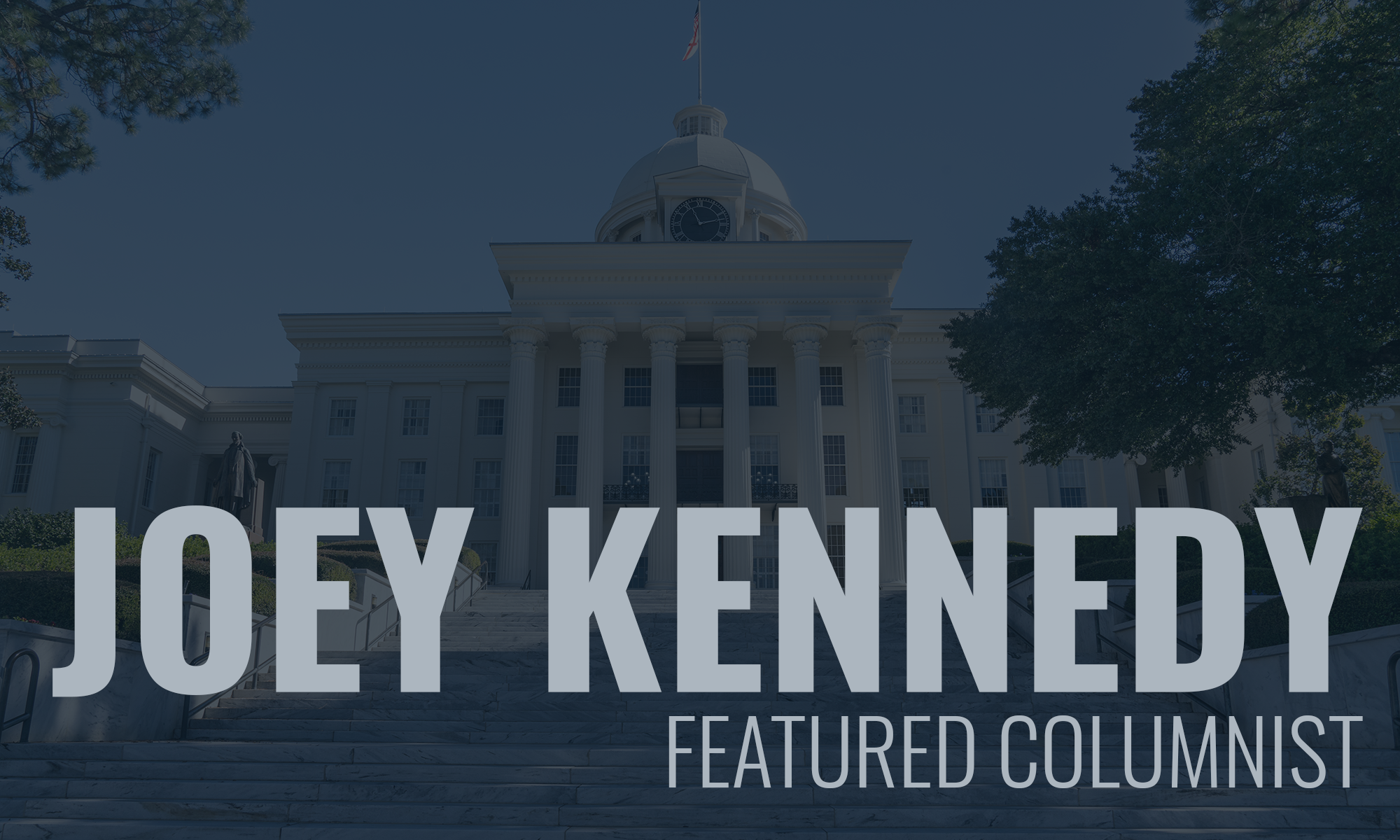 My wife received her $1,200 stimulus payment as a direct deposit several weeks ago. I did not get one, even though we file a joint income tax return, she makes more money than I, and our money is deposited into the same bank account.
I just figured there was some kind of mix-up. That's fine; mostly I'm patient when I'm getting "free" money. I'm not teaching this summer, so the money will come in handy when it comes.
Then this week, a lawyer friend and his wife received their stimulus money on a prepaid debit card. Luckily, my lawyer friend is a lawyer. He always reads the fine print.
More than likely, I would have thrown the fine print part of the stimulus in the trash, and maybe the debit card, too, because the whole thing looks like some sort of scam. And my friend says that in some ways, it is.
About 4 million of the debit cards were sent out by "Money Network Cardholder Services," with a return address in Omaha, Neb. They are issued by MetaBank, N.A. There is no indication on the envelope that this is indeed the stimulus money approved by Congress. There is a flier inside that says "Enclosed is your Economic Impact Payment Card." According to reports, the debit cards have been tossed into the garbage by people who think they are some elaborate scam or a solicitation for one of those high-interest credit cards.
They are valid, and your money is loaded onto them for you to spend like any Visa card. Except there are some catches, and this is what my friend is miffed about. He believes unsophisticated folks (that could be me) and marginalized people who receive the cards will succumb to the various fees that an unaware card user can incur.
Most services have no cost. Buy what you want, call for a balance inquiry, transfer the funds to your personal bank account, and use in-network ATMs that carry the AllPoint brand and you won't be charged.
However, there are fees for using out-of-network, domestic ATMs ($2 after the first withdrawal), $3 for ATM withdrawals in another country, even getting a balance from your ATM, either in-network, out-of-network, domestic and international (25 cents a pop).
If your card is lost or stolen, you'll pay for that as well. It'll cost $7.50 for a new card, and if you want it expedited, that'll be $17. If I lose my bank's debit card, or if the card is stolen (both of which have happened to me), my bank replaces the card for free in about five days. If you lose your "economic impact payment card," it could cost you $24.50 to have it replaced in a timely manner.
And here's where you can really run up charges: If you use a bank teller for a cash withdrawal on the card, there's no charge for the first withdrawal, but $5 for subsequent withdrawals using a teller.
If only a small percentage of users end up paying fees because they used the wrong ATM or prefer to get their cash from a human teller, that could add up to millions of dollars for somebody up the line, and that somebody is not going to be you or me.
I'm not complaining. I'm just urging caution if you're one of the millions of people who received one of these debit cards. Be aware they are coming and don't fall into the fee-trap that comes with them.
I'm no financial wiz – my family and friends can attest to that – but if I get one of those debit cards, I'm just going to transfer the whole amount into our checking account. If you don't have a bank account, and many people don't, I would just cash it out then cut up the card.
But be aware these cards are going out, and if you're waiting on your stimulus check, you might get a debit card instead. Don't throw it away. Buy something. It's what they want you to do.
Joey Kennedy, a Pulitzer Prize winner, writes a column each week for Alabama Political Reporter. Email: [email protected]
Print this piece