Marshall says "impeachment managers have no case"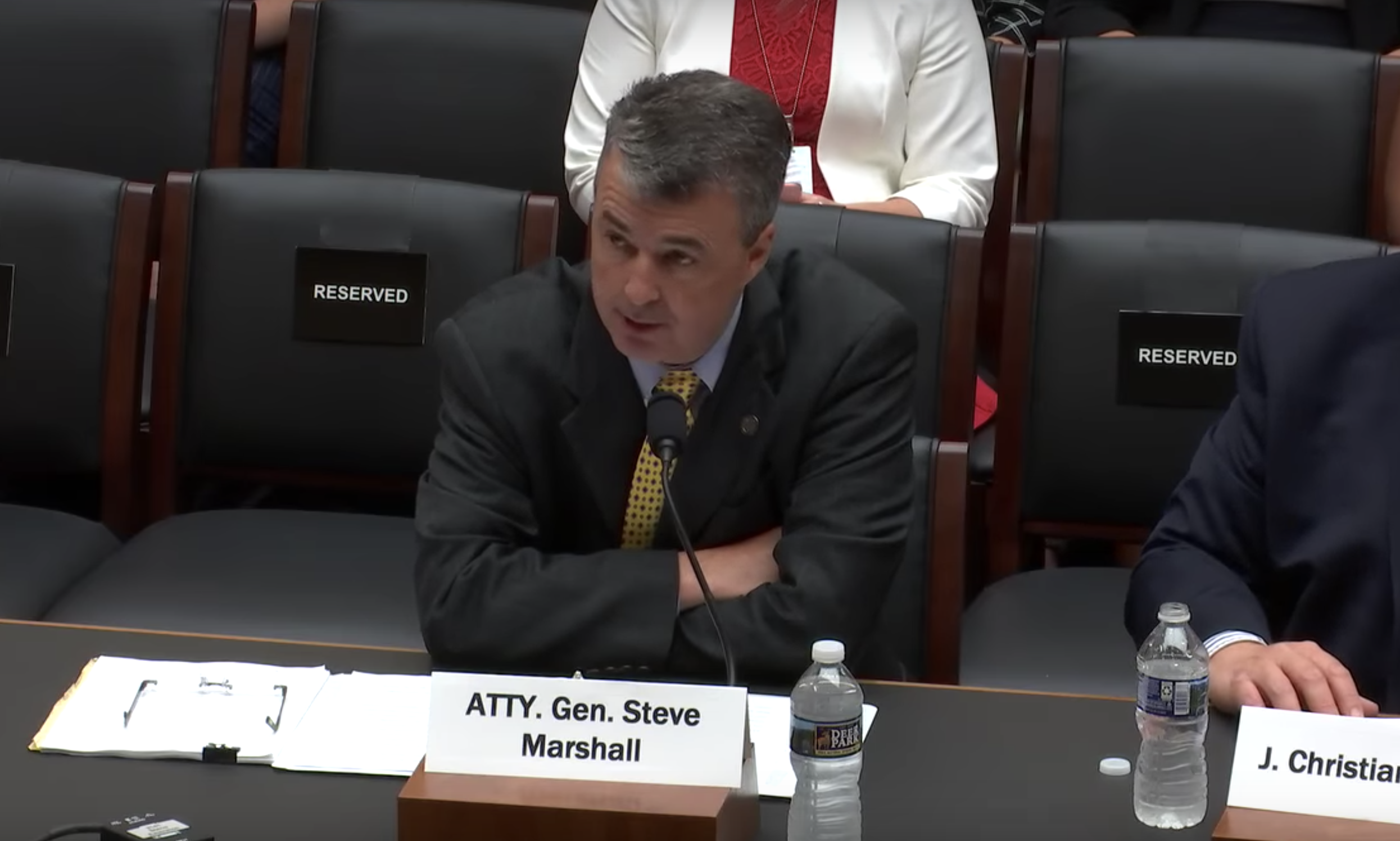 Wednesday, 21 Republican attorneys generals, including Alabama AG Steve Marshall (R), filed the first-ever "friend of the Senate" letter outlining what they claim are the legal flaws of the perilous partisan move by the Democrats to use the impeachment of President Trump as a political weapon to destroy a cornerstone of the Constitution: the separation of powers.
"As a prosecutor for twenty years, what I've seen is an unfair process brings about an unjust result," Marshall said. "And that is what the Senate now has an opportunity to stop.… [The House impeachment managers] have no case.… We need to return the President back to the work of this country."
Marshall made his comments at a press conference in Washington D.C. on Wednesday. Marshall was joined by Attorney General Alan Wilson (South Carolina), Leslie Rutledge (Arkansas), and Attorney General Jeff Landry (Louisiana).
The attorneys general argue that the legal theories underlying both Articles I and Article II are legally and factually flawed, inherently destructive of separation of powers, and contrary to the Framer's vision of impeachment power.
The letter stated that the House Democrats' Articles of Impeachment are a partisan political ploy that will undermine the democratic process, both now and in the future, by weaponizing a process that should only be initiated in exceedingly rare circumstances and never for partisan purposes.
The 21 attorneys general are urging the Senate to expressly reject the articles of impeachment to protect the Presidency and the Constitution.
RAGA Chairman and Attorney General for Louisiana Jeff Landry said: "Republican Attorneys General have grave concerns about the House Democrats' politically motivated impeachment process. Impeachment seems to be just another effort by Nancy Pelosi, Adam Schiff, and liberal special interests to overturn the 2016 election results. The Democrats' partisan attack on President Trump, using impeachment, will likely damage our American system of government for decades by weakening the separation of powers. Our filing urges the Senate to reject these partisan Articles of Impeachment to protect the integrity of the Constitution."
Attorney General Alan Wilson (R-South Carolina) was instrumental in the creation and coordination of the letter,
"The two Articles of Impeachment sent over from the House are fundamentally flawed, politically motivated, and fail to identify any high crimes or misdemeanors," Wilson said. "Republican Attorneys General are asking the Senate to reject the manufactured theories upon which the impeachment articles are based. This impeachment proceeding threatens all future elections and establishes a dangerous precedent. That precedent will erode the separation of powers shared by the executive and legislative branches by subjugating future Presidents to the whims of the majority opposition party in the House of Representatives."
Utah Attorney General Sean Reyes added: "Republican Attorneys General agree that impeachment should never be a partisan response to one party losing a presidential election. Unfortunately, the Democrats never set out to ascertain the truth and have weaponized a process that should only be initiated in exceedingly rare circumstances. Impeachment casts a shadow over the office of the presidency, undermines constitutional authority, and hurts the interests of the United States at home and abroad."
RAGA Executive Director Adam Piper said, "Time and time again Republican attorneys general prove they put the rule of law above politics. Today's filing demonstrates their commitment to preserving the vitality of the presidency, legacy of our founding fathers, and sacredness of the impeachment process. The Framers intended for impeachment to only be used in nonpartisan and exceedingly rare circumstances. While Republicans are committed to keeping America great, Democrats are playing political games, setting a dangerous precedent for future generations, and risking the mutually assured destruction of a constitutional crisis."
The letter is signed by 21 attorneys general including: Alan Wilson (SC), Jeff Landry (LA), Sean Reyes (UT), Steve Marshall (AL), Kevin Clarkson (AK), Leslie Rutledge (AR), Ashley Moody (FL), Chris Carr (GA), Curtis Hill (IN), Derek Schmidt (KS), Daniel Cameron (KY), Lynn Fitch (MS), Eric Schmitt (MO), Tim Fox (MT), Doug Peterson (NE), Dave Yost (OH), Mike Hunter (OK), Jason Ravnsborg (SD), Herbet Slatery (TN), Ken Paxton (TX), Patrick Morrisey (WV).
The President's defense team will continue to present their opening arguments today.
Marshall was appointed AG by then Governor Robert Bentley (R) after a long career as a the District Attorney of Marshall County in 2017. Marshall was re-elected in 2018.
Governor surveys damage from Hurricane Sally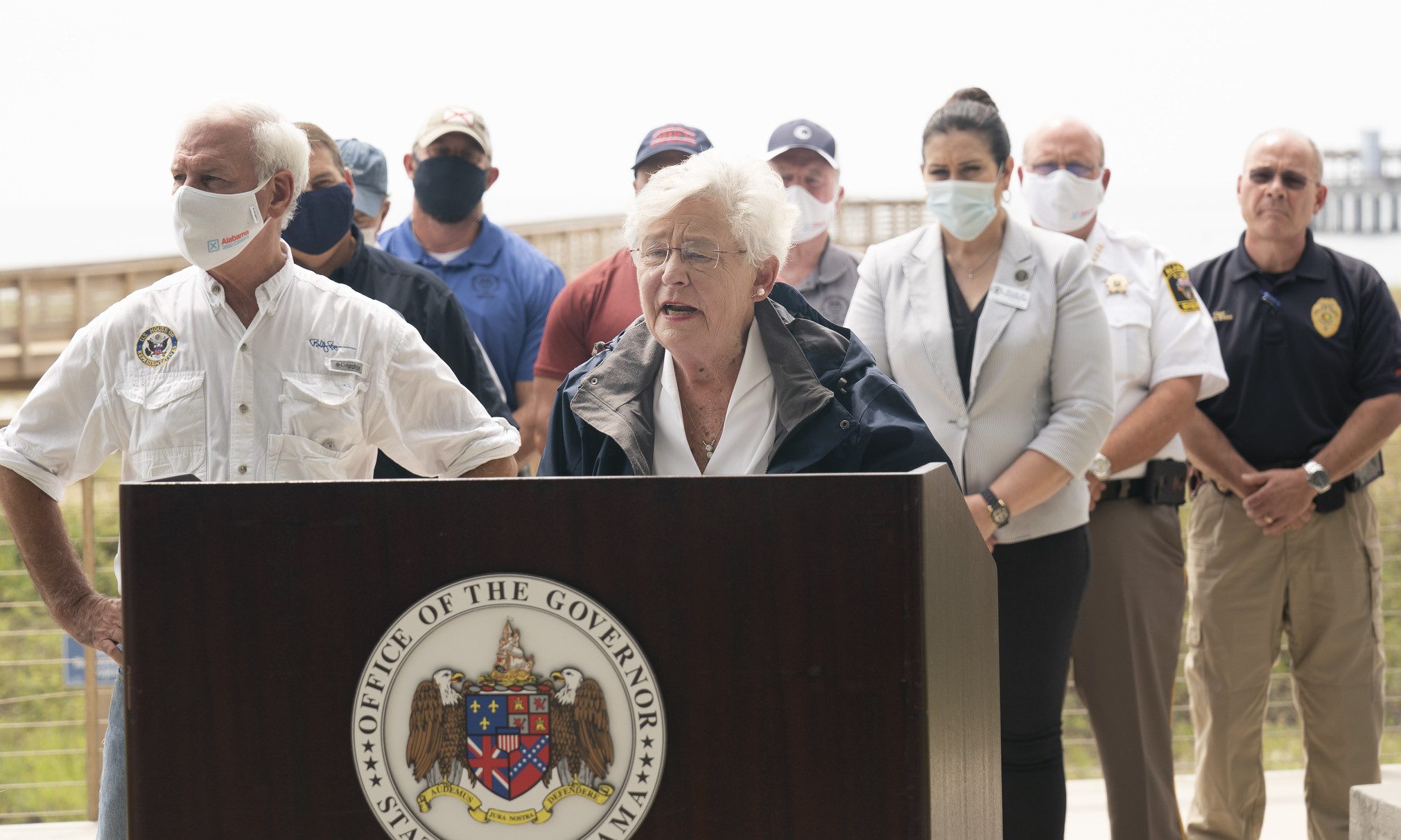 Alabama Gov. Kay Ivey held press conferences in Gulf Shores and Dauphin Island after touring the storm damaged Alabama Gulf Coast, which was battered by Hurricane Sally last week.
Three Alabama counties have been approved for individual and public assistance from FEMA. Baldwin, Mobile and Escambia counties were approved for both IA and PA.
"When I was on the coast Friday, it was clear that there has been significant damage, and people are in need of relief," Ivey said in a statement. "My Office has been working on putting in the request for individual and public assistance to help bring the needed aid, and I appreciate FEMA for quickly delivering to the people of Alabama. Being approved for individual and public assistance is an important step in the recovery process. Coastal Alabama, we are with you the whole way!"
FEMA Administrator Pete Gaynor, U.S. Rep. Bradley Byrne and Sen. Doug Jones also toured the damaged areas.
"I appreciate FEMA Administrator Pete Gaynor for quickly getting down to Alabama to check out the damage from #Sally," Byrne said. "President Trump has already approved Alabama's request for Public Assistance and Individual Assistance, so I encourage everyone to register for help from FEMA online at DisasterAssistance.gov or by calling the registration phone number at 1-800-621-3362. Residents of Baldwin, Escambia, and Mobile counties are currently eligible."
"President Trump and his team have been outstanding to work with in making sure Alabama gets the help we need and deserve," Byrne continued.
Ivey toured the area by helicopter to survey the damage.
"I'm sure it could be worse, but from what I've seen this morning in the flyover it is really, really bad," Ivey said.
Over 200,000 people lost electric power due to Hurricane Sally. Alabama Power said Sunday that more than 99 percent of those people have had their power restored.
"Our electric companies are making progress every hour to restore power," Byrne said. "A lot more work remains, but know that crews are working hard to get all the power back online. Hurricane Sally caused major damage to our electric infrastructure, and I appreciate all those working to get our lights turned back on."
Alabama Power said that it may take into early this week to restore power to some portions of downtown Mobile, Bayou La Batre and Dauphin Island.
"With the Major Disaster Declaration, individuals may apply for disaster aid from FEMA," Byrne explained.
You can apply online at disasterassistance.gov or by calling the registration phone number at 1-800-621-3362 (TTY: 800-462-7585).
Even though electric power has been restored, many homes have been severely damaged. Some are a total loss. Most homeowners are still waiting on insurance adjusters to complete their work. There was a lot of roof damage, not just in Gulf Shores, Dauphin Island, Fort Morgan and Orange Beach, but also in Foley, Robertsdale, Loxley, Bayou La Batre, Bay Minette and beyond — both from the winds and from the trees that fell.
Some homes near the coast were impacted by the storm surge, but many more well into Baldwin County as well as in Pensacola, Florida, were impacted by flooding. Many people are still in need of supplies for the cleanup as well as daily essentials.
"There are a number of food, water and supply distribution sites across Baldwin County," Byrne said. "According to Baldwin County Emergency Management Agency, these locations have MREs, tarps, bottled water, ice, and other supplies."
Baldwin County Coliseum (Robertsdale)
19477 Fairground Road Robertsdale, AL
Seminole Fire Department
32268 Highway 90 Seminole, AL
Lillian Community Club
34148 Widell Avenue; Lillian, AL
Lana Park (Fairhope)
523 Volanta Avenue; Fairhope, AL
Foley Soccer Complex
18507 US Highway 98; Foley, AL
Orange Beach Community Center
27235 Canal Road; Orange Beach, AL
Gulf Shores SportsPlex
19025 Oak Road W; Gulf Shores, AL
On Saturday, literally hundreds of cars lined up to pick up supplies from the Robertstale Church of God in Robertsdale.
Hurricane Sally made landfall near Gulf Shores before dawn on Wednesday as a category two storm. Forecasters on Saturday had expected the storm to impact Louisiana but the hurricane turned to the northeast and made landfall in Alabama instead, gaining strength before coming ashore.
"No one expected this storm to be that strong," Ivey said.
Ivey said most of the piers have been destroyed. Alabama's State Fishing Pier had just finished a $2.5 million renovation. Now a large portion of the pier is missing. Most of the Gulf State Park campground went underwater. A few campers actually weathered the hurricane in their campers.
Debris removal is ongoing.
The Mobile County Commission announced that it will manage Hurricane Sally debris removal from all areas of Mobile County, located outside the 10 municipalities, except for the Town of Dauphin Island. Dauphin Island will be the only municipality to receive hurricane debris removal managed by the county.
To ensure pick-up removal, residents are asked to adhere to the following guidelines: Only Hurricane Sally-related vegetative and construction and demolition (C&D) debris will be collected. That excludes removal of normal household trash, appliances, electronics and household hazardous waste. Debris must be placed curbside or in right-of-way areas that do not block roadways or storm drains. Do not place material in drainage ditches. Vegetative debris should be piled separately from C&D debris material. Vegetative debris includes tree branches, limbs and non-bagged leaves. C&D debris includes building materials, fencing and bagged materials.