After March for Life, Roby says "we must stand for life"
Monday, Congresswoman Martha Roby (R-Montgomery) said in an email that she supports the Pro-Life movement and their efforts to protect the unborn.
"I believe that human life begins at conception, and our laws and policies should reflect a commitment to protecting life at every stage," Roby wrote in an email to constituents. "I feel a strong responsibility to do everything in my power to fight for the unborn. This platform I have been given is a special opportunity to stand up for those who cannot stand up for themselves."
"Every year, thousands of Americans gather in our nation's capital to participate in the March for Life," Roby added. "This annual event is an opportunity for pro-life advocates from across the country to join together and voice their concern for protecting all life. Many traveled far and wide to be in Washington for this year's March, which occurred this past week. I know that some pro-life supporters traveled from Alabama's Second District – almost 900 miles – to defend the unborn."
On Friday, President Donald J. Trump (R) became the first President of the United States to personally attend and address the annual March For Life in Washington.
"Every child is a precious and sacred gift from God," Pres. Trump told the thousands in attendance. "Together we must protect, cherish, and defend the dignity and sanctity of every human life."
"When we see a baby in the womb we glimpse the majesty of God's creation," Trump added. "Every child born and unborn is made in the holy image of Almighty God."
"It is my profound honor to be the first president in history to attend the March for Life!" Trump told the crowd. "We are here for a very simple reason: To defend the right of every child – born and unborn – to fulfill their God given potential. Young people are the heart of the March for Life and it is you who is making it the pro-family, pro-life generation."
The people of Alabama in 2018 passed a state constitutional amendment banning abortion. This amendment, as well as laws passed to protect the unborn and regulate the abortion industry, are being blocked by unelected federal judges, citing the controversial 1973 Supreme Court ruling on Roe v. Wade claiming that abortion is protected by the U.S. Constitution. In 2018 the Alabama legislature passed the nation's strongest abortion ban, hoping that the U.S. Supreme Court will take up the case and overturn the controversial ruling.
Roby recently spoke on the House floor stating her support for the Pro-Life movement.
Congresswoman Roby has represented Alabama's Second Congressional District since 2011, but is not seeking election for another term.
Jones introduces bill to encourage investments in minority-serving banks
"One of the biggest hurdles for minority entrepreneurs is access to capital," Jones said.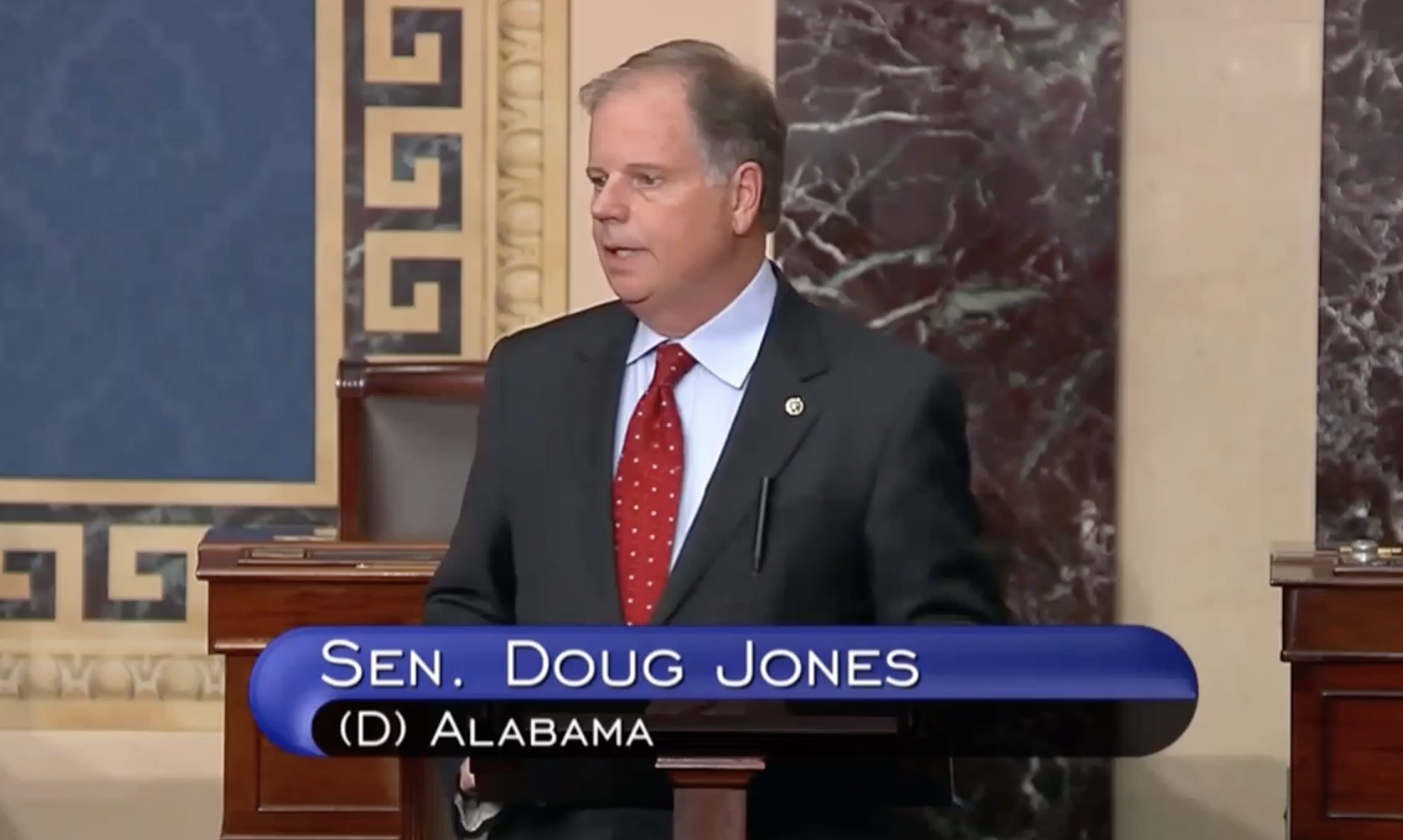 Alabama U.S. Sen. Doug Jones, D-Alabama, on Tuesday introduced legislation that would encourage investments in banks that serve minority communities.
"One of the biggest hurdles for minority entrepreneurs is access to capital," Jones said in a statement. "That's why this bill is so important. Increasing access to capital at the banks that serve minority communities will help expand financial opportunities for individuals and business owners in those communities."
Jones, a member of the Senate Banking Committee, in April urged the Federal Reserve and the U.S. Treasury to support Community Development Financial Institutions and minority-owned banks disproportionately affected by the COVID-19 pandemic, and he threw his support behind more federal funding for small community banks, minority-owned banks and CDFIs during the recent Paycheck Protection Program replenishment.
According to a press release from Jones's office, the bill would attract investments to those financial institutions by changing rules to allow "minority-owned banks, community banks with under $10 billion in deposits" and CDFIs to accept brokered deposits, or investments with high interest rates, thereby bolstering those institutions and encourage them to invest and lend in their communities.
It would also allow low-income and minority credit unions to access the National Credit Union Administration's Community Development Revolving Loan Fund.
"Commonwealth National Bank would like to thank Senator Jones for his leadership in introducing the Minority Depository Institution and Community Bank Deposit Access Act. As a small Alabama home grown institution, this proposal will allow us to accept needed deposits without the current limitations that hinder our ability to better serve the historically underserved communities that our institutions were created to serve. We support your efforts and encourage you to keep fighting the good fight for all of America," said Sidney King, president and CEO of Commonwealth National Bank, in a statement.
"The Minority Depository Institution and Community Bank Deposit Access Act is a welcomed first step in helping Minority Depository Institutions like our National Bankers Association member banks develop the kinds of national deposit networks that allow our institutions to compete for deposits with larger banks and to better meet the credit needs of the communities we serve. The National Bankers Association commends Senator Jones' leadership on this issue, and we look forward to continuing to engage with him on the ultimate passage of this proposal," said Kenneth Kelly, chairman of the National Bankers Association, in a statement.
A recent report by the Brookings Institute highlighted problems minority-owned businesses had accessing federal COVID-19 relief aid from PPP loans. Researchers found that it took seven days longer for small businesses with paid employees in majority Black zip codes to receive PPP loans, compared to majority-white communities. That gap grew to three weeks for non-employer minority-owned small businesses, the report notes.
The report also states that while minority-owned small businesses, many of which are unbanked or under banked, get approximately 80 percent of their loans from financial technology companies and online lending companies, fintechs weren't allowed under federal law to issue PPP loans until April 14.