Doug Jones votes to convict Trump on both articles of impeachment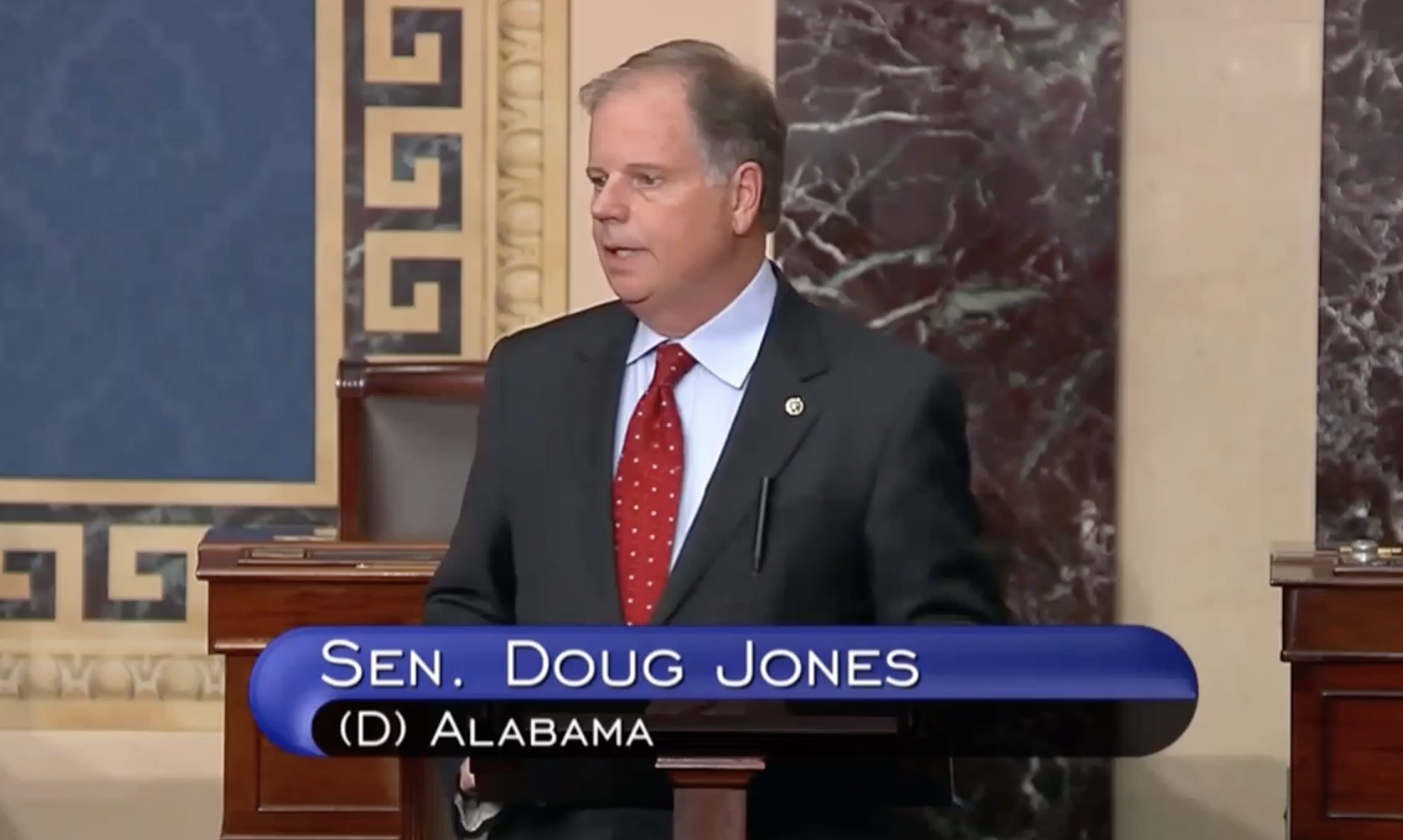 U.S. Sen. Doug Jones, D-Alabama, on Wednesday voted to remove President Donald Trump for office, and said before the vote that he thought of his late father's character when making his decision. 
Jones faces a tough reelection battle, but has said throughout the impeachment proceedings that his decision would be made based upon the evidence and not on personal political maneuvering. 
Jones's father, Gordon Jones, died on Dec. 28, 2019. Speaking of his father on the Senate floor before the vote Wednesday Jones said his father was a patriot who loved the country. 
"Although fortunately he was never called on to do so, I firmly believe he would have placed his country even above his family," Jones said. "Because he knew and understood fully what America, and the freedoms and liberties that come with her, mean to everyone in this great country, and significantly, to people around the world." 
"Candidly, to my colleagues on both sides of the aisle, I fear that moral courage,  country before party, is a rare commodity," Jones said. 
Jones called on the country to move beyond partisan divides, and expressed concern that the Senate's 51-49 vote to reject calling additional witnesses or documents sets a dangerous precedent. 
"It is my firm belief that the American people deserve more. In short, witnesses and documents would provide the Senate and the American people with a more complete picture of the truth, and I believe the American people deserve nothing less," Jones said. 
Jones said that throughout the trial one thing stuck with him, and it was Trump's own words that under Article II in Constitution "I have to the right to do whatever I want as president," according to The New York Times.  
"That seems to capture this President's belief about the presidency, that he has unbridled power, unchecked by Congress, or the judiciary, or anyone else," Jones said. "That view, dangerous as it is, explains the President's actions toward Ukraine and Congress." 
The U.S. House on Dec. 18 voted to approve two articles on impeachment against impeached Trump, agreeing that he both abused his power and obstructed Congress by thwarting attempts to investigate that abuse.  
During the House impeachment trial evidence and witness testimony alleged that Trump withheld military aid to Ukraine, a country at war with Russia, and a White House meeting for the country's president to pressure Ukraine to announce an investigation into Trump's political rival, Joe Biden, and Biden's son Hunter Biden. 
After the articles of impeachment were delivered to the Republican-conrolled Senate, it wasn't long before Republicans appeared to have the votes to acquit the President. 
Jones said Monday that it was clear Trump had abused his power, as one article of impeachment accused him of doing, but he struggled when deciding on the second article, which accused Trump of obstructing Congress. 
"However, after careful consideration of the evidence developed in the hearings the public disclosures, the legal precedents and the trial, I believe that the President deliberately and unconstitutionally obstructing Congress by refusing to cooperate with the investigation in any way," Jones said. 
Jones said that he was mindful that he was standing Monday at the same desk that President John F. Kennedy once stood at, author of the book "Profiles in Courage." 
"And there will be so many who will simply look at what I'm doing today and say it is a profile in courage. It is not," Jones said. "It is simply a matter of right and wrong, where doing right is not a courageous act. It is simply following your oath." 
Senators voted 48-52 not to convict Trump on the article charging him with abuse of power. The vote acquitting him on the obstruction of Congress charge was 47-53. 
Sen. Richard Shelby, R-Alabama, voted against conviction Trump on both articles.
Sen. Mitt Romney, R-Utah, was the only Republican who voted to convict Trump on either articles of impeachment. He voted to convict on the abuse of power charge but voted not guilty on the other article.
Print this piece
Alabama may need 2,500 more ventilators. It's having to compete to get them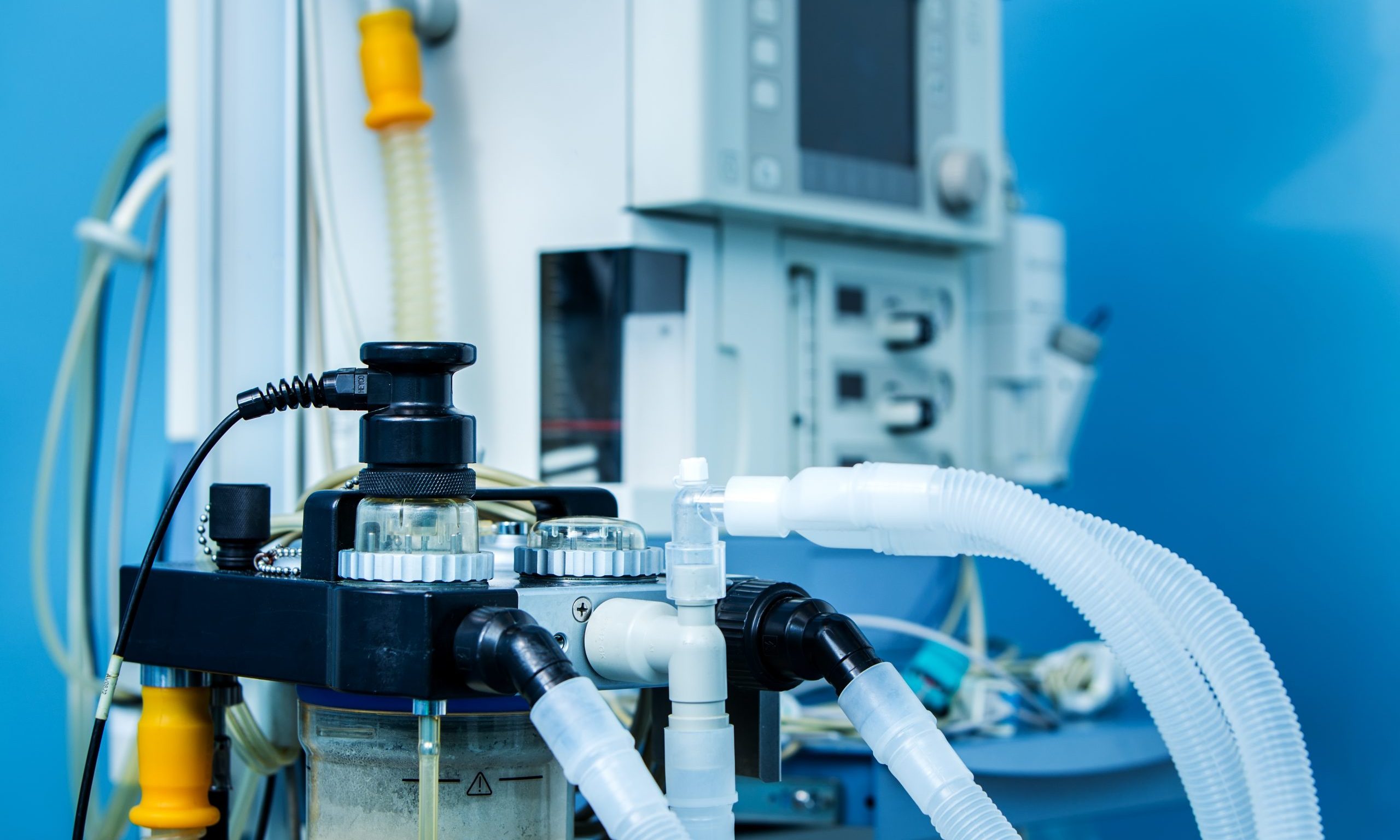 Alabama may need 2,000 more ventilators than it has, and it's being forced to compete with other states to get them on the private market.
State Health Officer Dr. Scott Harris said Friday that the Alabama Department of Public Health is attempting to source its own ventilators as a number of hospitals in the state are already struggling and asking for more.
The state requested 500 ventilators from the federal government through the Department of Health and Human Services and the national strategic stockpile. It asked for 200 of them to be delivered urgently.
"HHS has indicated that they're not going to fulfill that anytime soon because they're still taking care of places like New York City," Harris said in an interview with APR.
When Alabama nears an expected surge — say 72 hours before hospitals are expected to be overwhelmed with patients requiring life support — they may be able to make the extra ventilators available.
So Alabama, like a number of states, is being forced to try to source ventilators on its own through the private market, where hundreds of hospitals, all the other states and other countries are trying to do the same.
Harris said he signed a purchase order Thursday for 250 more ventilators.
"We're waiting to see, and then there are others that we're waiting to hear from," Harris told APR. "We're doing our best to try to source these in any way that we can."
"We're attempting to source those ourselves, but as you know, all the states are looking to source their own and in some measure competing with each other," he said a press conference Friday evening when Gov. Kay Ivey announced a shelter in place order.
Alabama Sen. Doug Jones said Thursday that Alabama will likely make additional requests, but there are only 10,000 ventilators in the national stockpile and in the U.S. Department of Defense surplus. And with every other state in the country also requesting these supplies, the federal government has said that states should not rely on the national stockpile to bolster their ventilator capacity.
By Friday, nearly 1,500 people were confirmed positive with the virus. At least 38 have died. Dire models from the Institute for Health Metrics and Evaluation at the University of Washington — models that influenced the state's decision to issue a stay-at-home order — project that by mid-April, Alabama could have a massive shortage of ventilators and hospital beds.
"The timeline I think makes sense and the time when we're expected to have a surge is the part that was most useful to us," Harris said. "We've been trying very hard to get an order in place with regards to this surge that we expect to happen."
The model estimates that Alabama could have a shortage of 20,000 hospital beds, 3,900 intensive care beds and more than 2,000 ventilators.
At least 3,500 ventilators would be needed at the peak of the COVID-19 outbreak in mid-April, according to the IHME model. Last month, Alabama Hospital Association President Donald Williamson said the state has a surge capacity of about 800.
The same model projects that about 5,500 people could die from COVID-19 in Alabama by August. However, the model is live and is regularly adjusted. Earlier this week, it suggested that 7,000 people could die by August.
Harris said the state, over the past couple of weeks, has added a few hundred additional ventilators to its capacity by converting anesthesia machines and veterinary ventilators for use on those infected with the coronavirus.
"Yet, even with adding all of those ventilators, going up by a few hundred units, which means to tell you that we're still using around the same percent of all of our ventilators even though the number [of ventilators] is going up," Harris said. "So we know that there are more patients on ventilators."
The state health officer said some hospitals in the state are already struggling but others are cooperating to share resources.
"They are really working hard to make sure that they have what they need, and we're trying very hard, along with the governor's office, to make sure that Alabama has enough inventory," Harris said.
Print this piece