Doug Jones votes to convict Trump on both articles of impeachment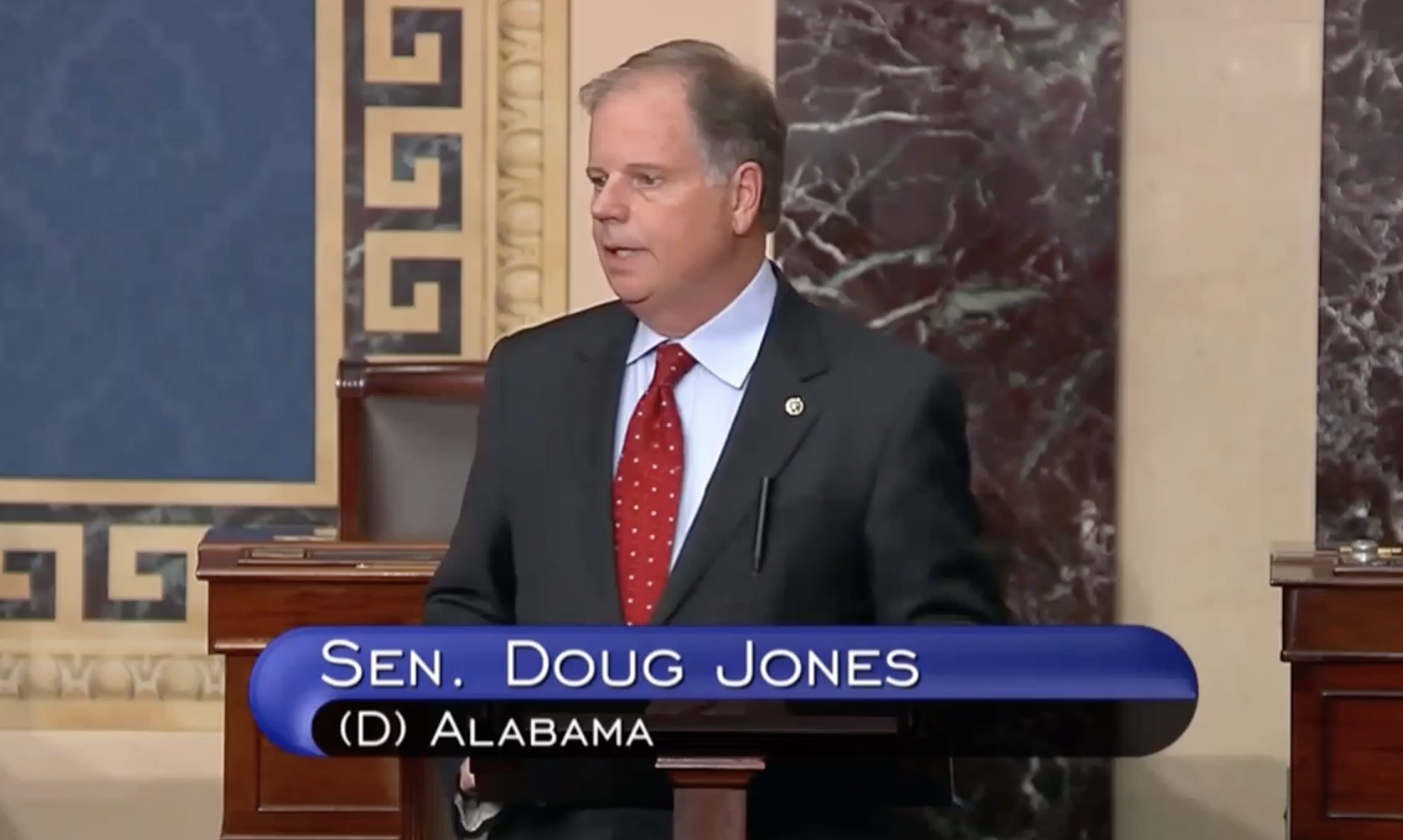 U.S. Sen. Doug Jones, D-Alabama, on Wednesday voted to remove President Donald Trump for office, and said before the vote that he thought of his late father's character when making his decision. 
Jones faces a tough reelection battle, but has said throughout the impeachment proceedings that his decision would be made based upon the evidence and not on personal political maneuvering. 
Jones's father, Gordon Jones, died on Dec. 28, 2019. Speaking of his father on the Senate floor before the vote Wednesday Jones said his father was a patriot who loved the country. 
"Although fortunately he was never called on to do so, I firmly believe he would have placed his country even above his family," Jones said. "Because he knew and understood fully what America, and the freedoms and liberties that come with her, mean to everyone in this great country, and significantly, to people around the world." 
"Candidly, to my colleagues on both sides of the aisle, I fear that moral courage,  country before party, is a rare commodity," Jones said. 
Jones called on the country to move beyond partisan divides, and expressed concern that the Senate's 51-49 vote to reject calling additional witnesses or documents sets a dangerous precedent. 
"It is my firm belief that the American people deserve more. In short, witnesses and documents would provide the Senate and the American people with a more complete picture of the truth, and I believe the American people deserve nothing less," Jones said. 
Jones said that throughout the trial one thing stuck with him, and it was Trump's own words that under Article II in Constitution "I have to the right to do whatever I want as president," according to The New York Times.  
"That seems to capture this President's belief about the presidency, that he has unbridled power, unchecked by Congress, or the judiciary, or anyone else," Jones said. "That view, dangerous as it is, explains the President's actions toward Ukraine and Congress." 
The U.S. House on Dec. 18 voted to approve two articles on impeachment against impeached Trump, agreeing that he both abused his power and obstructed Congress by thwarting attempts to investigate that abuse.  
During the House impeachment trial evidence and witness testimony alleged that Trump withheld military aid to Ukraine, a country at war with Russia, and a White House meeting for the country's president to pressure Ukraine to announce an investigation into Trump's political rival, Joe Biden, and Biden's son Hunter Biden. 
After the articles of impeachment were delivered to the Republican-conrolled Senate, it wasn't long before Republicans appeared to have the votes to acquit the President. 
Jones said Monday that it was clear Trump had abused his power, as one article of impeachment accused him of doing, but he struggled when deciding on the second article, which accused Trump of obstructing Congress. 
"However, after careful consideration of the evidence developed in the hearings the public disclosures, the legal precedents and the trial, I believe that the President deliberately and unconstitutionally obstructing Congress by refusing to cooperate with the investigation in any way," Jones said. 
Jones said that he was mindful that he was standing Monday at the same desk that President John F. Kennedy once stood at, author of the book "Profiles in Courage." 
"And there will be so many who will simply look at what I'm doing today and say it is a profile in courage. It is not," Jones said. "It is simply a matter of right and wrong, where doing right is not a courageous act. It is simply following your oath." 
Senators voted 48-52 not to convict Trump on the article charging him with abuse of power. The vote acquitting him on the obstruction of Congress charge was 47-53. 
Sen. Richard Shelby, R-Alabama, voted against conviction Trump on both articles.
Sen. Mitt Romney, R-Utah, was the only Republican who voted to convict Trump on either articles of impeachment. He voted to convict on the abuse of power charge but voted not guilty on the other article.
Alabama Republicans praise President Trump's SCOTUS nomination
"The confirmation process is already proving to be another brutal fight, but I am certain that this is the job for a strong, conservative woman," Ivey said.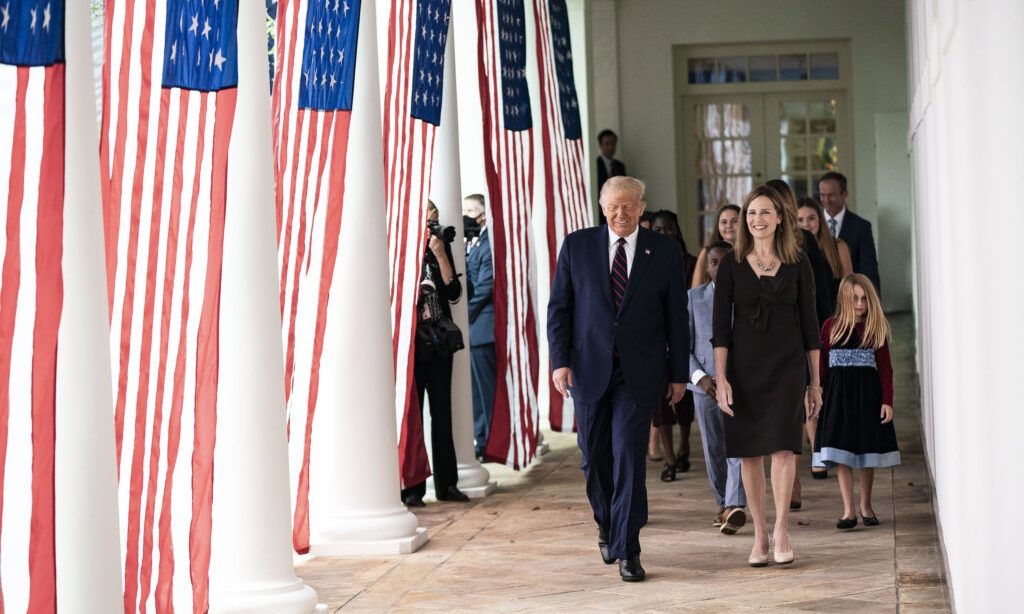 President Donald Trump on Saturday nominated Judge Amy Coney Barrett to the United States Supreme Court, and, if confirmed, Barrett would fill the vacancy created by the death of Associate Justice Ruth Bader Ginsburg.
Trump's nomination of Barrett was met with near universal praise among Alabama Republicans including Gov. Kay Ivey and a number of other elected officials.
"I commend President Trump's nomination of Amy Coney Barrett to serve on the United States Supreme Court. Judge Barrett will be focused on interpreting the law, being an arbiter and not a lawmaker, as the Supreme Court demands of its justices," Ivey said. "Based on her proven career and background, I am confident that Judge Barrett will be articulate and a fair supporter of issues important to Alabamians such as protecting the unborn and our Second Amendment rights, while applying the law impartially."
Barrett has served as a judge on the U.S. Court of Appeals for the Seventh Circuit since 2017. Before becoming a judge, she was a law professor at Notre Dame Law School and previously clerked for Supreme Court Justice Antonin Scalia.
Ivey said Barrett will embody the precedent established by Ginsburg and further prove that a woman can be a wife, a mother, a person of faith and hold strong personal convictions while still effectively performing the duties required of a justice.
"The confirmation process is already proving to be another brutal fight, but I am certain that this is the job for a strong, conservative woman," Ivey said. "The people of Alabama overwhelmingly supported President Trump in 2016, and I commend him for performing his constitutional duty of nominating to the Supreme Court and getting the job done that we elected him to do. The late Justice Ginsburg herself noted that even in an election year, 'a president doesn't stop being president.'"
Before her death, Ginsburg reportedly made a request that her replacement not be nominated or confirmed until a "new president is installed." Last week, Ginsburg became the first woman and the first Jewish person to lie in state at the U.S. Capitol.
"I eagerly anticipate Judge Barrett's confirmation, and I look forward to continuing to forge a strong relationship between President Trump and the state of Alabama during his next term," said Ivey.
Democratic Senators, though they do not appear to have the votes to stop Barrett's nomination, are vociferously opposed to confirming a new justice before the Nov. 3 election determines whether Trump will serve as second term.
Democrats point to what they say is the hypocritical position of Senate Majority Leader Mitch McConnell, who refused to hold hearings or a vote on President Barack Obama's nominee, Judge Merrick Garland, in 2016.
All but two Republican senators appear prepared to vote for Barrett's confirmation, all but assuring her a seat on the court and solidifying a 6-3 conservative majority.
"I am extremely pleased with President Trump's selection in nominating Judge Barrett to the Supreme Court," said Sen. Richard Shelby, R-Alabama. "From her clerkship for the late Justice Scalia to her tenure on the 7th Circuit, Judge Barrett has had a distinguished career and has proven her commitment to the rule of law. Our next Supreme Court Justice must be a steadfast supporter of upholding our nation's Constitution. I have no doubt in Judge Barrett's qualifications, and I look forward to supporting her nomination."
Alabama Sen. Doug Jones, a Democrat, has said he will not vote for any nominee until the results of the Nov. 3 election are decided.
Alabama Republican Party Chairman Terry Lathan:
"President Trump has nominated a superior candidate for our nation's highest court. Judge Amy Coney Barrett is a solid constitutional jurist who has distinguished herself both on the bench during her time on the 7th Circuit Court of Appeals, in academia as a law professor at the University Notre Dame and as a clerk for the late Supreme Court Justice Antonin Scalia," Lathan said. "Judge Barrett's focus on following the Constitution is apparent in her opinions, in cases ranging from the 2nd Amendment to immigration. Even three Democrat Senators – Joe Manchin of West Virginia, Tim Kaine of Virginia and Joe Donnelly crossed party lines in 2017 to support her first nomination to the bench."
"A mother of seven, including two adopted children from Haiti, Supreme Court nominee Barrett has been called a 'powerhouse' constitutionalist," Lathan continued. "Her consistent rulings on applying laws to the words of our U.S. Constitution is the exact example of what the justices are tasked with in implementing their rulings. Based on qualifications and experience alone, Judge Barrett's nomination merits a vote by the full United States Senate."
Congressman Gary Palmer:
"President Trump has made an excellent choice in nominating Judge Barrett to the Supreme Court, and I extend my heartfelt congratulations to her and her family," Congressman Gary Palmer, R-Alabama, said. "Judge Barrett has a stellar record of faithfully interpreting the law, training young lawyers, producing brilliant scholarship, and upholding the Constitution. Her devotion to her family, and her dedication to her students during her years as a law professor, are also commendable. There is no question that she is highly qualified and will make a fantastic Justice. I urge the Senate to confirm her quickly."
Senate candidate Tommy Tuberville:
"I am so excited about President Trump's nomination today of Judge Amy Coney Barrett to the U.S. Supreme Court," said Republican Senate candidate Tommy Tuberville. "She understands that's it's her job to interpret the Constitution as it's written and not to manufacture new law from the bench. Her nomination opens the door to protecting unborn life, preserving our Second Amendment gun rights, and securing the religious freedoms guaranteed to us by the Constitution."
"My opponent, Democrat Doug Jones has a very different opinion," Tuberville continued. "He's already announced his opposition to any candidate offered by President Donald J. Trump, and he said even meeting and listening to Judge Barrett would be useless. When it comes to giving fair consideration to President Trump's Supreme Court nominee, Doug Jones is a lost ball in high cotton. But that comes as no surprise. He voted against Brett Kavanaugh and said he would have opposed Neil Gorsuch if he'd been in the Senate at the time. Democrat Doug even voted twice to remove Donald J. Trump from office. Since becoming our placeholder senator, Doug Jones has opposed everything most Alabamians support and supported everything most Alabamians oppose. Instead of representing our conservative Alabama values, he's represented the Hollywood and New York values of his high-dollar, out-of-state campaign donors."
"There's no telling what kind of dishonest tactics Doug Jones, Chuck Schumer, Kamala Harris and the other Senate liberals will use against a woman who is imminently qualified to sit on our nation's highest court," Tuberville warned. "So I'll close by asking you to join me in praying for Judge Barrett and her family as she faces what promises to be a tough and partisan confirmation hearing. With your prayers and support, America will soon have a strongly conservative Supreme Court, and Alabama will have a new senator who actually represents the citizens of this great state. May God bless Judge Barrett. May God bless President Donald Trump. And may God continue to bless the greatest nation mankind has ever known."
Congressional candidate Barry Moore:
"I applaud the President for making this nomination now, as the Constitution mandates," said Congressional candidate Barry Moore. "I'm confident that the Senate will also take up Judge Barrett's nomination in a timely fashion and not delay the process until after the election. The Constitution doesn't state anything about waiting until after an election to fill Supreme Court vacancies, despite what the Democrats want us to think."
"I'm pleased that President Trump has chosen a strong pro-life woman for the Supreme Court," Moore continued. "I'm also impressed by Judge Barrett's credentials and experience. I am certain she'll make an exceptional addition to the Supreme Court, and will serve us well for many years to come."
"We, as a nation, must act now by praying for President Trump, Judge Barrett and their families," Moore concluded. "They need to have a shield of favor and protection prayed over them. I truly believe we are in a spiritual battle for our nation and the Democrats will stop at nothing to destroy the character of Judge Barrett, as they've done for the last 4 years with President Trump."
Alabama House Majority Leader Nathaniel Ledbetter
"I join the members of the Alabama House Republican Caucus in praising President Trump's decision to nominate Judge Amy Coney Barrett to the vacancy on the U.S. Supreme Court," said Alabama House Majority Leader Nathaniel Ledbetter, R-Rainsville.
"Judge Barrett clerked for one of the court's greatest conservative jurists, Judge Antonin Scalia, and she understands that her job is to interpret the Constitution as the founding fathers wrote it, not to invent new law out of thin air," Ledbetter said. "The suit against Alabama's strongest-in-the-nation pro-life law is currently working its way through the federal courts, and it could be argued before the U.S. Supreme Court in the near future. Having a conservative majority on the nation's highest court will be essential to the Alabama Legislature's efforts to protect unborn life from harm. We encourage the Senate to hold confirmation hearings as soon as possible and to hold an up-or-down vote on Judge Barrett's nomination immediately after they conclude."