Tuberville thanks God that Trump was acquitted by Senate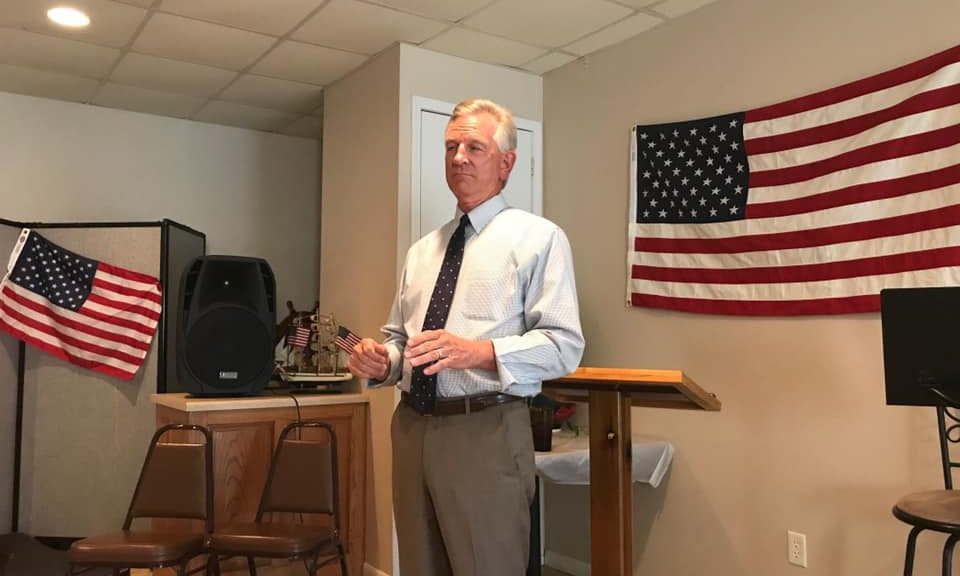 Wednesday, the U.S. Senate voted to acquit President Donald J. Trump (R) on both articles of impeachment. Senate candidate former Auburn head football Coach thanked "God for answering our prayers."
Tuberville called the Articles of Impeachment "bogus."
"I know millions of Alabamians and millions more across the country join me in thanking God for answering our prayers and guiding President Trump safely through Nancy Pelosi's bogus impeachment effort," Tuberville said. "History's greatest president can now return his full attention to guiding the world's greatest nation."
Tuberville was critical of U.S. Senator Doug Jones for voting to convict the President on both counts.
"When Doug Jones cast his impeachment vote with the Democrat leadership instead of the Alabamians he swore an oath to represent, the leopard showed his spots," Tuberville stated. "It's time for Doug Jones to buy a one-way ticket to California and live with his liberal donors and supporters."
Tuberville is running for the seat currently held by Sen. Jones.
"Alabama must send President Trump a senator who will fight alongside him and support his agenda through thick and thin," Tuberville stated.
Tuberville also attacked GOP rivals former Attorney General Jeff Sessions and Congressman Bradley Byrne, R-Montrose.
"As attorney general, Jeff Sessions abandoned our president when he needed him most, and Bradley Byrne demanded that Donald Trump step down as the Republican nominee in 2016," Tuberville stated. "Capitol Hill already has enough cut-and-run congressmen and sunshine patriots. Alabama doesn't need to elect another one. We must elect a senator who understands the meaning of the word 'loyalty' and lives by it."
Tuberville has been criticized by his critics for his stated belief that Trump was sent by God; but he doubled down on that assertion on Wednesday.
"I remain convinced that God sent us Donald Trump because He knew our nation was in trouble," Tuberville told reporters. "I'm ready to go to Washington and help our president but things back on track.
Trump was acquitted on the allegation that he abused power 52 to 48. On the charge of obstruction of Congress he was acquitted 53 to 47. Senator Mitt Romney, R-Utah, voted guilty on the count of abuse of power. Romney was the only Senator to cross party lines. The President's impeachment ordeal is now over.
Trump Victory National Finance Committee member former State Representative Perry O. Hooper Jr., R-Montgomery, told the Alabama Political Reporter: "Hopefully now the farce impeachment is over we can get back to President Trump's bipartisan Agenda: rebuilding America's infrastructure, making healthcare more affordable and fighting the opioid crisis."
Hooper told APR that, "The Democrats have given the Republicans a powerful weapon in their effort to take back the house next November. Nancy Pelosi has bragged that the stain of impeachment will be with the President forever."
GOP Minority Leader Kevin McCarthy (R-California), in line to be speaker if Republicans regain the majority in the November election, disagrees.
"This is the fastest, weakest, most political impeachment in history," McCarthy told the press on Wednesday. "I don't think it should stay on the books."
"If McCarthy does indeed take the gavel from Pelosi in 2021, he will hold immense power to pass legislation — and a vote on expungement of the impeachment articles almost certainly would yield party-line support," Hooper predicted.
There was never a serious chance that the Democrats could get enough votes to convict and remove President Trump. Three presidents have been impeached by the House of Representatives. The Senate has never convicted or removed an American President.
The Republican Primary is on March 3.
Sewell votes in favor of $1.5 trillion infrastructure plan
U.S. Rep. Terri Sewell, D-Alabama, on Wednesday voted in favor of H.R. 2, the Moving Forward Act, a $1.5 trillion plan to rebuild American infrastructure.
"Our country is in serious need of bold and comprehensive infrastructure reform," Sewell said. "This was true before the coronavirus pandemic and it has become increasingly urgent as we continue to grapple with the ongoing healthcare and economic crises resulting from the pandemic."
"As a member of the Rural Broadband Task Force and a representative of a district that lacks adequate and comprehensive internet access, I am pleased that H.R.2 includes our bill the Accessible, Affordable Internet for All Act, comprehensive legislation which invests$100 billion for high-speed broadband infrastructure in underserved communities," said Sewell. "This investment will go a long way toward helping people across my district have access to the high-speed, affordable internet services that are necessary in today's economy. Additionally, the bill's $40 billion investment in new wastewater infrastructure will be transformative for countless residents of Alabama's 7th District who lack access to affordable and efficient wastewater services. If we fail to make these investments now, our Nation's aging infrastructure will continue to collapse and millions of Americans will be left out of our hopeful economic recovery."
As a member of the House Rural Broadband Task Force, Sewell co-led introduction of H.R. 7302, the Accessible, Affordable Internet for All Act, which invests $100 billion to build high-speed broadband in unserved and underserved communities and ensures that internet service will be affordable. H.R. 7302 provided the framework for the broadband provisions in H.R. 2.
Two of Rep. Sewell's bills are included as key provisions in H.R. 2. H.R. 1680, New Markets Tax Credit Extension Act of 2019 is designed to spur private investment in low-income rural communities and urban neighborhoods by providing tax credits for private investments made in underserved communities. H.R. 3967, the Municipal Bond Market Support Act of 2019, would help local governments, non-profits, schools, hospitals, universities and other entities reduce costs associated with infrastructure and development projects.
Sewell also co-led three amendments to H.R. 2 that passed this week. These amendments would expand the role of Historically Black Colleges and Universities in DOT research, support HBCU infrastructure development, and create a carbon capture, utilization, and storage technology commercialization program and direct an air capture technology program within the Department of Energy.
Sewell's office said that in light of the pandemic and as schools consider how best to provide resources to students remotely, H.R.2 will provide critical access to both students and teleworkers across Alabama's 7th Congressional District.
H.R. 2 would invest more than $1.5 trillion in roads, bridges, transit systems, schools, housing, broadband access and other essential infrastructure.
H.R. 2 now goes to the Senate, where Senate Republicans are likely to make a number of changes to the legislation. The Senate's 60 votes to end a filibuster rule; however means that any infrastructure bill will have to have bipartisan support to pass the Senate.
Sewell is a member of the House leadership and is in her fifth term representing Alabama's 7th Congressional District. Sewell had no primary challenger and no Republican is running against her in the Nov. 3 general election.