Opinion | Tuberville, Byrne and Sessions: Selling fear because they have no good ideas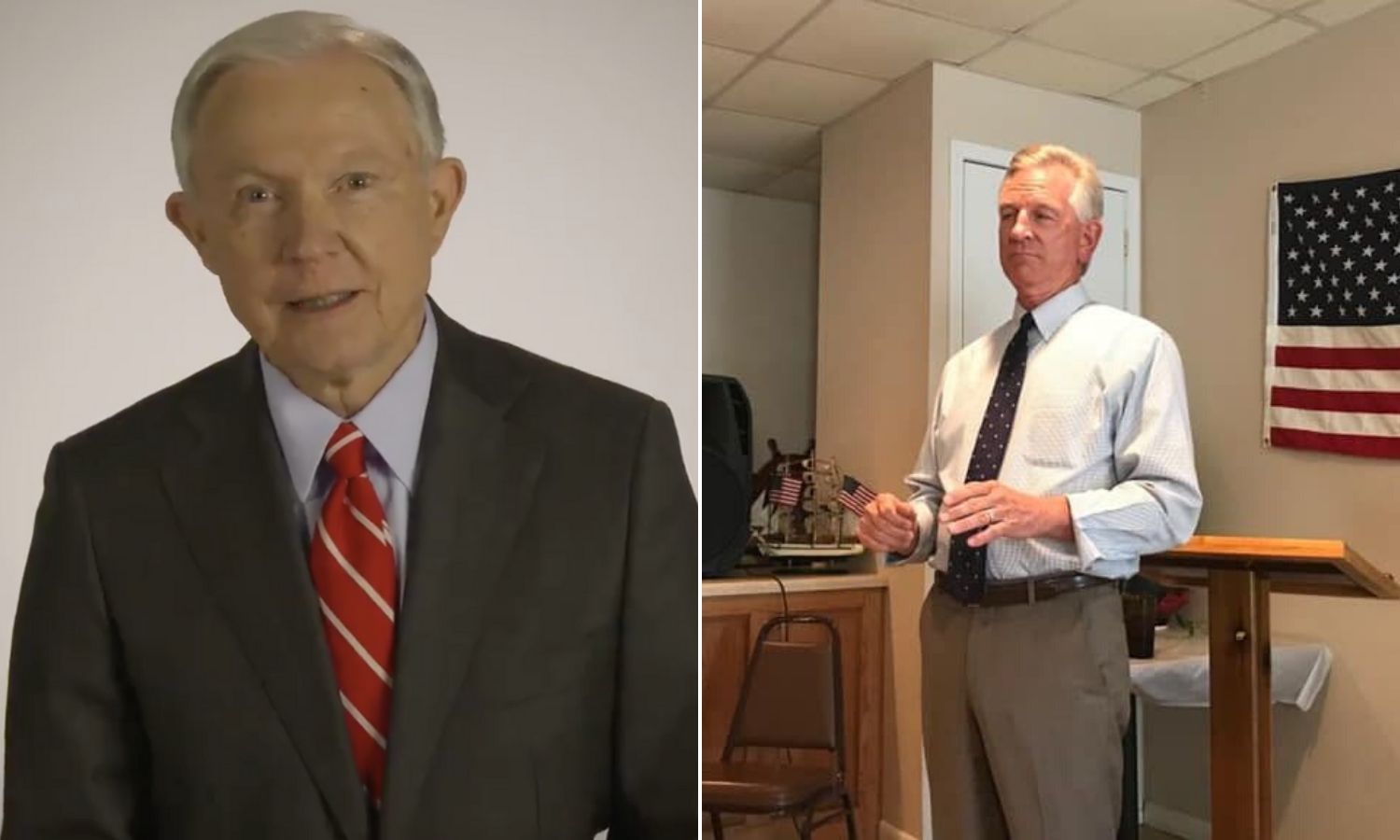 Tommy Tuberville wants to scare white people. Bradley Byrne wants to scare white people. Jeff Sessions wants to scare white people. 
The Muslims are going to kill us all. The black people are committing scary crimes and kneeling a lot. The Hispanics are hauling deadly drugs over the border to kill your grandkids. The terrorists — not the white ones — are coming for you where you sleep. Everyone hates the police.
Be afraid, Alabama. 
Be so afraid that you elect one of these mind-less, plan-less, fear-mongering buffoons to represent you in the U.S. Senate. 
This is what passes for a political strategy in this state, apparently. Three guys doing their dead level best to convince you — in a time of record low crime rates, mind you — that the non-white scary people are coming to injure or kill you and your loved ones. 
Unless you elect God-fearing, gun-toting Tuberville/Sessions/Byrne to … hell, who even knows? They never get around to telling you how they're going to save you from black/Hispanic Antifa, just that black/Hispanic Antifa is definitely going to kill you/change the America you love if you don't elect someone who loves America/the Anthem/Trump/filming selfie videos while driving. 
They also never get around — and pay attention here, please — to telling you how they're going to do anything. 
Like, at all. 
They have no plan for anything. Not for bettering education. Not for solving our rural health care issues. Not for correcting the low-wage issues that kill this state. Not for getting more than 300,000 Alabamians into a doctor's office for regular checkups. 
Not even for these scary terrorists and non-whites.
Seriously, go to their websites. Look at the "issues" portion. It's the dumbest, most generic bunch of garbage you'll read today. (Well, except for Sessions' website, which doesn't even bother with an "issues" section.)
I'm not going to waste time with their pandering BS on phony issues like guns, "the economy," and abortion. No one is coming for your guns, the courts will decide the abortion issue, not the legislative branch, and the idea that you can reduce the complexities of "the economy" into a single topic covered by a single paragraph from a candidate tells you how seriously they're taking this. 
Let's instead focus on the two biggest issues for most Alabamians: Health care and education. 
We're dead last or pretty close to dead last in both large categories and in most of the sub-categories related to both. Basically, we're sick and dumb. 
Here are the candidates' plans for addressing these issues. 
On health care, both Byrne and Tuberville want to abolish Obamacare (because polling told them that that's a popular thing to say) and they want to replace it with … "a free-market plan" that magically covers everyone for less money and with pre-existing conditions covered. 
Those are not plans. Those are dreams. 
Actually, I take that back. They're not even dreams. They're lies. 
Neither has a single, solitary idea on the specifics of how to solve Alabama's complicated issues related to health care. Not a single idea.
And, again, Sessions didn't even pretend that he had an idea, either. 
On education, where Alabama is lagging both in churning out well-rounded students and in producing a job-ready workforce, Byrne and Tuberville are similarly plan-less. 
Tuberville believes that our education woes can be solved by "school choice," and "improving existing public schools." Which is like saying you're going to overcome your diabetes by not having diabetes anymore. 
Byrne, on the other hand, wants to improve education by opposing "the federal government telling teachers and parents how to educate our children in Alabama." In other words, nothing. He wants to literally do nothing. 
(And just as an aside for Mr. Byrne: historically, the only really good things that have ever happened in this state have come because the federal government told us to do some things). 
Also, again, Jeff Sessions didn't even attempt the education question. But we know from his past work in the state that his answer is always to give less money and resources to the black kids. 
Are Republicans really this stupid? 
And I ask that not as an insult but as a challenge.
Because, honestly, I don't believe you're that stupid. That's why I keep writing these columns, consistently shocked by the decisions of my friends and neighbors to elect obvious morons to office simply because those morons chose to pay their registration fee to the Republican Party. 
When are you going to stop this madness? When are you going to realize that government isn't a team sport? 
Our system of government was meant to be representative of the people. That's why we divvy up districts like we do — to assure that all communities and all people have representation that looks out for their best interests.  
But that doesn't work if a whole bunch of people are just voting for a party and ignoring their own interests and problems. 
That's what Byrne, Sessions and Tuberville are hoping for — that you'll continue to be part of the team, sacrificing your well-being, and the well-being of your family and friends, to elect unprepared, ignorant mooches to office. That you'll continue to fall for the scare tactics and generic fear-mongering. That you'll ignore the candidate that best serves you and instead vote for the team that best scares you.  
The idea that you might is what scares me.
Print this piece
Opponents accuse Tuberville of supporting amnesty for undocumented immigrants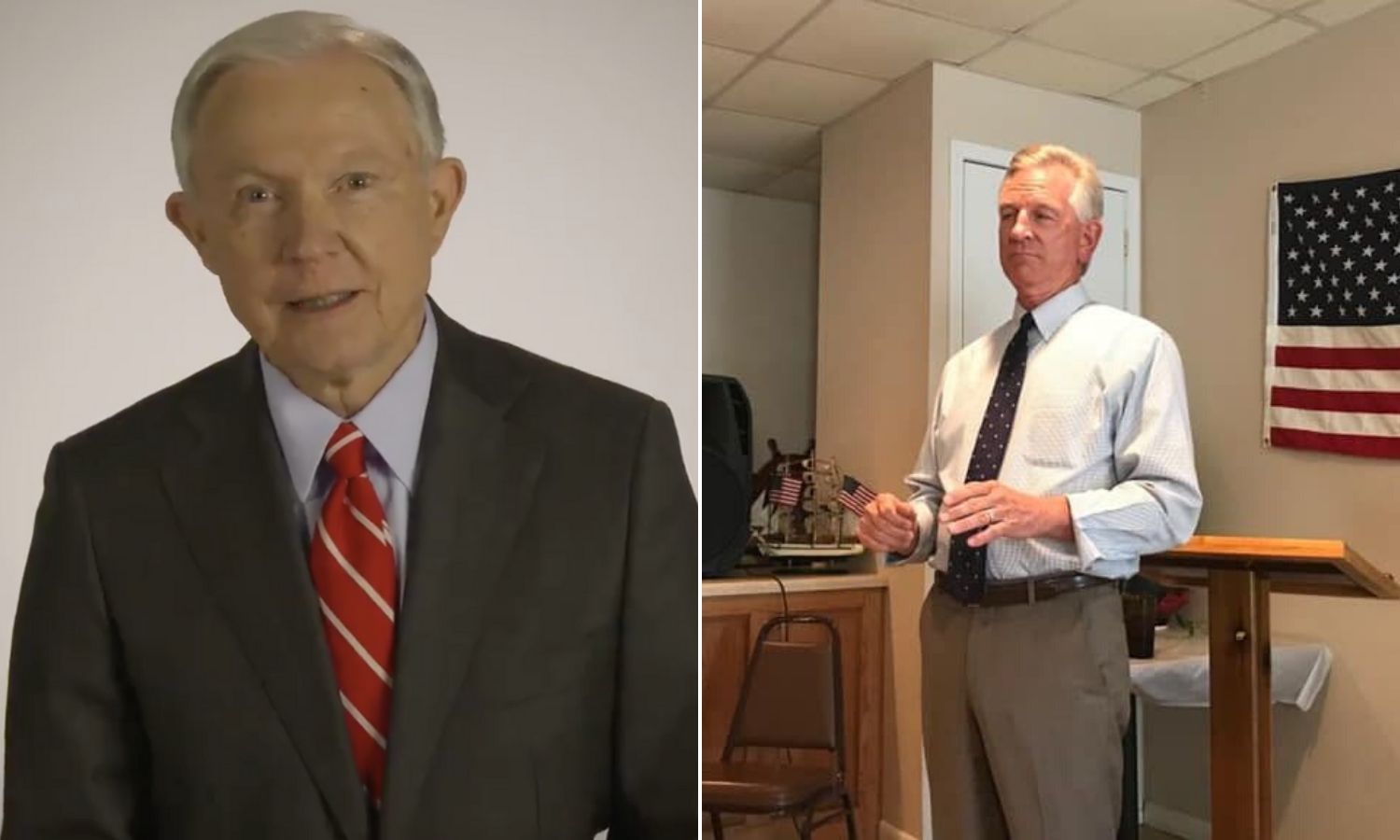 The Senate campaign is heating up as the top three candidates are all going negative. Former Auburn head football coach Tommy Tuberville has attacked Congressman Bradley Byrne (R-Montrose) and former Attorney General and Senator Jeff Sessions of being career politicians. Both Byrne and Tuberville have attacked Sessions for not having adequately served President Donald J. Trump (R) while Attorney General. Byrne has even attacked Tuberville's coaching abilities. The latest attacks on Tuberville accuse him of supporting amnesty for illegal aliens. Sessions even accused Tuberville of being a "tourist."
Wednesday, Sessions announced a new television ad called "Tuberville for Amnesty."
Byrne and Tuberville point to an August speech by Coach Tuberville when he said: "There are people coming across the border that need jobs… and we want them to come over here… Let em' come in and become citizens like we all became citizens."
The Tuberville campaign called the attack "fake news" on Twitter.
Sessions' campaign manager Jon Jones said, "Tuberville is claiming that his own words are 'fake news.' All of them? Tommy Tuberville needs to read the transcript. It is clear that Tuberville supports immigration amnesty, and he is attempting to trick Alabama voters to believe otherwise. In contrast, Jeff Sessions has done more than just say he wants to fix the border – he has already worked alongside President Trump to stop illegal immigration."
The new Sessions ad reads: "Tuberville is trying to trick you, hiding his support for immigration amnesty." Then plays an audio clip of the Tuberville comment from August
Tuesday, Byrne told reporters in Trussville: "I can tell you right now this issue about Tommy Tuberville's position on amnesty is a key issue. And so we're going to keep telling people about his position on that and let him explain why he doesn't think that's amnesty."
"Let em' come in and become citizens like we all became citizens," Tuberville is quoted in the ad.
Tuberville has denied supporting amnesty and says that he supports President Trump's immigration agenda.
The Sessions ad further charges: "And Tuberville's not even from Alabama, he's a tourist here. He lives, pays taxes and even votes in Florida."
On Tuesday, the Tuberville campaign responded with an attack ad of their own.
"The career politicians are desperate to hang on to their paychecks and power, so they have started airing negative ads full of false attacks and baseless distortions," Tuberville said. "Our new commercial allows us to respond with some hard truths about which candidate wants to drain the D.C. swamp and is tough enough to actually help President Trump get the job done."
The Tuberville ad has Byrne with former Secretary Hillary Clinton and Sessions with Congressman Adam Schiff (D-California) who led the impeachment effort against President Trump. The ad even connects Sessions and Byrne with Sen. Mitt Romney (the only Republican in either House of Congress who found that the President did anything wrong.)
State Representative Arnold Mooney, former Chief Justice Roy Moore, Ruth Page Nelson, and businessman Stanley Adair are also running for the Republican nomination for the Senate seat currently held by Doug Jones (D).
The Republican primary is March 3.
Print this piece