Opinion | Tuberville, Byrne and Sessions: Selling fear because they have no good ideas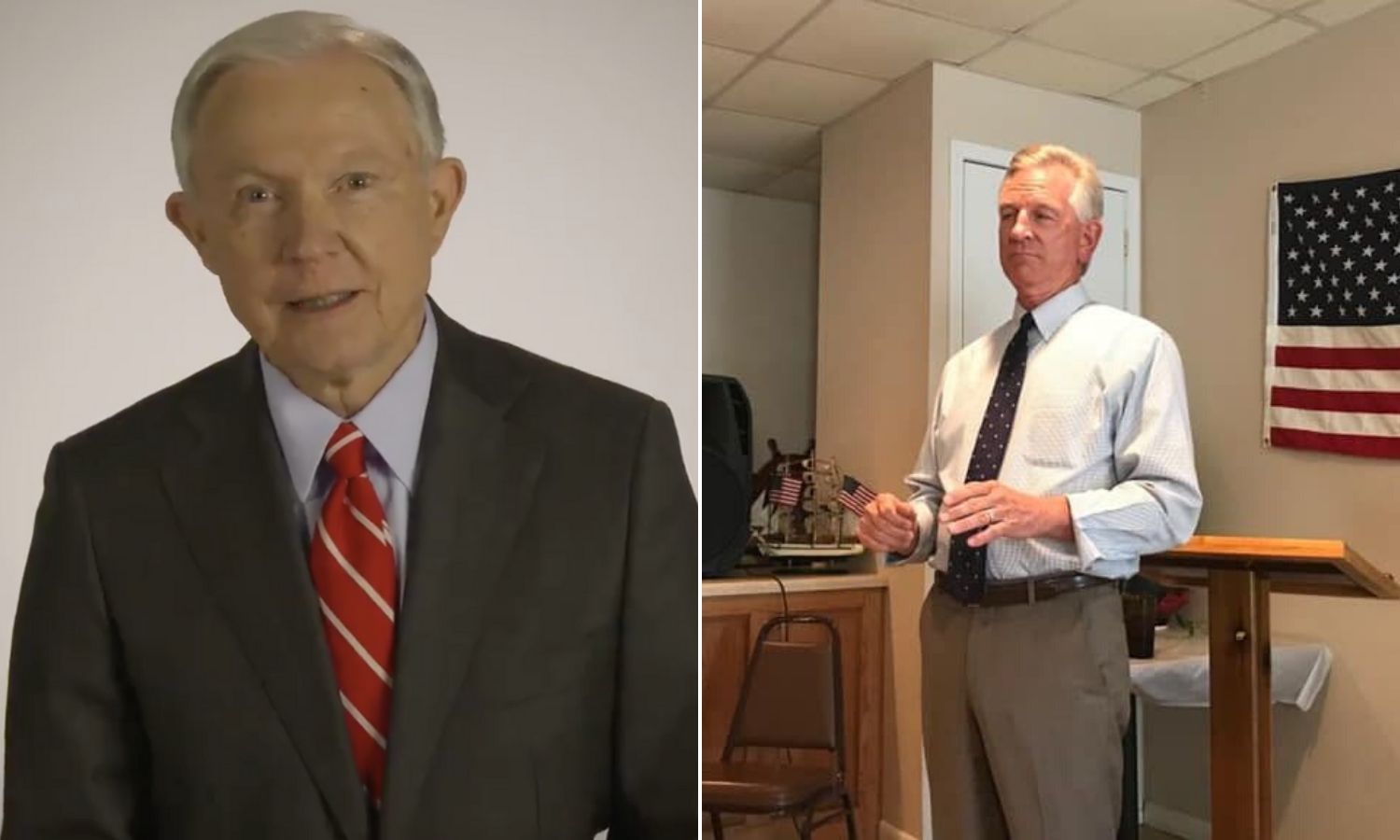 Tommy Tuberville wants to scare white people. Bradley Byrne wants to scare white people. Jeff Sessions wants to scare white people. 
The Muslims are going to kill us all. The black people are committing scary crimes and kneeling a lot. The Hispanics are hauling deadly drugs over the border to kill your grandkids. The terrorists — not the white ones — are coming for you where you sleep. Everyone hates the police.
Be afraid, Alabama. 
Be so afraid that you elect one of these mind-less, plan-less, fear-mongering buffoons to represent you in the U.S. Senate. 
This is what passes for a political strategy in this state, apparently. Three guys doing their dead level best to convince you — in a time of record low crime rates, mind you — that the non-white scary people are coming to injure or kill you and your loved ones. 
Unless you elect God-fearing, gun-toting Tuberville/Sessions/Byrne to … hell, who even knows? They never get around to telling you how they're going to save you from black/Hispanic Antifa, just that black/Hispanic Antifa is definitely going to kill you/change the America you love if you don't elect someone who loves America/the Anthem/Trump/filming selfie videos while driving. 
They also never get around — and pay attention here, please — to telling you how they're going to do anything. 
Like, at all. 
They have no plan for anything. Not for bettering education. Not for solving our rural health care issues. Not for correcting the low-wage issues that kill this state. Not for getting more than 300,000 Alabamians into a doctor's office for regular checkups. 
Not even for these scary terrorists and non-whites.
Seriously, go to their websites. Look at the "issues" portion. It's the dumbest, most generic bunch of garbage you'll read today. (Well, except for Sessions' website, which doesn't even bother with an "issues" section.)
I'm not going to waste time with their pandering BS on phony issues like guns, "the economy," and abortion. No one is coming for your guns, the courts will decide the abortion issue, not the legislative branch, and the idea that you can reduce the complexities of "the economy" into a single topic covered by a single paragraph from a candidate tells you how seriously they're taking this. 
Let's instead focus on the two biggest issues for most Alabamians: Health care and education. 
We're dead last or pretty close to dead last in both large categories and in most of the sub-categories related to both. Basically, we're sick and dumb. 
Here are the candidates' plans for addressing these issues. 
On health care, both Byrne and Tuberville want to abolish Obamacare (because polling told them that that's a popular thing to say) and they want to replace it with … "a free-market plan" that magically covers everyone for less money and with pre-existing conditions covered. 
Those are not plans. Those are dreams. 
Actually, I take that back. They're not even dreams. They're lies. 
Neither has a single, solitary idea on the specifics of how to solve Alabama's complicated issues related to health care. Not a single idea.
And, again, Sessions didn't even pretend that he had an idea, either. 
On education, where Alabama is lagging both in churning out well-rounded students and in producing a job-ready workforce, Byrne and Tuberville are similarly plan-less. 
Tuberville believes that our education woes can be solved by "school choice," and "improving existing public schools." Which is like saying you're going to overcome your diabetes by not having diabetes anymore. 
Byrne, on the other hand, wants to improve education by opposing "the federal government telling teachers and parents how to educate our children in Alabama." In other words, nothing. He wants to literally do nothing. 
(And just as an aside for Mr. Byrne: historically, the only really good things that have ever happened in this state have come because the federal government told us to do some things). 
Also, again, Jeff Sessions didn't even attempt the education question. But we know from his past work in the state that his answer is always to give less money and resources to the black kids. 
Are Republicans really this stupid? 
And I ask that not as an insult but as a challenge.
Because, honestly, I don't believe you're that stupid. That's why I keep writing these columns, consistently shocked by the decisions of my friends and neighbors to elect obvious morons to office simply because those morons chose to pay their registration fee to the Republican Party. 
When are you going to stop this madness? When are you going to realize that government isn't a team sport? 
Our system of government was meant to be representative of the people. That's why we divvy up districts like we do — to assure that all communities and all people have representation that looks out for their best interests.  
But that doesn't work if a whole bunch of people are just voting for a party and ignoring their own interests and problems. 
That's what Byrne, Sessions and Tuberville are hoping for — that you'll continue to be part of the team, sacrificing your well-being, and the well-being of your family and friends, to elect unprepared, ignorant mooches to office. That you'll continue to fall for the scare tactics and generic fear-mongering. That you'll ignore the candidate that best serves you and instead vote for the team that best scares you.  
The idea that you might is what scares me.
Print this piece
Sessions attacks Tuberville's views on China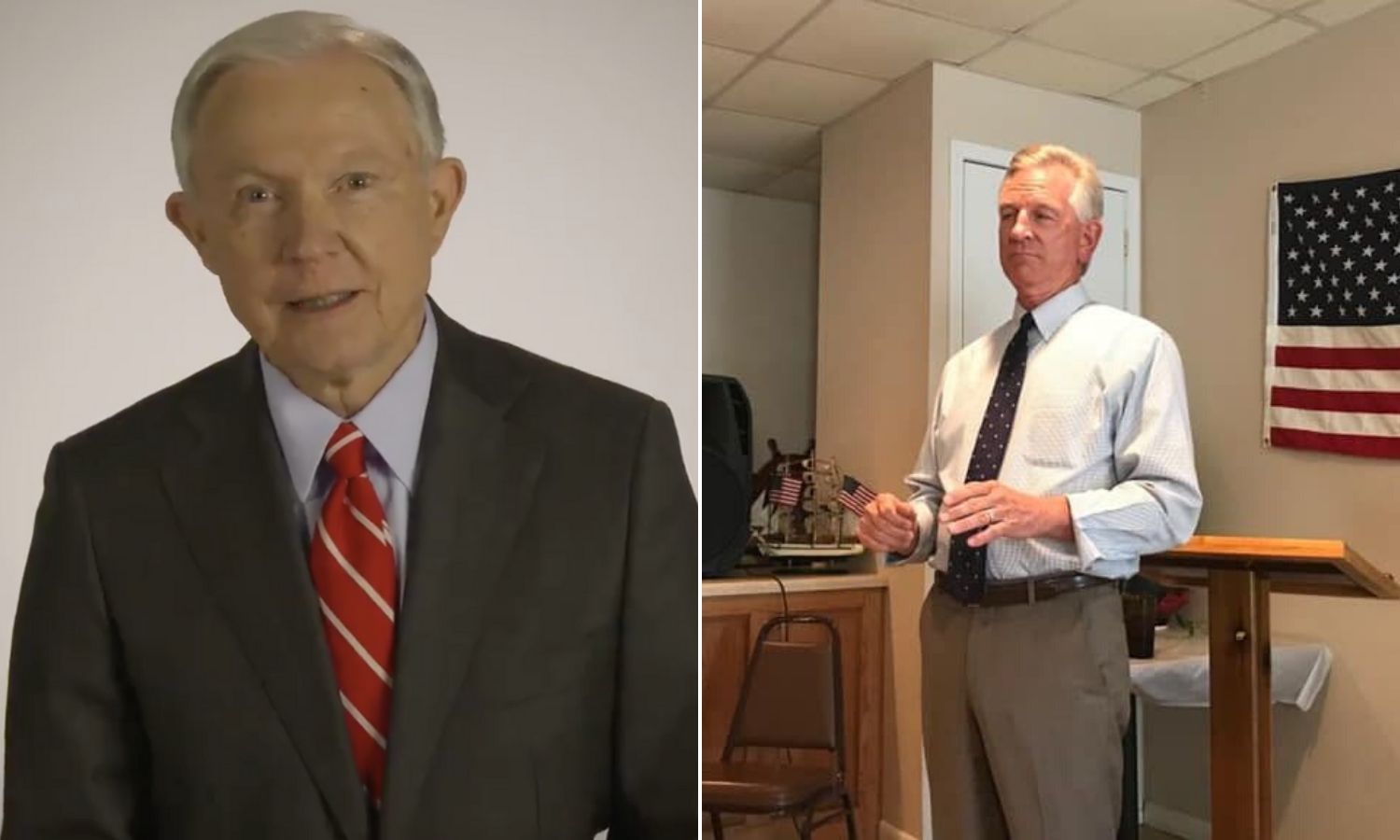 Former Sen. Jeff Sessions, R-Alabama, rolled out an ambitious, comprehensive plan to hold the Chinese government accountable for what Sessions called a cover-up of the coronavirus that has killed tens of thousands of people and devastated economies worldwide.
In an interview Thursday on the Matt & Aunie radio show on Talk 99.5 in Birmingham, for Auburn head football Coach and current GOP Senate candidate Tommy Tuberville expressed his views on China.
Matt Murphy asked: What do you see happening with China?
"Well, we can't worry about China right now…" Tuberville responded.
"You say you don't need to worry about China, but this came from China and our economy depends on China," Murphy asked on follow up. "Specifically how to overcome some of that dependence on Chinese goods and specifically in the pharmaceutical industry because right now we're dependent on the country that covered this up."
"Now we're seeing firsthand the results of letting everything go to China," Tuberville said. "The good thing about this is we'll have manufacturing come back and drugs and all those things….we're headed in that direction, just the simple fact that we can't control our own destiny. Everything's controlled by China. But that'll take care of itself."
During the show, Tuberville also characterized the Wuhan Virus, which has killed over 53,000 people and infected more than 1 million people across the globe, which then including over 1,300 people in Alabama, as "just a virus."
Jeff Sessions issued a statement critical of Tuberville on Friday in response.
"Amazingly, Tommy Tuberville said yesterday, 'We can't worry about China right now,"" Sessions quoted. "China is where the virus is from, and their deliberate lies hid the danger and resulted in a pandemic that never should have happened. We must take on China now and win, not run scared like Tommy Tuberville."
"There are over 1 million infected with the Wuhan Virus, and more than 1,300 in Alabama already," Sessions continued. "This is serious. But Tommy Tuberville said yesterday that 'this is just a virus.' What planet is he on? Tuberville is clueless. No wonder he's scared to debate me. We must stop relying on China for our critical medicines and equipment. I have a detailed plan to fix it. Amazingly, Tuberville also said yesterday, 'Everything's controlled by China, but that'll take care of itself.' Wrong! We must lead with action, this will not 'take care of itself.'"
On Thursday, a U.S. intelligence report claimed that China understated the damage that the coronavirus was doing in their country.
"Alabama's next Senator must be a leader who has the drive and determination to push a Congress that is too often unwilling to confront the critical issues of our time," Sessions continued. "I have proven my willingness and preparedness to lead from Day One. Tuberville is weak: all talk and no action."
Sessions is a former Senator, U.S. Attorney General, Alabama Attorney General, Chairman of the Alabama Republican Party, U.S. Attorney, asst. U.S. Attorney, and U.S. Army Captain.
The Republican primary runoff has been moved to July by Alabama Governor Kay Ivey (R) due to fears of the coronavirus. The virus is believed to have originated in Wuhan City, Hubei Province, China in late 2019.
As of press time, 10,943 Americans have died from COVID-19 including 53 Alabamians. 367,650 Americans have been diagnosed with COVID-19, including 2,006 Alabamians. At this point, only 240 Alabamians are confirmed hospitalized with COVID-19.
COVID-19 is the medical condition caused by a strain of coronavirus first identified late last year in Wuhan City, Hubei Province China, SARS-CoV-2. Since then it has spread across the globe infecting 1,346,566 persons that we are aware of killing 74,697 people.
The winner of the Republican primary runoff will then face Senator Doug Jones (D-Alabama) in the November election.
Print this piece