Opinion | Tuberville, Byrne and Sessions: Selling fear because they have no good ideas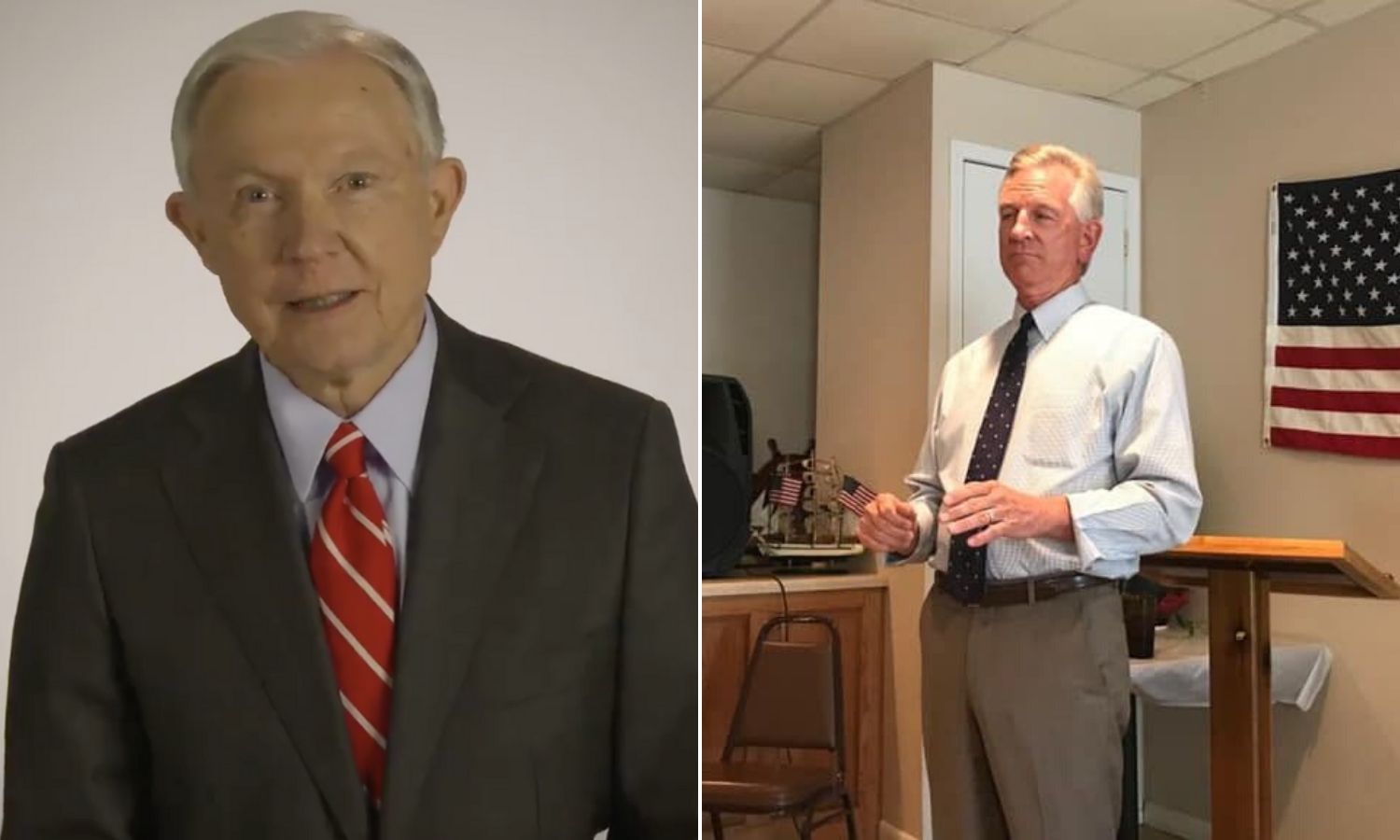 Tommy Tuberville wants to scare white people. Bradley Byrne wants to scare white people. Jeff Sessions wants to scare white people. 
The Muslims are going to kill us all. The black people are committing scary crimes and kneeling a lot. The Hispanics are hauling deadly drugs over the border to kill your grandkids. The terrorists — not the white ones — are coming for you where you sleep. Everyone hates the police.
Be afraid, Alabama. 
Be so afraid that you elect one of these mind-less, plan-less, fear-mongering buffoons to represent you in the U.S. Senate. 
This is what passes for a political strategy in this state, apparently. Three guys doing their dead level best to convince you — in a time of record low crime rates, mind you — that the non-white scary people are coming to injure or kill you and your loved ones. 
Unless you elect God-fearing, gun-toting Tuberville/Sessions/Byrne to … hell, who even knows? They never get around to telling you how they're going to save you from black/Hispanic Antifa, just that black/Hispanic Antifa is definitely going to kill you/change the America you love if you don't elect someone who loves America/the Anthem/Trump/filming selfie videos while driving. 
They also never get around — and pay attention here, please — to telling you how they're going to do anything. 
Like, at all. 
They have no plan for anything. Not for bettering education. Not for solving our rural health care issues. Not for correcting the low-wage issues that kill this state. Not for getting more than 300,000 Alabamians into a doctor's office for regular checkups. 
Not even for these scary terrorists and non-whites.
Seriously, go to their websites. Look at the "issues" portion. It's the dumbest, most generic bunch of garbage you'll read today. (Well, except for Sessions' website, which doesn't even bother with an "issues" section.)
I'm not going to waste time with their pandering BS on phony issues like guns, "the economy," and abortion. No one is coming for your guns, the courts will decide the abortion issue, not the legislative branch, and the idea that you can reduce the complexities of "the economy" into a single topic covered by a single paragraph from a candidate tells you how seriously they're taking this. 
Let's instead focus on the two biggest issues for most Alabamians: Health care and education. 
We're dead last or pretty close to dead last in both large categories and in most of the sub-categories related to both. Basically, we're sick and dumb. 
Here are the candidates' plans for addressing these issues. 
On health care, both Byrne and Tuberville want to abolish Obamacare (because polling told them that that's a popular thing to say) and they want to replace it with … "a free-market plan" that magically covers everyone for less money and with pre-existing conditions covered. 
Those are not plans. Those are dreams. 
Actually, I take that back. They're not even dreams. They're lies. 
Neither has a single, solitary idea on the specifics of how to solve Alabama's complicated issues related to health care. Not a single idea.
And, again, Sessions didn't even pretend that he had an idea, either. 
On education, where Alabama is lagging both in churning out well-rounded students and in producing a job-ready workforce, Byrne and Tuberville are similarly plan-less. 
Tuberville believes that our education woes can be solved by "school choice," and "improving existing public schools." Which is like saying you're going to overcome your diabetes by not having diabetes anymore. 
Byrne, on the other hand, wants to improve education by opposing "the federal government telling teachers and parents how to educate our children in Alabama." In other words, nothing. He wants to literally do nothing. 
(And just as an aside for Mr. Byrne: historically, the only really good things that have ever happened in this state have come because the federal government told us to do some things). 
Also, again, Jeff Sessions didn't even attempt the education question. But we know from his past work in the state that his answer is always to give less money and resources to the black kids. 
Are Republicans really this stupid? 
And I ask that not as an insult but as a challenge.
Because, honestly, I don't believe you're that stupid. That's why I keep writing these columns, consistently shocked by the decisions of my friends and neighbors to elect obvious morons to office simply because those morons chose to pay their registration fee to the Republican Party. 
When are you going to stop this madness? When are you going to realize that government isn't a team sport? 
Our system of government was meant to be representative of the people. That's why we divvy up districts like we do — to assure that all communities and all people have representation that looks out for their best interests.  
But that doesn't work if a whole bunch of people are just voting for a party and ignoring their own interests and problems. 
That's what Byrne, Sessions and Tuberville are hoping for — that you'll continue to be part of the team, sacrificing your well-being, and the well-being of your family and friends, to elect unprepared, ignorant mooches to office. That you'll continue to fall for the scare tactics and generic fear-mongering. That you'll ignore the candidate that best serves you and instead vote for the team that best scares you.  
The idea that you might is what scares me.
Justice Ginsburg's death will supercharge a heated 2020 campaign
The passing of one of the court's most liberal justices so close to the Nov. 3 general election has set off a political firestorm as to what president should pick the next justice — President Donald Trump or Joe Biden, should he defeat Trump in November.
Just hours after the death of 87-year-old Supreme Court Justice Ruth Bader Ginsburg on Friday, conservatives, including the Alabama-based Foundation for Moral Law, said Ginsburg's passing is an opportunity to reverse the ideological trend of the nation's highest court.
The passing of one of the court's most liberal justices so close to the Nov. 3 general election has set off a political firestorm as to what president should pick the next justice — President Donald Trump or Joe Biden, should he defeat Trump in November.
The controversy over when and how to confirm a new justice will likely supercharge an already heated 2020 election campaign. Trump was at a campaign rally on Friday night when he learned about the justice's death from reporters.
"Just died? Wow, I did not know that," Trump said. "She was an amazing woman. Whether you agreed or not she led an amazing life. She was an amazing woman. I am sad to hear that."
Ginsburg, since her appointment by President Bill Clinton, has been bastion of the court's more liberal wing. The court was divided with four "liberal" justices led by Ginsburg and four "conservative" justices led by Samuel Alito.
Chief Justice John Roberts, though appointed by President George W. Bush, has been the swing vote on a number of major issues since the retirement of Justice Anthony Kennedy in 2018. Her death gives Trump the opportunity to appoint her replacement and potentially shape the direction of the court for decades to come.
Conservatives want Trump to select the nominee and the current GOP-controlled Senate to confirm the Trump appointee.
The Foundation for Moral Law — a conservative legal group founded by former Alabama Chief Justice Roy Moore — released a statement saying that Ginsburg's passing is an opportunity to move the court in a more conservative direction.
"For many years United States Supreme Court has been a bastion for liberal anti-God ideology," Moore said. "The passing of Justice Ruth Bader Ginsberg will be an opportunity to reverse this trend. I'm hopeful that President Trump will immediately nominate a true conservative who understands that our rights come from God and no authority in this country can take those rights from us."
"This is a very critical time for our country and our future and the future of our posterity depends upon our vigilance and direction," Moore said.
Judicial Watch, another conservative legal group, echoed Moore's statement.
"Judicial Watch sends it condolences to the family of Justice Ruth Bader Ginsburg. She had a wonderful judicial temperament that will always be remembered," said Judicial Watch President Tom Fitton. "President Trump now has a historic opportunity to nominate yet another constitutional conservative who will honor the Constitution and the rule of law across the full spectrum of constitutional issues."
"And the U.S. Senate should move quickly to work with President Trump to consider and approve a new justice who will faithfully apply the U.S. Constitution," Fitton said. "There is no reason we cannot have a new justice by Election Day."
Trump is expected to put forth a nominee to fill Ginsburg's seat in the coming days, according to ABC News.
Senate Majority Leader Mitch McConnell, R-Kentucky, wrote in a statement that, "President Trump's nominee will receive a vote on the floor of the United States Senate."
But Democratic senators and Senate Minority Leader Chuck Schumer, D-New York, disagree.
"The American people should have a voice in the selection of their next Supreme Court Justice," Schumer wrote on social media Friday, parroting a similar quote McConnell used in 2016 when he refused to give then-President Barack Obama's nominee, Merrick Garland, hearings and a vote for confirmation to the court. "Therefore, this vacancy should not be filled until we have a new president."
Republicans in the Senate blocked Obama from selecting Justice Antonin Scalia's replacement. Scalia was the most conservative jurist on the court.
Ginsburg was a staunch supporter of abortion rights and voter protections, and she played a major role in upholding Roe v. Wade, the Supreme Court decision protecting abortion rights. She also voted in favor of same-sex marriage and to uphold the constitutionality of the Affordable Care Act.
Most political observers expect Trump to appoint a woman to fill Ginsburg's spot. Political insiders have suggested that Trump believes that appointing a woman to the court could help him with woman, a key swing demographic that will likely decide the next election.
Will the Senate confirm Trump's appointment before the election or wait until after the public votes? If Republicans lose control of the Senate, could a lame duck GOP majority select the direction of the court on their way out?
Alabama Sen. Doug Jones has been widely criticized for his vote against the confirmation of Justice Brett Kavanaugh. If the vote comes before the Nov. 3 election, Jones's decision on whether to confirm Trump's appointee will be heavily scrutinized.
The questions about the Supreme Court is likely to only further inflame passions on both sides this election cycle.