Sanders wins New Hampshire
Last week South Bend Mayor Pete Buttigieg was awarded a victory in the Iowa Democratic Caucus, narrowly beating out U.S. Senate Bernie Sanders (I-Vermont). On Tuesday. Sanders won the New Hampshire Democratic primary with 26 percent of the vote edging out Buttigieg who received 24 percent.
"Four years ago, New Hampshire shocked the political establishment and corporate media of this country," Sanders said. "Tonight, we won here again because we built the largest grassroots organization of anyone else in this race."
"Let me be very clear: Now that we've gained another victory in New Hampshire, the establishment and financial elite are going to throw everything at us except the kitchen sink," Sanders warned. "And I have a feeling that the kitchen sink is coming pretty soon as well."
"We do not represent the interests of the billionaire class and we don't want their money," Sanders said. "This campaign is funded by more than 1.5 million people who have made 7 million donations, at an average of around $18."
"Tonight's victory has sent a powerful message that now is the time to think big, not small," Sanders stated. "Now is the time to have the guts to take on the corporate and financial elite of this country that controls so much of our economy and our government. This is our moment. If we do not allow Trump and the billionaire class to divide us up, we can create an America based on justice and compassion, not greed and corruption. But first we need to take our fight to Nevada, South Carolina, and all the states that vote on Super Tuesday."
The Alabama presidential primary is on Super Tuesday, March 3.
"Thank you, New Hampshire," Mayor Buttigieg said. "Tonight, you proved the power of a politics defined by addition, not polarization. And you showed that a campaign some said shouldn't be here at all is here to stay."
"This election isn't just historic, it's urgent," Buttigieg said. "And tonight, we look forward knowing this is our one shot not just to end the era of Donald Trump, but to launch the era that must come next."
U.S. Senator Amy Klobuchar (D-Minnesota) came in third.
"Hello, America, I'" Amy Klobuchar and I will beat Donald Trump," Klobuchar told supporters. "Because of you we are taking this campaign to Nevada. We are going to South Carolina. And we are taking this message of unity to the country."
"We cannot win big by out-dividing the divider-in-chief," Klobuchar said. "We have to bring people with us instead of shutting them out. Donald Trump's worst nightmare is the people in the middle, tired of the name-calling and the mudslinging, have someone to vote for in November."
Former Vice President Joe Biden (D) came in fifth, just behind U.S. Senator Elizabeth Warren (D-Massachusetts).
Biden was attacked by Republicans for his son's suspect business dealings in China and the Ukraine while tried to reassure supporters even as he left the state for South Carolina.
."We're going to be back, we're going to be back in New Hampshire" to defeat Donald Trump, Biden said, adding that his campaign is "going on" to Nevada and South Carolina.
Biden's hopes of resurrecting his flailing campaign rest on doing well with minority voters on Super Tuesday. On Tuesday, he received a major setback when Joe Reed, who heads the Alabama Democratic Conference announced that his group was endorsing billionaire former New York City Mayor Michael Bloomberg.
Mayor Bloomberg is spending $hundreds of millions of his own money to run for the Democratic nomination for President. He chose not to participate in the early primaries and focus on Alabama and the Super Tuesday states.
Sen. Michael Bennet (D-Colorado) and businessman Andrew Yang both announced that they were dropping out after their poor performances in New Hampshire.
Print this piece
Opponents accuse Tuberville of supporting amnesty for undocumented immigrants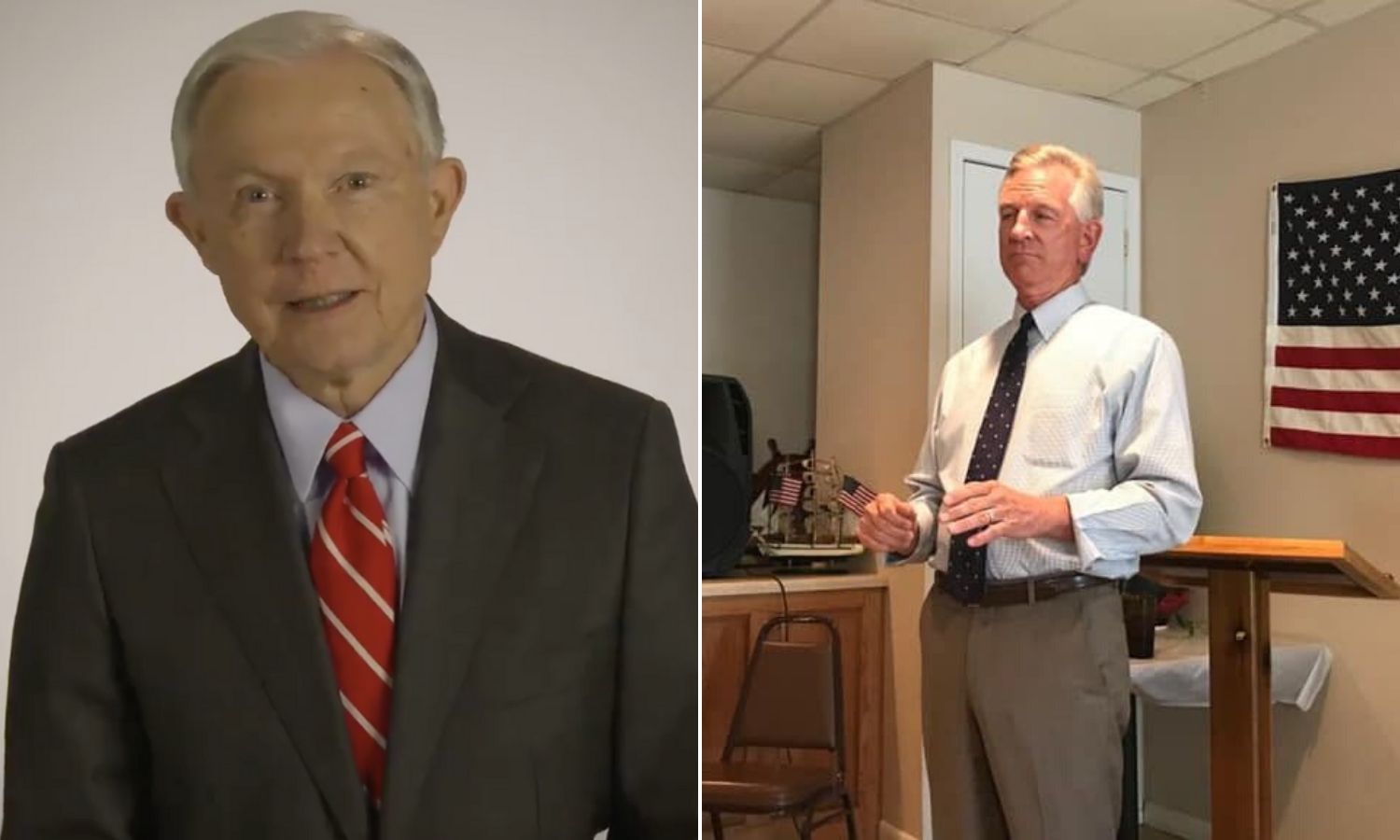 The Senate campaign is heating up as the top three candidates are all going negative. Former Auburn head football coach Tommy Tuberville has attacked Congressman Bradley Byrne (R-Montrose) and former Attorney General and Senator Jeff Sessions of being career politicians. Both Byrne and Tuberville have attacked Sessions for not having adequately served President Donald J. Trump (R) while Attorney General. Byrne has even attacked Tuberville's coaching abilities. The latest attacks on Tuberville accuse him of supporting amnesty for illegal aliens. Sessions even accused Tuberville of being a "tourist."
Wednesday, Sessions announced a new television ad called "Tuberville for Amnesty."
Byrne and Tuberville point to an August speech by Coach Tuberville when he said: "There are people coming across the border that need jobs… and we want them to come over here… Let em' come in and become citizens like we all became citizens."
The Tuberville campaign called the attack "fake news" on Twitter.
Sessions' campaign manager Jon Jones said, "Tuberville is claiming that his own words are 'fake news.' All of them? Tommy Tuberville needs to read the transcript. It is clear that Tuberville supports immigration amnesty, and he is attempting to trick Alabama voters to believe otherwise. In contrast, Jeff Sessions has done more than just say he wants to fix the border – he has already worked alongside President Trump to stop illegal immigration."
The new Sessions ad reads: "Tuberville is trying to trick you, hiding his support for immigration amnesty." Then plays an audio clip of the Tuberville comment from August
Tuesday, Byrne told reporters in Trussville: "I can tell you right now this issue about Tommy Tuberville's position on amnesty is a key issue. And so we're going to keep telling people about his position on that and let him explain why he doesn't think that's amnesty."
"Let em' come in and become citizens like we all became citizens," Tuberville is quoted in the ad.
Tuberville has denied supporting amnesty and says that he supports President Trump's immigration agenda.
The Sessions ad further charges: "And Tuberville's not even from Alabama, he's a tourist here. He lives, pays taxes and even votes in Florida."
On Tuesday, the Tuberville campaign responded with an attack ad of their own.
"The career politicians are desperate to hang on to their paychecks and power, so they have started airing negative ads full of false attacks and baseless distortions," Tuberville said. "Our new commercial allows us to respond with some hard truths about which candidate wants to drain the D.C. swamp and is tough enough to actually help President Trump get the job done."
The Tuberville ad has Byrne with former Secretary Hillary Clinton and Sessions with Congressman Adam Schiff (D-California) who led the impeachment effort against President Trump. The ad even connects Sessions and Byrne with Sen. Mitt Romney (the only Republican in either House of Congress who found that the President did anything wrong.)
State Representative Arnold Mooney, former Chief Justice Roy Moore, Ruth Page Nelson, and businessman Stanley Adair are also running for the Republican nomination for the Senate seat currently held by Doug Jones (D).
The Republican primary is March 3.
Print this piece