Conservative Leadership Conference, Senate forum is Saturday
The Conservative Leadership Conference and U.S. Senate forum will be Saturday from noon to 9:00 p.m. at the Marriott Hotel & Conference Center in Florence.
The event is sponsored by the Conservative Leadership Council, a 501c4, and is free and open to the public. The Marriott Hotel & Conference Center is at 10 Hightower Place in Florence.
Former presidential candidate U.S. Senator Rick Santorum (R-Pennsylvania) will be the Senate forum moderator. The conference will provide grassroots training sessions, nonpartisan public policy panel sessions, keynote speakers, and a U.S. Senate Forum.
Policy topics of discussion include Criminal Justice, Media in Politics, Gaming & Lottery in Alabama, Campaign Finance, and Liberty in America.
The criminal justice panelists include Judge Mary Windom, Presiding Judge of the Court of Criminal Appeals, Deputy Attorney General Rich Anderson, State Senator Cam Ward, and Lauderdale County District Attorney Chris Connelly.
The campaign finance panelists include State Representative Matt Fridy, Clay Helms, Director of Elections, Office of the Alabama Secretary of State, and John Pudner, Executive Director of Take Back Our Republic.
The media in politics panelists include Shannon Moore, Will Hampson, Mark White, Jeff Poor, and State Representative Andrew Sorrell.
There will be workshops including: The biblical influence on the U.S. Constitution, led by Judge Roy Moore, A Vision of Liberty,Criminal Justice Reform, and Taking Your Message to New Audiences. The workshops will all be led by Americans for Prosperity- Grassroots Leadership Academy.
While the event is free and open to the public; tickets are available for a special meet & greet reception.
More information can be found here.
Print this piece
Opponents accuse Tuberville of supporting amnesty for undocumented immigrants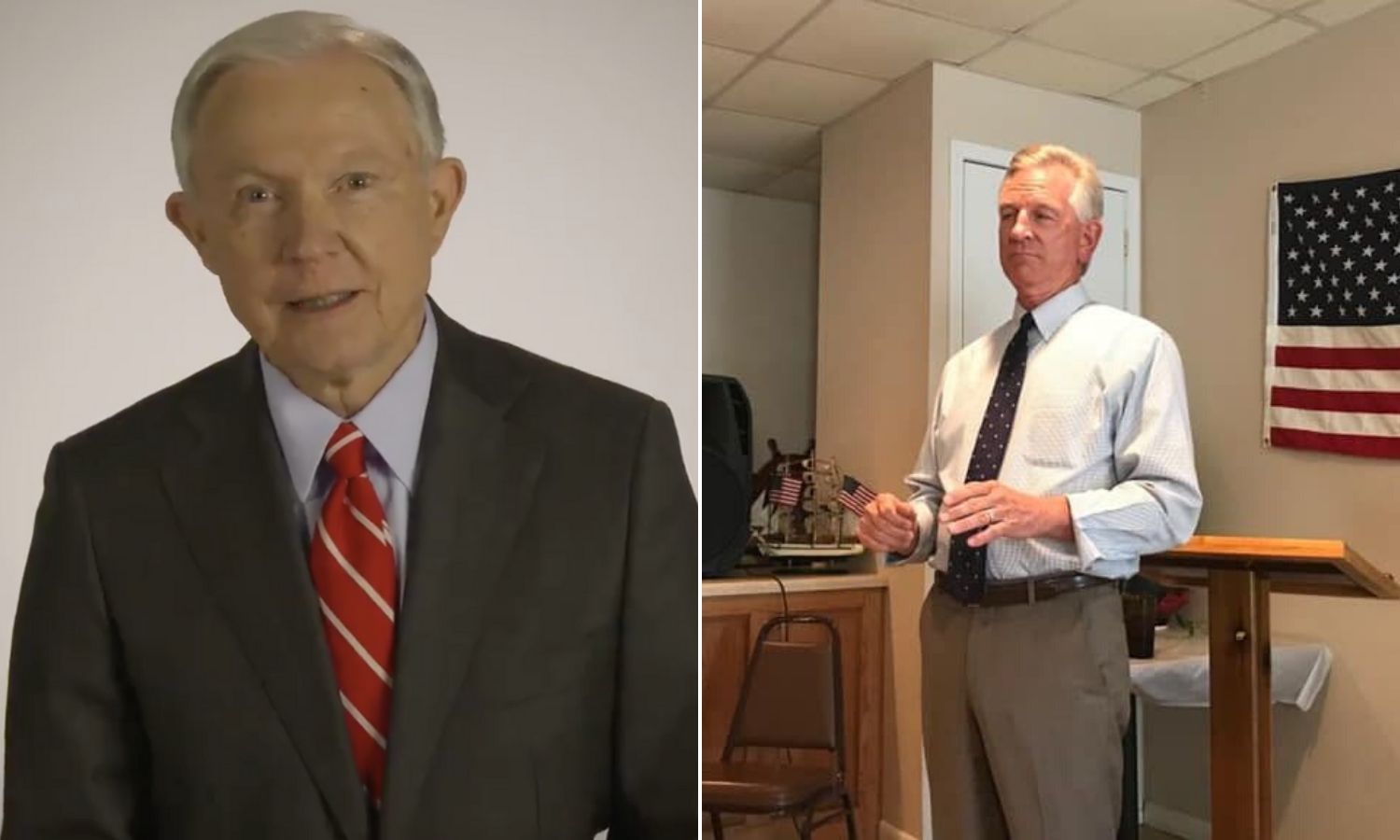 The Senate campaign is heating up as the top three candidates are all going negative. Former Auburn head football coach Tommy Tuberville has attacked Congressman Bradley Byrne (R-Montrose) and former Attorney General and Senator Jeff Sessions of being career politicians. Both Byrne and Tuberville have attacked Sessions for not having adequately served President Donald J. Trump (R) while Attorney General. Byrne has even attacked Tuberville's coaching abilities. The latest attacks on Tuberville accuse him of supporting amnesty for illegal aliens. Sessions even accused Tuberville of being a "tourist."
Wednesday, Sessions announced a new television ad called "Tuberville for Amnesty."
Byrne and Tuberville point to an August speech by Coach Tuberville when he said: "There are people coming across the border that need jobs… and we want them to come over here… Let em' come in and become citizens like we all became citizens."
The Tuberville campaign called the attack "fake news" on Twitter.
Sessions' campaign manager Jon Jones said, "Tuberville is claiming that his own words are 'fake news.' All of them? Tommy Tuberville needs to read the transcript. It is clear that Tuberville supports immigration amnesty, and he is attempting to trick Alabama voters to believe otherwise. In contrast, Jeff Sessions has done more than just say he wants to fix the border – he has already worked alongside President Trump to stop illegal immigration."
The new Sessions ad reads: "Tuberville is trying to trick you, hiding his support for immigration amnesty." Then plays an audio clip of the Tuberville comment from August
Tuesday, Byrne told reporters in Trussville: "I can tell you right now this issue about Tommy Tuberville's position on amnesty is a key issue. And so we're going to keep telling people about his position on that and let him explain why he doesn't think that's amnesty."
"Let em' come in and become citizens like we all became citizens," Tuberville is quoted in the ad.
Tuberville has denied supporting amnesty and says that he supports President Trump's immigration agenda.
The Sessions ad further charges: "And Tuberville's not even from Alabama, he's a tourist here. He lives, pays taxes and even votes in Florida."
On Tuesday, the Tuberville campaign responded with an attack ad of their own.
"The career politicians are desperate to hang on to their paychecks and power, so they have started airing negative ads full of false attacks and baseless distortions," Tuberville said. "Our new commercial allows us to respond with some hard truths about which candidate wants to drain the D.C. swamp and is tough enough to actually help President Trump get the job done."
The Tuberville ad has Byrne with former Secretary Hillary Clinton and Sessions with Congressman Adam Schiff (D-California) who led the impeachment effort against President Trump. The ad even connects Sessions and Byrne with Sen. Mitt Romney (the only Republican in either House of Congress who found that the President did anything wrong.)
State Representative Arnold Mooney, former Chief Justice Roy Moore, Ruth Page Nelson, and businessman Stanley Adair are also running for the Republican nomination for the Senate seat currently held by Doug Jones (D).
The Republican primary is March 3.
Print this piece