Moore says the Constitution is under God's laws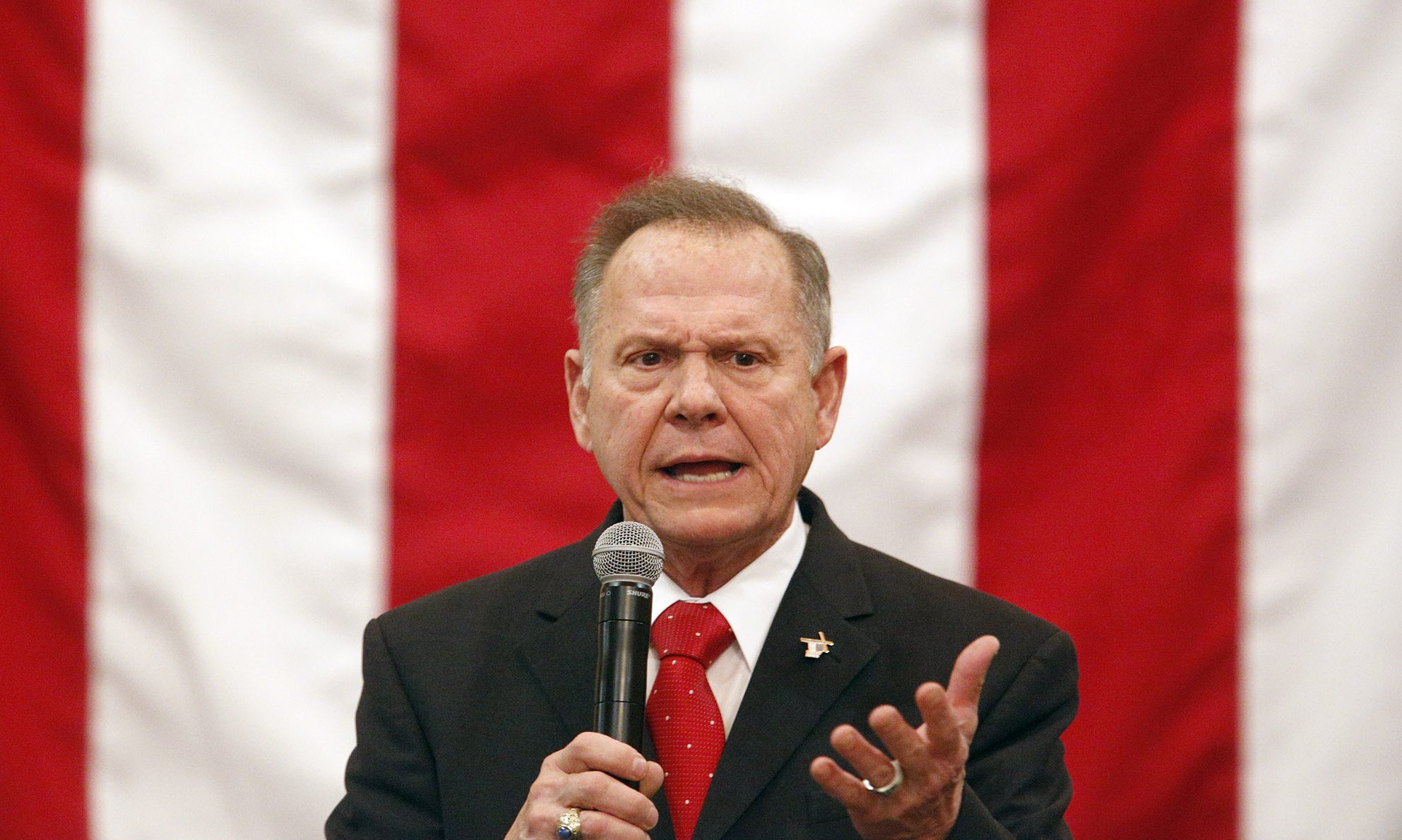 Saturday, Senate candidate former Chief Justice Roy Moore (R) presented his views on the Constitution and the sovereignty of God to attendees of the Conservative Leadership Conference in Florence.
"The form of government is both the Declaration and the Constitution," Judge Moore said.
Moore argued that the rights granted to the citizens in the Bill of Rights do not come from the Constitution itself; but rather from God and the Constitution is there to protect those rights that God has ordained.
"The Constitution is the supreme law of the land; but the Constitution is under the rule of God," Moore stated. "We as Americans, as Republicans as Democrats should go back to the Constitution."
"Democrats are trying to move us toward a socialist government," Moore warned. "The same people who want to take our guns away want to take prayer out of schools."
"Most Christians do not understand the Ten Commandments," Moore said. The first four are the duties that we owe to God and the last six are the duties that we owe to each other.
Moore quoted from Washington, Blackstone, and the 1954 legislation that inserted "under God" into the Pledge of Allegiance.
Moore said that Project Birmingham used Russian style tactics to undermine the support for Roy Moore and build up support for Doug Jones. Moore also blamed Richard Shelby for his defeat.
Moore said that Democrats have used similar smears liked the ones used against him in 2017 against Brett Kavanaugh and Clarence Thomas.
"When you vote is stolen from you by tactics that is wrong," Moore said/
Moore warned that the greatest threat to this nation is the decline in morality. "We are at a critical point in our history."
Moore warned that no nation could take us down from without; but that we could fall from within and warned of the growing agenda of the LGBTQ community.
"We are starting to recognize transgender rights above the right of your rights," Moore warned.
"We are five votes (in the Senate) away from overturning everything our country is founded upon," Moore warned if the Equality Act is passed. The Equality Act, "Which sounds good is about to take away the most precious thing our country is founded upon: our freedom of conscious."
Moore warned that the legislation would lead to men in girls' bathrooms and in girls' sports.
Moore said that when man invents rights that are not from God it leads to problems. The right to privacy was invented and from that came the right to abortion, which has resulted in the deaths of millions, the right to sodomy, and the right to gay marriage. Now we are about to create a right of transgenderism.
Moore said that marriage was ordained by God as between one man and one woman. "If you can make it between two men you could make it between five men and between a man and a horse."
"How do you correct it?" Moore asked rhetorically. "You recognize the sovereignty of God."
"I have been mocked and removed from office twice," Moore said.
"I am sick of seeing politicians carrying Bibles and doing nothing," Moore said. The national debt was $5 trillion in 2005 now it is $23 trillion. They say they are Pro-Life and yet Planned Parenthood continues to get taxpayer dollars.
"We keep quiet because we are afraid it is going to offend anybody," Moore said. "I couldn't keep quiet about Obergefell. I wrote an opinion in API."
Moore is a candidate for the GOP nomination for U.S. Senate in the Republican primary on March 3.
ACLU joins lawsuit over Alabama voting amid COVID-19 pandemic
The lawsuit was filed on behalf of several voters who are at greater risk from complications or death due to COVID-19. 
The American Civil Liberties Union and its Alabama chapter have joined in a lawsuit attempting to make it easier for some voters to cast their ballot during the COVID-19 pandemic.
The American Civil Liberties Union and ACLU of Alabama joined in the lawsuit filed in May by the NAACP Legal Defense and Educational Fund, Southern Poverty Law Center and Alabama Disabilities Advocacy Program against Gov. Kay Ivey and Secretary of State John Merrill. 
The U.S. Supreme Court in a 5-4 decision last week blocked U.S. District Judge Abdul Kallon's order that would have allowed curbside voting statewide and waived certain absentee ballot requirements for voters in at least Jefferson, Mobile and Lee Counties.
The lawsuit was filed on behalf of several voters who are at greater risk from complications or death due to COVID-19. 
The lawsuit was also brought on behalf of People First of Alabama, Greater Birmingham Ministries, the Alabama State Conference of the NAACP and Black Voters Matter Capacity Building Institute.
With the Supreme Court's decision, voters in the upcoming July 14 Republican runoff election will have to submit a copy of their photo ID and have either two adult witnesses sign their absentee ballot requests or have it notarized. 
"Alabama is in the middle of a deadly and ongoing pandemic but is refusing to take common-sense steps to protect the public's health and their right to vote for all elections in 2020. That's why we are taking legal action," said Alora Thomas-Lundborg, senior staff attorney with the ACLU's Voting Rights Project in a statement. 
"In the midst of an out-of-control pandemic, Alabama officials should be doing everything they can to ensure that all voters have a safe, fair, and equal opportunity to cast a ballot. Instead, officials have chosen politics over public health and safety. They are fighting to make it harder to cast a ballot and have that ballot counted. This litigation is crucial to ensure safe, fair, and equal opportunity to vote," said Randall Marshall, executive director of the ACLU of Alabama, in a statement.
"As we head into preparations for the November general election with COVID-19 cases rising in Alabama, it is critical that our election officials take seriously the protection of voters, poll workers, and our democracy," said Caren Short, senior staff attorney for SPLC in a statement. "In this critical election season, we are grateful to have Black Voters Matter Capacity Building Institute, the ACLU, and the ACLU of Alabama join this effort to ensure that every voter is heard. No voter should have to choose between exercising their fundamental right to vote and their health or the health of a loved one."
Deuel Ross, NAACP's Legal Defense Fund senior counsel, said in a statement that over the July 4th weekend, Alabama reported nearly 5,000 new coronavirus cases.
"Yet, state leaders insist on enforcing draconian restrictions on in-person and absentee voting that no other state finds necessary to combat the almost nonexistent issue of voter fraud," Ross said. "These restrictions are needless in normal circumstances. They are deadly in a pandemic. At trial in September, we will work to make sure that state leaders comply with their constitutional duty to protect the rights and safety of all voters."
In a Tweet on July 2, Alabama's Secretary of State John Merrill expressed gratitude for the Supreme Court's decision. 
"With the news that we have received a Stay in this process, I am excited that the United States Supreme Court has ruled in favor of those who believe in strict interpretation of the Constitution and has decided to grant the Stay and not endorse legislating from the bench," Merrill said in the tweet.