South Alabama medical residents work alongside Orange Beach first responders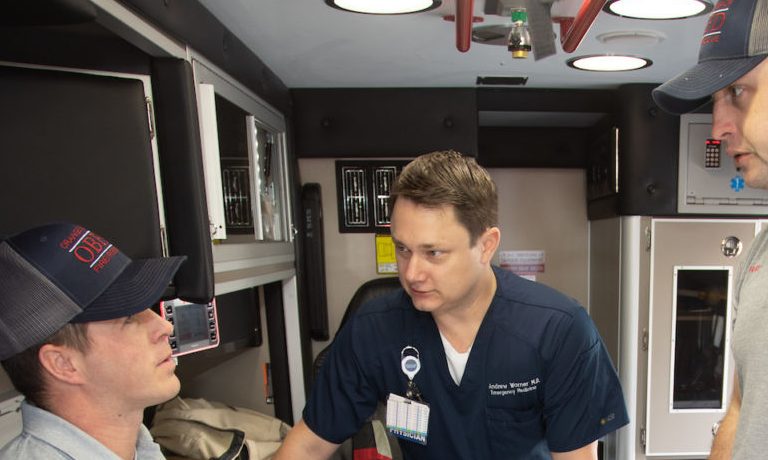 Residents in USA Health's Emergency Medicine Residency Program are given the opportunity to rotate with emergency medical services (EMS) in Orange Beach. The residents are stationed at the Orange Beach Fire Department giving resident physicians the experience of responding to emergency calls alongside paramedics and firefighters.
Paul Henning, M.D. is the associate program director of the Emergency Medicine Residency Program at USA Health and medical director of Orange Beach Fire/Rescue.
"The expertise that a patient gets in the field can determine outcomes," Henning explained. "It bridges the gap between the physician and the paramedic. Seldom, if ever, do physicians have this kind of exposure to prehospital emergency services. It also gives the physician more perspective of what the paramedics are doing in the field. If we have an opportunity to improve the prehospital scope of practice, then we have accomplished our goals."
Henning also serves as an associate professor of emergency medicine at the University of South Alabama College of Medicine.
He said that it is vital that physicians understand what happens in the prehospital stage of care.
The innovative program was established in July 2019.
Andrew Warner, M.D., took a nonlinear path to emergency medicine. Dr. Warner is a former Green Beret, who served with the U.S. Army 5thSpecial Forces Group on tours in Iraq and Afghanistan.
Following his military service, he went on to earn his medical degree from the University of Cincinnati College of Medicine. He completed his residency training in family medicine at USA Health and started in the emergency medicine program as a second-year resident.
Warner expressed his great respect for the Orange Beach first responders, who "epitomize true dedication to patient care and outcomes."
"I have further learned to appreciate just how critical those precious seconds in the prehospital setting are for patient survivability," Warner added.
Justin Thomas, M.D. is a second-year emergency medicine resident and was the first USA Health resident to rotate in Orange Beach. Thomas said that the experience opened his eyes to the constraints paramedics endure while working in the field, particularly when responding to calls in rural areas of the county.
"There are locations they respond to that may be in the middle of the woods, or down a dirt road someone only goes down once every couple of weeks," Thomas said. "They have to lug their supplies and the stretcher to the house, assess and care for the patient, and then bring them to the ambulance."
The medics are limited by the supplies and tools they have with them, Thomas said. "It's much different being at a hospital with all the resources at your disposal versus working from an ambulance with limited capabilities."
Thomas earned his medical degree from the American University of the Caribbean. He took a nontraditional route to emergency medicine. As a resident in USA Health's Family Medicine Residency Program, he rotated in the emergency department at University Hospital and was attracted to the field.
After graduating from his family medicine residency in June 2019, Thomas was offered a spot in the new Emergency Medicine Residency Program. Dr. Thomas was given approval from the American Board of Emergency Medicine to start as a second-year because of his months of training in emergency medicine during his family medicine residency.
Economic developer Dr Nicole Jones told the Alabama Political Reporter, "Response time is critical, especially in rural areas and areas that have longer distances to medical facilities than urban counterparts. The partnership between USA Health emergency medicine residency program and Orange Beach paramedics and fire rescue is a win-win situation. Both parties learn from one another and gain a deeper understanding of the pre-hospital setting, and most importantly, having professionals available in emergency situations with unique skill sets can ultimately save more patients' lives."
The partnership is mutually beneficial for USA Health's emergency medicine residency program and Orange Beach's paramedical and fire-rescue services. By adding the resident physicians the paramedics are able to provide a higher level of care to patients.
"I love to hear the interaction between our staff and the residents," said Orange Beach Fire Chief Mike Kimmerling. "Even when they're not running calls, there is a tremendous amount of knowledge being transferred in their conversations."
The residents gain more diversity of exposure in Orange Beach than in a larger city like Mobile, Henning said. "Most fire and rescues in large cities are close to hospitals, so the transport time is usually 10 minutes or less, whereas in Orange Beach the time could be significantly longer. When they are able to render care for a longer period of time, they have the chance to sharpen their skills and have more patient exposure."
Dr. Henning said that Orange Beach also gives the residents the unique experiences of working on fire and rescue boats.
Henning said that before starting the EMS rotation, the residents are required to be fully licensed by the state and to have completed an online medical direction course. If any questions or concerns arise, Henning and other emergency medicine attending physicians with USA Health are always available to provide their medical direction. Residents cannot start the EMS rotation until their second year. As the first class of residents graduate to their second year, six residents will rotate throughout the academic year. Third-years have the option to do an additional EMS rotation.
(Based on original reporting by USA Health's Lindsay Lyle.)
Print this piece
State Superintendent Mackey addresses concerns about plans for public schools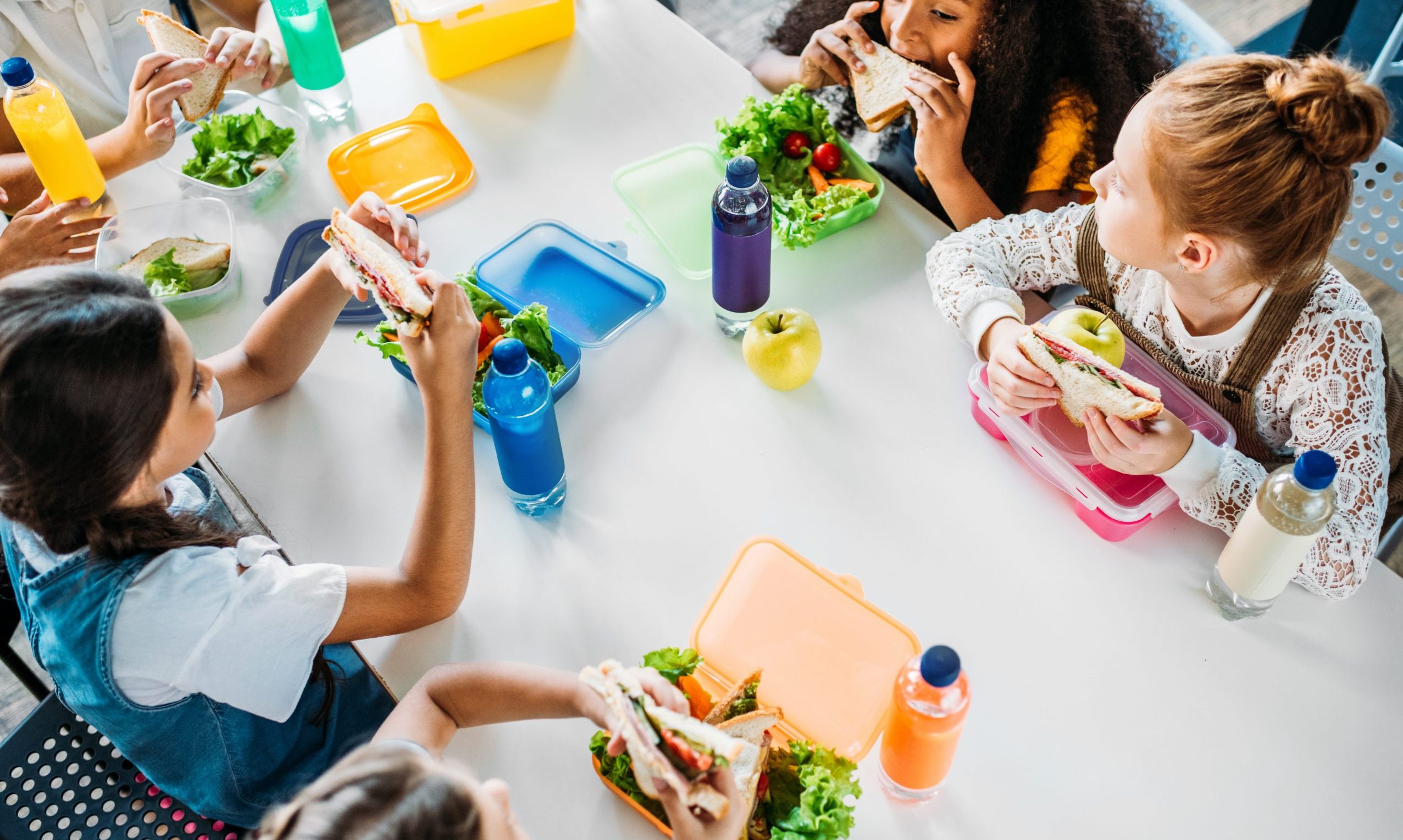 Over the last few days, several public school principals in Alabama — most of them from more rural districts — have spoken with APR about a number of concerns they have about the state's plan for moving forward with the 2019-2020 school year in the midst of the COVID-19 outbreak. 
The principals were not angry or even necessarily critical of the guidance being issued from the Alabama State Department of Education and their local school boards. Instead, they were simply worried about the safety of their staff and faculty, and they were confused, in some cases, about what they can and can't do to protect themselves and their staff and to provide food and coursework to their students. 
With things moving so quickly in such an unprecedented situation, it probably should be expected that communication isn't always the best. So, state Superintendent Eric Mackey spoke with APR about the specific concerns of the principals and offered helpful guidance to teachers, principals and superintendents on what he and state leaders expect from them moving forward. 
Q: One of the first questions the principals had was about employees and teachers who have underlying health issues that make them more vulnerable to coronavirus. They're worried about those staff members coming back to work next week, even in a setting without students. Can anything be done to protect them? 
Mackey: Well, of course. We don't want anyone who has a health condition like that to be put in danger. I know everybody's anxious, really scared — some maybe more so than they need to be and others not as much as they should. We have about 10 people in here in the office today. We're being cautious. Washing hands, wiping down with Clorox wipes. We have some people who need to be more scared about it. One of our vital employees has a heart condition, another is a cancer survivor. We've told them not to come in. That's just how it has to be. They can contribute what they can from home. 
And I suggest that be the case for these schools. If you have an employee with an underlying condition, we need to look at ways for them to contribute — if there's a concern with everyone pulling their own weight — ways that don't put them at risk and protects them. Because that is absolutely the first priority. Maybe they can't come in. But someone needs to be calling parents and making sure they have everything. There are ways to do this.    
Q: Another concern is the close quarters of the food prep areas for employees working to get lunches out for kids to pick up. 
Mackey: Yeah, that is something that we've worked, something we've put a lot of thought into and we are concerned about it. But at the end of the day, these things are a balance. It is very important for us to get the meals out to the kids. We know from the response just how important it is. But in doing so, our people have to follow the standards, and being six feet apart is not always practical. What I want people to do is be safe first. Wear gloves and masks and whatever they can to protect themselves and the area around them. 
One thing I'm more concerned about right now is that our cafeteria crews won't be able to keep up with this pace. It's one thing to have these folks do this work for two or three weeks. But the same men and women can't do it forever. They need breaks just like everyone. And as this stretches on, we're going to have to consider changing people out. You might know already, but a cafeteria worker at one of our schools in north Alabama tested positive for (COVID-19) last week. So far, it doesn't appear as if any other people were infected. But we closed that school down and stopped the meals from there. As this spreads, it was bound to happen, but it's another indication of just how cautious we all need to be and how real these concerns are.
Q: Because the schools provide meals to any student who asks for one, some of the schools are running low on meals due to kids from other districts and homeschool kids coming in and getting lunches. Can anything be done to alleviate that situation? 
Mackey: There should be some help coming on that. We just received our waiver (Wednesday) to start serving meals for pickup at all of our schools, not just the schools in high-poverty areas. So, we're going to start rotating the schools that serve, maybe do five in a district and rotate them around each week. That plan is still being worked on. 
Q: Teachers and principals are also very concerned about the process of handing out packets, and then having those packets returned to them. Have you heard this from other folks around the state, and what do you tell them? 
Mackey: I've gotten quite a few questions about handling packets. Again, a totally understandable concern. We have people doing really innovative things to get packets to students. Some districts are mailing packets if they can afford it — and I understand that is not cheap and I'm not recommending it. Other districts are running a bus route once per week. And we've given advice to them on that: Don't go in the house, keep your safe distance, handle with gloves, use sanitizer as often as possible. And that's the main advice we've given to our superintendents — figure out a way that keeps you and your people safe.  
Q: It seems as if what you're saying on almost everything is that this is a unique situation and you're not going to question people who get the job done the best they can and keep people as safe as possible. Accurate? 
Mackey: Absolutely. One of our biggest issues is always communication, and it's understandable to a degree. I'm telling superintendents and they're passing that information on to their principals and they're implementing things with their teachers and staff. We've all played that old game, and we know that information just gets twisted sometimes when it goes through several channels. But know this: Safety is always first. If you're doing something and you don't feel it's safe, back out of it, tell your principal you don't think it's safe. Hopefully, we can get that resolved at that level, but if need be, take those concerns higher. Don't do things that you feel are unsafe for you. That's not what any of us want. 
Q: Is that same level of flexibility there for the actual school work and how principals and teachers get that handled?
Mackey: It is. I had a principal today ask if it was OK if he told his parents that the kids didn't have to do the work and they'd receive whatever grade they had going into this. But if they did the work, he was giving out bonus points up to 10 full points on the final average. I told him that was absolutely fine. It doesn't punish the kids because of this situation and it provides them with incentives to continue doing the work and continue learning. And that's the key here. 
Q: Has there been any thought to altering the way things are done next year — possibly taking a few weeks at the start of the year for review and to get the students back up to speed — and tinkering with the start and end times? 
Mackey: There have been many, many discussions, and they're still ongoing. I've spoken to a number of legislators who have quite a few ideas. At this point, there are basically three main options we've discussed. One that I've had from legislators is to extend the school year from 180 to 190 days, which would give us 10 extra days, two full weeks at the start to have a review period. And we can absolutely do that, except that costs money. Someone has to pay for that, and a school day in Alabama costs just under $21 million per day. I don't see us having an extra $210 million at the end of this coronavirus. A second option that legislators have asked about is giving assessments at the start of the year, and working off those. We actually purchased some really great assessment tools last year. And finally, the third option is to compress the school year and take the first three to four weeks and teach what would have been teaching the final month of this school year. We're still working through those to see what we think is best.
The main thing I want everyone to understand is that this is an unprecedented event that's taking place. You go into a school year and you expect to deal with things like tornadoes or ice storms that close schools. But not this. We're all trying to work our way through it and do what's right for the students. But we also want our teachers and staff and principals to be safe and protect themselves.
Print this piece