South Alabama medical residents work alongside Orange Beach first responders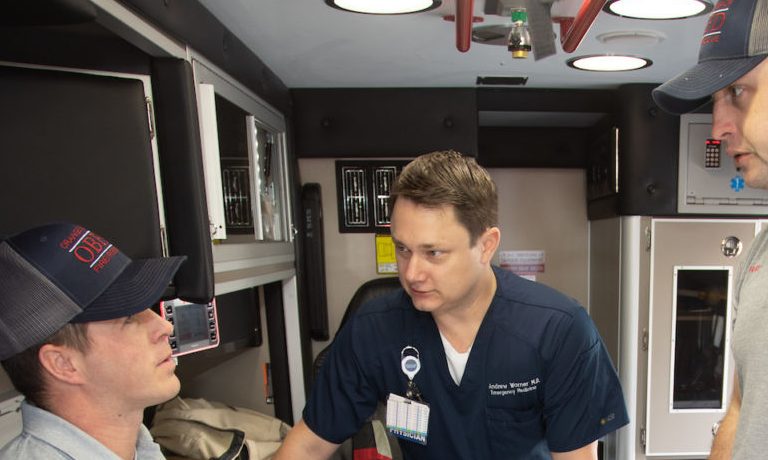 Residents in USA Health's Emergency Medicine Residency Program are given the opportunity to rotate with emergency medical services (EMS) in Orange Beach. The residents are stationed at the Orange Beach Fire Department giving resident physicians the experience of responding to emergency calls alongside paramedics and firefighters.
Paul Henning, M.D. is the associate program director of the Emergency Medicine Residency Program at USA Health and medical director of Orange Beach Fire/Rescue.
"The expertise that a patient gets in the field can determine outcomes," Henning explained. "It bridges the gap between the physician and the paramedic. Seldom, if ever, do physicians have this kind of exposure to prehospital emergency services. It also gives the physician more perspective of what the paramedics are doing in the field. If we have an opportunity to improve the prehospital scope of practice, then we have accomplished our goals."
Henning also serves as an associate professor of emergency medicine at the University of South Alabama College of Medicine.
He said that it is vital that physicians understand what happens in the prehospital stage of care.
The innovative program was established in July 2019.
Andrew Warner, M.D., took a nonlinear path to emergency medicine. Dr. Warner is a former Green Beret, who served with the U.S. Army 5thSpecial Forces Group on tours in Iraq and Afghanistan.
Following his military service, he went on to earn his medical degree from the University of Cincinnati College of Medicine. He completed his residency training in family medicine at USA Health and started in the emergency medicine program as a second-year resident.
Warner expressed his great respect for the Orange Beach first responders, who "epitomize true dedication to patient care and outcomes."
"I have further learned to appreciate just how critical those precious seconds in the prehospital setting are for patient survivability," Warner added.
Justin Thomas, M.D. is a second-year emergency medicine resident and was the first USA Health resident to rotate in Orange Beach. Thomas said that the experience opened his eyes to the constraints paramedics endure while working in the field, particularly when responding to calls in rural areas of the county.
"There are locations they respond to that may be in the middle of the woods, or down a dirt road someone only goes down once every couple of weeks," Thomas said. "They have to lug their supplies and the stretcher to the house, assess and care for the patient, and then bring them to the ambulance."
The medics are limited by the supplies and tools they have with them, Thomas said. "It's much different being at a hospital with all the resources at your disposal versus working from an ambulance with limited capabilities."
Thomas earned his medical degree from the American University of the Caribbean. He took a nontraditional route to emergency medicine. As a resident in USA Health's Family Medicine Residency Program, he rotated in the emergency department at University Hospital and was attracted to the field.
After graduating from his family medicine residency in June 2019, Thomas was offered a spot in the new Emergency Medicine Residency Program. Dr. Thomas was given approval from the American Board of Emergency Medicine to start as a second-year because of his months of training in emergency medicine during his family medicine residency.
Economic developer Dr Nicole Jones told the Alabama Political Reporter, "Response time is critical, especially in rural areas and areas that have longer distances to medical facilities than urban counterparts. The partnership between USA Health emergency medicine residency program and Orange Beach paramedics and fire rescue is a win-win situation. Both parties learn from one another and gain a deeper understanding of the pre-hospital setting, and most importantly, having professionals available in emergency situations with unique skill sets can ultimately save more patients' lives."
The partnership is mutually beneficial for USA Health's emergency medicine residency program and Orange Beach's paramedical and fire-rescue services. By adding the resident physicians the paramedics are able to provide a higher level of care to patients.
"I love to hear the interaction between our staff and the residents," said Orange Beach Fire Chief Mike Kimmerling. "Even when they're not running calls, there is a tremendous amount of knowledge being transferred in their conversations."
The residents gain more diversity of exposure in Orange Beach than in a larger city like Mobile, Henning said. "Most fire and rescues in large cities are close to hospitals, so the transport time is usually 10 minutes or less, whereas in Orange Beach the time could be significantly longer. When they are able to render care for a longer period of time, they have the chance to sharpen their skills and have more patient exposure."
Dr. Henning said that Orange Beach also gives the residents the unique experiences of working on fire and rescue boats.
Henning said that before starting the EMS rotation, the residents are required to be fully licensed by the state and to have completed an online medical direction course. If any questions or concerns arise, Henning and other emergency medicine attending physicians with USA Health are always available to provide their medical direction. Residents cannot start the EMS rotation until their second year. As the first class of residents graduate to their second year, six residents will rotate throughout the academic year. Third-years have the option to do an additional EMS rotation.
(Based on original reporting by USA Health's Lindsay Lyle.)
Analysis | There's a better plan for reopening schools — if Alabama leaders will use it
Maybe there will be a plan for reopening schools after all. 
A bipartisan group of lawmakers is set to meet with Gov. Kay Ivey's staff on Tuesday morning to discuss an ambitious and comprehensive plan to reopen Alabama's public schools that would see every school in the state get a new, stand-alone nurses station, a testing machine, a full-time nurse and tools to test and check students' temperatures. 
The plan, known as the Safely Opening Schools Program, or SOS, was put together by the Alabama School Nurses Association and has the backing of several doctors and the Alabama Education Association. It was presented to some lawmakers earlier this month. 
State Sens. Jabo Waggoner, Jim McClendon and Bobby Singleton — two top Republicans and the highest-ranking Democrat — have since submitted requests for funding out of Alabama's portion of CARES Act money to pay for the various components of the plan. 
In a letter sent last week to Ivey, Singleton said he was "excited by the plan," and believes it will "address, to some degree, the inequity (in his local school districts) and allow my constituents to feel that they are receiving the same support to reopen their schools as the more affluent districts of our state."
The SOS program contains, essentially, three pieces: Building 500-square-feet nurses stations/isolation rooms at every school, purchasing testing machines and supplies and hiring approximately 300 nurses for the schools around the state that are currently lacking one. (Every school is technically required to have a school nurse, but the systems have circumvented that requirement by allowing a district nurse to cover multiple schools.)
In total, the plan is projected to cost roughly $150 million — almost all of it (around 90 percent) coming from the nearly $2 billion in CARES Act funds provided to Alabama by the federal government. (The remaining portion is projected to be covered by other grants.) Included in those costs are the nurses' salaries for two years and the construction of more than 1,300 stand-alone nurses stations/isolation rooms — each costing a little less than $50,000. 
In addition, each school would receive its own testing device, which nurses would be trained to use, and testing supplies. If used as the program projects, Alabama schools would turn in more than 500,000 tests in nine months, with blind results being sent to the Centers for Disease Control for data collection purposes. The testing machines can also be modified to test for other ailments, such as the different types of flu.  
To put the total cost in perspective, the state has already spent at least $150 million — it received $115 million in grants from the CDC and received part of the more than $450 million the federal government sent to Alabama earlier this year — to test less than 10 percent of the state's population over the last six months. 
The SOS program could potentially test between 12-15 percent in far less time, and in a setting where early detection could prevent massive hotspots. 
It's a good program, and it would likely be worth the costs if only for the things mentioned. 
But those things are only half of the benefits of this program. Maybe not even half. 
Consider this: Included in the costs, every school in every city in Alabama, regardless of income level or parental involvement or poverty rates, will get a state-of-the-art nurses station and a fulltime school nurse. 
To care for children who rarely see any sort of healthcare professional. To diagnose the early signs of disease or mental health issues. To spot the early warning signs of physical abuse or drug addiction. 
In every school in Alabama. For two full school years. 
"This is extremely important to my communities, as they lack school nurses and other critical health access," Singleton wrote to Ivey. "The opportunity to have testing/screening on-site and nurses to address students' health needs would be of tremendous assistance to the residents in my district."
The same could be said for school districts, and for school children, all over the state. 
The simple fact is there is no better plan offered for reopening Alabama's schools. The others, including the "roadmap" presented by state superintendent Eric Mackey last week, mostly fail to account for known shortages in teachers, staff and nurses, and they offer no assurances for worried parents. 
The SOS plan would take the burden of monitoring and quarantining sick students off the staff and faculty, would establish a clear protocol for dealing with the virus in our schools and would assist the state and federal government with accurate, real-time data. In addition, it could be a health lifeline for kids in rural and impoverished areas. 
There is no better plan.