ALGOP holds 2020 Winter Meeting
Saturday, the Alabama Republican Party held its annual Alabama Republican Party State Executive Committee meeting. Over 450 Republican Executive Committee members, Republican elected officials and candidates gathered at the Montgomery Marriott Prattville Hotel and Conference Center. The state party committee focused on several resolutions and preparations for both the 2020 Republican National Convention in Charlotte, NC and the 2020 U.S. Senate race.
Alabama Republican Party Chairman Terry Lathan said, "The Alabama Republican Party is ready to take back the U.S Senate seat and do its part to re-elect President Donald Trump. Our membership is energized to defeat Senator Doug Jones who continues to cast votes against the majority of the will of Alabamians – especially on voting to impeach President Trump."
Lathan praised ALGOP's longest serving Chief of Staff Harold Sachs, longest serving Political Director Reed Phillips, longest serving Business Administrator Rudy Scott, press secretary Jeannie Faherty, and Shannon Whitt. Lathan also thanked AFRW President Britney Garner.
Lathan said that over 66 percent of all partisan elected officials are now Republicans. Last year the Alabama Republican Party raised over $1.3 million and comes into the 2020 elections with over $680,000 in the bank.
"The enemy is complacency," Lathan warned. "We cannot give Democrats the reins of power."
Lathan said that 100 percent of County Chairs have participated in the Growing Republican Organizations to Win. "Planning in August or September is too late. We work now to win in November."
"We must not let liberal Doug Jones sit in the floor of the Senate and vote against the will of the majority of the people of Alabama," Lathan said. "We need to end his arrogant tenure. Today we proclaim him 'One and done Doug."
Senate candidate Stanley Adair told the Republicans: "Our worst day as a Republican is better than their best day as a Democrat. We are going to re-elect our President, Donald Trump, one of the greatest Presidents ever and we are going to defeat Doug Jones."
"Doug Jones said Alabama is ready for gun control," Adair said. "He is not talking to the people that I know. We like our guns and we like our freedom." "There are a lot of good people in this race and any of us would do a better job than Doug Jones."
Senate candidate State Representative Arnold Mooney said, "This election is about our children and grandchildren. I have 8 grandchildren now and it will be ten grandchildren by the end of the year."
Mooney said that he is running to give them the same freedoms that we have enjoyed.
"I have been endorsed by Mike Lee, Rand Paul, and conservative thought leader Mark Levine," Mooney said.
Senate candidate Judge Roy Moore quoted Patrick Henry who said that the question before us is nothing less than freedom or slavery.
"One nation under God," Moore said. "All our rights and liberty come not from government but from God. We have got to remember that."
"If we don't go back to God, socialism will begin to creep in," Moore said. "It is not the Democrat party or the Republican Party that will save us, but a return to God."
Senate candidate Ruth Page Nelson said that "It has been a long road and a steep learning curve," but that she is committed to "Bringing Republican values to people of color. I am a Trumper from a long ago."
"God was preparing me a long time for this," Nelson said.
Nelson said that she opposes NAFTA which adversely affect people of color through a loss of jobs and an influx of drugs.
Nelson said that people of color are the people blessed most by President Trump and that the Republican Party is the right party for them to vote for.
Bradley Byrne, Jeff Sessions, and Tommy Tuberville attended Friday night's ALGOP Winter Dinner; but were not at the Winter Meeting on Saturday.
Paul Reynolds and Vicki Drummond were both re-elected as National Committeeman and National Committeewoman. They had no opposition and were elected by acclamation.
Greg Cook of Jefferson County is the Alabama Republican Party's legal advisor.
Cook said that two weeks ago the state and the party defeated people in court who were "trying to gerrymander our appeals court."
Cook thanked Attorney General Steve Marshall and Secretary of State John Merrill for defending the Alabama appellate court system which are elected statewide.
The executive committee approved the 2020 Alternate delegate qualifying process
Cook explained that Alabama has 50 delegates to the Republican National Convention. Lathan, Drummond, and Reynolds through their positions are three of them. The other 47 will be selected by Republican voters on March 3. The party is also sending 47 alternate delegates. Each congressional district gets 3 and the rest are running statewide.
The Alabama Republican Party Executive Committee will meet to select the alternate delegates in a special meeting on May 30 in Pelham. Running as an alternate will require a $150 fee, except for people who ran as delegates in the Republican primary and lost. Their fee is waived. Qualifying to run as an alternate delegate will open at 8:30 a.m. CST on Monday, March 16, 2020 and close on Friday, April 17, 2020 at 5 p.m CST.
On Friday night, ALGOP honored Congresswoman Martha Roby (R-Montgomery) for her service. Roby is not seeking re-election. Roby was honored with a standing ovation by Winter Dinner attendees and was presented with an original piece of artwork commissioned by ALGOP.
Executive Committee member and Trump finance committee member former State Representative Perry O. Hooper Jr (R-Montgomery) is a lifelong friend of Roby. Hooper's wife, Judy Hooper, who was coached as a cheerleader by Hooper's wife Judy Hooper was Martha's Cheerleader Coach at Trinity Presbyterian
"She has done a great job," Hooper said. He thanked, Martha for her great service to America."
Roby is serving in her fifth term in Congress.
The next meeting of the Alabama Republican Party will be May 30. The annual summer meeting will be in August.
Judge orders Alabama to change voter requirements over COVID-19 concerns
In his 197-page ruling, the judge wrote that "the plaintiffs have proved that their fears are justified."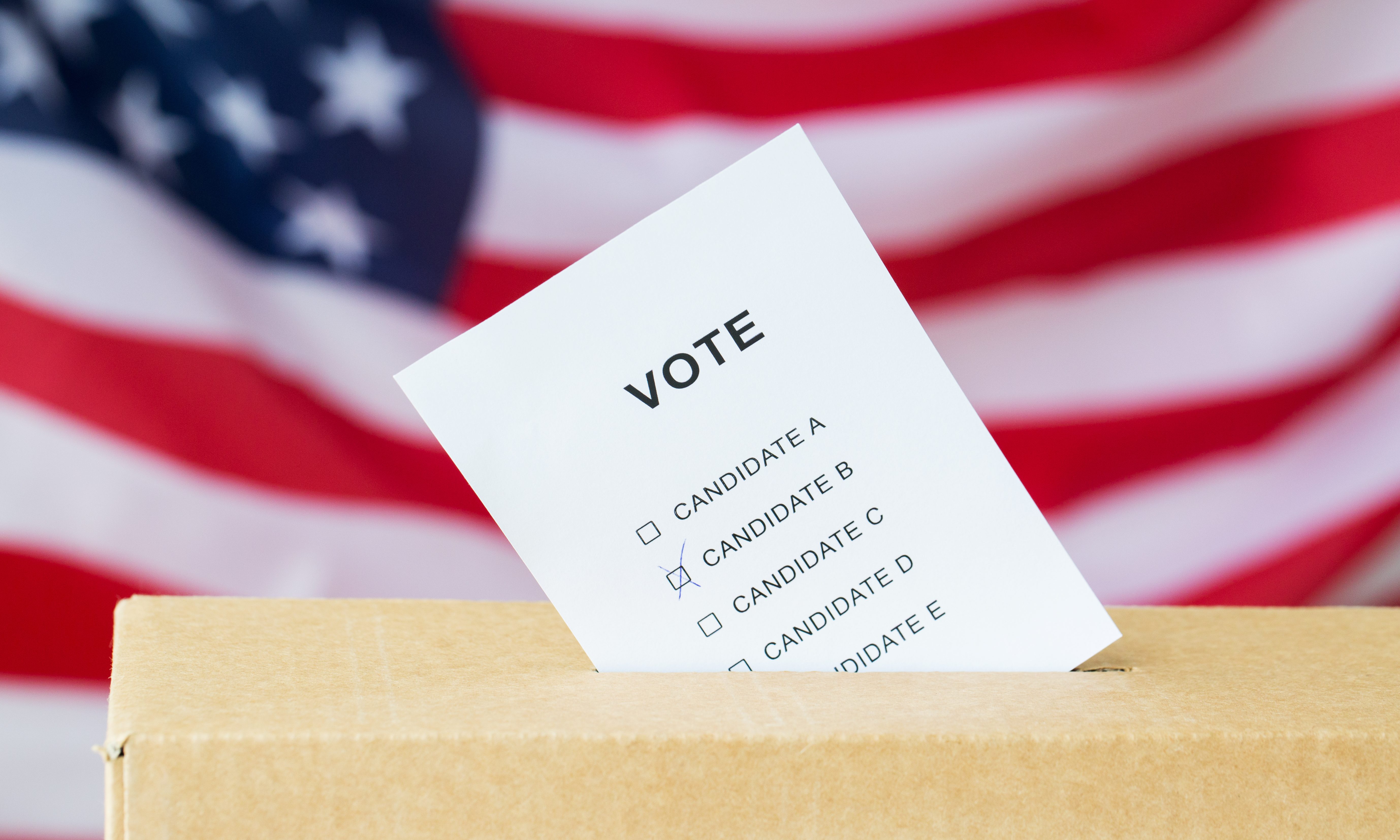 A federal judge ruled in favor of plaintiffs in a case challenging aspects of Alabama's voting requirements amid the COVID-19 pandemic.
U.S. District Judge Abdul Kallon's Wednesday ruling orders the principal defendant in the lawsuit, Alabama Secretary of State John Merrill, to allow curbside voting, in the counties that choose to do so, but only for the Nov. 3 general election. The judge's rulings pertain solely to the Nov. 3 election.
Kallon also ordered the state to do away with the requirement for voters to have two witnesses or a notary sign their absentee ballot, if the voter submits a statement that they have an underlying medical condition that puts them at a heightened risk from COVID-19 and thus, they cannot safely get those additional signatures.
In addition, Kallon ruled that voters 65 and older with an underlying medical condition won't need to submit a copy of a photo ID with their absentee ballot, so long as the voter provides other identifying information, such as their driver's license number or last four digits of their Social Security number.
In his 197-page ruling, Kallon wrote that "the plaintiffs have proved that their fears are justified" and the voting provisions challenged in the lawsuit "unduly burden the fundamental Constitutional rights of Alabama's most vulnerable voters and violate federal laws designed to protect America's most marginalized citizens."
"That is for three reasons," the judge continued. "First, because the Challenged Provisions only marginally advance the State's interests in maintaining them while significantly burdening the right to vote, all three provisions violate the First and Fourteenth Amendments during the pandemic."
"Second, because the photo ID requirement and the de facto curbside voting ban make voting inaccessible for voters with disabilities, both those provisions violate the Americans with Disabilities Act during the pandemic. Finally, because the witness requirement interacts with Alabama's history of discriminating against Black citizens to deny Black voters' their right to vote, that provision violates the Voting Rights Act during the pandemic."
The lawsuit, filed by the NAACP Legal Defense and Educational Fund, Southern Poverty Law Center, American Civil Liberties Union, ACLU of Alabama and Alabama Disabilities Advocacy Program, was brought on behalf of several Alabamians with underlying medical conditions.
"This decision is a huge win for Alabama voters, especially voters of color and voters with disabilities," said Deuel Ross, senior counsel at LDF, in a statement. "Given COVID-19, Alabama's draconian voting rules needlessly place the health and voting rights of Alabamians in danger. No one should be forced to risk their safety to exercise their constitutional right. State and local election officials have a responsibility to ensure that voting is easy and accessible for everyone in the pandemic."
Caren Short, senior staff attorney for the SPLC, applauded Wednesday's decision.
"Today's decision provides  crucial relief in Alabama's absentee voting process, allows for curbside voting in counties that wish to provide it, and ultimately will create a better public health situation in Alabama as it conducts an historic election," Short said. "We're deeply hopeful that the secretary of state and county election officials will accept the court's ruling and begin educating Alabama voters on how they can vote safely and easily for the general election."
"This ruling recognizes the hardships these laws place on Black Alabamians and those at particular risk for COVID-19. This decision will help to ease those burdens in the midst of this deadly pandemic," said Davin Rosborough, senior staff attorney with the ACLU's Voting Rights Project.
Merrill, in a statement to APR after the ruling, said he plans to appeal the verdict, which he likened to "judicial activism."
"I am extremely disappointed in today's ruling in the case of People First of Alabama v. Merrill relating to the November 3 General Election. Judge Kallon's ruling to disallow the Secretary of State from prohibiting an illegal activity known as 'curbside voting' undermines the integrity of the elections process and the ability for Alabamians to cast a secret ballot as the chain of custody is then broken," Merrill said. "It is important to remember that counties are in no way required to offer the illegal activity known as 'curbside voting."
Kallon in his ruling noted that "No provision of Alabama law expressly prohibits curbside or drive" but that there's also no provision in state law allowing for the practice, and that Merrill then believes curbside voting to be illegal. Kallon also wrote that several states do allow for curbside voting, and that the Centers for Disease Control and Prevention recommends states allow curbside voting to comply with social distancing rules and in limiting personal contact during in-person voting.
"In addition, the photo ID and witness requirement components are necessary deterrents for those wishing to illegally influence elections," Merrill continued. "We look forward to successfully appealing this decision as we continue fighting for safe and secure elections – free from voter fraud and judicial activism."
Alabama Attorney General Steve Marshall in a statement said he will ask for an appeal of Kallon's verdict.
"Back in June, the district court in this case enjoined these important protections for the primary runoff.  But the U.S. Supreme Court stepped in, staying that injunction and allowing the State to enforce its laws.  We will ask the 11th U.S. Circuit Court of Appeals and, if necessary, the Supreme Court, to do the same again," Marshall said. "Voting began weeks ago. And every Alabama voter is entitled to vote under the same laws, not new ones written by a federal court in the middle of voting."