ALGOP chair is "confident" after Super Tuesday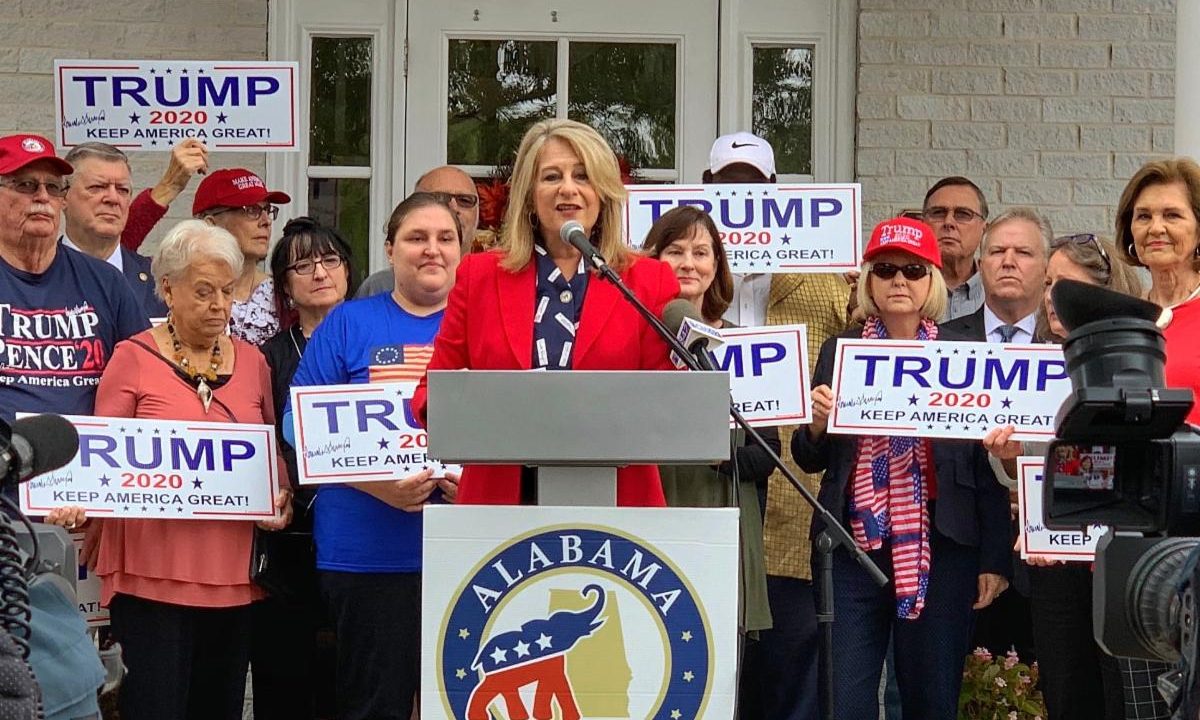 Tuesday, Alabama voters went to the polls to cast their ballots in the Super Tuesday Alabama Republican Primary. Alabama Republican Party Chairman Terry Lathan thanked the candidates for running and said that, "With President Trump leading our ticket, we feel confident we will win back the U.S. Senate seat."
"Today was an extra special day to be a Republican," Lathan said. "We had so many outstanding candidates running for office. We would like to offer our congratulations to those who have won their races outright and also to those who are headed to the March 31st Republican Run-Off Election. I encourage all of our voters to cast their ballots in our run-off as we finalize our slate for the 2020 General Election. The Alabama Republican Party thanks each of the candidates and their families for entering the arena of public service."
"With President Trump leading our ticket, we feel confident we will win back the U.S. Senate seat on November 3rd," Lathan added. "The majority of Alabamians will no longer be ignored by Doug Jones. With a GOP primary vote of approximately 62% to the Democrats 8%, we are exited and look forward to November."
Provisional votes withstanding, below is a breakdown of apparent Republican nominees – as well as candidates who are confirmed to be heading to the March 31st Republican Run-Off Election:
For President of the United States Donald J. Trump was the winner defeating Bill Weld 708,883 votes (96%) to 11,131 (2%).
In the United States Senate race there will be a run-Off between Jeff Sessions and Tommy Tuberville.
Tommy Tuberville had 235,461 votes (32%), Jeff Sessions 227,492 (31%), Bradley Byrne 195,450 (27%), Roy Moore 50,988 (7%). Ruth Page Nelson 7,221 (1%), Arnold Mooney 7,118 (1%), and Stanley Adair 6,660 (1%).
In the open First Congressional District (Run-Off) Jerry Carl will be in a runoff with Bill Hightower.
Jerry Carl 38,252 (39%), Bill Hightower 37,018 (37%), Chris Pringle 19,007 (19%), Wes Lambert 3,080 (3%), and John Castorani 1,464 (1%).
There will also be a runoff in the Second Congressional District. Jeff Coleman will be in the runoff and as of press time it appeared that Barry Moore will be his opponent though the margin of victory over Jessica Taylor is razor thin and still too close to call as of press time.
Jeff Coleman had 38,751 votes (38%), Barry Moore 20,792 (21%), Jessica Taylor 20,037 (20%), Troy King 14,498 (14%), Terri Hasdorff 4,893 (5%), Thomas Brown 1,352 (1%), and Bob Rogers 787 (1%).
In the Fifth Congressional District incumbent Congressman Mo Brooks (R-Huntsville) easily bested challenger Chris Lewis Mo Brooks (R-Huntsville) 83,740 (74.9%) to 28,113 (25.1).
For Alabama Supreme Court – Place 1 incumbent Greg Shaw defeated Cam Ward 344,296 (59%) 241,469 (41%).
For Alabama Court of Civil Appeals – Place 2 Matt Fridy defeated Phillip Bahakel 349,754 (66%) to 182,856 (34%).
For Alabama Court of Criminal Appeals – Place 1 incumbent Mary Windom defeated Melvin Hasting 387,120 (69%) to 171,085 (31%).
For Alabama Court of Criminal Appeals Judge – Place 2 there will be runoff between incumbent Beth Kellum and Will Smith,
Kellum had 236,873 votes (43%), Will Smith 201,361 (37%), and Jill Ganus 107,094 (20%),
For Public Service Commission President incumbent Twinkle Andress Cavanaugh won a landslide victory 467,265 (73%) to Robin Litaker 168,773 (27%).
The Provisional ballots will be counted and the election certified on March 10, 2020.
The Alabama Constitutional Amendment 1 taking away voters rights to select their own state school board was soundly defeated 847,519 (75%) to 278,022 (25%).
The runoff elections will be on March 31.
Jones introduces bill to encourage investments in minority-serving banks
"One of the biggest hurdles for minority entrepreneurs is access to capital," Jones said.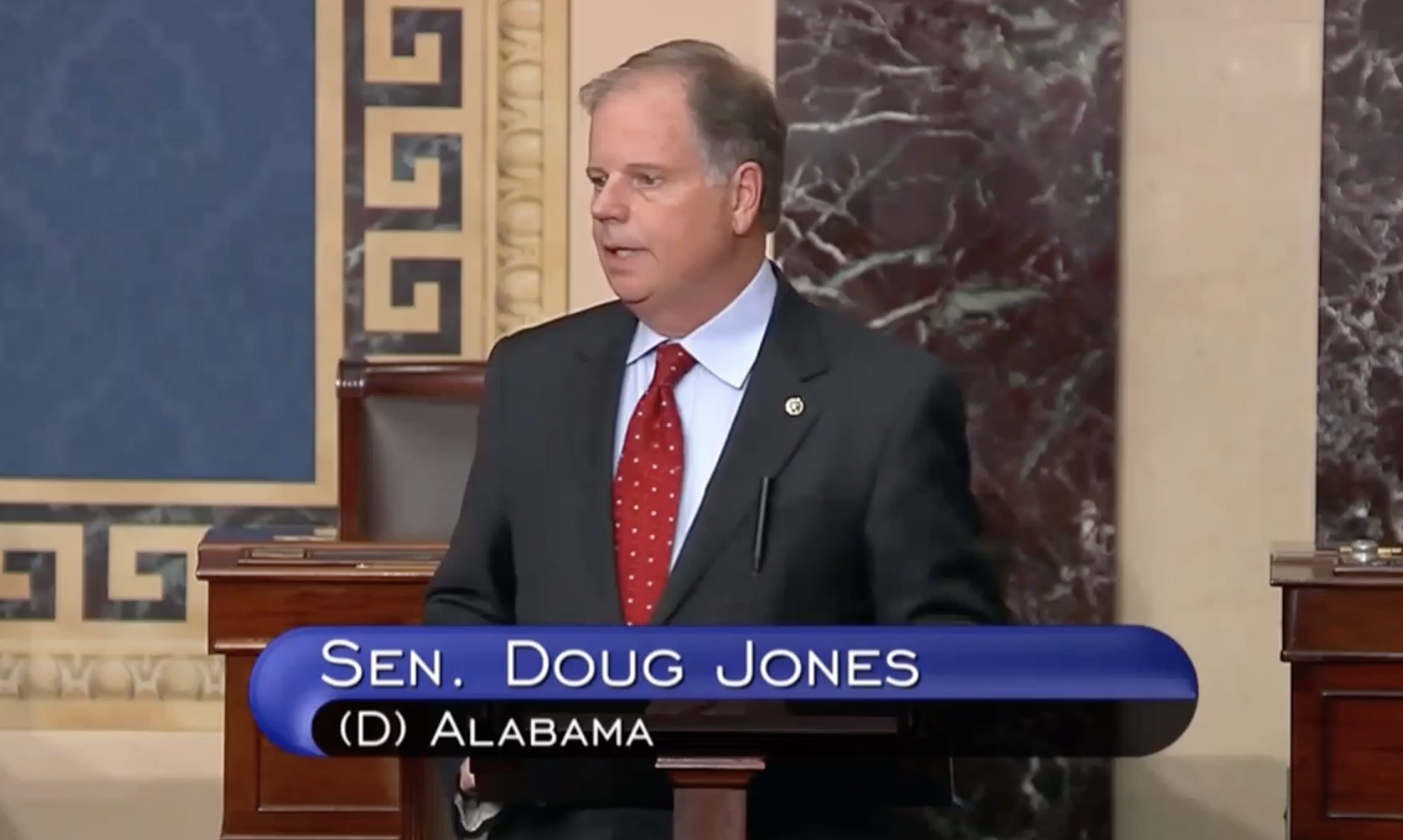 Alabama U.S. Sen. Doug Jones, D-Alabama, on Tuesday introduced legislation that would encourage investments in banks that serve minority communities.
"One of the biggest hurdles for minority entrepreneurs is access to capital," Jones said in a statement. "That's why this bill is so important. Increasing access to capital at the banks that serve minority communities will help expand financial opportunities for individuals and business owners in those communities."
Jones, a member of the Senate Banking Committee, in April urged the Federal Reserve and the U.S. Treasury to support Community Development Financial Institutions and minority-owned banks disproportionately affected by the COVID-19 pandemic, and he threw his support behind more federal funding for small community banks, minority-owned banks and CDFIs during the recent Paycheck Protection Program replenishment.
According to a press release from Jones's office, the bill would attract investments to those financial institutions by changing rules to allow "minority-owned banks, community banks with under $10 billion in deposits" and CDFIs to accept brokered deposits, or investments with high interest rates, thereby bolstering those institutions and encourage them to invest and lend in their communities.
It would also allow low-income and minority credit unions to access the National Credit Union Administration's Community Development Revolving Loan Fund.
"Commonwealth National Bank would like to thank Senator Jones for his leadership in introducing the Minority Depository Institution and Community Bank Deposit Access Act. As a small Alabama home grown institution, this proposal will allow us to accept needed deposits without the current limitations that hinder our ability to better serve the historically underserved communities that our institutions were created to serve. We support your efforts and encourage you to keep fighting the good fight for all of America," said Sidney King, president and CEO of Commonwealth National Bank, in a statement.
"The Minority Depository Institution and Community Bank Deposit Access Act is a welcomed first step in helping Minority Depository Institutions like our National Bankers Association member banks develop the kinds of national deposit networks that allow our institutions to compete for deposits with larger banks and to better meet the credit needs of the communities we serve. The National Bankers Association commends Senator Jones' leadership on this issue, and we look forward to continuing to engage with him on the ultimate passage of this proposal," said Kenneth Kelly, chairman of the National Bankers Association, in a statement.
A recent report by the Brookings Institute highlighted problems minority-owned businesses had accessing federal COVID-19 relief aid from PPP loans. Researchers found that it took seven days longer for small businesses with paid employees in majority Black zip codes to receive PPP loans, compared to majority-white communities. That gap grew to three weeks for non-employer minority-owned small businesses, the report notes.
The report also states that while minority-owned small businesses, many of which are unbanked or under banked, get approximately 80 percent of their loans from financial technology companies and online lending companies, fintechs weren't allowed under federal law to issue PPP loans until April 14.