President Donald Trump won the Alabama Republican primary with 96.2 percent of the vote, with former Vice President Joe Biden taking the Democrat field with 63.2 percent, according to available results.
While Republican numbers dwarfed Democrats by more than 270,000 votes, there was a 13 percent surge in Democrats' participation.
Compared to the 2016 Presidential Primary Election, there was an increase of Democratic voters from 399,889 to 452,093. Republican vote totals decrease from 860,652 to 722,809, according to numbers supplied by the secretary of state's office.
"Despite the weather, almost 1.2 million Alabamians participated in our Super Tuesday election, and we are very proud to report that this number came extremely close to breaking our state's record for voter participation during a Presidential Preference Primary Election," said Secretary of State John Merrill. "This lower turnout [in the Republican primary] is due to, in my opinion, the little opposition President Trump received on the Republican Primary ballot."
Trump's opponent was Bill Weld, who garnered 1.5 percent of the vote. Weld was bested by those who checked uncommitted on the Republican ballot at 2.3 percent.
A 13 percent increase in Democrat turnout in the primary is seen as a positive outcome by U.S. Senator Doug Jones.
"Tuesday night it became clear that Alabamians are enthusiastic about showing their support for candidates like Vice President Biden and Democrats up and down the ticket who are focused on bringing people together and addressing the kitchen table issues that matter to all Alabamians," said Jones. "It's exciting to see how many Democrats in Alabama felt inspired to show up and make their voices heard on Tuesday, and I expect that number will only increase come November."
In a Wednesday morning email, Alabama Republican Party Chair Terry Lathan expressed her own enthusiasm as the vote totals showed Republican dominance,"With a GOP primary vote of approximately 61 percent to the Democrats 39 percent, we are excited and look forward to November."
That some 27,000 Republican primary voters selected Weld or Uncommitted is not an alarming wake-up call for Alabama Republicans. Still, Democrat turnout across the board on Super Tuesday  raise some concerns nationally. Democratic votes on Super Tuesday, exceeding 2016 levels in at least a dozen states and set a record in the once red state of Virginia.
Exit polls found that Democrats have a singular purpose, denying President Trump a second term in office.
As predicted by Merrill around 35 percent of eligible voters in Alabama cast their ballots on Super Tuesday, meaning 65 percent stayed home. 
There is no doubt that the president will carry Alabama, but it appears at least for now, Alabama Democrats are more mobilized than in 2016.
Alabamians request more than 101,000 absentee ballots with 30 days left to apply
So far, 35,184 absentee ballots have been successfully returned for the general election.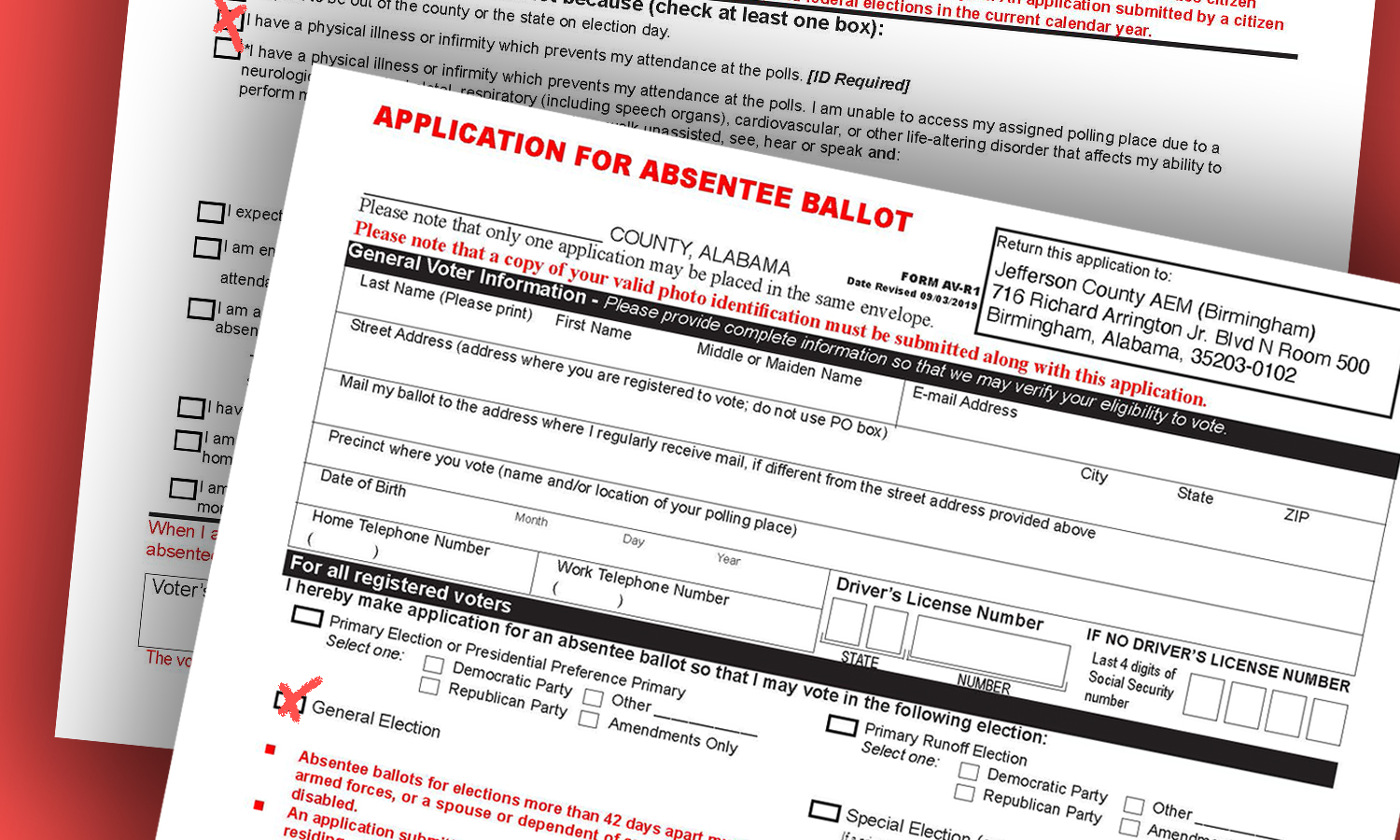 At least 101,092 absentee ballots have been requested so far in Alabama according to Secretary of State John Merrill, with just 30 days left to apply for an absentee ballot for the Nov. 3 General Election. So far, 35,184 absentee ballots have been successfully returned for the general election.
In order to protect the safety and well-being of voters, Merrill is encouraging those who are concerned about contracting or spreading the coronavirus to apply for and cast an absentee ballot.
Absentee ballot applications can be downloaded online or requested by visiting or calling your local absentee election manager's office.
Voters may also contact the Secretary of State's office at 334-242-7210 to request an absentee ballot application.
Due to the declared states of emergency, any qualified voter who determines it is impossible or unreasonable to vote at their polling place shall be eligible to check the box on the absentee ballot application that is most applicable to that individual. In the case none of the boxes are appropriate, voters can check the box which reads, "I have a physical illness or infirmity which prevents my attendance at the polls. [ID REQUIRED]"
For the Nov. 3 General Election, the deadline to register to vote is Monday, Oct. 19, the deadline to submit an absentee ballot application is Thursday, Oct. 29, the deadline to return an absentee ballot to the absentee election manager is the close of business Monday, Nov. 2, and the last day to postmark an absentee ballot is Monday, Nov. 2.
Voters who are eligible to vote pursuant to the Uniformed and Overseas Absentee Voting Act will have until Tuesday, Nov. 3 to postmark an absentee ballot.
Voters concerned about COVID-19 are encouraged to select the box on the affidavit, which accompanies the absentee ballot, which reads as follows: "I am physically incapacitated and will not be able to vote in person on election day."
Due to recently witnessed delays with the U.S. Postal Service, Merrill encourages voters interested in returning their ballot by mail to go ahead and make application for their absentee ballot. As a reminder, Merrill worked with the Legislature last year to pass Act 2019-507, allowing voters the opportunity to return their absentee ballot by commercial carrier in addition to U.S. mail.