NRA endorses Jeff Sessions in GOP runoff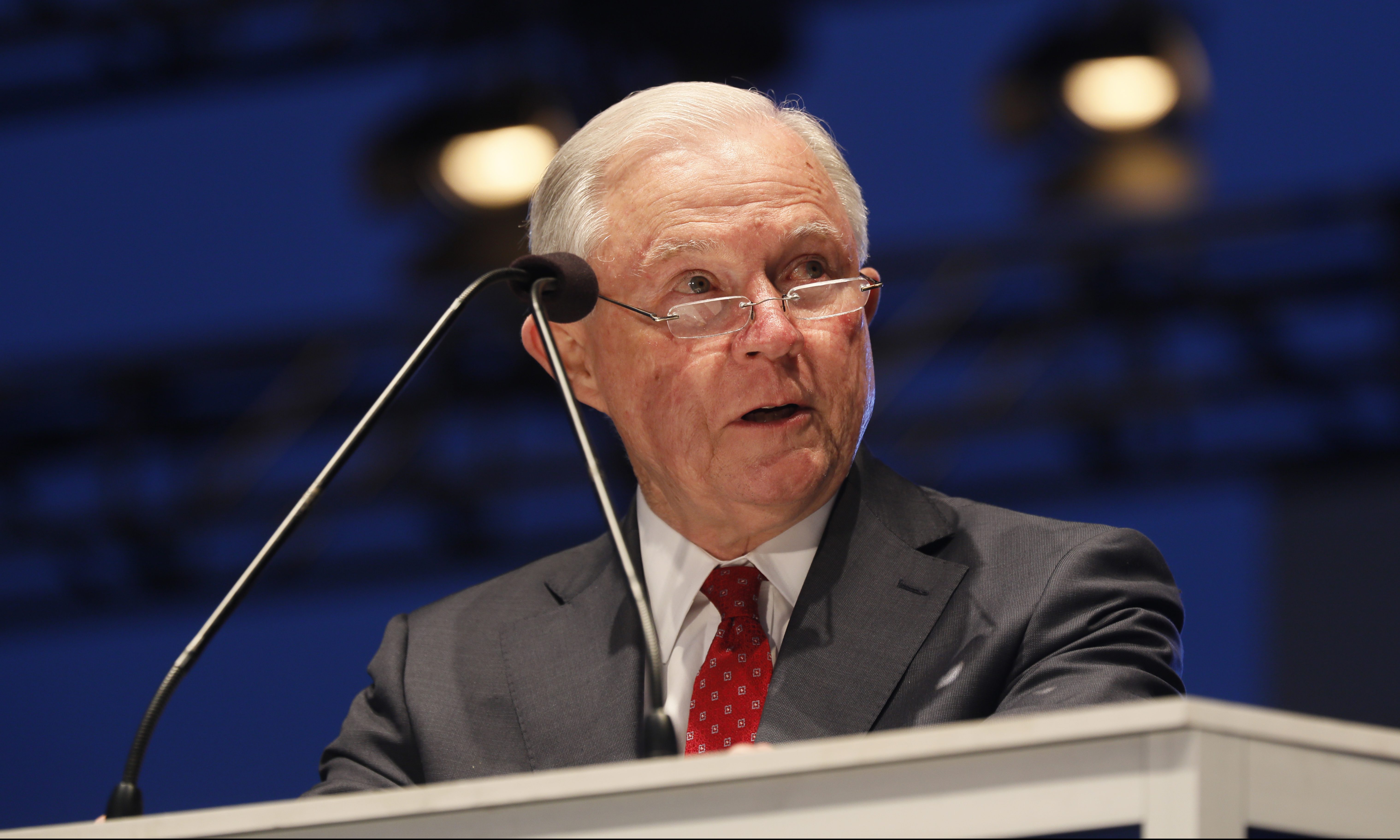 The National Rifle Association's National Rifle Association Political Victory Fund (NRA-PVF) announced Friday that it is endorsing former Attorney General Jeff Sessions for the United States Senate in Alabama's March 31st Republican primary runoff.
Jason Ouimet, Chairman of NRA-PVF, praised Sessions for his, "steadfast support of the Second Amendment."
"Based on your strong leadership on Second Amendment issues as a U.S. Senator and U.S. Attorney General, you have earned the highest attainable rating, an A+ from NRA-PVF," Ouimet said. "An A+ is reserved for a candidate with an excellent voting record on all critical NRA issues and who has made a vigorous effort to promote and defend the Second Amendment."
Sessions thanked the NRA for the endorsement.
"I am honored to have the NRA's endorsement. The Second Amendment is a bedrock right for all Americans and it guarantees and secures our freedom and liberty," Sessions said.
"Powerful, well-funded national forces are bent on destroying our right to keep and bear arms," Sessions said. "Chuck Schumer and Nancy Pelosi are working day and night to gut the Second Amendment. I have fought Schumer and Pelosi on this issue, and I have won, and I will do so again when I return to the Senate."
"This is an extremely important and valuable endorsement that sends a strong message to Alabama voters about who they can trust to defend their rights in Washington. Alabama cannot afford to send an untested, unproven, weak-kneed greenhorn to the Senate who will get run over by Schumer and Pelosi," Sessions added.
The NRA praised Sessions' work as U.S. Attorney General to stop "Operation Choke Point," an Obama Administration program that encouraged federal regulators to harass and intimidate banks and financial institutions that have business relationships with firearm and ammunition retailers.
"NRA members and law-abiding gun owners appreciate that as Attorney General, you were instrumental in stopping 'Operation Choke Point,'" Ouimet said.
The NRA also strongly commended Sessions for his leadership and work in the U.S. Senate to protect the Second Amendment.
"We thank you for continually opposing the Chuck Schumer, Nancy Pelosi, and Michael Bloomberg agenda of banning guns, ammunition, magazines, and creating a so-called universal background check system that would criminalize the private transfer of firearms, which is only enforceable through federal firearms registration," Ouimet said. "As U.S. Senator, you demonstrated support for our right to keep and bear arms by voting multiple times against unconstitutional bans on modern sporting rifles such as the AR-15…further, we appreciate your support for Right-to-Carry Reciprocity legislation that would ensure that the nearly 20-million law-abiding Americans who can carry a concealed firearm in their home state are able to do so in any other state that does not prohibit concealed carry."
Sessions having served for 20 years as a Senator, U.S. Attorney General, Alabama Attorney General, U.S. Attorney, AL. Republican Party Chairman, Asst. U.S. Attorney, etc. have far more experience than Tuberville, a career football coach; but Tuberville has turned that into a negative for Sessions and attacked him as a "swamp creature."
The Republican runoff is on March 31 and cannot be postponed even with the coronavirus global pandemic now striking our state. The winner will face incumbent Sen. Doug Jones (D) in the November general election.
Tuberville: "There is no doubt. We have got to play football"
Former Auburn head football coach and GOP Senate candidate Tommy Tuberville said "we have got to play football" in an interview on Fox News when host Dana Perino asked Tuberville if college football should be played this year.
"Oh, there is no doubt, Dana, we have got to play football," Tuberville said. "I know this is serious. The virus is serious. I have had friends sick in intensive care. I have actually lost a friend."
"Let me tell you for every one person that has been sick 33 people in this country have been affected economically, socially, mentally," Tuberville added. "We have got to get back to a normal life. We put men on the moon. We have got to be able to put our kids in a school, keep 'em protected, be socially responsible; but we have got to get back to school and a normal life."
Tuberville warned that if we don't get back to normal life, "our kids are the ones who are going to be affected if we don't get back to playing football and sports and learning from each other."
Perino asked if college athletes should be in some sort of a bubble like the NBA or Major League Baseball.
"Dana, what you got to remember is that high school kids and college kids all summer have been working with each other against each other dressing in dressing rooms," Tuberville explained. "They have been around each other. It is like a big family. There is nobody more protected than college athletes and really high school athletes. They have got doctors. They have got ways to wash their clothes that are disinfected."
Tuberville said that sports teams are used to dealing with infectious diseases.
"We always have to fight the flu," Tuberville said. "He had to fight staph infections. Those things are going to be there. They are going to be there forever."
"We have got to fight back against this virus," Tuberville said. "If it hits us hard we have got to take a step forward, and we can't keep moving backward. What if this thing is still with us three years from now? We have got to move this country forward and what better way than to go back to school. Protect our kids."
"If you don't what to go to school, you don't have to go," Tuberville said. "Same thing with football. If you don't want to play you don't have to play."
"We have to get back to a normal life, but protection is the number one key," Tuberville said. "And people are going to get infected and we can't back up from it. Take em out like we did when I coached."
Tuberville is the former head coach at Mississippi, Auburn, Texas Tech and Cincinnati.
The Ivy League, Big 10, MAC, PAC 12, SWAC and Mountain West Conferences have all voted to postpone the 2020 college football season to the spring. Many college football analysts are skeptical that there will ever be a spring season. That would mean play 22 college football games in one calendar year dramatically increasing injury risk.
The SEC, Big 12, and ACC have all announced their intention is to move forward with the college football season.
Tuberville on social media has slammed his opponent, incumbent Sen. Doug Jones, D-Alabama, for not voicing his support for playing football this fall.
"By not voicing support for providing teams that want to play with the opportunity to play, Doug Jones has once again failed to stand with the beliefs and desires that most Alabamians hold," Tuberville said.
Tuberville and Jones will be on the Nov. 3 General Election ballot.