Jones says of stimulus bill, "We are going to get this done"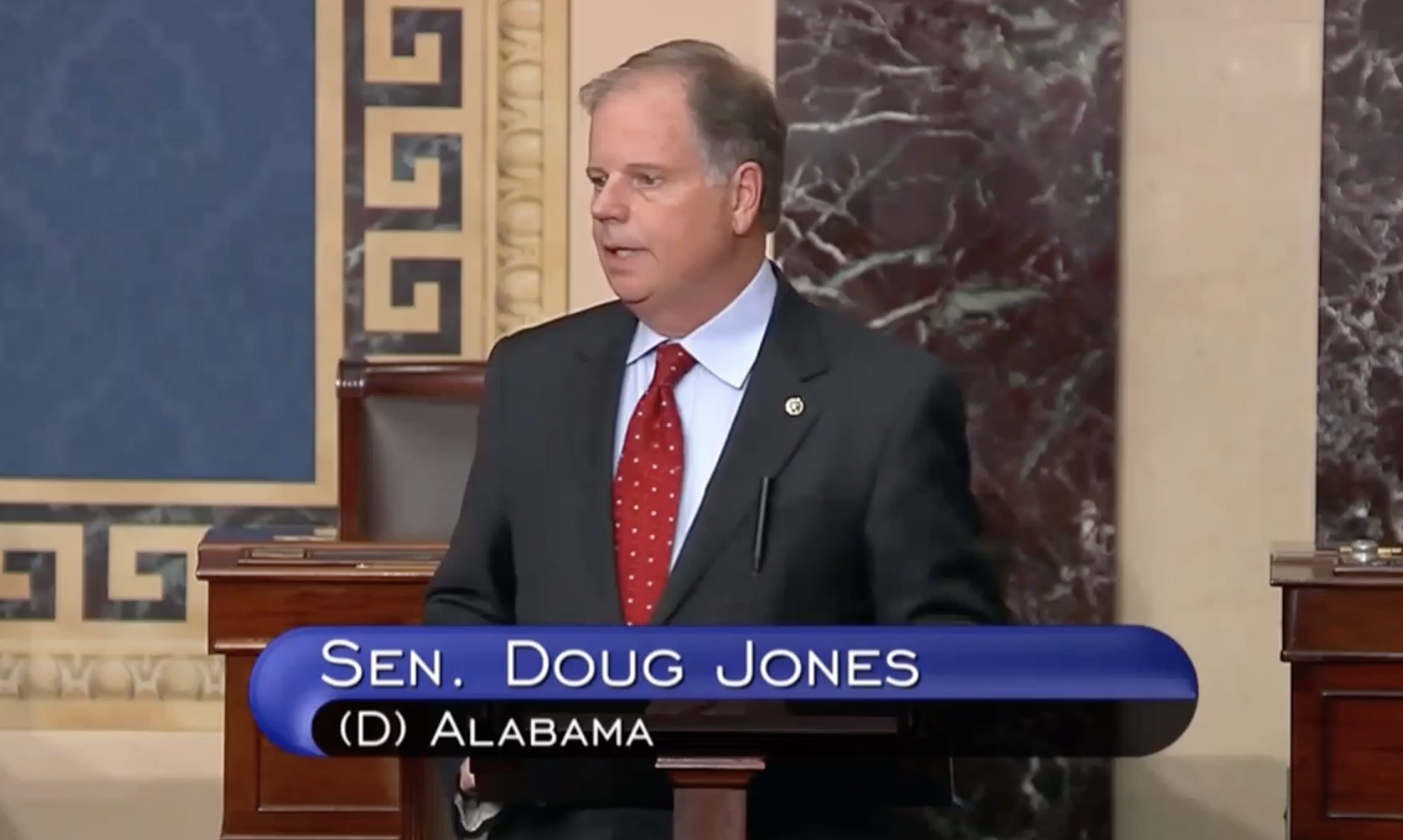 U.S. Sen. Doug Jones, D-Alabama, said Monday, "We are going to get this done," when talking about a stimulus bill that both parties agree is needed to avoid an economic meltdown from the shutdowns that have been ordered by authorities to slow the spread of the coronavirus.
"We've made a lot of progress in the last 24 hours," Jones said in a video statement.
We've made a lot of progress in the last 24 hours and so today I voted to move the process forward—but make no mistake this bill needs major changes before it would earn my full support, including:

✔️ $$$ for our cities/counties
✔️ ️full transparency for the $500B relief fund pic.twitter.com/3ZWqwVP8ko

— Doug Jones (@SenDougJones) March 23, 2020
Jones has been criticized widely by Republicans for his vote not to end debate on the stimulus bill that was introduced by Senate Majority Leader Mitch McConnell, R-Kentucky, on Sunday.
Jones said that he did not vote against the bill but instead voted no on a procedural vote on a bill that has not been written yet.
"Make no mistake this bill needs major changes before it would earn my full support," Jones said. Jones said that he wants a stabilization fund for cities and states who are "hemorrhaging money" right now.
The bill creates a $500 billion fund for the Secretary of the Treasury to address needs in the economy. Jones says that he supports that but wants more transparency. "The administration wants no guardrails and no transparency," Jones said. "I want to know where it is going."
"I don't think anybody wants to give the Secretary of the Treasury a $500 billion slush fund," Jones said
Jones said that the no vote on ending debate helped create progress on reaching a compromise bipartisan bill.
"More progress has been made in the last 24 hours," Jones said. "We need to get the clock ticking and not have this protracted negation."
Jones said that the Republicans have agreed to more money for families and more money to help small businesses than what was in the earlier package but that the negotiations have "two huge holdups." One is the lack of transparency in the Treasury stabilization fund and the other the lack of a fund to backstop cities and states.
Jones said that there are a lot of things that Democrats want in the bill that they aren't going to get and Republicans aren't going to get everything that they want in the stimulus package.
Jones urged citizens to continue their social distancing.
"Please keep your social distancing," Jones said. "Some people say we have gone too far. We haven't gone far enough." Over one hundred Americans died today. "We need to be concerned, very concerned."
Sen. Richard Shelby, R-Alabama, voted in favor of McConnell's stimulus bill.
Aderholt says low Census response rate will come with big consequences for Alabama
Alabama trails the nation in 2020 Census response and that matters, says Congressman Robert Aderholt, R-Alabama, in an email to his 4th Congressional District constituents.
"In more ways than we could possibly name, Alabama is the best state in the nation," Aderholt said. "However, when it comes to the 2020 Census, we are sitting in last place in the country. Currently 81.5% of Alabama households have been counted, but that is nearly 10% less than the national count of 90.1%. I think we can do better, so let's make Alabama count."
"Why it Matters. One of the biggest questions asked every decade when the Census comes up is: why does it matter?" Aderholt said. "This is a great question, and I understand why it gets asked so often. So, I want to give you a few different answers that are grounded in facts. Federal Funds: It is estimated that per 100 people not counted in the Census, roughly $1.2 million dollars of federal funding is lost for your community. Here are just a few of the many items that would have funding severely cut due to a lack of Census responses: Schools, roads, hospitals, block grants, vocational education, and fire departments. These are all crucial aspects of living in a community, and they are all at risk of funding decreases.
"Jobs: Census numbers are used by both public and private organizations to determine where to build and bring business. This means that employment opportunities and economic development are at stake when it comes to the Census. This aspect is often overlooked, but it may just be the most consequential of them all. Representation in Congress: You probably know this one already, but Congressional districts are based on population.
"This means that the more people that are counted in your state the more representation your state has in the House of Representatives. For Alabama, we are in danger of losing a Congressional seat, so our count this year matters a great deal. Civil Rights: As a matter of fact, certain programs based around civil rights issues are directly correlated to the Census. Things like compliance with the National Voting Rights Act of 1965, housing, employment, and education anti-discrimination laws are monitored and enforced using the population count from the Census."
Go to my2020census.gov and follow the instructions on screen, or you can call 844-330-2020.
"I would encourage you all to fill yours out today and make Alabama count for the next decade," Aderholt said. 'If you have already completed your Census, please tell your friends and family to fills theirs out and spread the word."
Aderholt explained that the Census first started in 1790 and was conducted by Thomas Jefferson. The nation then had a population of just 3,929,214, compared to roughly 328 million today.
"From 1790 to 1879, the Census was counted by Federal Marshals going door-to-door across the country," Aderholt explained. "Back then they would show up to your house on horseback and fill out the numbers on parchment or animal skin. Although this sounds pretty cool to me, I am sure glad we can do it on our phones now. The Census started out with only 6 questions, then rose to 34 in 1920, but has settled back down to an even 10 the past couple decades."
The state of Alabama has seven congressional districts currently, but it appears that the state is likely to lose at least one, given the state's modest growth over the last decade and the people of Alabama's awful Census response rate.
Aderholt is in his 12th term representing Alabama's 4th Congressional District. He faces a general election challenge from Democratic candidate Rick Neighbors.