As cases surpass 1,100 in Alabama, still no "stay-at-home" order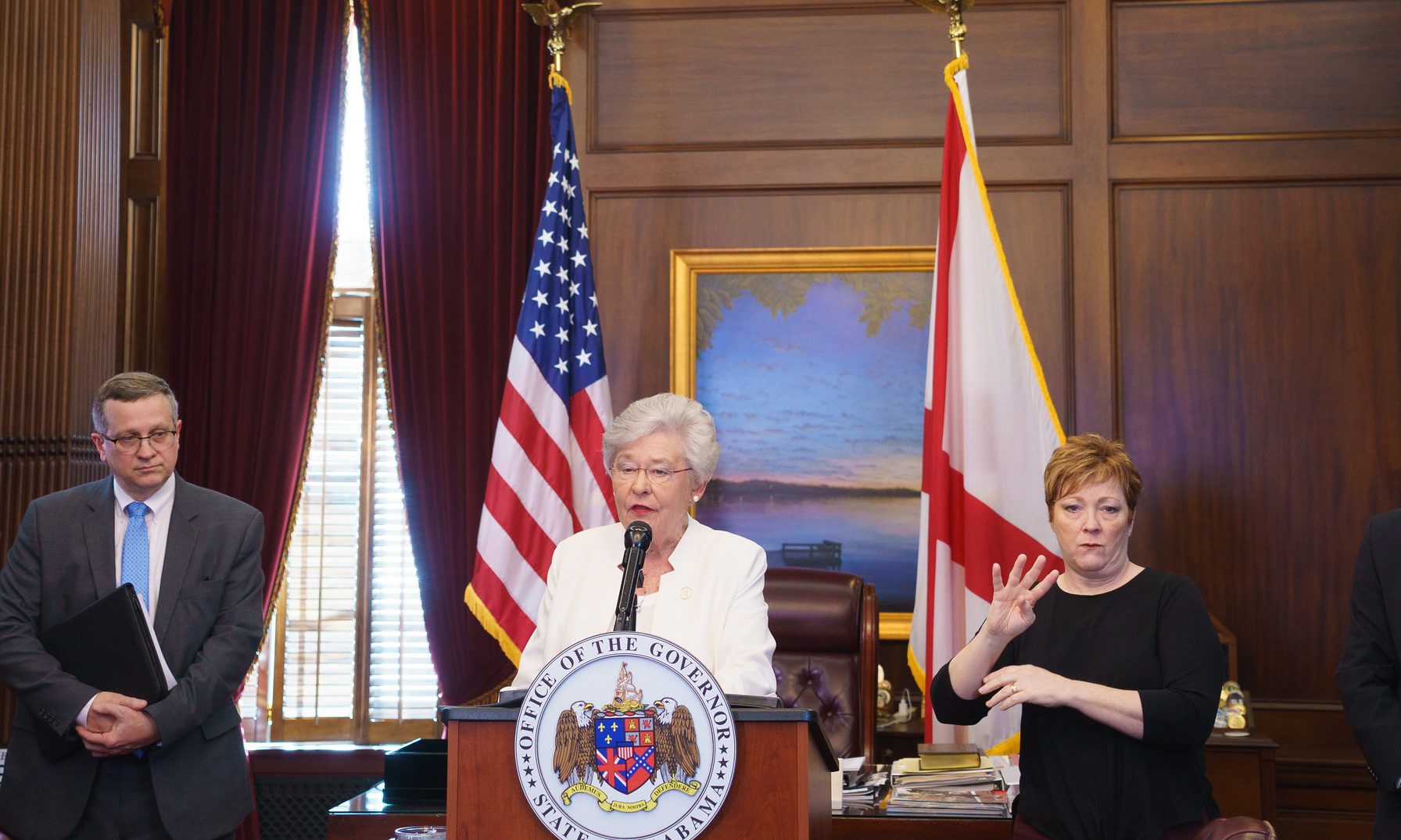 The number of positive novel coronavirus cases in Alabama rocketed past a thousand Wednesday, but the state still has no shelter-in-place order — and Gov. Kay Ivey's office says she is not ready to implement one.
"The governor remains committed to exploring all options and has not ruled anything out, but she hopes that we do not need to take this approach," Ivey's spokesperson said Wednesday.

By 6 p.m., there were 1,108 confirmed cases of the virus and at least 28 deaths statewide related to COVID-19. Cases grew by triple digits again after a brief lull in new cases Tuesday. But the infections are also widespread. Cases have been reported in 62 of the state's 67 counties — and not just in the more urban ones.
Only one city in the state, Birmingham, has issued a shelter-in-place order. The city is in Jefferson County, which, in coordination with the city, has taken a stricter approach to handling the coronavirus outbreak because it has the most cases in the state.
The cities of Montgomery and Tuscaloosa have also implemented curfews, but they have far fewer cases per capita than many other areas of the state. (No. 30 and 31 out of 67 counties in per capita cases.)
But some of the hardest-hit counties in the state are outside of Jefferson County, and the health departments in those counties do not have as much authority to issue their own directives as Jefferson County and Mobile County do. They're the only two health departments in the state that are independent with the legal authority to act autonomously from the state health department.
Cities and counties in some of the hardest-hit areas like Lee and Chambers counties have also not issued shelter-in-place orders by municipal ordinance as has been the case in Jefferson County.
Lee County and Chambers County in East Alabama have the highest infection rates in the state, and the highest per capita number of cases, yet the cities and counties there are following a statewide order that is less restrictive than the measures in place in Birmingham, Tuscaloosa or Montgomery.
Lee County has 83 cases, and Chambers County has 45. But per capita, Chambers County has 135 cases per 100,000. (For comparison, Jefferson County, where there are 302 cases, has only 46 cases per 100,000 people.) Chambers County also has the highest number of deaths per capita in the state, at 12 per 100,000 people.
The hospital that serves Lee, Chambers and the surrounding counties — East Alabama Medical Center — is currently treating 30 patients with a confirmed diagnosis of COVID-19. It has already discharged 16 other COVID-19 patients, and there are 12 more in the hospital with suspected cases of the virus.
While the hospital says it is currently stable in the number of ventilators and other equipment it has available, it is still asking for donations of some needed supplies like latex-free gloves and bleach wipes.

Aside from UAB in Birmingham, EAMC is currently treating the most COVID-19 patients, according to data APR collected over the past two days. As the state continues to avoid issuing a statewide stay-at-home or shelter-in-place order, East Alabama Medical Center is urging the residents in the area to act as if there has been an order issued.
"While there is not yet a mandate to shelter in place, EAMC encourages it as the best way to stop the spread of COVID-19," the hospital said. "Community leaders, city officials and the media have shared this important message, but there are still reports of groups gathering, children playing in neighborhood parks, dinner parties, bible studies and other events."
All of Alabama's neighboring states have issued shelter-in-place orders. Mississippi, Georgia, Florida and Louisiana have done so. The governors of Mississippi, Florida and Georgia all decided to issue orders today after balking at the idea for weeks.
Ivey has taken steps to curb the spread of the virus. She and the Alabama Department of Health issued an order on March 19 that closed the state's beaches and limited gatherings of 25 or more people. She's also closed schools for the remainder of the academic year.
On Friday, March 27, Ivey ordered closed a number of different types of businesses including athletic events, entertainment venues, non-essential retail shops and service establishments with close contact. The state has also tightened its prohibition on social gatherings by limiting non-work related gatherings of 10 people or more.
Ivey's order Friday is not that far off from a shelter-in-place order, but it lacks the force of telling the state's residents to stay home if at all possible. A number of businesses and manufacturing facilities are also allowed to keep operating, though they have been encouraged to abide by social-distancing guidelines as much as possible.
But Ivey has said she doesn't want to issue a shelter-in-place or stay-at-home order because she doesn't want to put more stress on the economy.
"You have to consider all the factors, such as the importance of keeping businesses and companies open and the economy going as much as possible," Ivey said on Friday.
Ivey's spokesperson Wednesday said the governor has taken appropriate action thus far.
"In consultation with the Coronavirus Task Force, the governor and the Alabama Department of Public Health have taken aggressive measures to combat COVID-19," her spokesperson, Gina Maiola, said. "The governor's priority is protecting the health, safety and well-being of all Alabamians, and their well-being also relies on being able to have a job and provide for themselves and their families. Many factors surround a statewide shelter-in-place, and Alabama is not at a place where we are ready to make this call."
Jones introduces bill to encourage investments in minority-serving banks
"One of the biggest hurdles for minority entrepreneurs is access to capital," Jones said.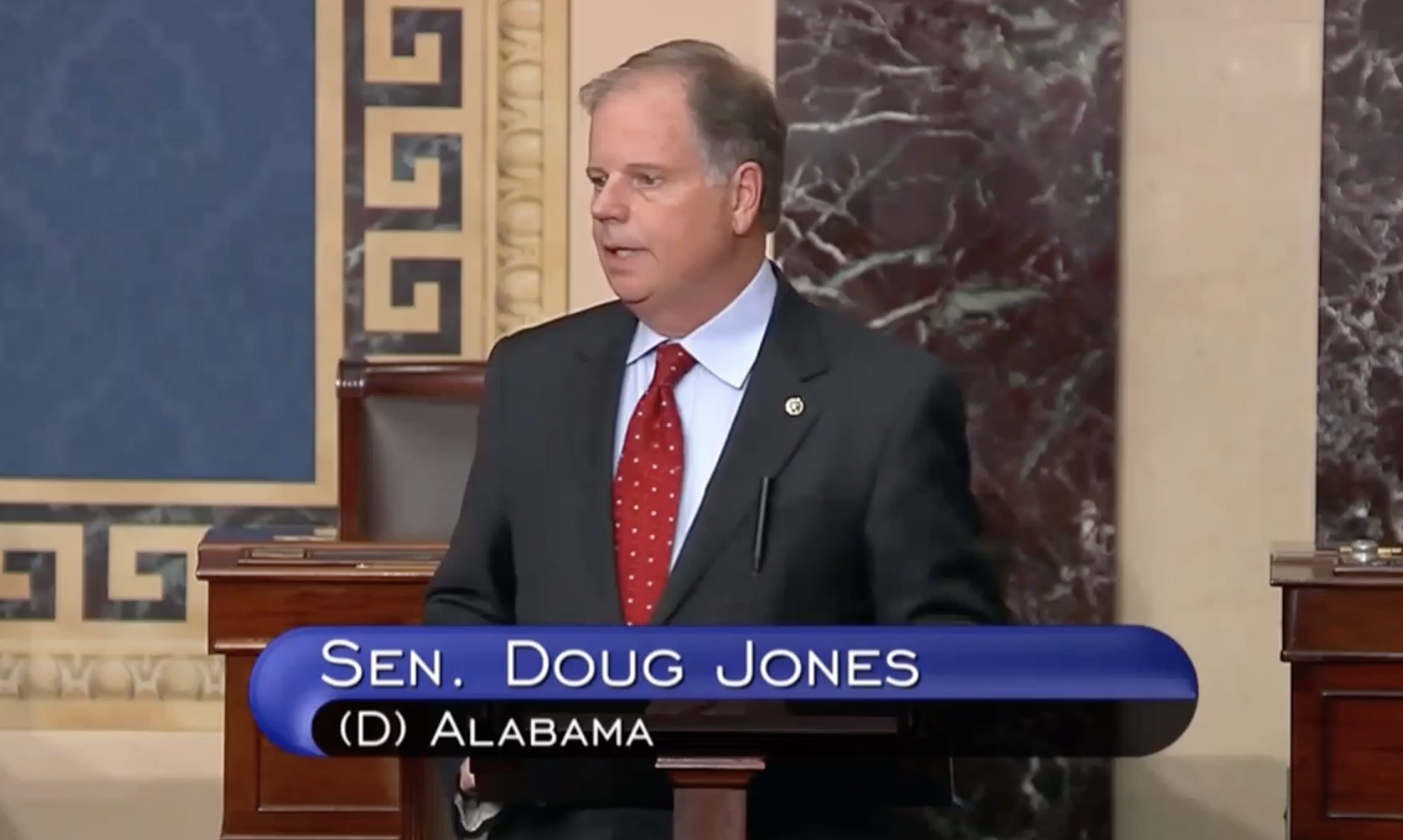 Alabama U.S. Sen. Doug Jones, D-Alabama, on Tuesday introduced legislation that would encourage investments in banks that serve minority communities.
"One of the biggest hurdles for minority entrepreneurs is access to capital," Jones said in a statement. "That's why this bill is so important. Increasing access to capital at the banks that serve minority communities will help expand financial opportunities for individuals and business owners in those communities."
Jones, a member of the Senate Banking Committee, in April urged the Federal Reserve and the U.S. Treasury to support Community Development Financial Institutions and minority-owned banks disproportionately affected by the COVID-19 pandemic, and he threw his support behind more federal funding for small community banks, minority-owned banks and CDFIs during the recent Paycheck Protection Program replenishment.
According to a press release from Jones's office, the bill would attract investments to those financial institutions by changing rules to allow "minority-owned banks, community banks with under $10 billion in deposits" and CDFIs to accept brokered deposits, or investments with high interest rates, thereby bolstering those institutions and encourage them to invest and lend in their communities.
It would also allow low-income and minority credit unions to access the National Credit Union Administration's Community Development Revolving Loan Fund.
"Commonwealth National Bank would like to thank Senator Jones for his leadership in introducing the Minority Depository Institution and Community Bank Deposit Access Act. As a small Alabama home grown institution, this proposal will allow us to accept needed deposits without the current limitations that hinder our ability to better serve the historically underserved communities that our institutions were created to serve. We support your efforts and encourage you to keep fighting the good fight for all of America," said Sidney King, president and CEO of Commonwealth National Bank, in a statement.
"The Minority Depository Institution and Community Bank Deposit Access Act is a welcomed first step in helping Minority Depository Institutions like our National Bankers Association member banks develop the kinds of national deposit networks that allow our institutions to compete for deposits with larger banks and to better meet the credit needs of the communities we serve. The National Bankers Association commends Senator Jones' leadership on this issue, and we look forward to continuing to engage with him on the ultimate passage of this proposal," said Kenneth Kelly, chairman of the National Bankers Association, in a statement.
A recent report by the Brookings Institute highlighted problems minority-owned businesses had accessing federal COVID-19 relief aid from PPP loans. Researchers found that it took seven days longer for small businesses with paid employees in majority Black zip codes to receive PPP loans, compared to majority-white communities. That gap grew to three weeks for non-employer minority-owned small businesses, the report notes.
The report also states that while minority-owned small businesses, many of which are unbanked or under banked, get approximately 80 percent of their loans from financial technology companies and online lending companies, fintechs weren't allowed under federal law to issue PPP loans until April 14.