Severe storms leave damage across Alabama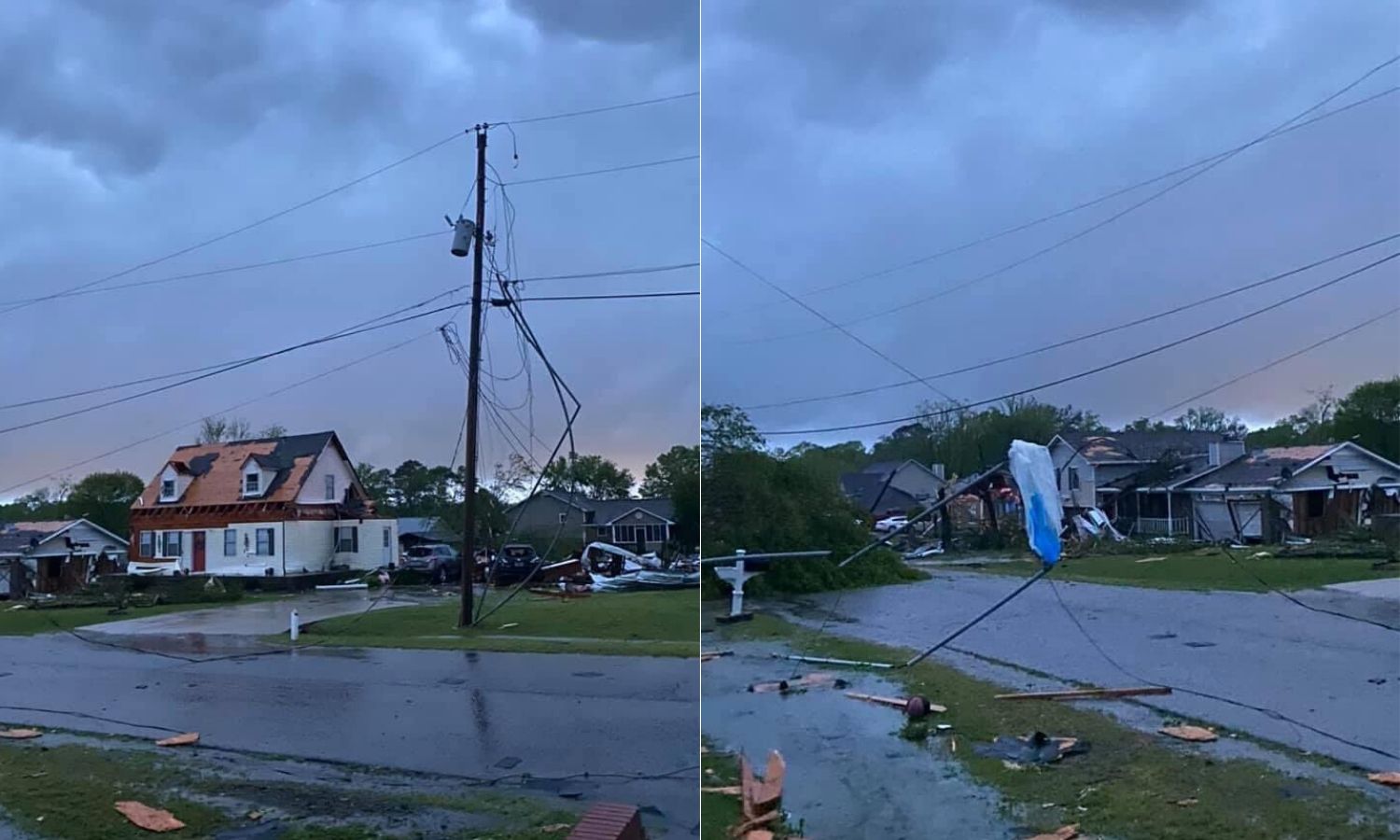 Severe weather impacted the Southeast during Sunday and Sunday night. A combination of tornados, severe thunderstorms, heavy rains, and strong winds did damage across Texas, Alabama, Tennessee, Louisiana, Georgia, Florida, North Carolina, Virginia, and Mississippi.
At least 11 people have been killed in Mississippi, including a Lawrence County sheriffs deputy and his wife. Fourteen people in Chattanooga, Tennessee were hospitalized with injuries from the storm. As of press time, there are no known fatalities in Alabama, but three persons in Jefferson county were reportedly injured.
UPDATE: 11 total fatalities are now being reported, more information regarding the severe weather will come out later this morning.

— msema (@MSEMA) April 13, 2020
A tornado touched down in the Walker County town of Carbon Hill. As of press time, all roads are reportedly closed into the town, a number of mobile homes were destroyed at a trailer park, and the whole town has lost power. The Walker County Sheriff's Department reports that they are doing a search and rescue effort in the area of the town that is most severely impacted to make sure all of the residents are safe and accounted for.
There was also a tornado touch down in the Sumiton/Dora area of Walker and Jefferson Counties destroying some structures. The Lawler Mission Baptist Church has received some damage. Three people did reportedly suffer injuries in that area.
There are homes destroyed in the Marshall County town of Boaz.
A gas station was destroyed in the Johnson's Crossing community in Cullman County
There is damage in Tuscaloosa County and in Bagley among a number of other areas. Trees are down in the city of Mountain Brook in Jefferson County. There was some flash flooding in Birmingham and other places.
Over 750,000 people have lost power across ten states. Thousands of people are without power today across the state of Alabama and crews are out working to restore power.
Alabama Power reported on Twitter: 6:00 a.m. Update: Following the severe weather outbreak, Alabama Power crews are safely and efficiently restoring service to customers. As of 5:45 a.m., about 125,000 customers are without power."
20,000 people in Jefferson County do not have power.
National Weather Service storm assessment will be on the ground today assessing the damage. A more thorough estimate of storm damage will be available after the sun comes up.
Severe weather had been forecasted for the state and Alabama Governor Kay Ivey (R) placed the state under a state of emergency Sunday afternoon.
People are advised to stay away from downed power lines.
COVID-19 hospitalizations in Alabama continue surge
On Monday, 1,335 patients with COVID-19 were being cared for in hospitals statewide, the most to date.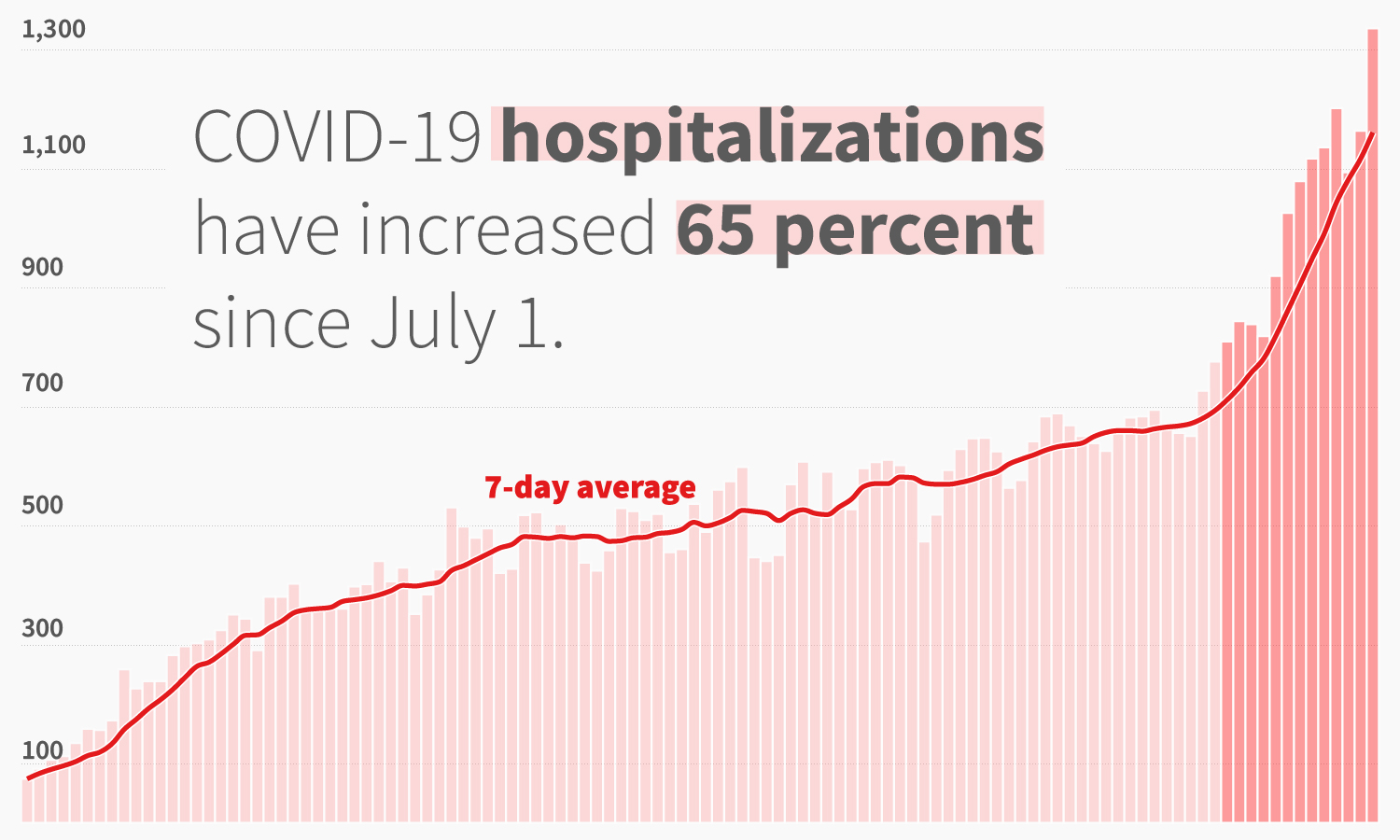 Alabama on Monday saw the highest number yet of COVID-19 patients in hospitals since the start of the pandemic, and the second-highest single-day increase in coronavirus cases on record. 
On Monday, 1,335 patients with COVID-19 were being cared for in hospitals statewide. That was 172 more COVID-19 patients than were hospitalized the previous day — and the largest single-day increase in hospitalization numbers reported by the Alabama Department of Public Health.

The last record number of hospitalized COVID-19 patients in Alabama was on Friday, when 1,201 people were being treated statewide. The increase Monday is also 134 more patients than were being care for on Friday.
Friday was the sixth straight day of record-breaking COVID-19 hospitalizations in Alabama. Friday also saw the second-highest number of deaths in a single day in the state, when ADPH confirmed 35 new deaths as a result of COVID-19, nearly breaking the previous record of 37 set on May 12.
On Monday, the state also added 1,860 to Alabama's total case count, bringing the cumulative total now to 54,768 confirmed cases. That's the second-highest single-day increase in cases since the start of the pandemic. With 25,783 people presumed to have recovered from the virus, and at least 1,096 dead, more than half of the state's cases, or 27,889, are presumed to be active.

Testing has ticked up slightly in the last few weeks — Alabama's seven-day average of tests conducted was 9,176 on Monday, 93 more than the previous high set on July 5 — but the percentage of tests that are positive continues to increase as well, a sign that new cases aren't just due to more testing. 
The seven-day average positivity rate Monday was 16.18 percent, which was almost 30 percent higher than it was a week ago. Taking into account the Alabama Department of Public Health's incomplete testing data on July 9 and in early April, which threw off the positivity rate, Monday's seven-day average was the highest on record for Alabama. 
Public health officials say that the percent of tests that are positive should be at or below 5 percent or there's not enough testing being done and cases are going undetected. 
Madison County continues to see a surge in new cases. The county added 267 new coronavirus cases on Monday, and over the last week added 1,044 new cases, which was 70 percent more than were added the week before. Madison County's positivity rate this week has been roughly 16 percent. 
Jefferson County followed closely behind Madison County, adding 266 new cases Monday and 1,602 cases within the last week, which was a 30 percent increase from the week before. 
In Mobile County, there were 157 new cases Monday.
Mobile County's weekly total of new cases for the last week was 23 percent higher than the previous week.