State warns reopening businesses to flush water systems to avoid Legionnaires, other diseases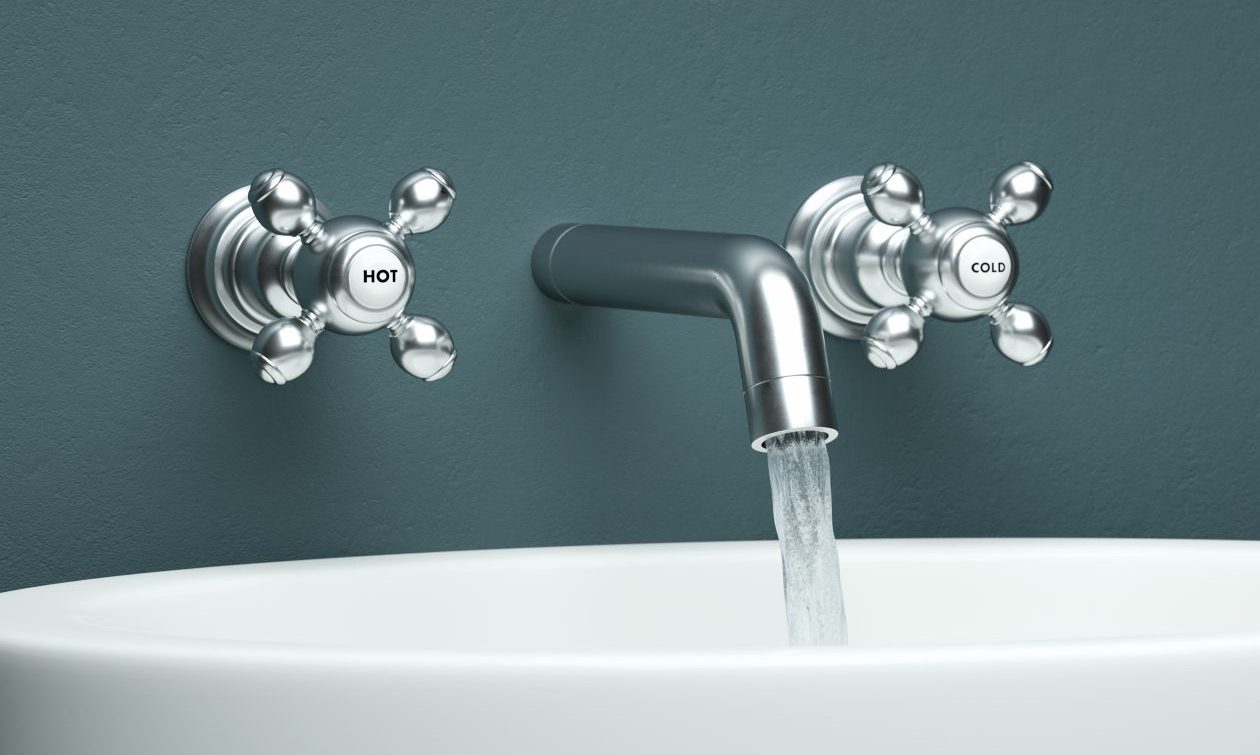 The Alabama Department of Environmental Management and the Alabama  Department of Public Health issued a joint statement today urging businesses that are reopening after the easing of coronavirus restrictions to thoroughly flush and inspect their water and air conditioning systems to avoid creating other potentially deadly health hazards – Legionnaires'disease and other bacterial infections.
Legionnaires' disease is a serious, sometimes fatal type of lung infection, or pneumonia, caused by Legionella bacteria. According to the U.S. Centers for Disease Control and Prevention, people can get sick when they breathe in mist or accidentally swallow water containing Legionella. The bacteria grow in warm water and can be found in showerheads and faucets, hot tubs, cooling towers, hot water tanks, decorative fountains or plumbing systems in large buildings.
The CDC says more than 6,000 cases of Legionnaires' disease are reported in the U.S. each year, and that one in 10 people who get sick from the infection will die. It is generally not contagious from person-to-person.
On Tuesday, Gov. Kay Ivey issued a "Safer at Home" order that will allow some businesses, including retail stores, to reopen beginning today, April 30. Those businesses must adhere to social-distancing and sanitation rules. Other nonessential businesses such as dine-in restaurant service, barber shops and hair salons must still remain closed at least for now in the continuing effort to curtail the spread of COVID-19.
"We have a lot of businesses that are preparing to reopen this week," ADEM Director Lance LeFleur said. "This is certainly good for those businesses and the state's economy. As they reopen, however, we strongly encourage them to take extra care to make sure they do soin an environmentally safe manner. We ask that they pay particular attention to their water and air-handling systems, which if contaminated with certain bacteria can lead to harmful health effects, not the least of which is Legionnaires' disease.
"We want the environment in which Alabamians work and recreate, whether outdoors or inside, to be as safe as possible."
Dr. Karen Landers, District Medical Officer for the Alabama Department of Public Health, said the public can't afford to ignore other potential health threats during the coronavirus crisis.
"While much attention continues to be focused on COVID-19 in Alabama, promotion and protection of the public's health include prevention of other diseases as well," Dr. Landers said. "The Alabama Department of Public Health reminds the public that information related to building maintenance, such as standing water, which may have occurred during prolonged closure, can have health implications. Illnesses such as Legionella can occur when water stands at certain temperatures and the disinfectant measures such as chlorination can be decreased.
"ADPH joins with ADEM in recommending that businesses follow current guidance from CDC to reduce the risk of waterborne illness as operations resume."
Legionnaires' disease first made headlines in the U.S. in 1976, when attendees at an American Legion convention in Philadelphia fell ill to the not-well-known form of pneumonia, and public health officials scrambled to find the cause of the disease outbreak. They eventually determined the illness was caused by bacteria that had been breeding in the cooling tower of the hotel's air-conditioning system and spread throughout the hotel. It sickened 221 people, of which 34 died.
Lynn Battle, chief of the Office of External Affairs at ADEM, pointed out that the Legionella bacteria occur naturally in freshwater environments, and can grow and spread in man-made water systems. Symptoms of the disease can appear within a few hours to three days after exposure and include cough, shortness of breath, fever, muscle aches and headaches.
"A recent notable case in the Southeast occurred in the summer of 2019," she said. "Twelve confirmed cases of the Legionnaires' disease, including one death, and 61 other probable cases were identified among guests who attended a convention at a hotel in downtown Atlanta."
Battle said information for reopening businesses with steps to take to make sure their water and air-handling systems are safe after a prolonged closure are available on the CDC's website at https://www.cdc.gov/coronavirus/2019-ncov/php/building-water-system.html. The recently issued guidelines include eight recommended steps, and covers flushing and maintaining water systems, cleaning water fixtures, and cleaning and maintaining water towers, water heaters, tubs/spas, showers and fire sprinkler systems.
Battle said flushing water lines would also help remove any trace amounts of lead, which could have accumulated when the water system wasn't in use.
For more information about ADEM, go online to www.adem.alabama.gov. Information from the Alabama Department of Public Health is available at www.alabamapublichealth.gov.
Alabama lawmaker faces sharp criticism over celebration of former KKK leader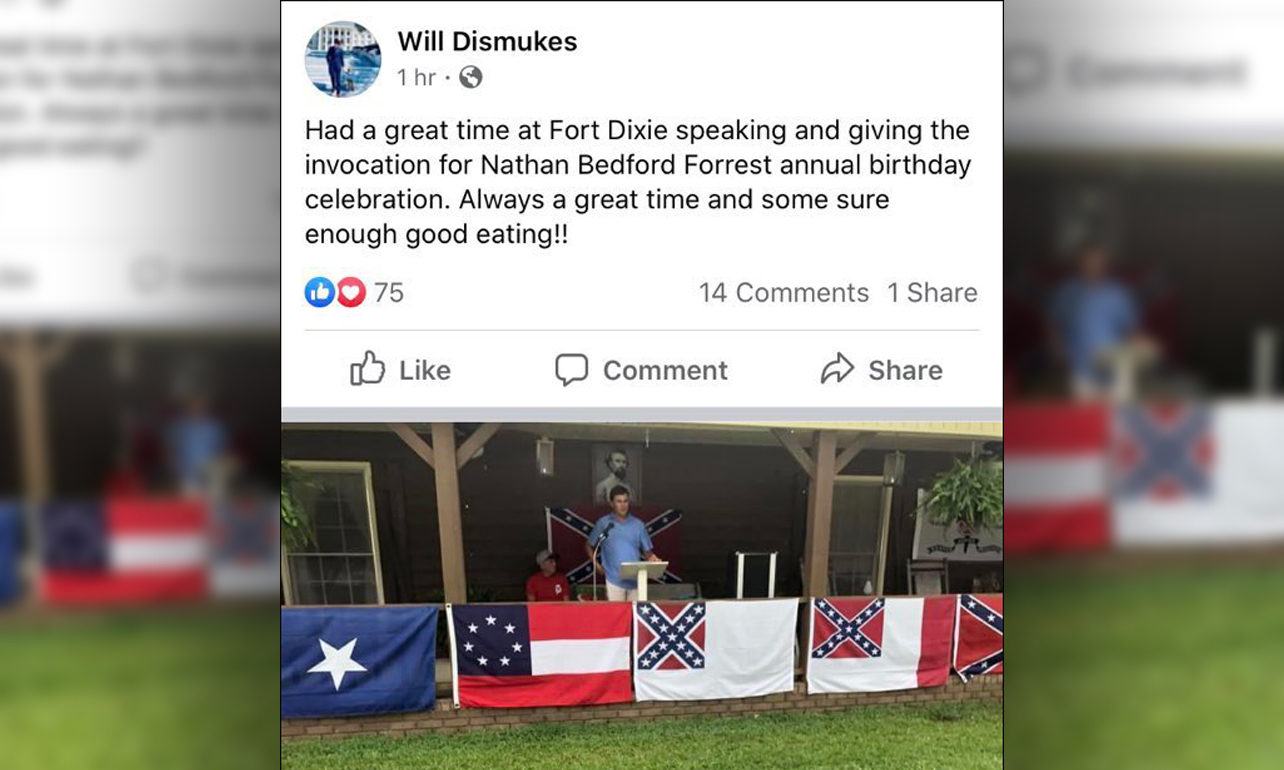 State Rep. Will Dismukes, R-Prattville, is again facing calls to resign over a social media post he made about his participation in an event honoring Confederate heritage.
Dismukes posted a photo of himself on Sunday speaking at Fort Dixie the day before, where a yearly event was held celebrating the birthday of Nathan Bedford Forrest, a Confederate general and first Grand Wizard of the Ku Klux Klan.
"Had a great time at Fort Dixie speaking and giving the invocation for Nathan Bedford Forrest annual birthday celebration. Always a great time and some sure enough good eating!!" Dismukes wrote above a photo of himself speaking on a porch adorned with a portrait of Forrest and several Confederate flags. The post is no longer visible.
Criticism was swift on social media as word spread that Dismukes attended the celebration on the same weekend that the late Congressman and Civil Rights hero, Rep. John Lewis, was honored in Selma, where Lewis was nearly beaten to death in 1965, during the march for voting rights that crossed the Edmund Pettus Bridge.
Alabama Democratic Party Executive Director Wade Perry called for Dismukes to resign.
"Will Dismukes has demonstrated yet again why he is unfit to hold public office," Perry said in a statement. "Americans don't celebrate racists or traitors. Nathan Bedford Forrest was both. And a founder of the Klan. The Alabama Democratic Party renews our call for Dismukes to resign. It's 2020 and it's time for racial extremists like Will Dismukes to go away."
Dismukes posted a statement on Monday addressing the criticism: "First and foremost, my post yesterday was in no way related to disrespecting the passing of Rep. John Lewis. That wasn't even a thought in my mind. That is not who I am as a person.
"I am a transparent person. To the point that as a public official I lay it all there for the people to see for better or for worse at times. My post yesterday was as usual me sharing a previous days events. The post was in no way intended to seem as if I was glorifying the Klan or any party thereof. The very atrocities and actions they committed are a disgrace to our country.
"Also, we are all individual members that make up our legislature. I made a post independent of my colleagues. My regret is that I have allowed them to be put in a negative light. If you disagree with me and my beliefs do not hold them under the same umbrella. I can live with a dislike for me, but not fellow members, or members of my own personal family. Our body as a whole is made up of some of the finest people I have ever had the honor of knowing and working with, both Democrat and Republican.
"I close by reiterating that my post was in no way glorifying the Klan or disrespecting the late Rep. John Lewis."
Alabama Republican Party Chairman Terry Lathan issued a statement addressing the post:
"While Rep. Dismukes has released a statement attempting to clarify his actions as a private citizen attending a celebration of the first Grand Wizard of the Klu Klux Klan, Alabamians hold their elected officials to a high standard of actions. So does the Republican Party.
"Rep. Dismukes offered no explanation for why he participated in a birthday celebration of Nathan Bedford Forrest. Additionally, I find his statement to be shallow in understanding why his activities are deeply offensive to so many Alabamians. His constituents will be the final decision-makers of his political future.
"The Alabama of today was on full, honorable display as we paid humble tribute this weekend to the life of Congressman John Lewis. That is the Alabama that we are proud of – showing the nation and world that we are one in the common goals of equality for all of our citizens.
"It is one thing to honor one's Southern heritage, however, it is completely another issue to specifically commemorate the leader of an organization with an indisputable history of unconscionable actions and atrocities toward African-Americans. I strongly urge his constituents to contact Rep. Dismukes to articulate and share with him their thoughts on his personal actions."
House Majority Leader Nathaniel Ledbetter, R-Rainsville, issued a statement saying that the beliefs of one member don't reflect the beliefs of all, and that several Republican Caucus members expressed concern to him about the content and timing of Dismukes' post.
"We live in a nation that guarantees each citizen the right to express the ideas they wish to share, and in the case of a public official, voters will ultimately decide if they agree with those ideas."
Speaker of the House Mac McCutcheon, R-Monrovia, on Monday issued his own statement:
"The Alabama House cannot police the beliefs, statements, and activities of its members outside the Legislature as that is a job best assigned to voters in each House district across the state.  
"It is important to note, however, that I and many other members of the House devoted our weekend toward honoring an Alabama native and civil rights icon who dedicated his life to securing freedom, liberty, and equality for all Americans."
Rep. Danny Garrett, R-Trussville, tweeted a stern rebuke on Sunday: "I cannot fathom why anyone in 2020 celebrates the birthday of the 1st KKK Grand Wizard. And while the body of a civil rights icon beaten by the Klan lies at state Capitol being honored by GOP/Dem leaders from all over the state. This mentality does not rep my party or my faith."
Another GOP colleague, Rep. Allen Farley, R-McCalla, responded to a constituent about the matter in a tweet: 
"Scott, As a Christian, Conservative, member of the Republican Party, I was proud of the comments of my colleague Rep. Danny Garrett. Rep Will Dismukes' actions were also unfathomable to me. I believe it will take the voters in House Dist. 88 to remove Rep. Dismukes from office," Farley said.
While fellow Republican officials said that Dismukes' constituents should decide if he remains in office, the College Republican Federation of Alabama issued a statement on Monday calling for him to resign.
"Representative Dismukes's Facebook post of him at an event that celebrated former KKK Grand Wizard Nathan Bedford Forrest is unacceptable and has no place in the State Legislature or the Republican Party," the statement said.