Jones disappointed that Austal lost frigate contract to Fincantieri
Thursday, Austal USA's bid for the U.S. Navy's $795 million contract to build the next-generation guided missile Frigate was rejected in favor of a design offered by Fincantieri Marinette Marine, a Wisconsin-based shipbuilder. U.S. Senator Doug Jones, D-Alabama, did not hide his disappointment with the Navy's decision. Austal builds the the Independence class littoral combat ship (LCS), expeditionary fast transports, and other navy vessels in Mobile.
"I am disappointed that the Navy chose not to award the contract for the next-generation guided-missile frigate to Austal USA," Jones said. "Austal is the only U.S. shipbuilder providing ships to the Navy on time and on budget right now. It is my understanding that this award is for the first ten of a potential 20-ship buy, and I am confident that if Austal chooses to compete for future awards, the Navy will find Austal to be the best choice.
"Just last December, Austal USA celebrated 20 years of shipbuilding in Mobile," Jones said. "Austal's extraordinary success is testament to its unmatched local workforce and its ability to build highly capable, cost-effective ships safely and on schedule. I especially appreciate Austal's commitment to the health and safety of its employees and the community, as well as to our national security, through the workforce protection measures it has implemented and its economic support donations in response to the COVID-19 pandemic. Our shipbuilders are critical to our national defense, and I am grateful for their dedication during this difficult time."
Fincantieri will build an adapted variant of the Italian FREMM (European multi-purpose frigate) in Wisconsin at its Marinette shipyard. The contract also includes plans for up to nine more ships from the firm — a deal that's ultimately worth more than $5.5 billion.
Fincantieri's European built FREMM is already in service with both the Italian and French Navies.
Austal was the builder of the Independence class littoral combat ships as well as other designs including fast transports. When the LCS's were first built, Austal produced the U.S.S. Independence, an all aluminum trimaran design, and Lockheed produced the U.S.S. Freedom. The two competing LCS designs were evaluated by the Navy and the initial decision was to complete the order as Freedom class LCS's. Austal's allies in the Navy and Congress rallied behind the innovative new ships and ultimate the Navy purchased both vessels in quantity, rejecting an Obama Administration plan to build just one class of littoral combat ship. There is still some hope that ten of the new guided missile frigates will be of the Fincantieri design; while ten could be of a second design that Austal could still compete for. General Dynamics and the Bath Ironworks also submitted frigate designs.
"The frigate will be an agile multi-mission warship," said Navy assistant secretary James Geurts. "They'll operate in all environments and will be more lethal, survivable and have increased self-defense and local-area defense capability and capacity over previous small-surface combatants."
The new frigates are designed to defend against near-peer adversaries, such as China and Russia. The new frigate is designed to fight on both the high seas and near the shore, with more capabilities than littoral combat ships but at a much smaller price tag than cruisers and destroyers.
Speed was a factor in the decision. Because the Fincantieri design is a derivative of an existing class of warship, the European FREMM, the Navy believes that Fincantieri can deliver the new ships quicker than Austal or the other ship builders. The contract award came three months ahead of schedule, in order to get the new frigate program moving surprising many in the political world who did not expect a decision before late summer. The new frigate will have 300 tons more steel than the FREMM to improve its survivability.
"All this was done with an intense focus on cost, acquisition and technical rigor so that we got the best value for our warfighter and the taxpayer," Geurts said.
Geurts expects delivery of the first ship in 2026, with the class reaching full operational capability by 2032.
The new ships will use a modified version of the SPY-6 radar Raytheon is developing to keep the Navy's aging destroyers in the fight, along with Lockheed Martin's Aegis Combat System.
Doug Jones is a member of the Senate Armed Services Committee.
Original reporting by Military.com and the Defense News contributed to this report.
Sen. Jones: Millions for Alabama priorities in annual defense bill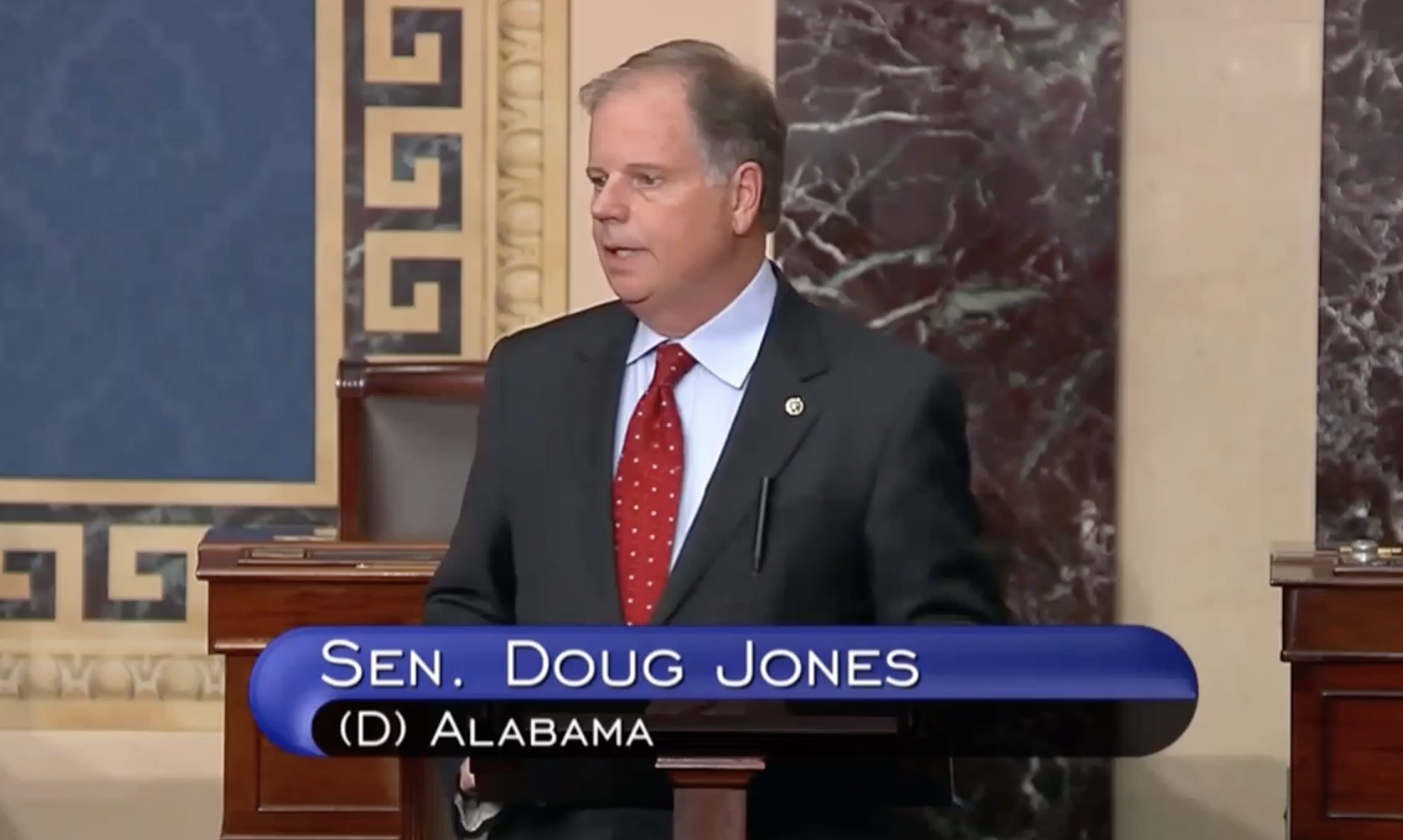 Sen. Doug Jones, D-Alabama, on Thursday highlighted how the latest National Defense Authorization Act could positively impact Alabama service members, state universities and businesses that work with the U.S. military.  
The fiscal year 2021 National Defense Authorization Act (NDAA), approved on Thursday by the Senate Armed Services Committee, now goes before the full Senate for a vote. 
"Alabama is an undisputed leader in securing our nation and this legislation recognizes that by providing significant funding for our troops, including a three-percent pay raise, and continued funding for our defense assets," Jones, a member of the Senate Armed Services Committee, said in a statement. "Each year, this bill is an example of the kind of work we can do when we come together on a bipartisan basis around a common goal – protecting our country and supporting our service members and their families. This bill provides the support and funding needed for Alabama to continue to lead in this effort, and I look forward to its passage in the full Senate soon."
Jone's office in a press release noted that the latest NDAA provides a three-percent pay raise for service members for a second year in a row, and addresses several quality of life issues for military children and spouses. 
Key provisions in the FY 2021 NDAA for Alabama's servicemembers and their families, military installations, and contractors and research institutions are listed below.
 Strengthening Alabama's Defense Infrastructure and Industry
$24 million for advanced electrical generation and storage facilities at Fort Rucker in Dale County;

$23 million for next generation fighter aircraft (F-35) facilities at Maxwell Air Force Base;

$18 million to construct a small arms parts demilitarization facility at the Anniston Army Depot;

$10 million to help steel manufacturers meet future defense needs, protecting current and future employment of thousands in Birmingham;

$5 million to improve efficiency and readiness at the Army's Aviation and Missile Center in Huntsville; and,

$2 million for the Aerospace Education Research and Innovation Center (AERIC) at Tuskegee University, and a $5 million increase overall for Historically Black Colleges and Universities.
Funding for Alabama's Contribution to the National Defense Strategy
$349.7 million for an additional THAAD ballistic missile defense battery, key parts made in Troy;

$35 million for Long Range Anti-Ship Missiles (LRASM), made in Troy;

$10 million for research into lightweight power sources for Navy ships. The University of Alabama conducts leading edge research and development of silicon carbide power sources;

$7.3 million for continued research and development of advanced plastics technology. The Mobile area is home to a company that is pioneering thermoplastic tailorable composite manufacturing;

$5 million for research into advanced repair and modification processes. The University of Alabama is currently working with the DoD to develop these technologies;

$5 million to complete development of new satellite technology. Huntsville is home to companies that are leaders in this field and are well-positioned to compete for these funds;

$5 million to accelerate the Army helicopter modernization program. Bell Helicopter, in Ozark, is participating in this program;

$3 million to develop a hypersonic missile testing facility. Huntsville is home to a number of companies that contribute to the Defense Department's hypersonics research and development;

$10.5 million to build a high energy laser system lab to help with the Army's weapons modernization programs. The Army's high energy laser program is headquartered at Redstone and works with a number of Huntsville companies; and,

$3 million for hybrid additive manufacturing research and development to help with the Army's weapons modernization programs. The additive manufacturing industry is robust and growing in Alabama, with research and development ongoing in Birmingham. 
Support to Improve the Safety and Health of Military Housing and Bases
Requires the Secretary of Defense to implement within 90 days all applicable security and emergency response recommendations to protect U.S. military installations, which follows a

call by Senator Jones to increase base security

after Enterprise, Alabama native Joshua Kaleb Watson was killed during a terrorist attack at Naval Air Station Pensacola last year; and,

Requires the Secretary of Defense to ensure that each installation conducts or develops a plan to conduct regular live emergency response training with first responders.
Funding for Coronavirus Response
Increases funding to support the Defense Department's coronavirus vaccine research and to integrate with other vaccine research programs; and,

Authorizes hazard pay for troops deployed in response to the coronavirus.
Expanding Support and Opportunity for Minority Service Members
Authorizes pilot programs to reduce barriers to participation in satellite ROTC programs and to provide flight training scholarships at HBCUs;

Takes steps toward identifying and eliminating barriers to minority participation in elite units in the armed forces; and,

Supports continuing and expanding the Air Force JROTC pilot training scholarship program to increase diversity in the pilot ranks and address the pilot shortage.
 Support for Military Spouses and Children
$50 million for Impact Aid to schools that serve military children;

$20 million for aid to military children with disabilities;

$15 million for Science, Technology, Engineering, and Math (STEM) youth educational programs (STARBASE);

Authorizes a pilot program to expand eligibility for attendance at DoD schools for military dependent children living off-base;

$4 million to continue development of interstate agreements on licensed occupations for military spouse; and,

Increases reimbursement to military spouses for state licensure and certification costs resulting from relocations.