Opinion | An open letter to the people of Alabama from Jeff Sessions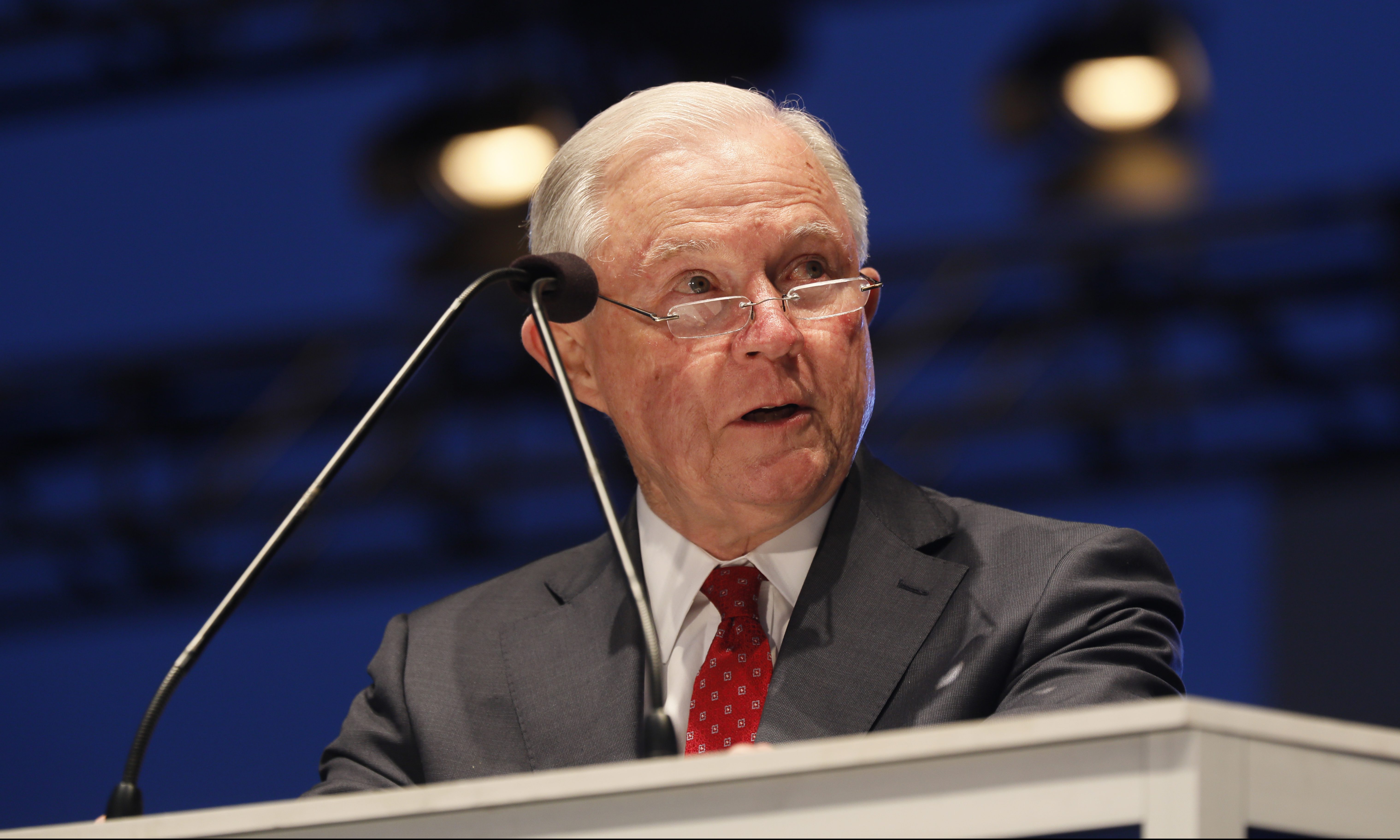 I was the first to endorse President Trump, even when many thought I was nuts to do so. I helped Trump win and traveled the country with him, embedded in his campaign. I am one of the architects of his agenda, and I was pushing his agenda even before he ran for office.
I have remained faithful to the President and his agenda. I have always stood up for him, and I never backed down, not even for one moment. My convictions are immovable, built on rock, not sand.
As the world knows, the President disagreed with me on recusal, but I did what the law required me to do. I was a central figure in the campaign and was also a subject of and witness in the investigation and could obviously not legally be involved in investigating myself. If I had ignored and broken the law, the Democrats would have used that to severely damage the President.
Some have asked, why take the job as Attorney General if I knew I would have to recuse myself from the investigation? I knew no such thing. I wasn't informed of Comey's secret investigation until after I became Attorney General, and the investigation wasn't publicly confirmed by the FBI until weeks after my recusal.
Knowing of the President's disagreement with my decision, I tendered my resignation in writing the morning after Robert Mueller was appointed as special counsel. But President Trump chose not to accept it, and he asked me to continue to serve as his Attorney General and to help him "Make America Great Again."
The investigation was a disruptive and prolonged fiasco for America and especially for President Trump, and a massive waste of money chasing the deep-state myth of Russian collusion. Recently disclosed documents also reveal the extent of former FBI Director James Comey's underhanded efforts to undermine our President.
One thing you may not know is that I advised from the beginning of the administration that Comey should be removed and the FBI given a fresh start. I concluded that Comey was driven by ego, lacked self-discipline, and lacked the judgement necessary to lead an agency as critical as the FBI, as was evidenced by the completely improper way he declined to prosecute Hillary Clinton.
The end result of the Mueller investigation is that the President (and I) were fully exonerated, so much so that the subsequent Ukraine impeachment witch hunt did not even mention the phony Russian collusion idea.
My principles, like my faith, are immovable and non-negotiable. I believe it is always right to do the right thing. My opponent, Tommy Tuberville, calls that weakness, which reveals his true lack of integrity.
True strength and courage are found in the determination to do the right thing, even when you know the consequences may be painful. You can always count on me to do my best to do the right thing, for you, for the state of Alabama, and for the United States of America. I will never go wobbly on you.
I believe President Trump is a great President who is steadily making progress for America, despite relentless opposition. My support for his agenda is not about me, or even about him. It's about doing the right thing for the country I so love. I have given my entire life to the support of our conservative ideals and to stopping the radical left from their attempts to redefine, and thereby destroy, America. I always have, I always will.
I endorsed President Trump because he had the incredible strength of will and the guts to stand up for the right things, for ending illegal immigration, for protecting American workers, and for stopping endless wars. I'm glad I did.
After the President dismissed me as Attorney General, I did not say a cross word about him, as I thought that would be dishonorable.
The great people of Alabama support the President enthusiastically, and we also make our own decisions on who to send to the US Senate.
This just means we are strong, and no one tells us what to do or how to vote. We're Alabama, it's just who we are. After all, it's our vote, not Washington's.
Mr. Tuberville is an opportunist who isn't from here. He stopped here for work for a while, and moved on, eventually retiring in Florida. He doesn't know the first thing about Alabama. He says the President is wrong on China, says we must import foreign workers to take American jobs, and up until a few months ago, he said he favors amnesty for illegal immigrants. If you don't like his position on an issue, just wait a few weeks and he will change it. His house is built on sand.
Alabamians have long resisted pressure from people in Washington telling them how to vote. In fact, Alabama's motto is – "We Dare Defend Our Rights."
The folks in Washington have been wrong about Alabama before, every time. We make our own decisions.
We will vote overwhelmingly to give President Trump a second term, and we will choose who we send to the Senate. The people of Alabama do not have to choose between voting for the President and voting for me, they can do both.
When I return to the Senate, I look forward to helping the President build the wall, protect American workers, and fundamentally reset our relationship with Communist China.
Respectfully,
Jeff Sessions.
Print this piece
Opinion | Secretary of State responds to Alabama Political Reporter op-ed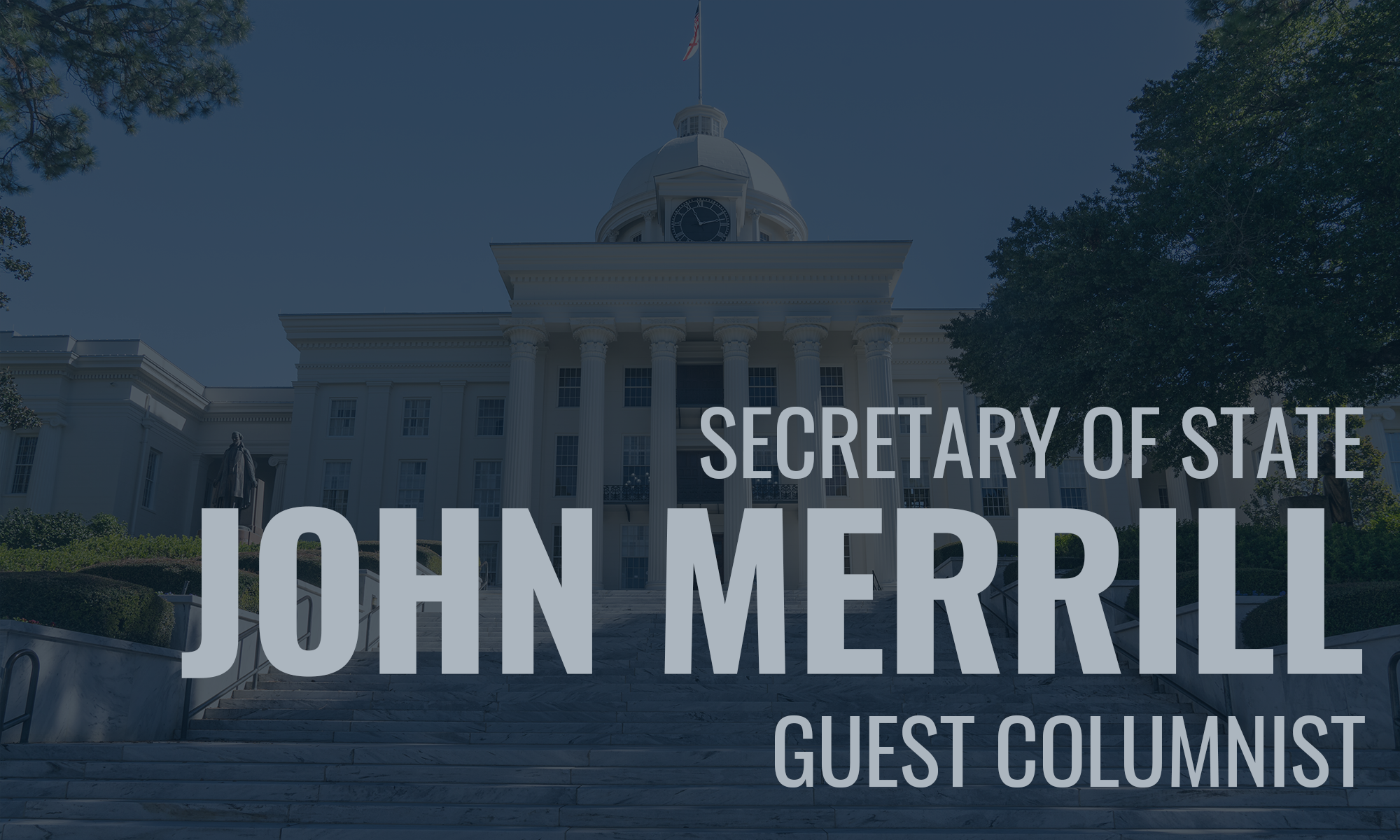 The following statement from Secretary of State John H. Merrill is in response to the inaccurate op-ed published yesterday morning by Josh Moon of Alabama Political Reporter:
This morning, Josh Moon of Alabama Political Reporter alleged that "voting by mail does not lead to fraud."
Moon went on to undermine the six voter fraud convictions and the five associated with tampering with absentee ballots in the last five years, claiming that these numbers are not substantial enough to have basis.
Let's start with the facts, Josh.
When you have one person that violates the trust and confidence in the elections process by committing illegal activity, that is one too many. Whether you have one voter fraud conviction or a thousand, you are proving to the electorate that elections require integrity and credibility! We will continue to work to build trust and confidence in the elections process.
Claiming "you can't commit enough fraud to alter the outcome of such a race" is naive and careless.
In 2018, we saw a member of the legislature who won her race by a mere six votes and another member who won his race by 28 votes. That same year, we witnessed a sheriff's race that was tied even after the recount. It should be apparent to anyone that just a few votes can determine the outcome of an election.
The fraudulent practice of ballot harvesting, which is often associated with voting by mail, led to the defeat of seven Republican candidates in the California 2018 midterm election. Young Kim, who ran to represent California's 39th Congressional District, was leading the vote count on election night and even in the week that followed the election. Two weeks later and after Kim attended New Member Orientation, the Democrat challenger was declared the winner after 11,000 mail ballots were counted. These ballots favored the Democrat challenger at a much higher rate than the previously counted ballots.
Similarly, during the 2018 Election Cycle, the North Carolina Board of Elections appropriately refused to certify the results of the 9th Congressional District's election due to the illegal misuse of absentee ballots.
It has also been reported, through data collected by the Election Assistance Commission, that between 2012 and 2018, 28.3 million mail-in ballots went unaccounted for, which equates to one in five of all absentee or mail-in ballots.
So, obviously, Josh, you can commit enough fraud to alter the outcome of an election.
The issues with mail-in voting far exceed the few that Josh attempts to raise. Consider Nevada where thousands of absentee ballots were just sent to inactive voters in Clark County. Consider the thousands of envelopes piling up in post offices or outside homes, apartments, and other facilities. Consider California in 2016 where 83 ballots were sent to one address housing just two people.
Then, Josh, after you have considered Alabama where in 2016, 109 absentee ballots were sent to the mother of a mayoral candidate in Brighton or when 119 absentee ballots were mailed to an abandoned home in Wilcox County, tell me that mail-in voting does not increase the likelihood for fraud to be committed.
To then pretend "small-town races" in Dothan, which is Alabama's seventh largest municipality out of 463, are not worthy of being noted is ludicrous.
The state's absentee law requiring a photo ID to be submitted with the application, which I remind you was passed last year with bipartisan support and sponsored, at our request, by Rodger Smitherman (D-Birmingham), has worked to prevent these sorts of opportunities in our state. This comprehensive, reform legislation has provided safeguards in our absentee process.
One major consideration that many supporters of mail-in voting fail to mention is cost. Currently, the administration for one Election Cycle (Primary, Runoff, and General) in our state is $16.5 million, whereas the administration of a full mail-in Election Cycle is almost $60 million.
I am positive that even Josh Moon can find a better way to spend $43.5 million generated by taxpayers.
Print this piece