Aderholt denounces Democratic aid package as a "liberal wish list"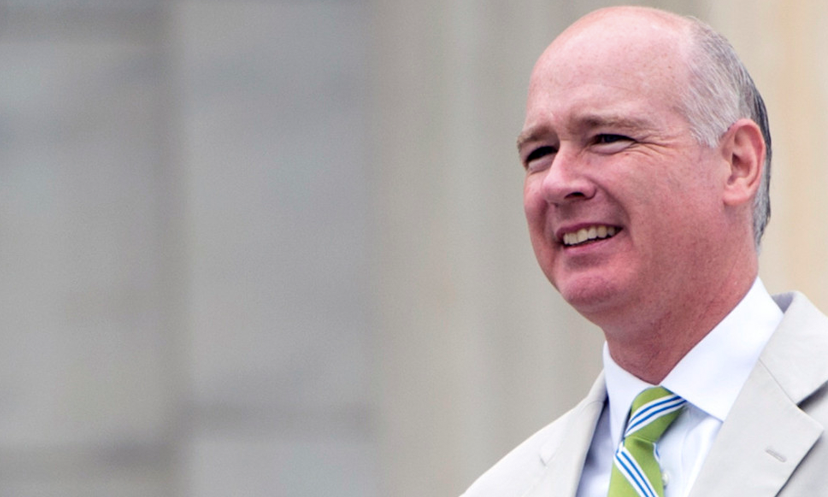 Thursday, Congressman Robert Aderholt, R-Haleyville, denounced the Democrats' coronavirus aid bill as a "Liberal wish list."
"The House is set to vote on a multi-trillion dollar bill tomorrow morning – legislation that was negotiated with zero bipartisan input," Rep. Aderholt explained. "Democratic leadership locked us out of the process entirely and instead decided to write a liberal wish list. This is beyond unacceptable. The fate of our economy hangs in the balance with decisions like these, and there is simply no room for the political games Democrats are playing."
"Some of the items in this bill have nothing to do with Coronavirus relief, such as: legalizing Marijuana companies' access to the banking system, billions to administer the new federal election mandates imposed on states, billions to bailout the Postal Service and millions for the Postal Service Inspector General to oversee that bailout, and billions for the federal government to pay student loans through September 2021," Aderholt continued. "As you can see, there are many aspects of this legislation that are irrelevant to the problems we face. We need to focus on taking care of those in need, especially in rural areas, instead of trying to overhaul our system of government."
"Chuck Schumer gloated last week that the bill they created is "Rooseveltian" in size, meaning it is equivalent to FDR's "New Deal" from the 1930s," said Aderholt. "It appears Senator Schumer got his wish and more, because the total cost of this bill is $3 trillion. This amount even exceeds the New Deal. The New Deal cost, adjusted for inflation, around $740 billion."
"(Speaking of FDR, it seems Democrats have forgotten his most famous line, "The only thing we have to fear, is fear itself.")," Aderholt stated. "While I am not totally opposed to passing another financial relief package, I am opposed to blatant and outrageous partisanship when the economy and deficit are at stake. It's a shame that Democratic leadership decided to go along this path, because there are real issues that need to be solved with input from both sides. Taxpayers deserve better and Alabamians deserve better."
The latest coronavirus "stimulus" and relief bill was originally called the CARES Act 2; but hs since been renamed to the Heroes Act.
The economic crash due to the forced economic shutdown to slow the spread of the coronavirus has led to 33 million Americans unemployed, thousands of businesses shuttered, and the cruise line, travel, casual dining, movie theater, and hotel industries likely seriously diminished for decades to come. The national debt has ballooned to $25,222 billion, while economic output is dropping precipitously.
The Federalist columnist Joy Pullman agrees with Aderholt about the bill.
"Democrats released a laughable new "coronavirus" spending bill Tuesday that would rain trillions of future taxpayers' money on an already bloated and incompetent federal government," Pullman wrote. "More than anything else, it's proof Democrats are an unserious party unfit to govern at all, let alone in a time of crisis."
Pullman wrote that: "House Democrats would give billions more dollars to bureaucrats that already have much higher salaries, benefits, and job security than private sector workers. This is despicable."
Aderholt is encouraged that the economy is beginning to reopen.
"At the beginning of the COVID-19 pandemic I was hopeful that the month of May would bring a return to normalcy," Aderholt wrote. "Although we are off to a slower start than I anticipated, I am very encouraged by the lifted restrictions and reopenings that are happening here in Alabama. It's clear that people want to get back to work, and while we understand that here in our state, it seems as though some of my colleagues in Washington can't grasp that fact."
The U.S. have been in economic freefall since early March when it became clear that the coronavirus global pandemic was going to hit this nation hard. The first American died from COVID-19 on February 27. 1,715 died on Thursday alone from the Wuhan coronavirus. In just 77s day 86,912 Americans perished and there is no sign that this will be over anytime soon.

Robert Aderholt represents Alabama's conservative Fourth Congressional District.
Republicans blast Jones for refusal to even consider Trump nominee
Republicans criticized U.S. Sen. Doug Jones, D-Alabama, on Friday for saying that he would not vote to confirm any nominee by President Donald Trump before the Nov. 3 election.
Alabama Republican Party chair Terry Lathan called Jones's announcement "disgraceful."
"It's disgraceful that Senator Jones is dismissing his duties when he announced he would not support the confirmation of any Supreme Court justice nominee put forth by President Trump prior to the November election," Lathan said in a statement. "The Constitution of our country clearly states that the President 'shall nominate, and by and with the Advice and Consent of the Senate, shall appoint…judges of the Supreme Court…'"
"At the very least, Senator Jones owes Alabamians the simple courtesy of meeting with the nominee regardless of what he already plans to do," Lathan continued. "It's time for him to do his job, at least until November 3rd."
"The people of our great state have spoken," Lathan concluded. "The majority support President Trump and his policies which includes the conservative judges he has nominated for the federal bench. However, Doug Jones continues to ignore the wishes of the majority of his constituents and falls in line with his liberal party bosses, Hollywood supporters and New York fundraisers. On Election Day, Alabamians will give their advice and consent to remove Doug Jones from office. Tommy Tuberville will represent the majority's values when he is elected as our next U.S. Senator."
On Friday, Jones was asked if he would even meet with the nominee. His response was, "I don't think my vote's going to count, so I doubt they'll even want to."
"The President's nominee hasn't even been announced but anti-Trump Democrat Doug Jones has already made up his mind against the person," said NRSC spokesperson Paige Lindgren. "Refusing to take part in a consequential Supreme Court confirmation process is the latest example that Jones has one foot out the door. He's clearly no longer focused on representing the people of Alabama."
Former State Rep. Perry Hooper Jr., a Trump supporter, said that Jones votes against "everything that the people of Alabama believe in."
"Doug Jones has consistently voted against the President and everything the good people of Alabama believe in." Hooper said. "Jones is against the 2nd Amendment, he is for government funded abortions and he is a globalist. Alabama needs to send a strong pro-life, pro-business, pro-Trump and pro-American to Washington DC. And that man is Coach Tommy Tuberville."
Senate Majority Leader Mitch McConnell, R-Kentucky, has vowed to bring the president's pick to the floor of the Senate for a vote.
"Thank God for Senator Mitch McConnell," Hooper said. "Senator McConnell has 51 votes to confirm the President's nominee to the US Supreme Court."
Conservatives are hopeful that a more conservative court will vote to overturn Roe vs. Wade, the Supreme Court precedent that prevents state governments from banning abortions.
"Senator Doug Jones betrayed Alabamians when he voted against Justice Kavanaugh and has betrayed them again today, before President Trump's Supreme Court nominee has even been named," SBA List President Marjorie Dannenfelser said in a statement. "During his short time in office, Jones has proven to be an extremist, repeatedly siding against constituents and voting with the most radical members of his party – like Kamala Harris – in favor of abortion on demand through birth, paid for by taxpayers. Asked about his stance on limiting late-term abortions more than halfway through pregnancy, Senator Jones laughed and called the issue 'stupid.' Jones is unfit to represent the pro-life, pro-Trump state of Alabama and will be held accountable at the ballot box."
Many media sources are reporting that Trump will appoint Seventh Circuit Court of Appeals Judge Amy Comey Barrett to fill the vacancy on the court left by the death of Associate Justice Ruth Bader Ginsburg.