Today, the last Monday in May, is the day we set aside to remember all of the many soldiers, sailors, airmen, and Marines who have died defending this country in this nation's many wars over the last 245 years.
Memorial Day is a state and national holiday. There will be no mail service and banks, courthouses, and many government buildings, as well as many offices and businesses, will be closed today.
Many people have the day off and are spending the holiday with family and friends.
A number of Alabama leaders have released statements paying their respects to America's fallen heroes.
"Memorial Day is a time for all of us to pause and remember the courageous Americans who made the ultimate sacrifice to defend this great nation," said Congresswoman Martha Roby (R-Montgomery). "Everyone should take this opportunity to honor and reflect on those men and women in uniform who lost their lives fighting to protect the freedoms we enjoy. "
"I realize that Memorial Day is the unofficial kickoff to summer. However, I hope you will take time to remember what the holiday is truly about," said Congressman Robert Aderholt (R-Haleyville). "Veterans Day in November is about honoring all veterans, but Memorial Day is specifically for those who gave the ultimate sacrifice and died for our country."
"On Memorial Day and every day, it's important to remember and honor the sacrifice made by the members of our military – those who gave their lives in service to our country, the veterans who are still with us today and those who have passed, and the brave men and women who are currently wearing the uniform," Rep. Roby said. "I extend my sincere condolences to those who lost a family member in the line of duty and my gratitude to those who served or are currently serving. America continues to shine as the Land of the Free, even in the midst of a global pandemic, because of the heroic men and women who sacrificed their lives for our country's future and prosperity."
"It's great that we're able to be out of our homes this Memorial Day," said Second District Congressional District candidate Barry Moore. "Hot dogs and hamburgers on the grill are incredible, but as good as they are we don't need to forget what this day is about. Memorial Day is our special day to honor those who have given their all in the service to our great nation, and May–Military Appreciation Month–is the month dedicated to letting our Veterans and serving military personnel know that we appreciate them and their service. As a Veteran from a family with a strong and proud history of service, and a new father-in-law to an Army Ranger 1st Lieutenant, this day and month have special meaning to me."
"I'm thankful we have a President whose example we can follow in honoring our fallen," former State Rep. Moore continued. "In February, when President Trump traveled to Dover Air Force Base and saluted the coffins of Sgt. Javier Jaguar Gutierrez and Sgt. Antonio Rey Rodriguez when they returned home, he showed the reverence and respect these two young men were due. This Memorial Day we all need to be equally diligent in showing that respect for those who have borne the battle. Take time today to think about what this day means, and if you get the chance during the rest of this month, tell a Vet or serviceman or woman that you're thankful for them. God Bless our troops and those who gave the ultimate sacrifice."
"Together, our nation pays immortal tribute to the extraordinary courage, unflinching loyalty, and unselfish love, and supreme devotion of the American heroes who made the ultimate sacrifice," said President Donald J. Trump (R) on Thursday. "It's the ultimate sacrifice, and it is indeed. They laid down their lives to ensure the survival of American freedom. Their names are etched forever into the hearts of our people and the memory of our nation. And some of you, it's been very close — very, very close. It's very close to your heart. We'll cherish them and our Gold Star families for all time. We take good care of them. They're very special to us. Just as we'll always remember the nearly 82,000 Americans missing in action."
Here is a video that Aderholt and his team put together a few years ago to honor the fallen from Alabama's 4th District.
Gov. Kay Ivey extends statewide mask order, allows limited nursing home visitations
"This mask ordinance is working. It works, and we have evidence of that," State Health Officer Scott Harris said.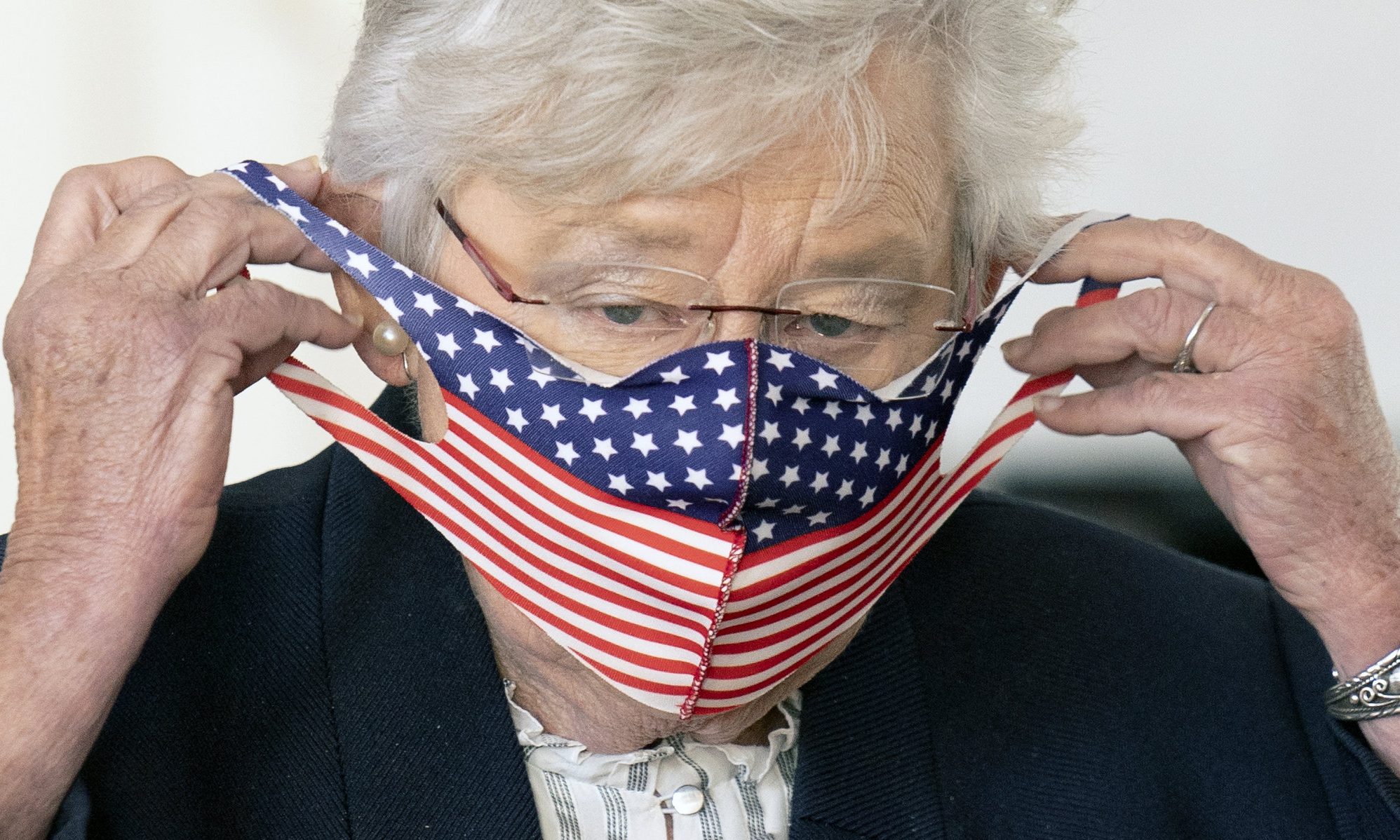 Gov. Kay Ivey on Wednesday extended Alabama's statewide mask order, citing the upcoming general election and a reduction in the spread of the virus since her order went into effect in July. Ivey's new order also allows for limited visitations in state nursing homes, and keeps all other previous social distancing restrictions in place.
"I'd hate to see us pull back too quickly and negate the progress that we've made in our daily positive numbers and our hospitalization rates by risking another spike due to a false sense of security, the upcoming winter months, the flu season and a host of other reasons," Ivey said during a press conference Wednesday. 
Ivey said that with the Nov. 3 Election Day nearing "it's important to have a safe environment where our poll workers poll watchers, and those of us who would like to vote in person." 
Ivey said that voters aren't required to wear a mask to vote in person, "I'm certainly going to wear my mask because I want to protect the poll workers and others that are going into the polls as well." 
Alabama State Health Officer Dr. Scott Harris said state hospitals are caring for about half the number of COVID-19 patients than were hospitalized in late July, during a surge in cases, hospitalizations and deaths, and just before the mask order was issued. 
"This mask ordinance is working. It works, and we have evidence of that," Harris said. "There have not been any additional restrictions imposed on our state since this Stay at Home order at the end of April." 
Harris noted an August study released by the South Carolina Department of Health and Environmental Control that looked at that state's jurisdictional mask orders, and found that in the 40 percent of jurisdictions that have mask orders COVID-19 cases were reduced by nearly half, compared to an increase in cases by 30 percent in jurisdictions without mask orders.  
White House Coronavirus Task Force Member Dr. Deborah Birx during a visit to Alabama last week urged Ivey to extend the mask order. Birx had praised Ivey's statewide mask mandate during a previous visit to the state in July, when nine of the first 13 days of that month saw daily case increases in COVID-19 cases statewide of more than 1,000. 
Ivey's amended "safer-at-home" order also states that beginning Friday, hospitals and nursing homes shall ensure that each patient or resident can have one caregiver or visitor at a time, with some exceptions. 
Ivey's order states that the changes are "subject to reasonable restrictions imposed on the entrance of persons because of the COVID-19 county positivity rate, the facility's COVID-19 status, a patient's or resident's COVID-19 status, caregiver/visitor symptoms, lack of adherence to proper infection control practices, or other relevant factors related to the COVID-19 pandemic, consistent with the following guidance from the federal government," and goes on to list links to Centers for Medicaid and Medicaid Services guidance for the different facilities. 
Ivey said during the Wednesday press conference that none of her previous statewide orders prevented anyone from accompanying a loved one into a hospital, and said despite that, there has been some confusion on the matter. She said her amended order made that fact clear.  
Dr. Don Williamson, president of the Alabama Hospital Association, told The Montgomery Advertiser in June that hospitals have control over visitations. Hospitals statewide have enacted individual varying rules on visitations since the start of the COVID-19 pandemic. 
Harris also discussed the work being done to ready the state for disbursement of a vaccine, if and when one becomes available. Harris said a plan for doing so must be given to the U.S. Department of Health and Human Services by mid-October. 
"Obviously, we're following very closely the safety data and efficacy data so that we are sure that we have a vaccine product that's going to be safe and effective," Harris said. "And I'm confident that information will be available for us, and then we can make a really good decision on that as we start to receive this vaccine." 
Harris said the supply of a vaccine will initially be limited, and state health officials will have to prioritize disbursement for high-risk people, including health care workers, but that the state will release its plan to do so to ensure openness in the process.