Police in Huntsville deployed tear gas and fired rubber bullets at peaceful protesters and demonstrators chanting "I can't breathe" in downtown Huntsville Wednesday evening, injuring several people, including a small child.
Video from the scene shows demonstrators at the aftermath of an Alabama NAACP rally peppered with rubber bullets and tear gas as law enforcement helicopters hovered overhead.
One reporter on the ground described it as a "war zone."
State Rep. Anthony Daniels, D-Huntsville, the minority leader in the Alabama House, said the scene was reminiscent of Bloody Sunday in Selma as at least 35 state troopers were called in to forcefully disperse a peaceful crowd.
"Unnecessarily Using Force Against Peaceful Protesters in Downtown Hunstville," Daniels said on his Facebook page. "Who called the State Troopers? I am so disappointed in our local and county leadership. This is not Bloody Sunday. Why the hell were the State Troopers called."
In an interview with APR Wednesday evening, Daniels said it was very disappointing that it got to this point and he is demanding answers from local and state officials about why such a show of force and violence on the part of law enforcement was necessary.
"Thirty-five state troopers," Daniels said. "This is the type of presence that was at Bloody Sunday."
Daniels said there were several thousand people present at the formal demonstration, and several hundred stayed after the permit expired, but none of it appeared violent or disruptive.
"Peaceful protesters and concerned citizens — where there is no evidence of any type of disruption, in my mind," Daniels said. "I don't understand why local, county and state law enforcement — to the sum of 35 state troopers being present with full gear. It's just ridiculous to me and very disappointing. I'm waiting for answers."
The Alabama Law Enforcement Agency said State Troopers did not participate in deploying tear gas or use other such means to disperse crowds. They were only present to assist, the agency said. *Correction: This article previously stated that State Troopers joined Huntsville police and Madison County Sheriff's Deputies in deploying tear gas and rubber bullets. The Alabama Law Enforcement Agency says State Troopers were only present as backup support and did not fire tear gas or other dispersants.
"Huntsville is one of several Alabama cities this week requesting support from ALEA. The agency has assigned ALEA Troopers to serve as backup during protests, but they have not participated in deploying tear gas or using other such means to disperse crowds. Details are law-enforcement sensitive and not available," an ALEA spokesperson said in a statement.
Daniels and another state representative spoke at the rally earlier in the evening. He said he wondered if there was a threat posed or intelligence, which would be the only justification for such a deployment of force, and, if so, why he wasn't notified.
"It leads me to believe that it was an effort to justify the actual number of law enforcement there," Daniels said. "It looks to me like they were looking to justify the number of law enforcement that was there."
Audio dispersement attempt. pic.twitter.com/Yv1SaBcvLZ

— Ian Hoppe (@IanHoppe) June 4, 2020
Police began clearing the courthouse square in downtown Huntsville, where a Confederate memorial stands, after 8 p.m. Wednesday, according to AL.com. A protest permit expired at 6:30 p.m., leading armed riot police to disperse the crowd with pepper gas and rubber bullets.
The first sign of any offensive action by protesters came after police deployed smoke and after trooper cars sped through the area. The protesters threw water bottles at state trooper cars.
Pretty shocking scene of what appears to be peaceful protesters shot at by police with rubber bullets and sprayed with tear gas. pic.twitter.com/2RF0NgN752

— Chip Brownlee (@ByChipBrownlee) June 4, 2020
Protesters moved to Big Spring Park near Huntsville's Von Braun Center before they were again dosed with a "heavy" dose of tear gas, which carried across to a media staging area and obscured a Marriott hotel in smoke.
AL.com's Paul Gattis and Ian Hoppe report that a small child — less than four years old — was caught in the tear gas and began screaming.
A small girl, maybe three years old , was just enveloped in a cloud of tear gas. She screamed while her dad ran away with her.

— Ian Hoppe (@IanHoppe) June 4, 2020
Huntsville police said there had been no property damage or violence during the protest.
Lt. Michael Johnson with the Huntsville Police Department told Huntsville's WHNT that the police department ended what they thought was "a pretty peaceful protest."
"Once that permit expired, we still waited a good amount of time," Johnson said.
It appears law enforcement waited about an hour before beginning attempts to disperse the demonstrators with forceful means like tear gas and rubber bullets.
"It started to get a little hostile. A couple of things were thrown at us," Johnson said. "The verbiage, some of the threats, the hostility, blocking the road — we just cannot have that."
Johnson said police were not "going to roll the dice" to see if the protest turned out to be violent.
"We're not going to let this city go through what other cities go through," Johnson said, justifying using a "chemical agent" on peaceful protesters.
Before riot police sprayed them with tear gas and rubber bullets, protesters chanted "we are peaceful."
Daniels said people concerned about police brutality and what he called an inappropriate use of force Wednesday should show up at the ballot box and demand answers.
U.S. Attorney Jay Town announces resignation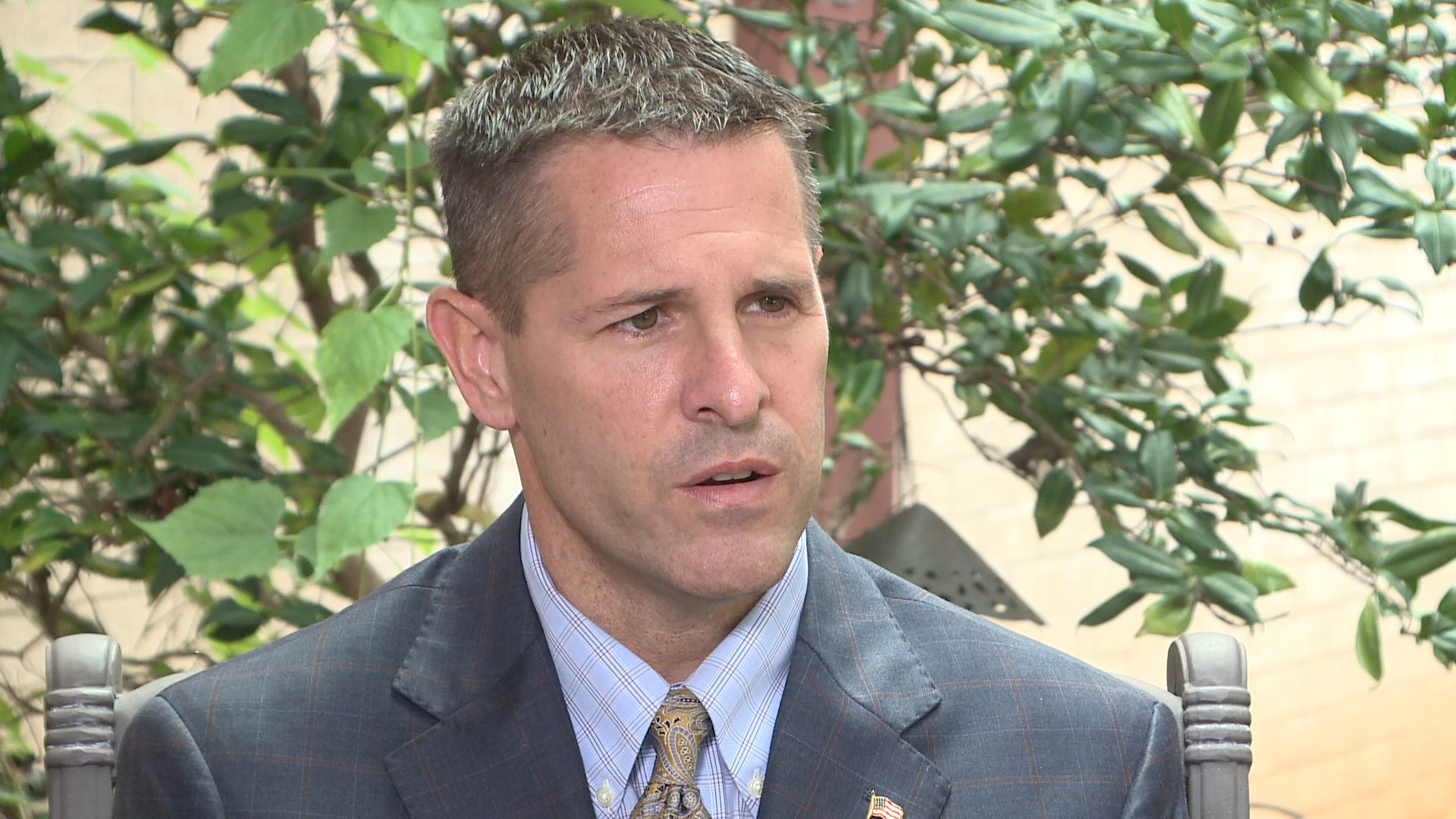 Jay Town, the U.S. attorney for the Northern District of Alabama, on Friday announced his resignation and plans to work at a Huntsville defense contractor and cybersecurity solutions company. 
Town's resignation will be effective Wednesday, July 15, according to a press release. 
"After much thoughtful prayer and great personal consideration, I have made the decision to resign as the United States Attorney of the Northern District of Alabama.  I have tendered my resignation to Attorney General William Barr. General Barr expressed his gratitude for my service to the Department of Justice and to the Northern District and, despite having hoped I would continue in my role, understood and respected my decision," Town said in a statement. 
"I am extremely grateful to President Trump, to whom I also tendered a letter, for his special trust and confidence in me to serve as the U.S. Attorney. It was an honor to be a part of this Administration with an unrivaled class of United States Attorneys from around the nation.  I will forever remain thankful to those who supported my nomination and my tenure as the U.S. Attorney," Town continued.
Town said his job with the unnamed Huntsville defense contractor and cybersecurity solutions company is to begin later this year, and the company is to announce his position "in a few weeks." 
"The Attorney General of the United States will announce my replacement in the coming days or weeks," Town said in the release.  
Town has served in his position since confirmation by the U.S. Senate in August 2017. Prior to that appointment, Town was a prosecutor in the Madison County District Attorney's office from 2005 until 2017.
Attorney General William Barr in a statement Friday offered gratitude for Town's three years of service. 
"Jay's leadership in his District has been immense.  His contributions to the Department of Justice have been extensive, especially his work on the China Initiative and most recently as a Working Group Chair on the President's Commission on Law Enforcement and the Administration of Justice. I appreciate his service to our nation and to the Justice Department, and I wish him the very best," Barr said in a statement.
The U.S. Justice Department in April 2019 notified Gov. Kay Ivey that the department's lengthy investigation into the state's prisons for men found systemic problems of violence, sexual assaults, drugs and corruption which are likely violations of the inmates' Constitutional protections from cruel and unusual punishment. 
Town's office leads the discussions between the U.S Department of Justice and the state on the prison conditions. 
Problems with violence, deaths and drugs in Alabama's overcrowded, understaffed prisons have not markedly improved in the year's since the U.S. Department of Justice released its report.