Perspective | Huntsville doctor recounts protest dispersed by police tear gas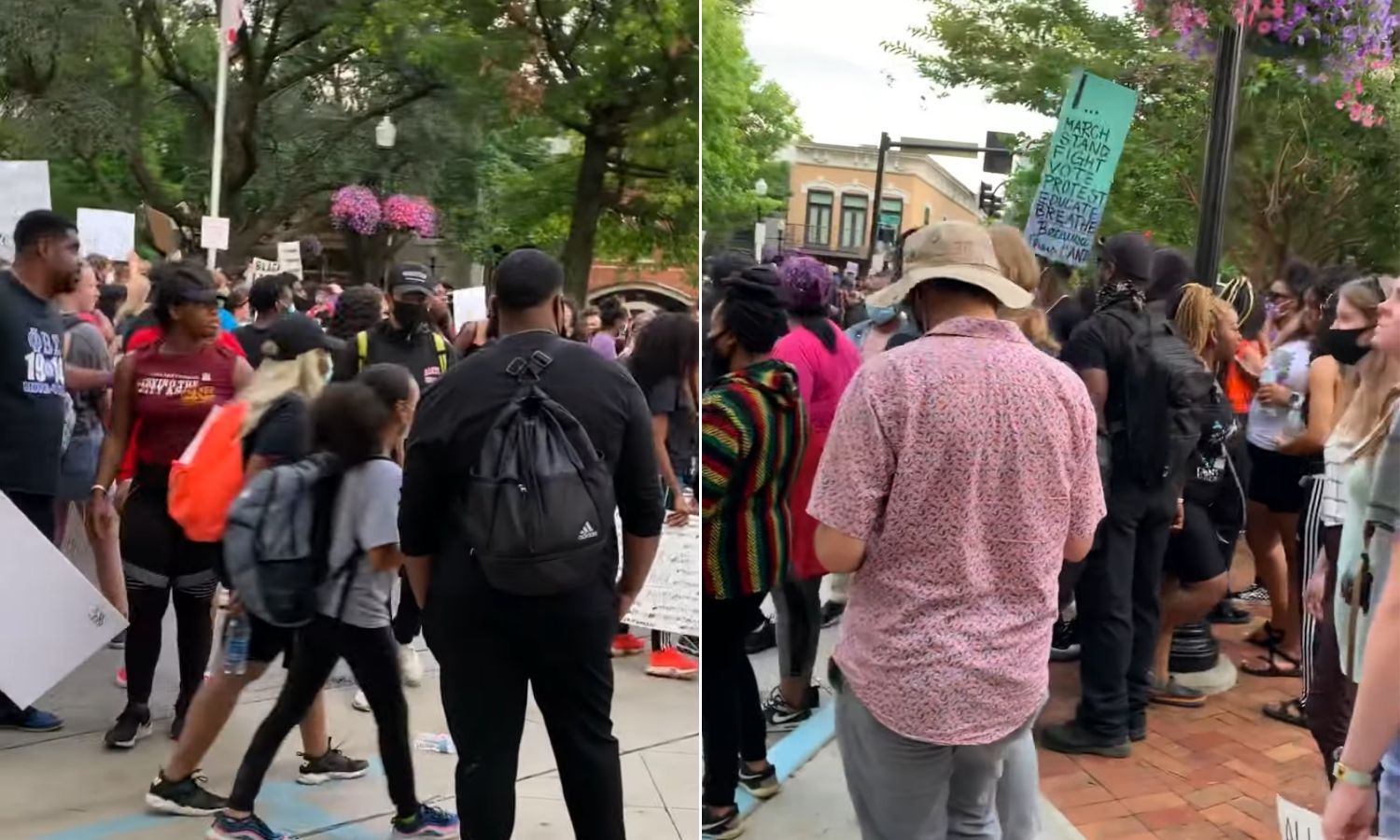 Dr. Pippa Abston is a Huntsville area physician. The following is her first-hand account of the protest in Huntsville, Alabama, on Wednesday, where police fired tear gas and rubber bullets at demonstrators after an Alabama NAACP rally.

I arrived at Big Springs Park at about 4:30 before the start of the protest at 5 p.m. I am pleased to say that multiple medical people and first aid volunteers came. We had at least one EMT. People brought armloads of supplies and water. We had a medical area set up towards the back, and some of us walked through the crowd. I carried a medic sign on a pole.
After the speakers — which I don't think I can do justice to describing, other than to say extremely inspiring — we were led up the stairs on the side of the park to march. There was chanting. It seemed to me that there were a whole lot more people than on Monday night. The line of marchers really couldn't move much. We chanted.
Instead of a big march around the square, mainly people seemed to settle in the area in front of the courthouse. Everything I saw appeared peaceful in that area. Again, there were large numbers of police on the courthouse steps. This time they were holding large numbers of wrist ties, indicating to us that they planned to do a lot of arrests, I suppose. We could see people posted on top of the courthouse, and I was told they were snipers, but I couldn't get a close enough look to verify that.
Suddenly — and again for no discernible reason — police dressed in riot gear lined up along the intersection where Fountain Circle turns into Southside Square. We heard a siren and then once again, unintelligible talking over some kind of sound system. I was roughly opposite the courthouse steps, and none of us could hear them.
It turned into that game "operator" that kids play. People were passing along information that they had heard, but it wasn't the same information. Some said we were supposed to leave in 4 minutes, others said everybody just had to get off the street and onto the sidewalks.
Toward Clinton, which was blocked also on Monday, there was no riot line of police, but there were some police cars, and it wasn't clear to anyone standing there if that was an exit route. I asked several people if anyone had provided an exit route, as is required, and they said no.
Around that time, some people started coming up to us and reporting that first aid volunteers were being detained and ordered to remove their red cross signs made with tape, on the grounds that they were impersonating doctors. Because of this, the many medical volunteers we had were not identifiable to the crowd.
Several people came to me over the course of the night, because I still had the sign and a red cross on my shirt and backpack. I had put my medical license in with my ID, and I said "let them just try that." But no one did.
We were also told that police on the courthouse roof were targeting medics — that they were pointing out our position. We were warned by several people to watch out because of that.
A few minutes later, people started passing down the word that they were about to start shooting rubber bullets. So the medical team I was with once again went down the stairs towards Big Spring Park, thinking likely that would be the way folks would flee again.
There was an initial rush of folks running down the stairs again, with some screaming, but this was brief and then people went back up again. We were unsure what to do but decided to stay in the park to be ready for their return. We heard chanting.
After some amount of time, which I did not note, because I intentionally left my watch at home, a large crowd of people came screaming, running down those same stairs again into Big Spring Park, being chased by police and we heard shooting of rubber bullets. We ran also. We heard several large explosions that sounded like bombs. We were told it was tear gas. Even though it wasn't really too close to where we were, my eyes did burn.
People passing us said that police had told them we had to leave Big Spring Park, a city park, because it was private property, and that we would be fine if we went across Church Street as long as we didn't get near businesses.
So a lot of us — maybe 100 or so — walked over there. As we were heading there, we saw a large line of patrol cars with lights and sirens on, coming down Church Street, and we wondered if it was ok after all to go there, but they passed by. We were told they were circling the courthouse.
People milled around on the sidewalk area across near Church Street, which is definitely public property, talking, wondering what was next. Again, we stayed in case we needed to give medical help and also because we had never received any instructions from the police about where to go.
We got word that they were loading up large numbers of police into trucks and coming … to do what, we didn't know, but we were worried, so we walked further away from Church Street toward the Von Braun Center area.
We saw a line of police advancing down Clinton and onto Monroe Street, and we were worried we were going to get trapped. A large crowd to the left of us were moving past the art museum, and suddenly there were explosions again and what looked like fireworks aimed at the crowd. I was told it was tear gas.
People were running and screaming and several of us were trying to help wash their eyes. These tear gas explosions happened several times. We thought they were trying to drive us to Monroe Street, but we had also seen troopers marching that way, and we didn't know if we were going to get cornered.
We were still washing people's eyes. Some people were having intense skin reactions to the gas, burning and redness.
One person had been hit so badly in the eyes that they couldn't see to find their ride, so they walked with my group back to where we were parked and got a ride with my friends. It seemed like protesters were mostly dispersing from that end of the park. We heard there were continuing protests on Jefferson Street.
I made it home. That was like being in a war, getting shot at, having gas thrown at us. And once again, one of the scariest parts was that it wasn't clear where to go and be safe from being shot at.
We have to keep showing up for these protests. They are obviously trying to terrorize us into staying home, but we must persist.
The Huntsville police chief is saying that us putting on eye protection and getting out first aid equipment was one of their reasons for gassing and shooting us, because it was a sign we wanted violence.
If I go hiking during hunting season with an orange hat on, am I hoping a hunter will shoot me in the head?
If I lock my car door, am I hoping to have my window broken?
If I wear a mask, am I hoping to get COVID-19?
They had snipers yesterday. If we come wearing bulletproof vests — and no, I don't own one — are they going to shoot us and say well, look what they made us do?
Could it be that we are aware of their weapons and their history of unprovoked brutality and want to protect ourselves while we exercise our First Amendment rights?

Alabama reports 1,750 new COVID-19 cases ahead of July 4th
The seven-day average of cases per day surpassed 1,000 for the first time Friday.
Heading into the Fourth of July holiday weekend, Alabama is reporting more cases of COVID-19 than ever before as hospitalizations continue a worrisome surge and the state's death toll rises.
Since the first coronavirus case was identified in Alabama on March 30, 41,362 Alabamians have tested positive for COVID-19, according to the Alabama Department of Public Health.
The state reported at least 1,758 positive cases on Friday alone, the most since the pandemic began. In the past seven days, 7,645 cases have been reported, the most of any seven-day period since the pandemic began.
The seven-day rolling average of new cases — used to smooth out daily variability and inconsistencies in case reporting — surpassed 1,000 for the first time Friday.
Ahead of the holiday, the Alabama Department of Public Health is urging Alabamians to celebrate at home due to the coronavirus crisis.
On Friday, the Alabama Department of Public Health announced that another 22 Alabamians have died from COVID-19 just in the last 24 hours. That takes the state's COVID-19 death toll to 983. Of those, 96 died in the last week alone (June 27-July 3).
A few simple steps can greatly reduce your chances of being exposed and exposing others to COVID-19. Everyone should practice good hygiene, cover coughs and sneezes, avoid touching your face and wash hands often. Avoid close contact with people who are sick, even inside your home, and maintain a distance of at least 6 feet from others not in your household.
The use of cloth face coverings or masks when in public can greatly reduce the risk of transmission, particularly if the infected individual wears a mask. Many people are contagious before they begin to show symptoms — or may never develop symptoms but are still able to infect others.
Alabama reported an additional 22 deaths Friday, bringing the state's COVID-19 death toll to 983, according to the Alabama Department of Public Health.
Of those, 96 died in the past seven days alone, or roughly 10 percent of the state's total death toll. In the past 14 days, 171 people have died, or roughly 17 percent of the state's death toll.
Even as the number of tests also increases — at least 430,000 have been tested — a larger percentage of tests are coming back positive compared to any other time period, according to the Department of Public Health and APR's tracking.
Roughly 15 percent of tests in the past week have been positive.
The large increases come as Alabama Gov. Kay Ivey on Tuesday extended the current "safer-at-home" public health order, which was set to expire Friday, to July 31.
The number of individuals hospitalized with COVID-19 is also at a new high, with at least 843 people hospitalized with the virus on July 2, the most since the pandemic began.
On Monday, in Jefferson County, where cases are increasing rapidly, residents were ordered to wear masks or cloth face coverings in an attempt to slow the spread of the virus. On Tuesday, the city of Mobile also began mandating masks or face coverings. The cities of Tuscaloosa, Montgomery and Selma have also implemented face covering orders.
Of the 7,645 cases confirmed in the last week, 1,321 — or roughly 17 percent — were reported in Jefferson County alone. Nearly 28 percent of Jefferson County's 4,802 total cases have been reported in the last seven days. Since March, 152 people have died in Jefferson County.
A campaign rally for President Donald Trump that was planned for Mobile on July 11 has been canceled because of the rapidly worsening coronavirus situation there. Mobile County has had 633 newly diagnosed cases in the last week, or roughly 8 percent of the state's cases this week. Mobile County has had a total of 3,904 cases and 134 deaths over the course of the pandemic.
Montgomery County reported 426 newly diagnosed cases in the last week. Overall Montgomery has had 3,947 total cases and 104 deaths thus far.
Tuscaloosa County has 393 new cases this week. The surging number of cases in Tuscaloosa and Lee Counties — where 276 tested positive this week — could potentially put the 2020 college football season in jeopardy. Tuscaloosa has had a total of 2,188 cases and 42 deaths, while Lee County has a total of 1,302 cases and 37 deaths.
Despite making it through several months with relatively moderate increases, Madison County is also experiencing a surge of new cases in recent weeks — with 407 cases in the last week alone. Madison has had 1,271 cases and seven deaths.
Many people are flocking to the beach for the Fourth of July holiday, where the coronavirus is also surging in Baldwin County with 328 new cases in the last seven days. Baldwin had been largely spared to this point with 828 cases in total and nine deaths. This week's increase accounts for 40 percent of the county's total case count.
Alabama is not alone in seeing surging case numbers. Forty of the 50 states reported rising coronavirus cases in the last week. On Thursday, 57,236 new cases were diagnosed and 687 Americans died. The U.S. death toll from the global pandemic has risen to 131,823.
Globally, there have been 11,092,229 cases diagnosed, though the real number is likely much higher. At least 526,450 people have died from COVID-19, and, with 208,860 new cases diagnosed on Thursday alone, there is no sign that this global pandemic will be over any time soon.