Still work to be done on an Alabama gambling deal
A grand deal on gambling is possible in Alabama, but there's still a long way to go. 
That was essentially the message that representatives from the Poarch Creek Indians and owners of non-Indian casinos around the state gave Friday to Gov. Kay Ivey's Study Group on Gambling Policy. The 12-member group heard presentations, via Zoom, from representatives from all the tracks and casinos in the state, as it continues in its quest to put together a proposal that Ivey and state lawmakers can use to hopefully craft future gambling legislation. 
To move forward with almost any legislation will require an agreement of some sort between PCI, Lewis Benefield, who operates VictoryLand and the Birmingham Race Course, and Nat Winn, the CEO of GreeneTrack. The owners of smaller electronic bingo halls in Greene and Lowndes Counties will also have some input. 
The tug of war between these various entities has, over the last several years, prevented an expansion of gambling. It also has left the state in a weird situation in which casinos are operating on a daily basis but there are numerous legal questions and the state is making very little in the way of tax dollars from any of them. 
But with public support for lotteries, sportsbooks and even full casino gambling at all-time highs (even a majority of Republican voters surveyed said they support full casinos in the state), and with neighboring states rapidly expanding offerings, state lawmakers seem ready to push through legislation to make it happen. 
And now, it seems, the two sides in this fight — PCI and the track owners — are ready to make a deal. 
"I feel like there's a plan out there that would benefit all of us," said Benefield, who is the son-in-law of Milton McGregor, who passed away in 2018. "I'd like to see us put together something that gets these customers back from surrounding states. I just really feel like we can work together."
Benefield wasn't alone in those feelings. 
"We stand ready to sit down and talk (about a grand deal) with anyone," said Arthur Mothershed, who, as vice president of business development for PCI, handled the tribe's presentation on Friday. 
Mothershed and Benefield have each said previously, and APR has reported, that the tribe and the non-Indian entities have held several discussions over the last few months in a quest to work out a deal. 
There is a new, old player involved, however. 
Former Gov. Jim Folsom, now a lobbyist, represented several Greene County electronic bingo entities, including GreeneTrack, during the conference. Folsom and others representing the bingo casinos told the group that bingo is essentially the financial lifeblood for their county, and that without it multiple county services could go unfunded. 
Ivey's study group has met four times with the goal of providing state lawmakers with clear answers on questions of revenue, risks and options for gaming types. Any legislation approved by lawmakers would have to be approved by voters.
Alabama lawmaker pre-files legislation to allow removal of Confederate monuments
If passed, the measure would permit counties and cities to relocate historic monuments currently located on public property.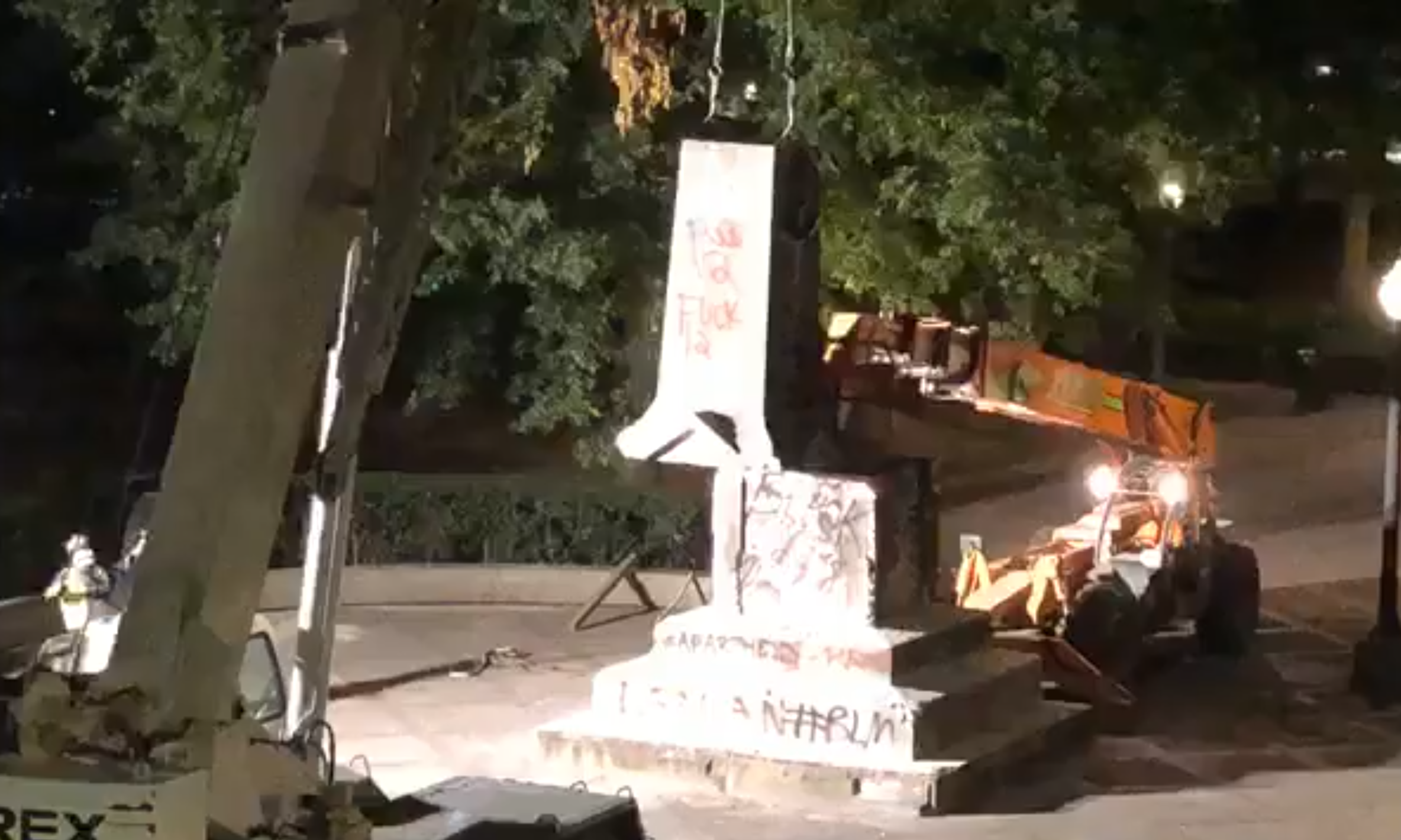 Alabama State Rep. Juandalynn Givan, D-Birmingham, introduced legislation this week in advance of the 2021 legislative session that, if passed, would permit counties and cities to relocate historic monuments currently located on public property. Givan's bill, HB8, would also provide for the relocation of historic memorials to sites appropriate for public display.
"Across the state of Alabama, citizens are calling for the removal of prominently placed statues and monuments that are insensitive or offensive to the communities that surround them," Givan said. "City and county governments must be able to address the demands of their citizens. This legislation provides a tool for local governments to safely remove these artifacts so that they can be moved to a site more appropriate for preserving or displaying the historical monument."
Removing the monuments and historical markers is currently illegal under Alabama's Memorial Preservation Act, which the state Legislature passed in 2017. Givan has been an outspoken opponent of that Republican-sponsored legislation. In 2018, Givan introduced a measure to repeal the bill that barred the removal of monuments.
"I believe HB8 can achieve bipartisan support," Givan said. "My bill seeks to balance the wishes of the people. It respects the will of communities that want the monuments removed. It also respects those who wish to preserve history. With this legislation, Confederate monuments could be relocated to a public site, like Confederate Memorial Park, whose purpose and mission is to interpret and tell these stories. When the Legislature convenes, I hope to have the support of both the House of Representatives and the Senate."
If enacted, HB8 would permit county and municipal governments to remove memorial monuments, including permanent statues, portraits and markers, located on public property in their jurisdictions. It would require a transfer of ownership of the removed monuments to the Alabama Department of Archives and History or the Alabama Historical Commission. Finally, the bill would instruct Archives and History or the Historical Commission to maintain and display monuments removed by local authorities in a location accessible for public display.
The Southern Poverty Law Center, which keeps track of Confederate monuments and memorials across the country, released an update to its Whose Heritage report, which tracks symbols of the Confederacy on public land across the United States. They report at least 30 Confederate symbols have been removed or relocated since George Floyd's death on May 25, 2020.
These include 24 monuments removed, 5 monuments relocated and the Mississippi state flag replaced. Since the Charleston church shooting in 2015, 115 total symbols have been removed from public spaces. These include 87 monuments that have been removed or relocated from public spaces. At least 78 monuments were removed and nine were relocated.
SPLC says there are still nearly 1,800 Confederate symbols on public land, and 739 of those symbols are monuments. The SPLC has prepared an "action guide" to help community activists target Confederate historical markers and memorials for removal.
President Donald Trump has denounced what he calls "cancel culture" that seeks to remove historical monuments and statutes.
"There is a growing danger that threatens every blessing our ancestors fought so hard for, struggled, they bled to secure," Trump said. "Our nation is witnessing a merciless campaign to wipe out our history, defame our heroes, erase our values, and indoctrinate our children."