Auburn-based SiO2 receives federal funds to produce vials for potential COVID-19 vaccine
An Auburn-based company, Si02, seems to have resolved one of the main issues that Bill Gates has been speaking on surrounding the fight to develop a COVID-19 vaccine. Si02 has received government funding of $143 million in BARDA (Biomedical Advanced Research and Development Authority) investment money.
Si02 will be able to produce the needed supply of vials so that the vaccine, once developed and approved for widespread use, can be quickly and safely distributed around the world. The BARDA funds will help SiO2 produce an annual capacity of 120,000,000 (10r or 10ml vials). This equates to about 1 billion doses of the vaccine, the company says.
Bobby Abrams is the Chief Executive Officer of SiO2.
"The pandemic presents an enormous challenge for all people," Abrams explained. "We are extremely grateful for Senator Shelby's steadfast support and assistance, and we're honored to collaborate with our government so a COVID-19 vaccine can be safely and quickly distributed. The State of Alabama and the City of Auburn for many years have been very supportive of SiO2 Materials Science during its research, development, commercialization, and now scale-up phases of the company."
Former Auburn Mayor Bill Ham is currently on the Board of Auburn University's Auburn Research and Technology Foundation.
"We are extremely fortunate to have SiO2 in Auburn; and are grateful for the integral role Alabama's prominent U.S. Senator Richard Shelby played in helping the company," the mayor said. "We are also very appreciative with the early investment in the project by the Retirement Systems of Alabama, who should benefit greatly with their investment."
"SiO2 is critical to Auburn because the company's advanced materials science platforms are critical to our nation's fight against this pandemic and future health threats." Mayor Ham said.
The company is now beginning to ramp up production of its state-of-the-art vials.
Economic developer Dr. Nicole Jones told the Alabama Political Reporter, "Vials produced by Si02 Materials Science may be the critical component needed to ensure safety in the vaccine distribution process. The breakthrough technology developed by the Auburn-based company provides a glimmer of hope amidst challenging times and showcases how Alabamians are working diligently to craft solutions that will assist our nation and the world in the fight against COVID-19. In addition, Si02 will create 200 highly-skilled jobs as a result of their grant award, which will benefit Lee County as well as our entire state."
Auburn-based SiO2, is a privately-owned U.S. advanced materials science corporation. Their state-of-the-art, patented, primary packaging platform will be used for storing vaccines for the novel strain of the coronavirus, SARS-CoV-2 and therapeutics.
SiO2's vials and syringes, which are a combination of a plastic container with a microscopic, thin, undetectable to the naked eye, pure glass coating, provides the safest package for new biological drugs and vaccines. This science is essential to the viability of the vaccine itself.
SiO2 currently employs more than 200 engineers, scientists, and technicians, most of whom live in Lee County and are Auburn University graduates. The company's 165,000 square foot manufacturing plant is in Auburn. The BARDA grant received significant support from Alabama's U.S. Senator Richard Shelby (R). The investment will help SiO2 create 200 new high-skilled jobs.
The $143 million agreement with the Department of Defense's Joint Program Executive Office for Chemical, Biological, Radiological, and Nuclear Defense (JPEO-CBRND) in partnership with the Biomedical Advanced Research and Development Authority (BARDA), part of the Office of the Assistant Secretary for Preparedness and Response (ASPR) at the U.S. Department of Health and Human Services (HHS), accelerates the production scale-up of the company's primary packaging platform.
Dr. Robert S. Langer is an institute professor at MIT and an advisor to SiO2.
"The nation can produce all the vaccines we want, but we must have appropriate containers to store them and deliver them to patients safely," explained Dr. Langer. "Many drug development and drug formulation innovations can be limited due to variables associated with traditional glass vials and syringes. The SiO2 vials and syringes eliminate these variables and allow drug development partners to bring their innovations to life."
Essential characteristics of SiO2's patented materials coating include thermal stability and integrity, chemical stability, a gas barrier, mechanical durability, no breakage, and precision molding.
With a thermal stability range of -196˚C to 121˚C and with a seal integrity down to -80˚C, the SiO2 vials and syringes provide the ideal primary container for therapies in any storage conditions.
Chemical stability allows the product to be safe and suitable for a wide range of drug characterizations, including pH ranges from 3-14; there is no risk of delamination and no metal ions as observed with glass vials.
With a gas barrier, SiO2 vials have gas permeation properties like glass and therefore provide the shelf life and stability required by many therapies. SiO2 vials also can withstand 1,500 pounds of direct force, which potentially saves millions of dollars from breaking on filling lines and minimizes loss in the supply chain; and the vials are shatterproof, making them safe for use by healthcare staff and patients.
SiO2's syringes are precision molded and up to 15 times more dimensionally consistent than glass, enabling error-free operation with autoinjectors and other drug delivery devices.
SiO2's patented materials science was developed in Auburn, Alabama over 10 years with the assistance of experts from four major U.S. research institutions: the University of California at Santa Barbara and Berkeley, the University of Chicago, MIT, and Harvard.
Si02's research team included the participation of Dr. Glenn Fredrickson, one of the most prominent material scientists in the United States.
"The SiO2 vials solve significant challenges in the commercialization of vaccines and biological drugs, which presently cannot be solved by glass or plastic vials," Fredrickson said. "Bringing this advanced coating to market will enable pharmaceutical manufacturers to safely and more rapidly deploy their critical products."
"We're dramatically ramping up capacity to meet customer demands and to ensure that the surge seen due to the COVID-19 vaccine and therapeutic developments can be accommodated," said SiO2's President of Customer Operations and Chief Business Officer Lawrence Ganti.
SiO2's funding application was facilitated by attorneys Palmer Hamilton and Robert Walthall, partners in the Jones Walker law firm.
SiO2 Materials Science has been managed by the same family for more than 100 years. SiO2 Materials Science is a privately owned U.S. advanced materials science corporation introducing breakthrough disruptive technology.
The COVID-19 global pandemic has killed 419,391 people, including 115,137 Americans (739 of them Alabamians).
Alabama reports record-breaking 2,164 new COVID-19 cases
Thursday's number of new cases hit 2,164 and blew past the previous daily record set on July 3 by 406 cases.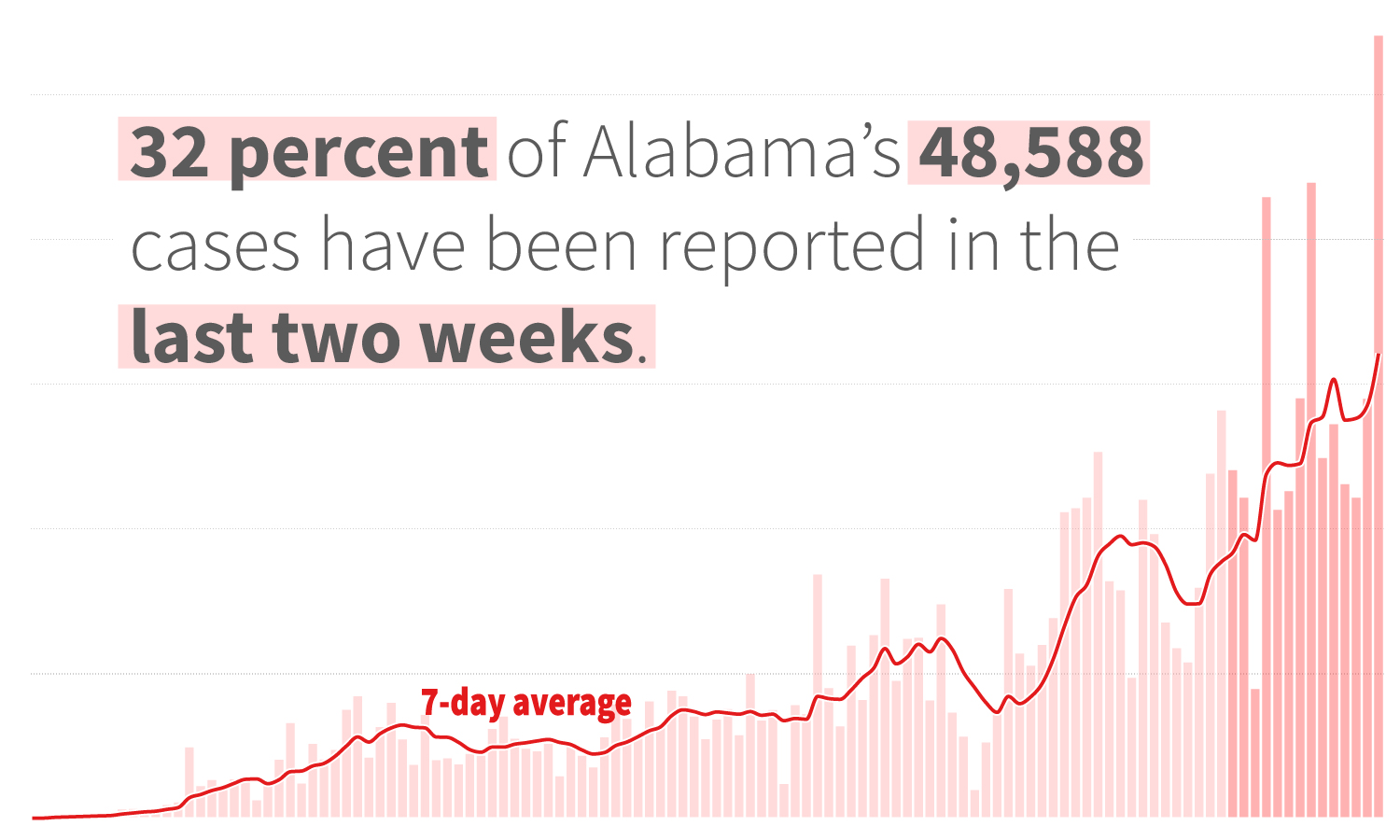 New COVID-19 cases in Alabama on Thursday jumped by nearly double from the day before, and for the first time broke 2,000 in a single day, according to the latest data from the Alabama Department of Public Health.

Thursday's number of new cases hit 2,164 and blew past the previous daily record set on July 3 by 406 cases. Both the seven-day and 14-day rolling average of new daily cases in Alabama were also at record highs Thursday. 
Thirty-two percent of the state's 48,588 cumulative confirmed cases have been added within the last two weeks. 
The Alabama Department of Public Health did not publish Wednesday an update to the total number of tests performed, which throws off the day's figures for the percentage of tests that are positive, but on average, over the last week, the state's seven-day rolling average of percent positivity has roughly 15 percent. 
Public health experts say the percent positivity should be at or below 5 percent — otherwise there isn't enough testing being done and cases are going undetected. 
Along with surging new cases, the number of COVID-19 patients hospitalized on Wednesday was higher than it's been since the beginning of the pandemic. On Wednesday 1,110 coronavirus patients were being treated in state hospitals, which was the fourth straight day of record current hospitalizations. 
UAB Hospital's COVID-19 Intensive care units were nearing their existing capacity Tuesday. The hospital has both a COVID ICU and a COVID acute care unit designated to keep patients separated from those who don't have the virus, but it has more space in other non-COVID units should it need to add additional bed space.

Hospitals in Madison County this week are also seeing a surge of COVID-19 patients. Paul Finley, the mayor of the city of Madison, told reporters Wednesday that local hospitals were reporting record numbers.

Hospitals there were at 80 to 90 percent capacity.
"Our ambulances yesterday had their greatest number of runs since this started," said Crestwood Hospital CEO Dr. Pam Hudson on Wednesday, adding that in about 20 percent of calls staff is having to wear full personal protective equipment. "That indicates that they are working with patients who have symptoms that could be compatible with COVID."
Meanwhile, Madison County set a new daily record, adding 286 cases Thursday, the first time the county has surpassed 200 cases a day. The county was largely spared early on in the pandemic, with low case counts and low death rates, but roughly 42 percent of Madison County's total case count since March has been reported in the last week as 803 new cases have been added.
Jefferson County and Madison County, over the last week, have accounted for 26 percent of the state's new cases.
Jefferson County led the state in the most new cases Thursday with 343 and has added 1,498 cases in the last week. The county's total cases increased by 33 percent from last week, and stood at 6,030 confirmed COVID-19 cases Thursday.
While Jefferson County and Madison County are seeing the state's most intense increases, other large counties including Shelby County, Baldwin County and Tuscaloosa County have also seen record increases and rising percent positive rates.
At least 81 people have died from COVID-19 in the last week, and 162 people have died in the last two weeks.
At least 1,042 people have died from COVID-19 since March, and at least 26 other deaths are listed as "probable" COVID-19 deaths.