Alabama Democrats call for Rep. Will Dismukes to resign over support for Confederacy
Updated at 8 p.m. to include a response from Rep. Will Dismukes.
The executive director of the Alabama Democratic Party on Friday called for the resignation of a Republican state representative over his support for the Confederacy, Confederate monuments and his membership in a local Sons of Confederate Veterans chapter. 
The Alabama Democratic Party — in a statement released Friday — said that Rep. Will Dismukes, R-Pratville, is receiving criticism for his support of the lost Confederate cause and "as elected officials of all stripes seek to move Alabama forward, Dismukes is stuck in the past." 
"Rep. Dismukes, Chaplain of the 'Prattville Dragoons: Sons of Confederate Veterans,' was recently praised in the group's newsletter as being representative of the Confederacy's 'Godly heritage,'" the press release states.
"We need elected officials who work for a better tomorrow for all Alabamians," said Wade Perry, executive director of Alabama Democratic Party, in a statement.  "That should go without saying. If little Will wants to play dress-up and pretend to fight for the lost cause, he should resign. His job is to pass laws that help Alabamians, not honor folks who fought to preserve the institution of slavery."
Dismukes in a Facebook post later on Friday addressed the call for his resignation, and said he'd neither resign nor apologize for the photo in which he was standing in front of the American and Confederate flags.
"I will release an official statement tomorrow. No worries I'm not resigning because the Democratic Chairman requested my resignation. I also will not be apologizing over a picture in front of the flags nor being chaplain of my local SCV camp which is listed as a heritage group by the SPLC," Dismukes wrote in his post. "We have enough people caving to the communist left. For the love of life it's time for people to stop being so sensitive and apologetic and take a stand before our country is Gone with the Wind. This is way bigger than history and monuments. Deo Vindice."
Dismukes's use of the phrase "Deo Vindice" — in his post Friday, and in other posts on his social media — is notable. The phrase was selected by the Confederacy as a motto, and translates to "God will vindicate," according to the Museum of American History.
In an interview on WVNN's "The Jeff Poor Show," Dismukes was critical of a recommendation by House Minority Leader Anthony Daniels, D-Huntsville, to stop using tax money to fund the Confederate Memorial Park in Chilton County.
The Alabama Historical Commission receives about $600,000 annually to run the park, according to Al.com. 
"I think he's dead wrong. I don't think it would be a wise decision for our state to move in that direction," Dismukes said during the program, as quoted by Yellowhammer News.

In a Facebook post on June 14, Dismukes called for more funding for the Confederate Memorial Park.  "No chance we stop funding the State Park!!! This will not happen on my watch," he wrote.
"We technically give a small portion of what is actually supposed to go towards the park. If anything we should give more to the park and ensure our history is preserved," Dismukes wrote in the post. 
In an April 27 Facebook post, Dismukes refers to the Civil War as the "War of Northern Aggression." In several other Facebook posts, he references and quotes the national motto of the failed Confederacy, "Deo Vindice."

In another Facebook post, Dismukes is seen standing in front of a Confederate flag, wearing a shirt with a Confederate flag patch while celebrating "Confederate Flag Day."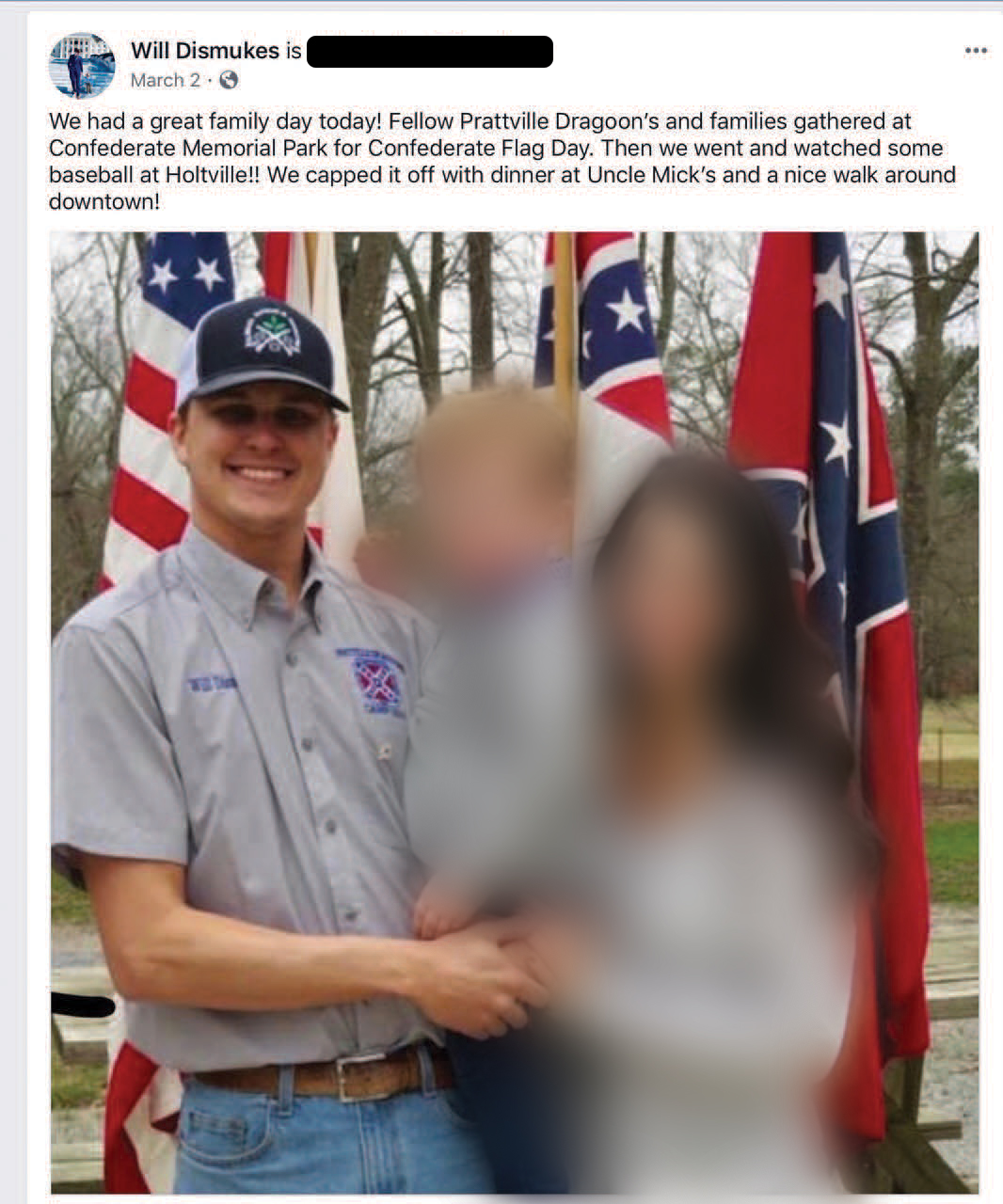 In the wake of the killing of George Floyd by a police officer in Minneapolis, protests against police brutality have resulted in calls for policies to address systemic racism and for Confederate monuments to come down, and across the South and in Alabama many have already been removed. Monuments in Mobile, Birmingham and Montgomery have come down. 
The National Trust for Historic Preservation on Thursday released a statement calling for the removal of Confederate monuments, most of which the Washington D.C.-based nonprofit said "were intended to serve as a celebration of Lost Cause mythology and to advance the ideas of white supremacy." 
"Many of them still stand as symbols of those ideologies and sometimes serve as rallying points for bigotry and hate today. To many African Americans, they continue to serve as constant and painful reminders that racism is embedded in American society," the nonprofit said in a statement.
Pro-Growth Conference kicks off with Doug Jones, discussions on COVID impact and a living wage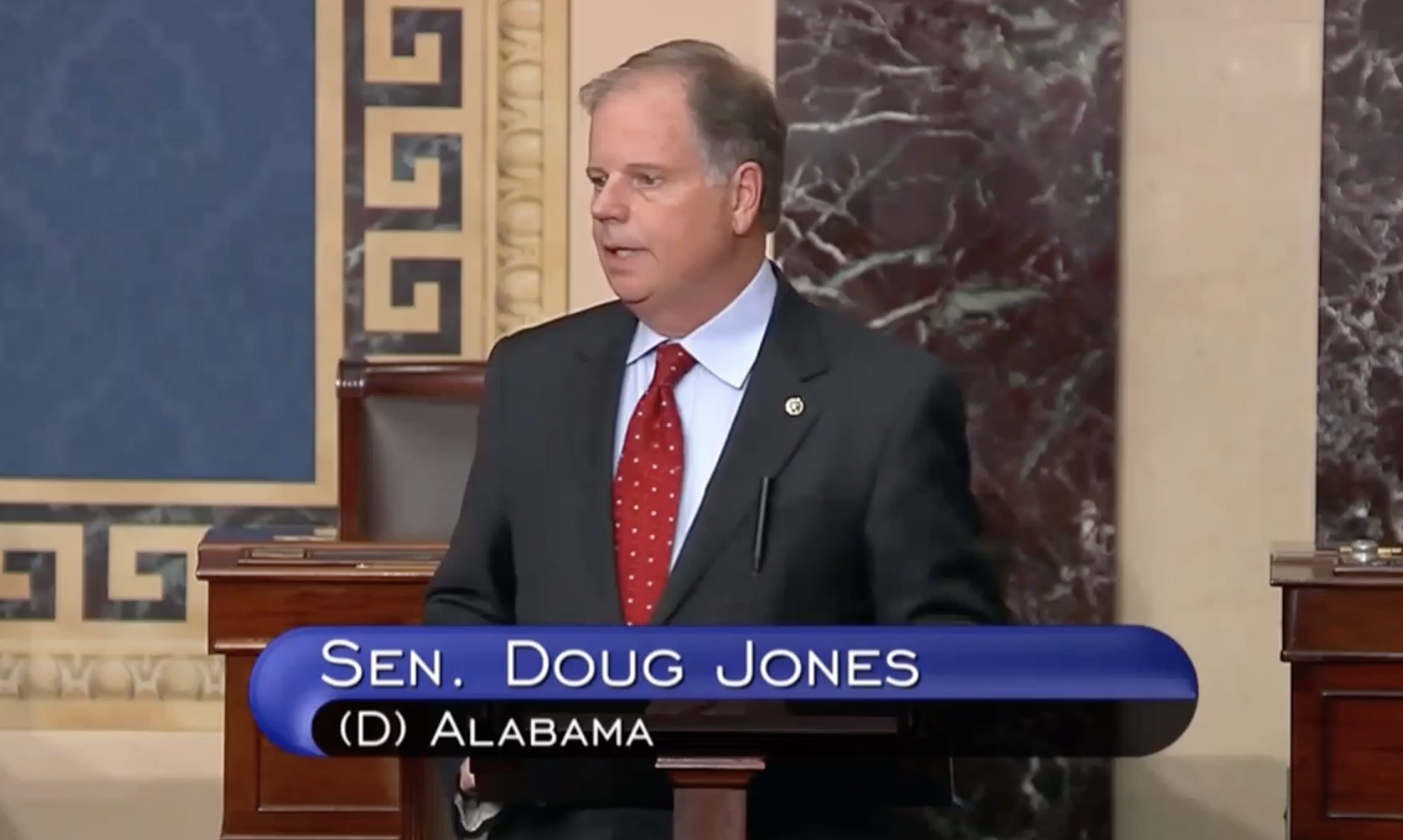 What happens if you just give impoverished citizens $500 per month — no strings attached? Good things, it turns out. The people use that income to buy food, medicine and basic necessities for life. They take a day off work if they're sick and actually get treatment. They quit a second, hourly-wage job that they are overqualified for and instead work towards obtaining a better, higher-paying primary job. 
These are things that the city of Stockton, California, has learned in its year-long living wage program.
The program, while limited in size — only 125 people — has proven to be a larger success than city officials had hoped, and it has opened their eyes to a new, more proactive style of governance, Stockton Mayor Michael Tubbs told Alabama elected officials. 
Tubbs was the featured speaker on Tuesday at the first day of the Pro-Growth Policy Conference, a three-day forum for Alabama elected leaders with guest speakers from around the country offering tips and best practices. 
The first day of the conference began with an opening talk from Sen. Doug Jones, who pressed the need for Medicaid expansion and how expansion has aided other red states. Jones also highlighted the need for broadband expansion and talked about a bill he has in the Senate that would create a broadband main office and dish out about $20 million in money for affordable access.
"Now (with COVID), we know how needed it really is," Jones said. "We see the homework gap that we have. We know there's a need for more telemedicine. My bill would consolidate in one office all of the monies for broadband … and provide affordable access."
Jones said the current COVID pandemic has highlighted just how badly we need better access to broadband in Alabama, and a major area of concern right now is healthcare. 
Highlighting that point, Brandon Garrett, the chief operating officer of the National Minority Quality Forum, and Dr. LaTasha Lee, the vice-president of social and clinical research, demonstrated the many ways in which inequality in health care and health care options is harming impoverished communities. 
A number of factors play into that inequality, but a lack of access to updated means of communication and tools is one of the biggest. 
"(Dr. Martin Luther King Jr.) said that, 'Of all the forms of inequality, injustice in health care is the most shocking and inhumane because it results in physical death,'" Lee said. "That's what we're seeing currently with COVID-19 and sickle cell disease. These two diseases are affecting the minority community and causing death, and they make a great argument that such health care disparities really are a social justice issue."
Correcting such issues was one of the goals of Stockton's living wage experiment. Now, Tubbs said, a working person can afford to stay home or get tested if they're feeling symptomatic, whereas before that person — scared of missing a paycheck or losing the job altogether — might come to work with the virus and infect an entire workplace. 
That alone, Tubbs said, has restored dignity to a number of residents. 
"This is not easy, especially with budgets the way they are," Tubbs said. "But I don't know how we continue to live with the status quo as it is.
"I think part of being a leader, as we are, is having the courage to do something about what we're seeing. We have to be able to do that."
The Pro-Growth Policy Conference will run both Wednesday and Thursday, 10 a.m. until 2 p.m. Wednesday's round of conferences will focus on state grants, economic development around the state and what the 2021 legislative session might look like. 
On Thursday, the event will wrap up with talks by the Equal Justice Initiative's Bryan Stevenson and Alabama Congresswoman Terri Sewell.