Alabama Democrats call for Rep. Will Dismukes to resign over support for Confederacy
Updated at 8 p.m. to include a response from Rep. Will Dismukes.
The executive director of the Alabama Democratic Party on Friday called for the resignation of a Republican state representative over his support for the Confederacy, Confederate monuments and his membership in a local Sons of Confederate Veterans chapter. 
The Alabama Democratic Party — in a statement released Friday — said that Rep. Will Dismukes, R-Pratville, is receiving criticism for his support of the lost Confederate cause and "as elected officials of all stripes seek to move Alabama forward, Dismukes is stuck in the past." 
"Rep. Dismukes, Chaplain of the 'Prattville Dragoons: Sons of Confederate Veterans,' was recently praised in the group's newsletter as being representative of the Confederacy's 'Godly heritage,'" the press release states.
"We need elected officials who work for a better tomorrow for all Alabamians," said Wade Perry, executive director of Alabama Democratic Party, in a statement.  "That should go without saying. If little Will wants to play dress-up and pretend to fight for the lost cause, he should resign. His job is to pass laws that help Alabamians, not honor folks who fought to preserve the institution of slavery."
Dismukes in a Facebook post later on Friday addressed the call for his resignation, and said he'd neither resign nor apologize for the photo in which he was standing in front of the American and Confederate flags.
"I will release an official statement tomorrow. No worries I'm not resigning because the Democratic Chairman requested my resignation. I also will not be apologizing over a picture in front of the flags nor being chaplain of my local SCV camp which is listed as a heritage group by the SPLC," Dismukes wrote in his post. "We have enough people caving to the communist left. For the love of life it's time for people to stop being so sensitive and apologetic and take a stand before our country is Gone with the Wind. This is way bigger than history and monuments. Deo Vindice."
Dismukes's use of the phrase "Deo Vindice" — in his post Friday, and in other posts on his social media — is notable. The phrase was selected by the Confederacy as a motto, and translates to "God will vindicate," according to the Museum of American History.
In an interview on WVNN's "The Jeff Poor Show," Dismukes was critical of a recommendation by House Minority Leader Anthony Daniels, D-Huntsville, to stop using tax money to fund the Confederate Memorial Park in Chilton County.
The Alabama Historical Commission receives about $600,000 annually to run the park, according to Al.com. 
"I think he's dead wrong. I don't think it would be a wise decision for our state to move in that direction," Dismukes said during the program, as quoted by Yellowhammer News.

In a Facebook post on June 14, Dismukes called for more funding for the Confederate Memorial Park.  "No chance we stop funding the State Park!!! This will not happen on my watch," he wrote.
"We technically give a small portion of what is actually supposed to go towards the park. If anything we should give more to the park and ensure our history is preserved," Dismukes wrote in the post. 
In an April 27 Facebook post, Dismukes refers to the Civil War as the "War of Northern Aggression." In several other Facebook posts, he references and quotes the national motto of the failed Confederacy, "Deo Vindice."

In another Facebook post, Dismukes is seen standing in front of a Confederate flag, wearing a shirt with a Confederate flag patch while celebrating "Confederate Flag Day."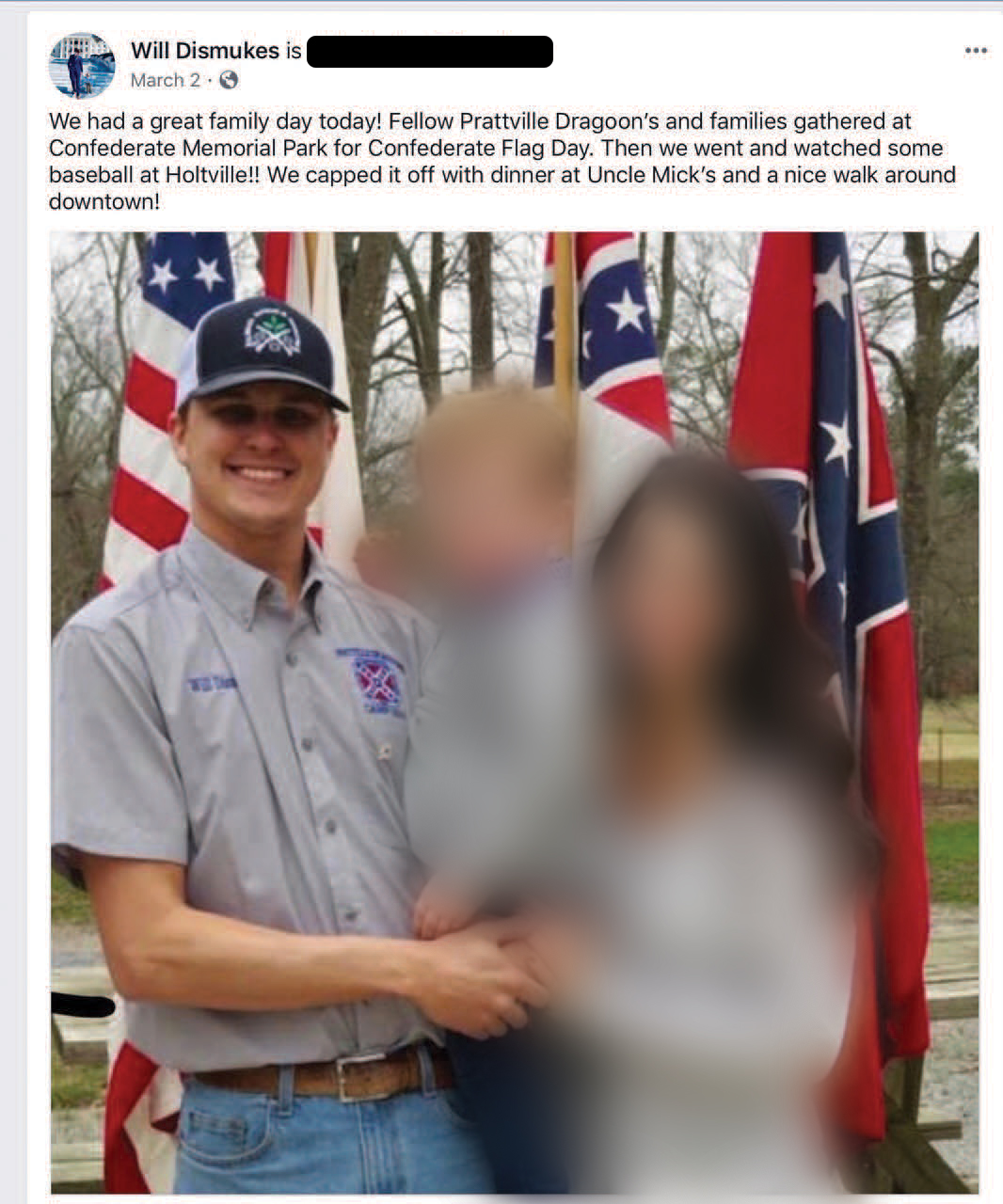 In the wake of the killing of George Floyd by a police officer in Minneapolis, protests against police brutality have resulted in calls for policies to address systemic racism and for Confederate monuments to come down, and across the South and in Alabama many have already been removed. Monuments in Mobile, Birmingham and Montgomery have come down. 
The National Trust for Historic Preservation on Thursday released a statement calling for the removal of Confederate monuments, most of which the Washington D.C.-based nonprofit said "were intended to serve as a celebration of Lost Cause mythology and to advance the ideas of white supremacy." 
"Many of them still stand as symbols of those ideologies and sometimes serve as rallying points for bigotry and hate today. To many African Americans, they continue to serve as constant and painful reminders that racism is embedded in American society," the nonprofit said in a statement.
Alabama lawmaker pre-files legislation to allow removal of Confederate monuments
If passed, the measure would permit counties and cities to relocate historic monuments currently located on public property.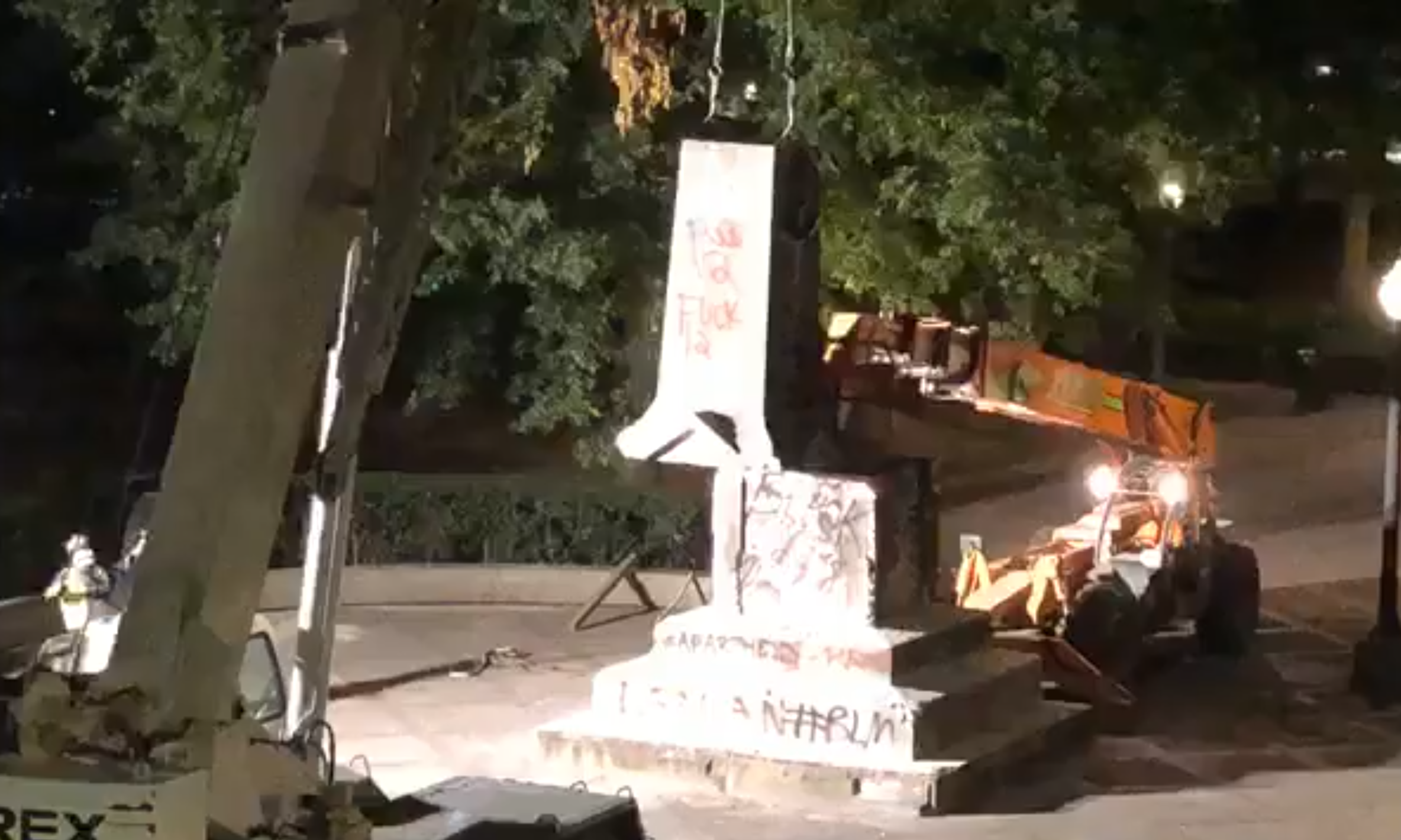 Alabama State Rep. Juandalynn Givan, D-Birmingham, introduced legislation this week in advance of the 2021 legislative session that, if passed, would permit counties and cities to relocate historic monuments currently located on public property. Givan's bill, HB8, would also provide for the relocation of historic memorials to sites appropriate for public display.
"Across the state of Alabama, citizens are calling for the removal of prominently placed statues and monuments that are insensitive or offensive to the communities that surround them," Givan said. "City and county governments must be able to address the demands of their citizens. This legislation provides a tool for local governments to safely remove these artifacts so that they can be moved to a site more appropriate for preserving or displaying the historical monument."
Removing the monuments and historical markers is currently illegal under Alabama's Memorial Preservation Act, which the state Legislature passed in 2017. Givan has been an outspoken opponent of that Republican-sponsored legislation. In 2018, Givan introduced a measure to repeal the bill that barred the removal of monuments.
"I believe HB8 can achieve bipartisan support," Givan said. "My bill seeks to balance the wishes of the people. It respects the will of communities that want the monuments removed. It also respects those who wish to preserve history. With this legislation, Confederate monuments could be relocated to a public site, like Confederate Memorial Park, whose purpose and mission is to interpret and tell these stories. When the Legislature convenes, I hope to have the support of both the House of Representatives and the Senate."
If enacted, HB8 would permit county and municipal governments to remove memorial monuments, including permanent statues, portraits and markers, located on public property in their jurisdictions. It would require a transfer of ownership of the removed monuments to the Alabama Department of Archives and History or the Alabama Historical Commission. Finally, the bill would instruct Archives and History or the Historical Commission to maintain and display monuments removed by local authorities in a location accessible for public display.
The Southern Poverty Law Center, which keeps track of Confederate monuments and memorials across the country, released an update to its Whose Heritage report, which tracks symbols of the Confederacy on public land across the United States. They report at least 30 Confederate symbols have been removed or relocated since George Floyd's death on May 25, 2020.
These include 24 monuments removed, 5 monuments relocated and the Mississippi state flag replaced. Since the Charleston church shooting in 2015, 115 total symbols have been removed from public spaces. These include 87 monuments that have been removed or relocated from public spaces. At least 78 monuments were removed and nine were relocated.
SPLC says there are still nearly 1,800 Confederate symbols on public land, and 739 of those symbols are monuments. The SPLC has prepared an "action guide" to help community activists target Confederate historical markers and memorials for removal.
President Donald Trump has denounced what he calls "cancel culture" that seeks to remove historical monuments and statutes.
"There is a growing danger that threatens every blessing our ancestors fought so hard for, struggled, they bled to secure," Trump said. "Our nation is witnessing a merciless campaign to wipe out our history, defame our heroes, erase our values, and indoctrinate our children."