Marshall leads attorneys general in letter to Congress supporting law enforcement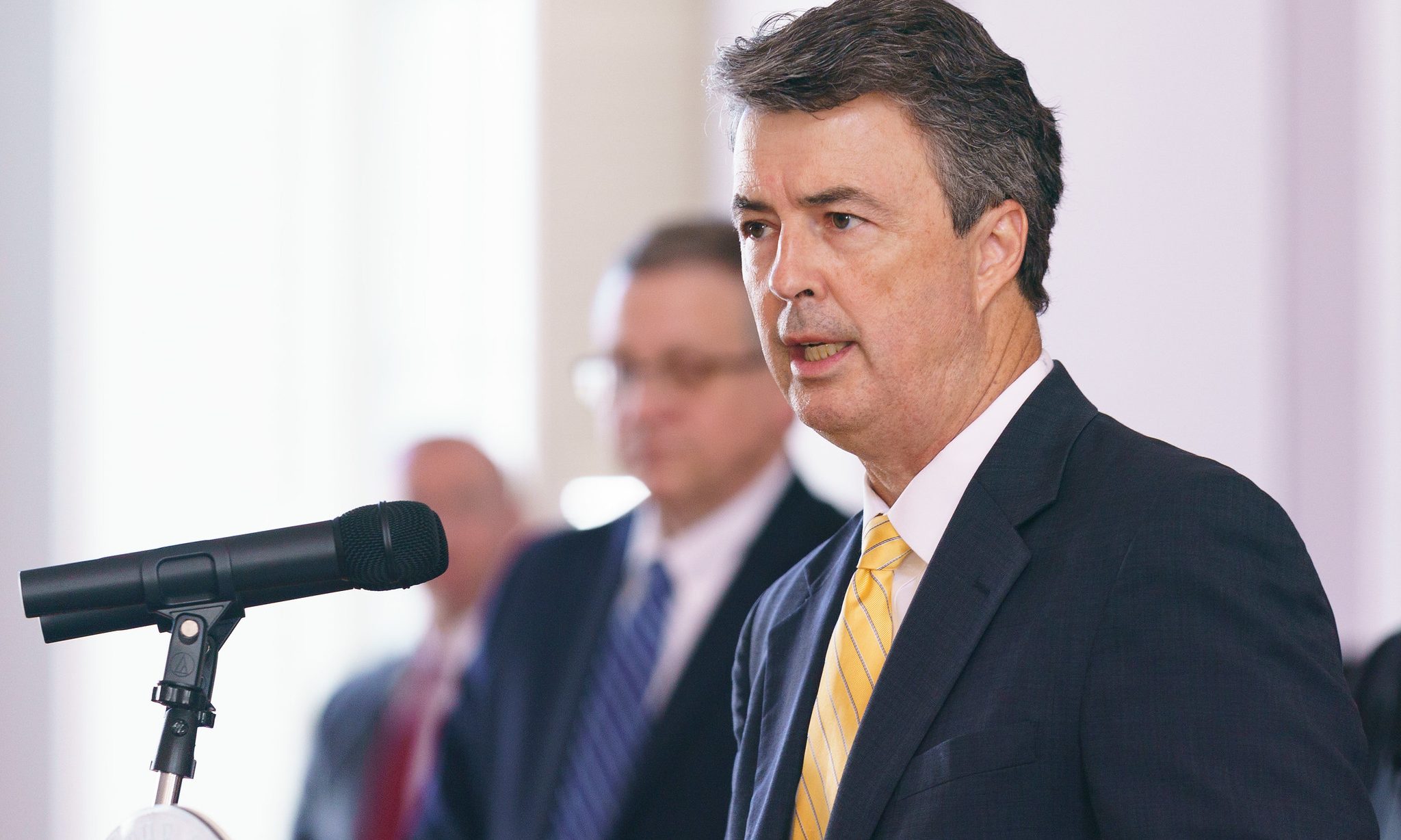 Alabama Attorney General Steve Marshall and Louisiana Attorney General Jeff Landry led 11 state attorneys general in a letter to Congress in support of American law enforcement officers.
"As the chief law enforcement officers of our states, along with law enforcement partners, we write to express our unwavering support for law enforcement across the country and to ask for your assistance in tempering the anti-police rhetoric that is jeopardizing the safety of our officers," the AGs wrote. "We especially rely on you, as leaders of the most important legislative body in the world, to discourage disinformation and to help us restore the country's faith in the overwhelming majority of law-enforcement officers who perform their jobs honorably and bring stability to our cities and states."
"The tragic and preventable death of George Floyd at the hands of four Minneapolis police officers shined a national spotlight on bad actors within the law-enforcement profession," the AGs continued. "At the same time, data simply does not support claims that law enforcement is systemically racist or structurally biased. Despite the lack of available evidence to support the anti-police narrative, it proliferates and has spawned radical reactions such as the current calls to "defund the police," as well as increases in violence against police—ranging from assaults to murders."
"Recent history confirms that when myths about the police are not strongly repudiated by our nation's leaders, law-enforcement officers lose their lives," the AGs stated. "In 2016, following a national campaign against law enforcement—like what we are experiencing today—the number of officers shot and killed in the line of duty increased by 56% in that year alone. Twenty-one of those deaths were ambush-style shootings of law enforcement officers. Who can forget the five officers murdered in attacks in Dallas, Texas, and the three officers murdered in Baton Rouge, Louisiana, in only a ten-day period? In recent weeks of national unrest, 750 officers have already been injured defending their communities from the violence that has swept our country. Two members of the law enforcement community have already lost their lives."
"In closing, it is possible to support law enforcement and also speak out against the actions of those individuals who dishonor the badge," the letter concludes. "These two concepts are not mutually exclusive and is why there has been virtually no support from law enforcement of the horrific decisions made by the officers involved in Mr. Floyd's death. Individuals, including members of Congress, are dangerously fanning the flames of emotion by tacitly or explicitly supporting the "Defund the Police" (or worse) movement. These comments are inciting chaos through the myth that Americans will be better off without the "thin blue line"—law enforcement—that stands between society and anarchy. Ultimately, it is the prerogative of cities and states to choose the best course of action for their citizens. As for us, we stand with law enforcement and for a safer future for all Americans."
The conservative AGs are asking that politicians and members of Congress join them in tempering anti-police rhetoric that is jeopardizing the safety of law enforcement. Joining AG Marshall and other attorneys general in the letter were the Western States Sheriffs Association and the Southwestern Border Sheriffs Association.
In 2018, there were 686,665 full time law enforcement officers in the United States. The number of law enforcement officers peaked in 2008 with 708,569 officers, The numbers began declining due to the Great Recession and hit a low in 2013 of 626,942 officers before climbing again. Law enforcement officers are the "thin blue line" that are charged with enforcing laws and protecting the lives and property of the American public from a dangerous criminal element. Many people in the weeks following Floyd's death have expressed concerns that enforcement actions may not always be as just as we would like as a society.
Congress is considering police reform legislation. There are growing fears by some that Congress could go too far in the aftermath of the Floyd killing.
"It is just plain wrong to define the thousands of police officers in this country by one or two bad actors," former State Rep. Perry O Hooper Jr., R-Montgomery said. "The policeman that killed George Floyd must be prosecuted to the maximum extent of the law. We cannot, however, paint our men and women in blue as many in the Democratic party and their allies in the media have, as thugs and criminals."
"When you get a chance and see a Police Officer, please do as I do and give them a thumbs up and a big 'Thank You.'" Hooper said. "The local police are our country's backbone and guarantor of our civil society."
Hooper is a member of the Alabama Republican Executive Committee and serves on the Trump Victory finance committee.
Steve Marshall is a career prosecutor who served as District Attorney for Marshall County before being appointed Alabama Attorney General by then Gov. Robert Bentley (R). Marshall was then elected to his own term as AG in 2018.
Sen. Doug Jones won't support SCOTUS nominee before Nov. 3 election
"Certainly, power grabs are not uncommon in our political system, but few are accompanied by such blatant hypocrisy as we are witnessing now," Jones said.
Sen. Doug Jones, D-Alabama, on Friday said he would not support any nominee to the U.S. Supreme Court before the outcome of the Nov. 3 election is determined. 
Speaking during a livestreamed briefing, Jones said that while Republicans appear to have enough votes to replace the late Justice Ruth Bader Ginsburg, he will not be a party to denying the people a voice in the process in the election of the next president "in just under 44 days." 
President Donald Trump said Saturday that he plans to nominate Amy Coney Barrett to replace Ginsburg, who on Friday became the first woman, and first Jewish person, to lie in state at the U.S. Capitol. 
Several Republicans who voiced opposition to President Barack Obama's nomination of Judge Merrick Garland to the Supreme Court more than 10 months before the 2016 election have reversed course, and now say they support Trump nominating a selection with election day just a little more than a month away. 
"Certainly, power grabs are not uncommon in our political system, but few are accompanied by such blatant hypocrisy as we are witnessing now," Jones said. "In fact, I believe that the level and intensity of hypocrisy being displayed by Senator McConnell and the president, with regard to the rush to confirm Justice Ginsburg's successor, is unmatched in the history of our constitutional government." 
Jones said what McConnell and other Republicans should be focusing on instead is getting another round of much-needed COVID-19 aid to small businesses and people impacted by the pandemic. 
"Rather than pushing this confirmation to the top of the Senate calendar, the majority leader should turn his focus instead to protecting the lives and livelihoods of the American people. We should pass a new bipartisan COVID-19 stimulus package to give Americans and businesses the relief that they desperately need, and that economists say if required to shore up the economy now," Jones said. 
Jones expressed concern as well for what medical experts are warning could be a new spike in COVID-19 nationwide. 
"There could be an even greater urgency, if our health care professionals' warnings come to pass," Jones said. "And that is as temperature drops and people go indoors that this virus spikes, and we see another surge." 
Asked why his opponent, Tommy Tuberville, won't debate Jones, he said, "It's pretty simple. He doesn't know what he's talking about."  
"He has no clue. He is Coach Clueless," Jones said. 
Jones noted that when asked recently on his thoughts on extending the John R. Lewis Voting Rights Act of 2020, Tuberville stumbled through an answer that indicated he wasn't sure what the Voting Rights Act was.
"He had no earthly idea," Jones said. 
Jones said Tuberville isn't going to debate him because Tuberville doesn't want to talk about issues.
"He doesn't want to talk about a plan. His plan is simply this: Whatever Donald Trump says, I'm good," Jones said, "and if Donald Trump says or does something that is not good, it's crickets coming from Coach Tuberville." 
Jones noted that after multiple news outlets, including Fox News, confirmed reporting that Trump had said disparaging things about veterans who died in combat, Tuberville has not spoken out against Trump's comments. 
Jennifer Griffin, senior national security correspondent for Fox News, reported that she has spoken to senior U.S. officials who backed up reporting by The Atlantic, and said Trump said of the Vietnam War "anyone who went was a sucker." 
"He has not said a thing about what was confirmed by Fox News about the president's comment," Jones said of Tuberville. "That's just disgraceful."