Federal appeals court orders judge to dismiss charges against General Flynn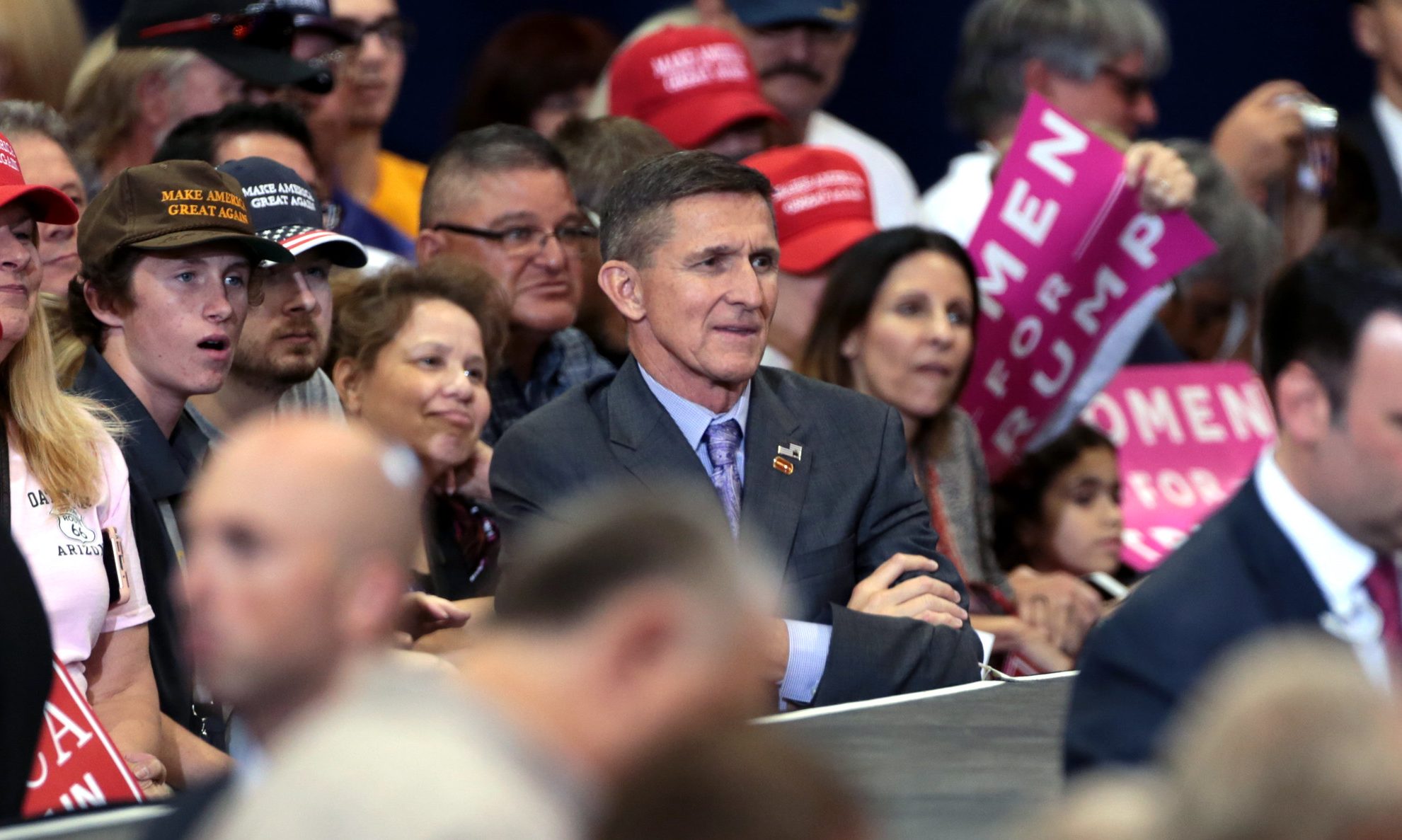 A three-judge panel of a federal appeals court in the District of Columbia on Wednesday ordered the federal trial judge overseeing the criminal case against retired General Michael Flynn to allow the Department of Justice to drop the case.
Flynn was formerly appointed as President Donald Trump's national security advisor and was part of the Trump transition team. The outgoing Obama administration, however, was monitoring Flynn's communications with the Russian government. The Obama administration in its waning days increased sanctions against Russia for its occupation of parts of eastern Ukraine.
They accused Flynn of undermining the then-U.S. foreign policy and began an investigation of Flynn under the seldom-used Logan Act. Flynn pleaded guilty in late 2017 to lying to the FBI agents who were investigating the Logan Act complaint. In December 2019, Flynn moved to withdraw his plea, citing inadequate legal counsel, among other reasons.
Following an internal review of the investigation, U.S. Attorney General William Barr made a motion in May that the Department of Justice drop the charges against Flynn.
The presiding judge in the case, U.S. District Judge Emmet Sullivan did not immediately accept the DOJ motion; but instead appointed an outside counsel, former federal Judge John Gleeson to represent the case against Flynn at a hearing to scrutinize the DOJ decision to vacate all charges against Flynn. Flynn's legal team filed an emergency petition for a writ of mandamus with the appeals court to order Sullivan to approve the motion to dismiss the case. The Appeals Court found in favor of Flynn and the DOJ on Wednesday. The Court of Appeals decision ruled that Sullivan overstepped his authority and ordered: "The district court is directed to grant the government's motion to dismiss."
The 2 to 1 decision by the three judge panel blocks Judge Sullivan from holding his planned hearing to scrutinize the Justice Department's decision to drop its long-running prosecution of Flynn.
The two Republican-appointed judges both ruled in Flynn's favor and found that U.S. District Court Judge Emmet Sullivan overstepped his authority in second-guessing the prosecutors' decision.
"In this case, the district court's actions will result in specific harms to the exercise of the Executive Branch's exclusive prosecutorial power," Judge Neomi Rao, who was appointed to the circuit court by President Trump, wrote in the majority opinion. "If evidence comes to light calling into question the integrity or purpose of an underlying criminal investigation, the Executive Branch must have the authority to decide that further prosecution is not in the interest of justice,"
Judge Robert Wilkins, an Obama appointee, dissented from the decision.
"It is a great irony that, in finding the District Court to have exceeded its jurisdiction, this Court so grievously oversteps its own," Wilkins wrote. "This appears to be the first time that we have issued a writ of mandamus to compel a district court to rule in a particular manner on a motion without first giving the lower court a reasonable opportunity to issue its own ruling."
Congressional candidate and former State Rep. Barry Moore, R-Enterprise, applauded the decision.
"I applaud the ruling by the Court of Appeals in General Flynn's case," Moore said. "Finally, this great patriot has received justice. He was caught up in the political-motivated witch hunt of the Muller investigation, but now his legal nightmare is finally over."
Moore compared Flynn's situation to his own 2014 trial on perjury charges brought by the Alabama Attorney General's Office. A jury found Moore not guilty.
"Our prayers are with General Flynn and his family today, and I believe that they will come out of this stronger than ever, just as my family did," Moore concluded.
Alabama Republican Executive Committee and Trump National Victory Finance Committee member former State Rep. Perry O. Hooper Jr., R-Montgomery, also applauded the news of Gen. Flynn's court victory.
"It was a Great Day for the American Justice System," Hooper said. "I join the President applauding the Appeals Court's decision as "GREAT"."
"I am thrilled for General Flynn and his family that this three year ordeal is finally coming to an end," Hooper said. "This was a political witch hunt. Bad actors tried to ruin this great man both personally and financially. He has now been exonerated."
"I think the President should give him a chance to once again serve his Country," Hooper said. "Comey and the others involved should now have to face the consequences for their roles in this matter. It has also come to light that Joe Biden knew about this plot all along."
(Original reporting by the Hill and the Washington Post contributed to this report.)
Attorneys ask court to intervene over numerous Alabama inmate suicides
Charles Braggs died by suicide in an Alabama prison after being kept in solitary confinement for more than two years. His suicide and a rash of others in Alabama prisons prompted attorneys for the plaintiffs in a case against the Alabama Department of Corrections to ask the court Wednesday to intervene. 
Braggs, 28, died at St. Clair Correctional Facility on July 17 after having been housed in segregation for 796 days, according to the court filing by the Southern Poverty Law Center, Alabama Disabilities Advocacy Program and attorneys with Baker, Donelson, Bearman, Caldwell & Berkowitz.
"Mr. Braggs was the seventh person — and the sixth Black person — to die by suicide in ADOC custody since this Court issued its Remedial Opinion and Judgment on Immediate Relief for Suicide Prevention (the 'Suicide Prevention Opinion') in May 2019, in which the Court found 'substantial and pervasive deficiencies' in ADOC's suicide prevention program," attorneys wrote to the court. 
Bragg's suicide was the fifth in Alabama prisons in the last four months, the plaintiffs' attorneys wrote in the fling, in which they call for "swift implementation and robust monitoring of the Parties' various remedial agreements" and for the state to address the use of segregation and "segregation-like" cells, which disproportionately hold Black people.
Alabama prisons kept 1,001 people locked alone in segregation on July 28, according to the court filing. 
"Of those 1,001, ADOC's public database lists 705 people as Black and 273 white—that is, approximately 70 percent of the people in segregation are Black," the filing states, going on to note that Black people make up approximately 52 percent of Alabama's inmate population and about 27 percent of the population of the state. 
U.S. District Judge Myron Thompson in his May 4, 2019 opinion wrote that ADOC argues the department cannot prevent all suicides in prisons.
"It is true that, as in the free world, not all suicides can be prevented. But this reality in no way excuses ADOC's substantial and pervasive suicide-prevention inadequacies. Unless and until ADOC lives up to its Eighth Amendment obligations, avoidable tragedies will continue," the judge wrote.
That 2019 opinion came after the plaintiffs' attorneys asked the court for immediate suicide-prevention relief following 15 inmate suicides over 15 months. Thompson agreed in his opinion to make permanent most of the provisions of a previous agreement between the plaintiffs and ADOC.
Thompson's separate judgment, filed the same day as his opinion, establishes minimum guidelines for how the state assesses and treats incarcerated people who may be at risk of suicide.
Among the prison suicides noted in the court filing was Marco Tolbert, 32, who was diagnosed with Schizophrenia and prescribed anti-psychotic and anti-depressant medication, but on June 20, 2019, three months before his death, his mental health code — used by ADOC to determine care — was reduced, some of his medication was discontinued and he was moved out of Donaldson prison's residential treatment unit and into the general population and "was not provided any follow-up mental health care," according to the filing.
He died by suicide on Sept. 26, 2019, according to court records. 
Marquell Underwood, 22, was placed into segregation at Easterling Correctional Facility on Feb. 23 and died by suicide that same day, according to court records. 
"Mr. Underwood previously reported a history of Bipolar Disorder, was referred to mental health nine times in relation to segregation placements, self-referred once to mental health, and was placed on acute suicide watch twice during the six months before his death," the plaintiffs' attorneys wrote to the court. "Despite all of this, he was never placed on the mental health caseload, never received a psychiatric evaluation, and never received any mental health treatment."
Laramie Avery, 32, died by suicide in his segregation cell at Bullock prison on April 14 and was placed in segregation for "disciplinary" reasons after being stabbed at least eight times in the head and chest, according to the filing. 
"Mr. Avery was referred for a mental health evaluation three days before his suicide, but there is no evidence that the evaluation ever occurred. He was not on the mental health caseload," the court filing states. 
The plaintiffs' attorneys also note the death of Darnell McMillian on June 22 at Donaldson prison. McMillian died while on suicide watch and after having been placed into a cell with another inmate also on suicide watch. 
"After an altercation between Mr. McMillian and his cellmate, correctional officers allegedly deployed pepper spray, which caused Mr. McMillian to become unconscious and may have led to his death. It is unclear what policies ADOC has instituted, if any, to ensure the safety of those on suicide watch who are double-celled," attorneys wrote to the court. 
An ADOC worker told APR in July that correctional officers used an excessive amount of pepper spray in the cell where McMillian and another inmate were housed. The cause of his death is pending an autopsy.