Federal appeals court orders judge to dismiss charges against General Flynn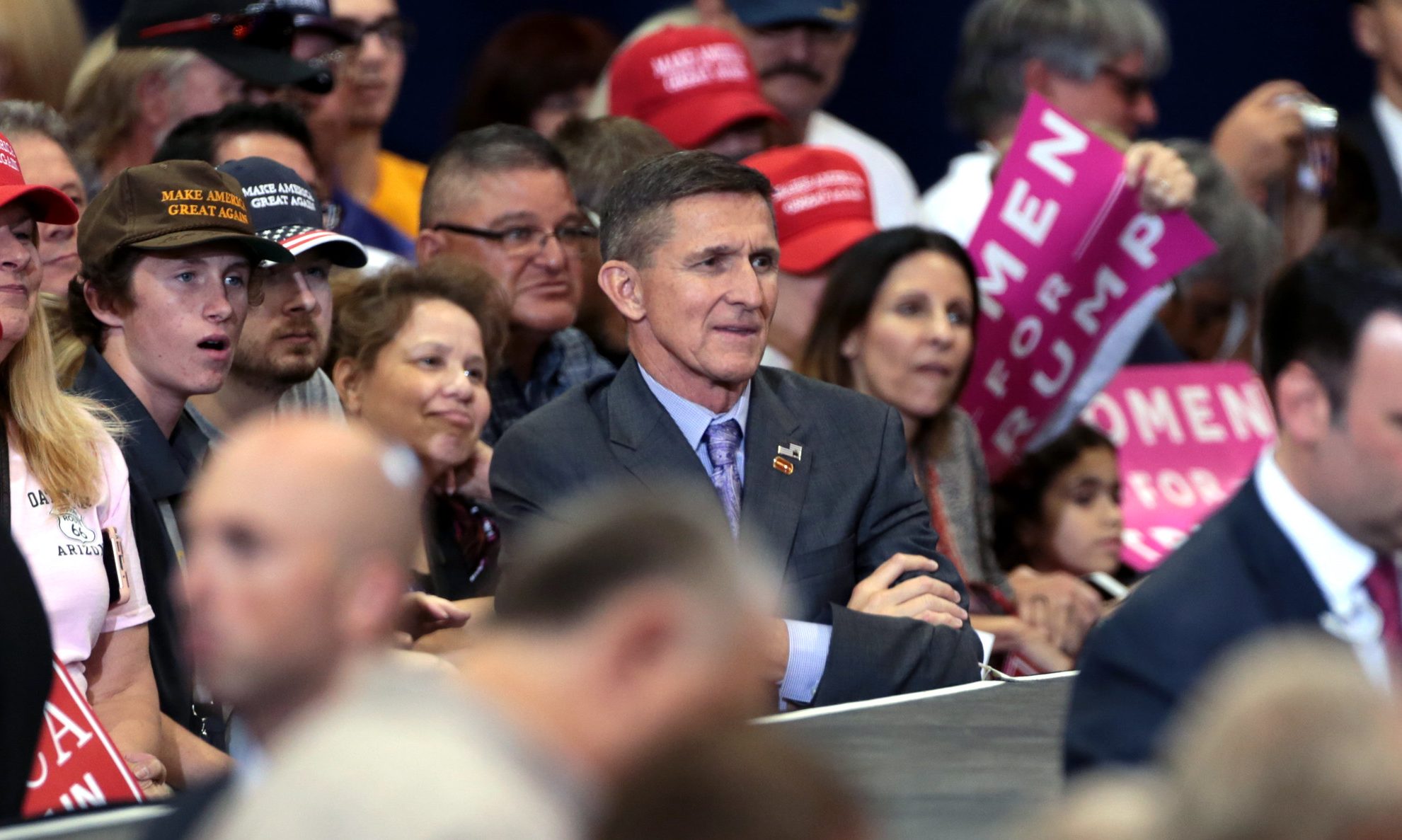 A three-judge panel of a federal appeals court in the District of Columbia on Wednesday ordered the federal trial judge overseeing the criminal case against retired General Michael Flynn to allow the Department of Justice to drop the case.
Flynn was formerly appointed as President Donald Trump's national security advisor and was part of the Trump transition team. The outgoing Obama administration, however, was monitoring Flynn's communications with the Russian government. The Obama administration in its waning days increased sanctions against Russia for its occupation of parts of eastern Ukraine.
They accused Flynn of undermining the then-U.S. foreign policy and began an investigation of Flynn under the seldom-used Logan Act. Flynn pleaded guilty in late 2017 to lying to the FBI agents who were investigating the Logan Act complaint. In December 2019, Flynn moved to withdraw his plea, citing inadequate legal counsel, among other reasons.
Following an internal review of the investigation, U.S. Attorney General William Barr made a motion in May that the Department of Justice drop the charges against Flynn.
The presiding judge in the case, U.S. District Judge Emmet Sullivan did not immediately accept the DOJ motion; but instead appointed an outside counsel, former federal Judge John Gleeson to represent the case against Flynn at a hearing to scrutinize the DOJ decision to vacate all charges against Flynn. Flynn's legal team filed an emergency petition for a writ of mandamus with the appeals court to order Sullivan to approve the motion to dismiss the case. The Appeals Court found in favor of Flynn and the DOJ on Wednesday. The Court of Appeals decision ruled that Sullivan overstepped his authority and ordered: "The district court is directed to grant the government's motion to dismiss."
The 2 to 1 decision by the three judge panel blocks Judge Sullivan from holding his planned hearing to scrutinize the Justice Department's decision to drop its long-running prosecution of Flynn.
The two Republican-appointed judges both ruled in Flynn's favor and found that U.S. District Court Judge Emmet Sullivan overstepped his authority in second-guessing the prosecutors' decision.
"In this case, the district court's actions will result in specific harms to the exercise of the Executive Branch's exclusive prosecutorial power," Judge Neomi Rao, who was appointed to the circuit court by President Trump, wrote in the majority opinion. "If evidence comes to light calling into question the integrity or purpose of an underlying criminal investigation, the Executive Branch must have the authority to decide that further prosecution is not in the interest of justice,"
Judge Robert Wilkins, an Obama appointee, dissented from the decision.
"It is a great irony that, in finding the District Court to have exceeded its jurisdiction, this Court so grievously oversteps its own," Wilkins wrote. "This appears to be the first time that we have issued a writ of mandamus to compel a district court to rule in a particular manner on a motion without first giving the lower court a reasonable opportunity to issue its own ruling."
Congressional candidate and former State Rep. Barry Moore, R-Enterprise, applauded the decision.
"I applaud the ruling by the Court of Appeals in General Flynn's case," Moore said. "Finally, this great patriot has received justice. He was caught up in the political-motivated witch hunt of the Muller investigation, but now his legal nightmare is finally over."
Moore compared Flynn's situation to his own 2014 trial on perjury charges brought by the Alabama Attorney General's Office. A jury found Moore not guilty.
"Our prayers are with General Flynn and his family today, and I believe that they will come out of this stronger than ever, just as my family did," Moore concluded.
Alabama Republican Executive Committee and Trump National Victory Finance Committee member former State Rep. Perry O. Hooper Jr., R-Montgomery, also applauded the news of Gen. Flynn's court victory.
"It was a Great Day for the American Justice System," Hooper said. "I join the President applauding the Appeals Court's decision as "GREAT"."
"I am thrilled for General Flynn and his family that this three year ordeal is finally coming to an end," Hooper said. "This was a political witch hunt. Bad actors tried to ruin this great man both personally and financially. He has now been exonerated."
"I think the President should give him a chance to once again serve his Country," Hooper said. "Comey and the others involved should now have to face the consequences for their roles in this matter. It has also come to light that Joe Biden knew about this plot all along."
(Original reporting by the Hill and the Washington Post contributed to this report.)
Alabama's Black Belt lacks quality internet access, report finds
Twenty-two of 24 Black Belt counties are below the statewide average of 86 percent of the population who have access to high-speed internet, and two Black Belt Counties — Perry and Chocktaw — have no access at all. 
During an online video briefing Monday on a report about a lack of internet access in Alabama's Black Belt, University of Alabama student Brad Glover warned reporters that he could get kicked off the briefing at any moment. 
That's because he was talking during the video briefing by way of audio only, using his cell phone, as he does not have access to high-speed internet access at his Linden, Alabama, home in the Black Belt's Marengo County. 
The COVID-19 pandemic that sent students home to study online left many in the Black Belt and other rural parts of Alabama in the lurch, without access to the high-speed internet enjoyed by so many other Americans, according to the latest report in the University of Alabama's Education Policy Center's Black Belt 2020 series. 
The latest report, titled "Internet Access Disparities in Alabama & the Black Belt," found that 22 of 24 Black Belt counties, as defined by the Education Policy Center, are below the statewide average of 86 percent of the population who have access to high-speed internet, and two Black Belt Counties — Perry and Chocktaw — have no access at all. 
"It is still a terrible struggle for me to connect to get the things done that are required," said Glover, who interned with the Education Policy Center. 
Stephen Katsinas, director of the Education Policy Center, said that in the 1930s, nine of ten rural homes lacked the electric service that urban American homes, by that point, had for 40 years. 
"The Rural Electrification Act was passed to address this abject market failure," Katsinas said. "Today, as the COVID pandemic has shown, access to high-speed internet is as essential to rural Alabama as the REA was in the 1930s. Alabama must directly address the market failures that exist today to bring high-speech internet to every rural Alabamian, so that our rural workforce can access the lifelong learning skills they need, and our rural businesses can compete globally." 
The COVID-19 pandemic has also spotlighted the need to expand the growing area of telemedicine. 
Dr. Eric Wallace, medical director of Telehealth at UAB, told reporters during the briefing Monday that patients are largely doing telehealth from their homes, and explained that disparities in access to high-speed internet present a problem for them. 
"Since the COVID-19 pandemic began, UAB has done approximately 230,000 telehealth visits, and 60 percent of those were done by video," Wallace said. 
"Forty percent are audio only, and why is audio only? It's because we do not have broadband," Wallace said. "So it's not just broadband. It's broadband. It's tech literacy. Socioeconomics, to have a device in your home. It's all of that."
Wallace said that the coronavirus crisis has made clear that telemedicine is a "100 percent necessity" and that patient satisfaction studies make clear it's not going anywhere. 
The reasons for disparities in access to high-speed internet are myriad, explained Noel Keeney, one of the authors of the report and a graduate research assistant at the Education Policy Center. 
Keeney noted a study by BroadbandNow that estimates there are 154 internet providers in Alabama, but there are 226,000 Alabamians living in counties without a single provider, and 632,000 in counties with just a single provider. 
Even for those with access to internet providers, Keeney said that just approximately 44.4 percent of Alabamians have internet access at a cost of $60 monthly or below. 
"If we really care about our rural areas, we need to make an investment, and it needs to cut off that cost at a very low rate," Wallace said. 
Katsnias said there's a growing consensus on the part of Alabama's political leaders that access to high-speed internet is an important issue, noting that Gov. Kay Ivey in March 2018, signed into law the Alabama Broadband Accessibility Act, which has given internet access to nearly 100,000 Alabama students. 
"In March, Gov. Ivey awarded $9.5 million in broadband expansion grants, with a significant amount going to Black Belt communities," the report reads. "This was followed by $5.1 million in additional grants in May." 
"The State of Alabama also allocated $100 million in federal CARES Act-related dollars for "equipment and service for broadband, wireless hot spots, satellite, fixed wireless, DSL, and cellular-on-wheels to increase access for K-12 students undergoing distance learning," the report continues. 
An additional $100 million in CARES Act funds were made available to facilitate virtual learning across Alabama's K-12 schools, researchers wrote in the report, and another $72 million in federal aid went to the state's colleges and universities. 
Katsinas said however those federal funds are spent, the state still needs a long term plan for how to address the disparities in access to high-speed internet. 
"We need a long term plan and we need to do what we can do immediately," Katsinas said
Read more of the Education Policy Center's reports in the "Black Belt 2020" series here.